The September 2006 Mt. Whitney Trip Report 1.07


This year, my old friend David and I thought to plan a different trip from the usual. Rather than arriving in San Francisco and driving east, we decided to plan a two part trip starting in Las Vegas. First we would travel north and east to Zion National Park, then over to the Sierras for some more exercise. For additional pictures and commentary, have a look at Dave's website: http://dfollows.spaces.live.com/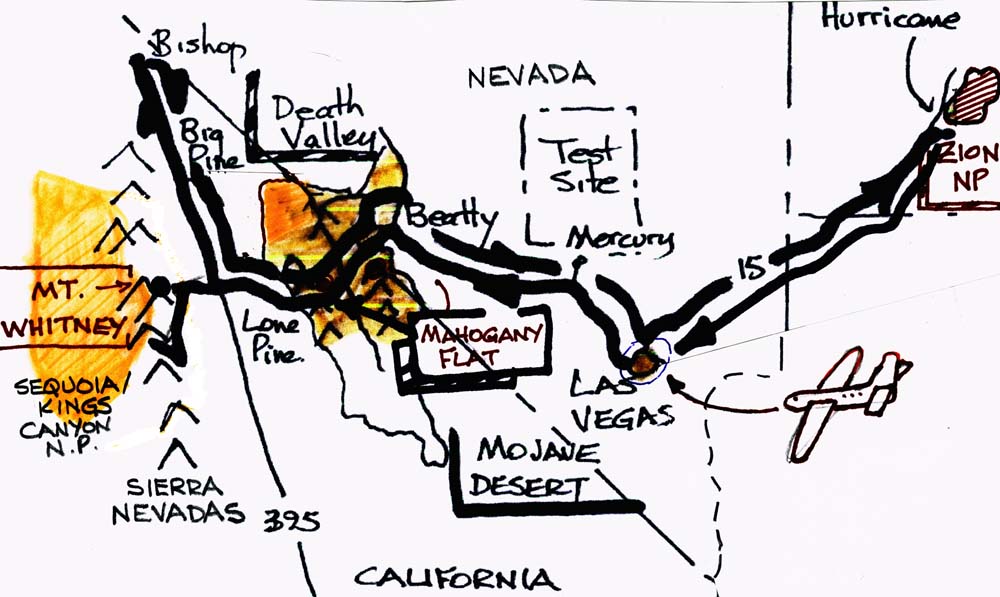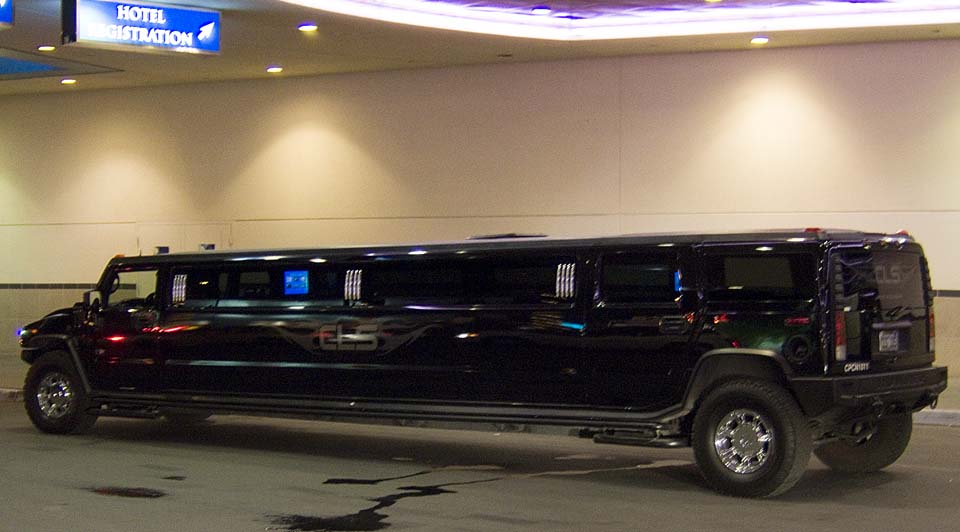 A Vegas Volkswagen

After a typical landing at McCarron, it was time to do the usual car rental stuff. If you like average styling and appallingly bad interior design, then reserve a Chevy Equinox SUV. The first beef is that the window controls are down in the middle console, so you can look where you're going, or look for the controls instead. But get this-the cigarette lighter is in the bottom of the baseplate underneath the parking brake lever. So when you want to plug in a cell phone charger, it's very inconvenient. But first you have to find and replace the fuse under the hood, because loose money on the tray has rattled around and fallen into it , shorting it out. No doubt the Marketing Department made that design decision..

Escaping from Vegas, we headed to our motel in Boulder City, just next door to the Hoover Dam. This is a good first-night place because there is an REI camping store on Green Valley Parkway just outside town.

We learned a useful bit of info on shipping things this time. Normally, I ship my little propane campstove head and bear spray via UPS Ground, and then pick it up the day we arrive. You can do the same thing by US Mail (Ground) if the box is properly labelled as ORM-D. But this time, I learned that, strictly speaking, you can only ship such a package from the UPS hub, not a UPS store. You can ship it TO a UPS store and have them hold it for pickup, but you cannot send it back home from there at the end of your trip. So after a lot of wasted time, just use USPS to and from post offices and forget about UPS.

After shopping for groceries, water, ice coolers and matches, it's easy to have a good meal and a beer or two, then walk to the Sands Motel.

Lake Mead is a very popular destination for the locals, as you can see from the toys in the motel parking lot: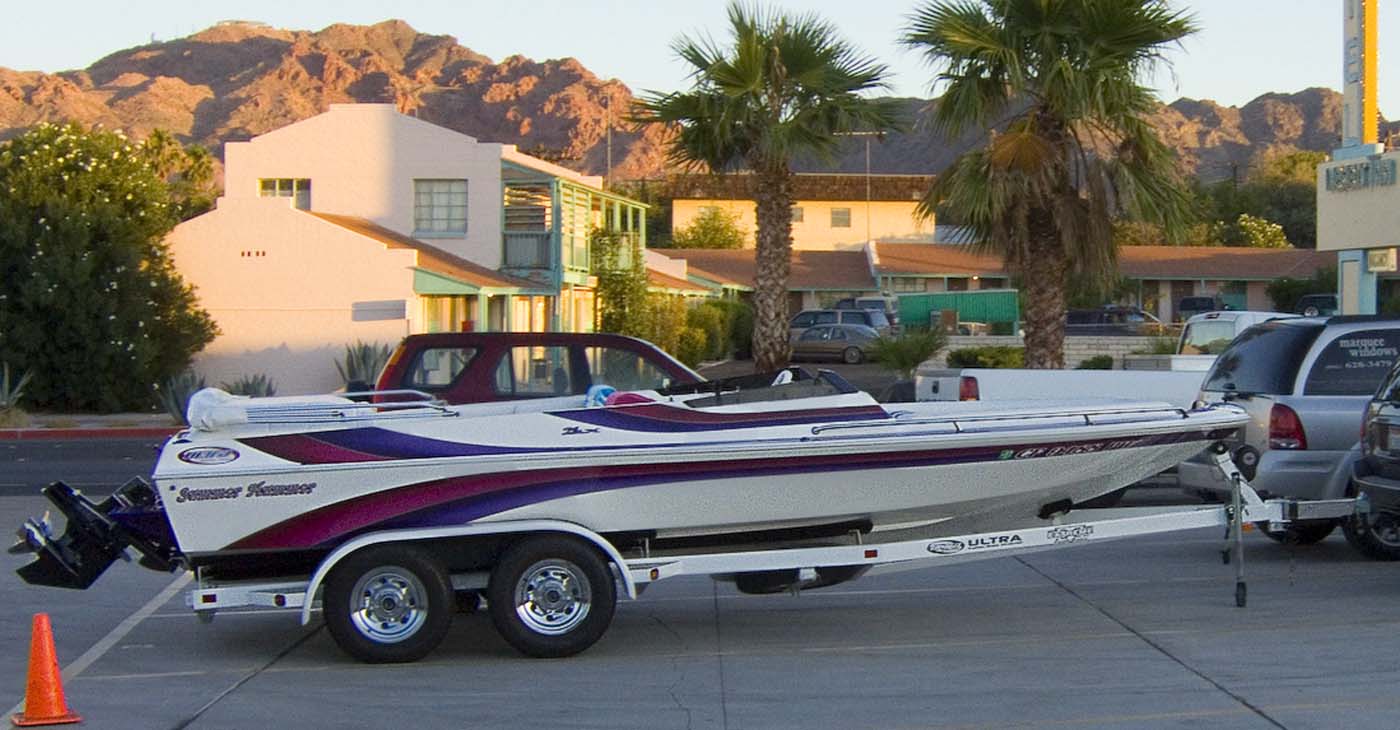 Boulder City (basically a 20 mile distant suburb of LV) is very proud of its heritage. It's a nice and tidy small town, with shops and good restaurants all along.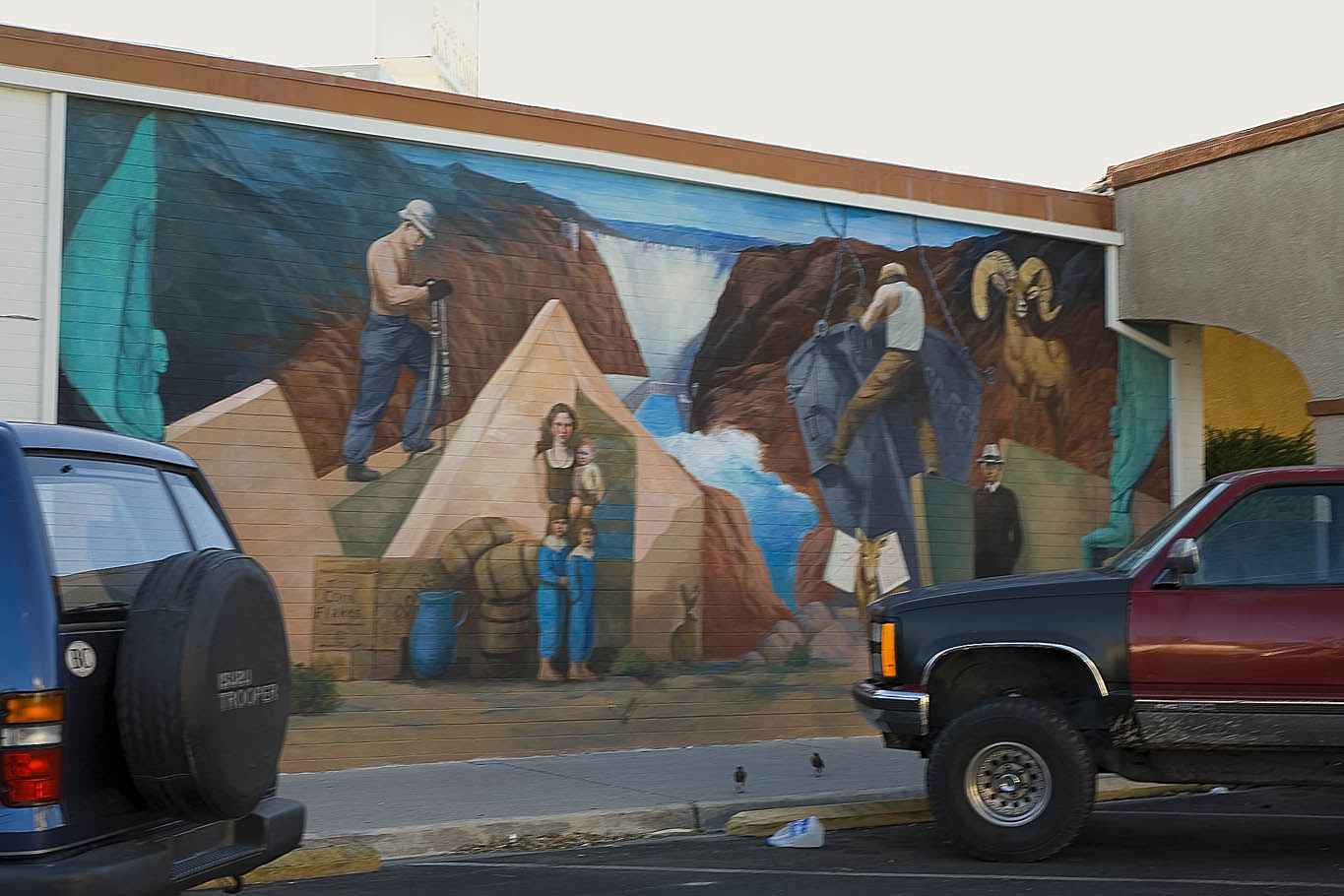 If you want to get a great education in Dam building, and an appreciation for the effort in large construction projects, take the extended "hard-hat" tour at the Hoover Dam…
More info at http://www.usbr.gov/lc/hooverdam/service/index.html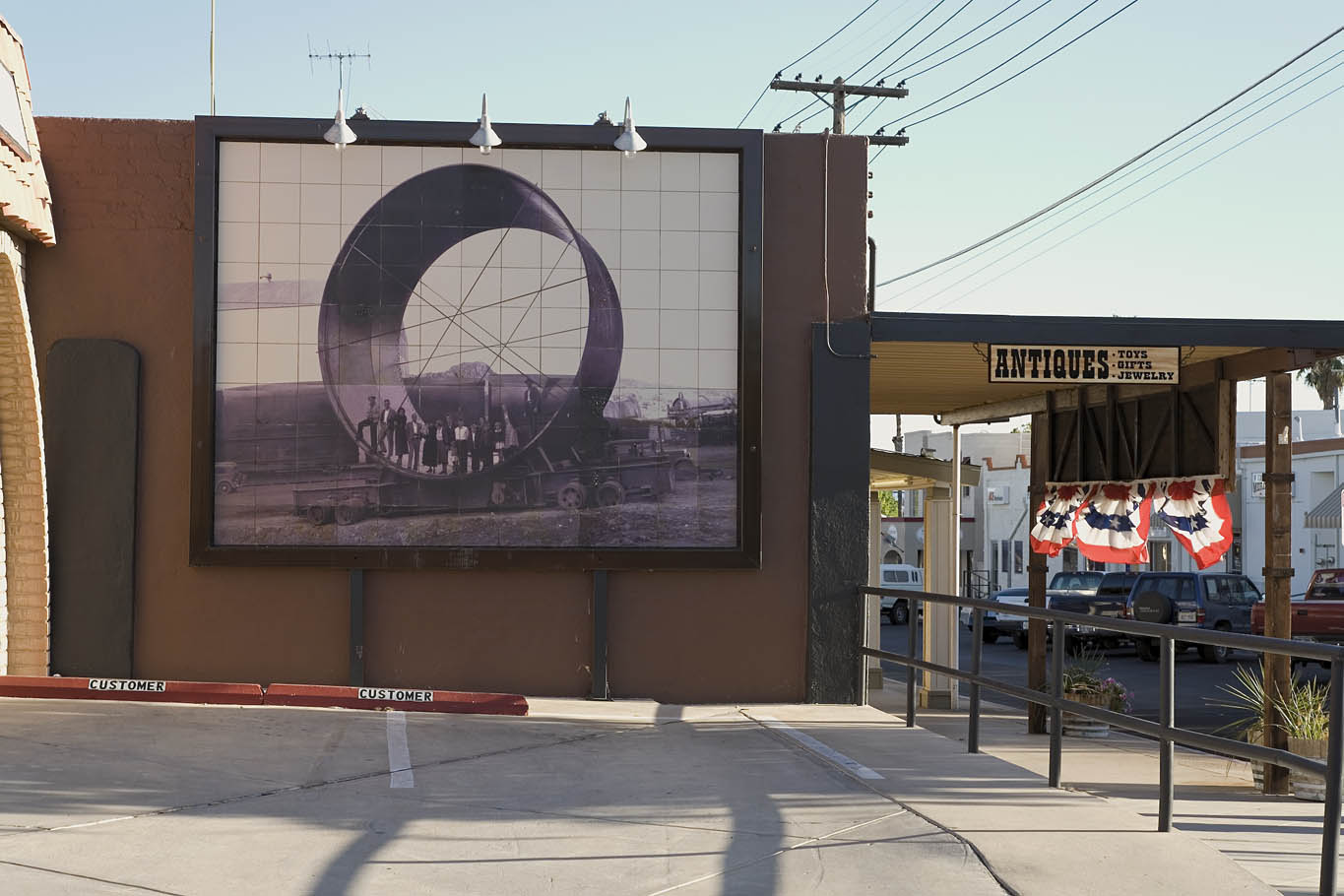 Now, David had not yet been to the high desert areas of Utah, so a couple of hours drive to Zion National Park was a greater staring off point. We camped at the riverside Watchman campground and enjoyed sunny weather, although at one point it looked like there was going to be a big dumping. One of the survival rules in desert hiking is to watch rain forecasts very carefully, because flash floods are common, especially in canyons. http://www.nps.gov/zion/

Our first mini hike took us to the Emerald Pools, in the shadow of sheer rock walls,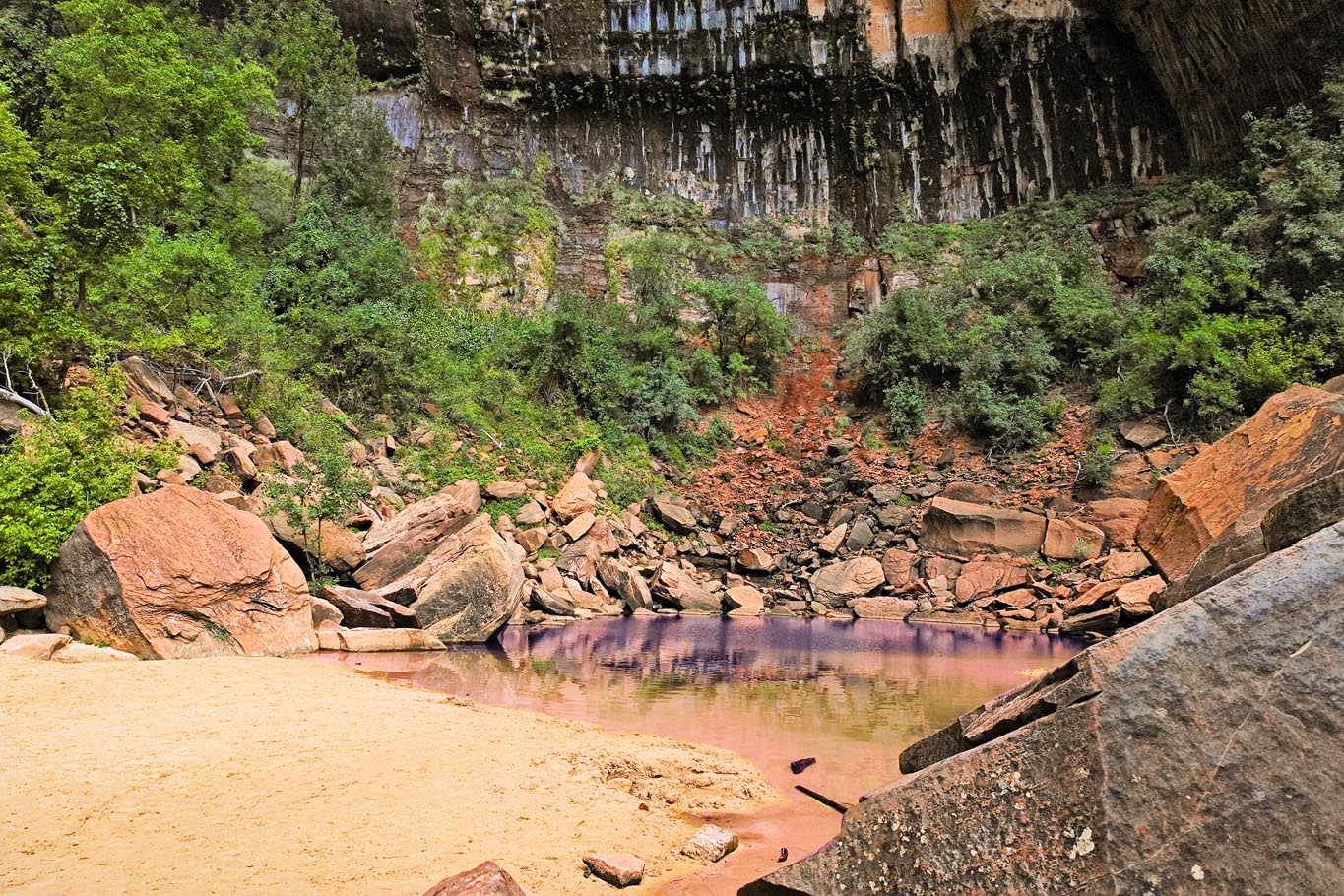 The next day, we took a day trip up to Angel's Landing and enjoyed the scenery on another cloudless day. On the way up, there is a section of trail cut into the side of the rock. It's fairly steep and so is stabilized with concrete under foot. Look closely at the picture- the deer also used it before the concrete hardened!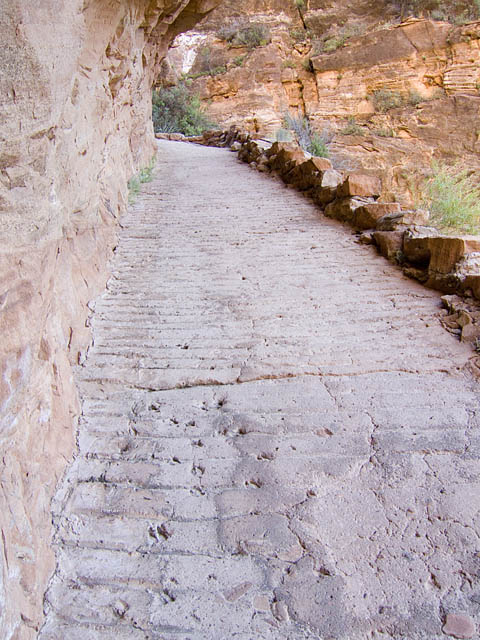 Looking down the Valley toward the campgrounds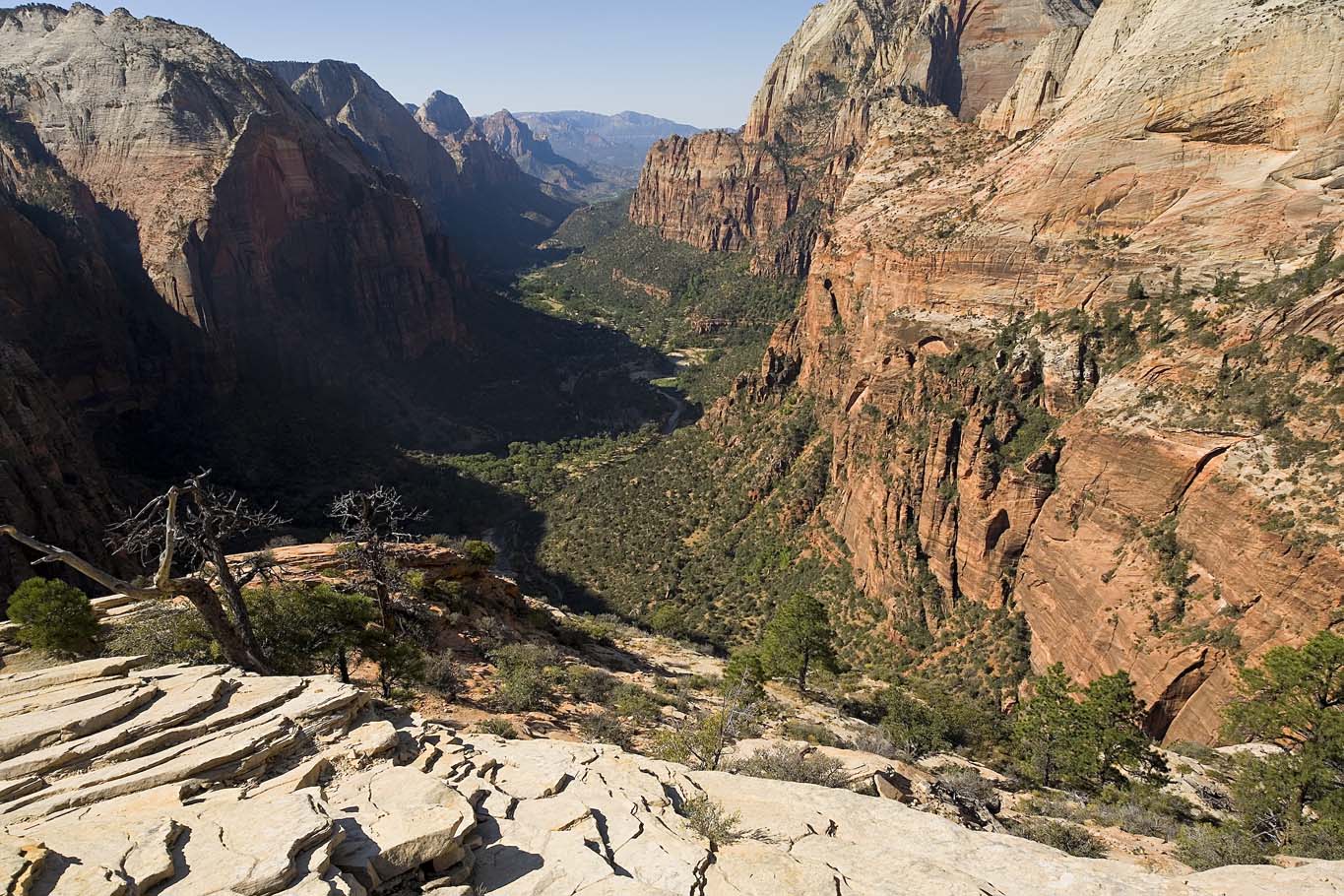 and looking the other way, toward the Temple of Sinawava and The Narrows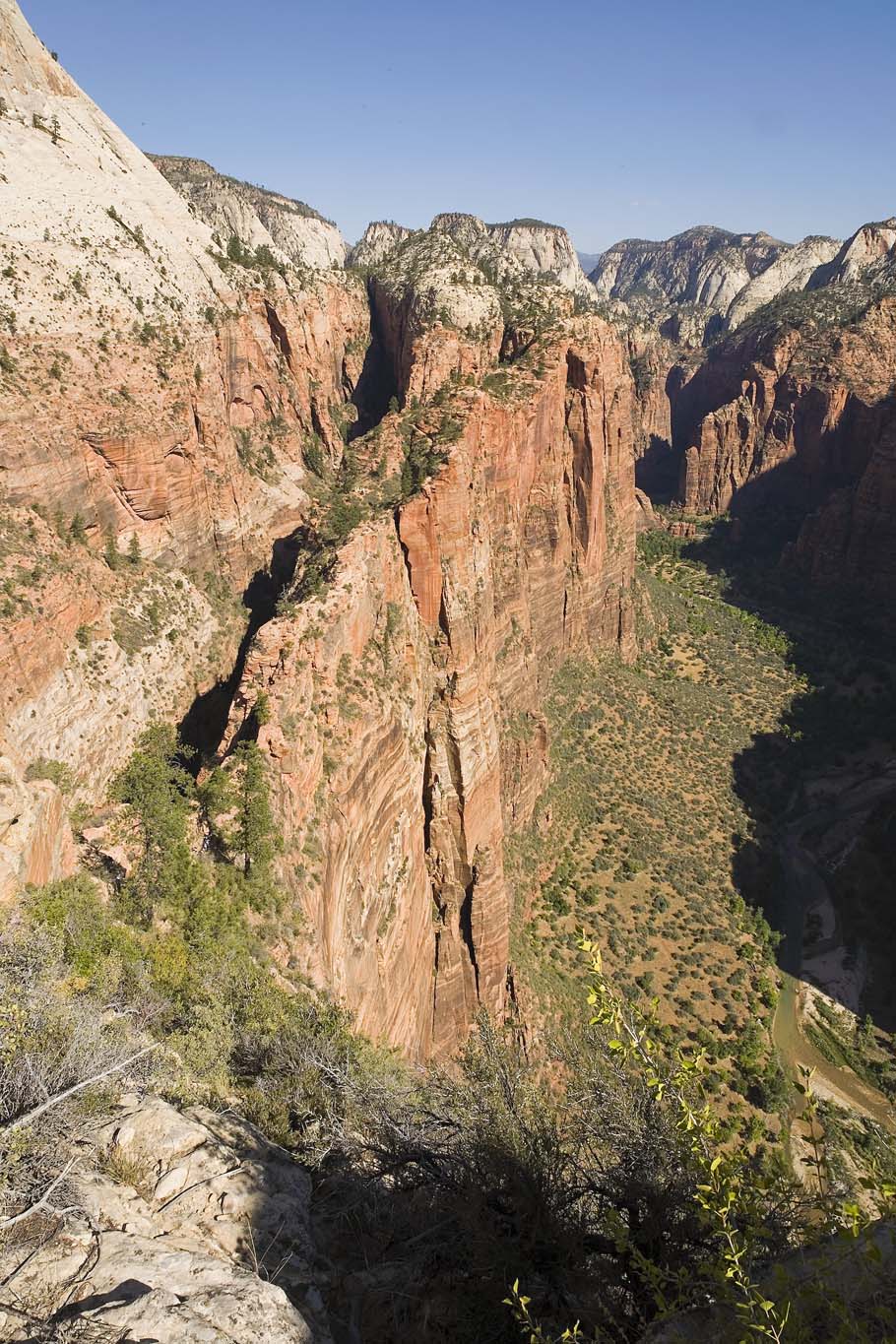 After our successful day at Angel's, we used Zion as a base for trips to nearby other parks within short driving distances. Cedar Breaks was good to see again, this time without the snow squalls. The Park Office looks out directly into the hoodoo vista. http://www.nps.gov/cebr/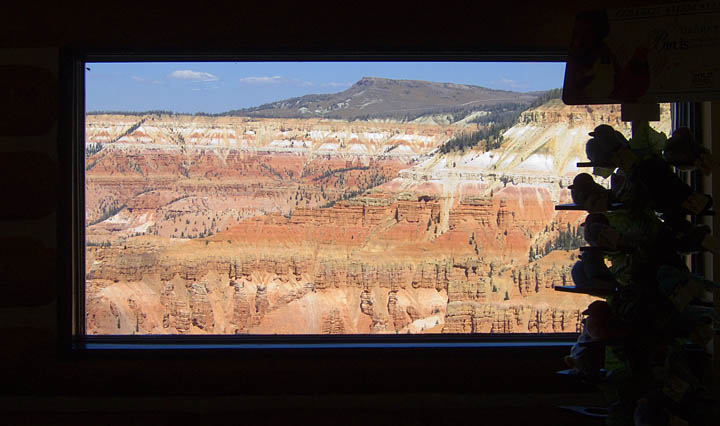 A similar and even more extensive panorama of sandstone spires and erosion awaits at Bryce Canyon. http://www.nps.gov/brca/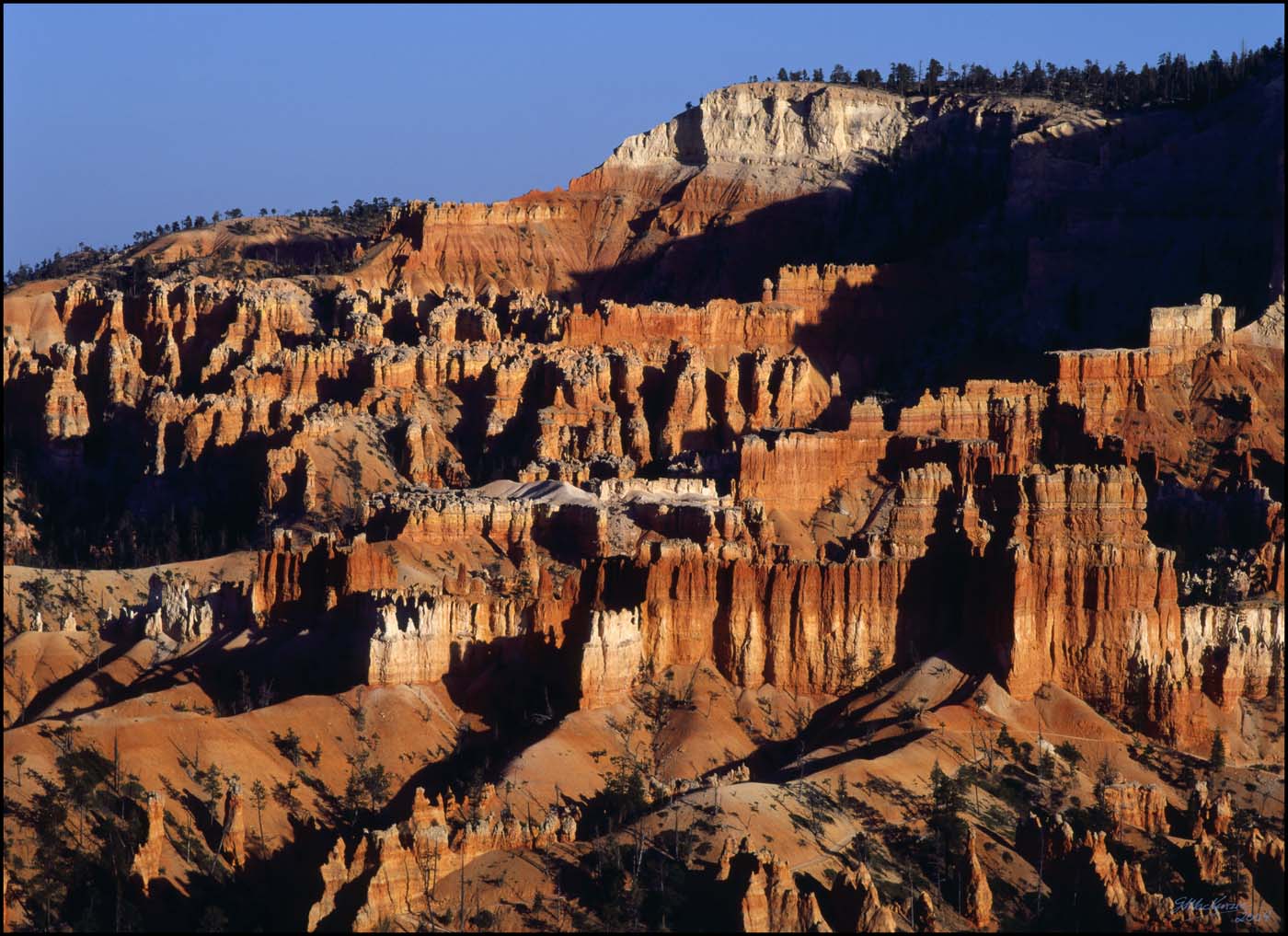 Our third visit was to Coral Pink Sand Dunes State Park. http://www.stateparks.utah.gov/park/index.php?id=CPSP A happy accident of geology set up a gap between two expanses of high land at one end of the park-the prevailing winds carry fine sand many miles up through this gap, where the grains deposit to form ever-moving dunes in an area of wind eddies. You have to see them to believe 'em.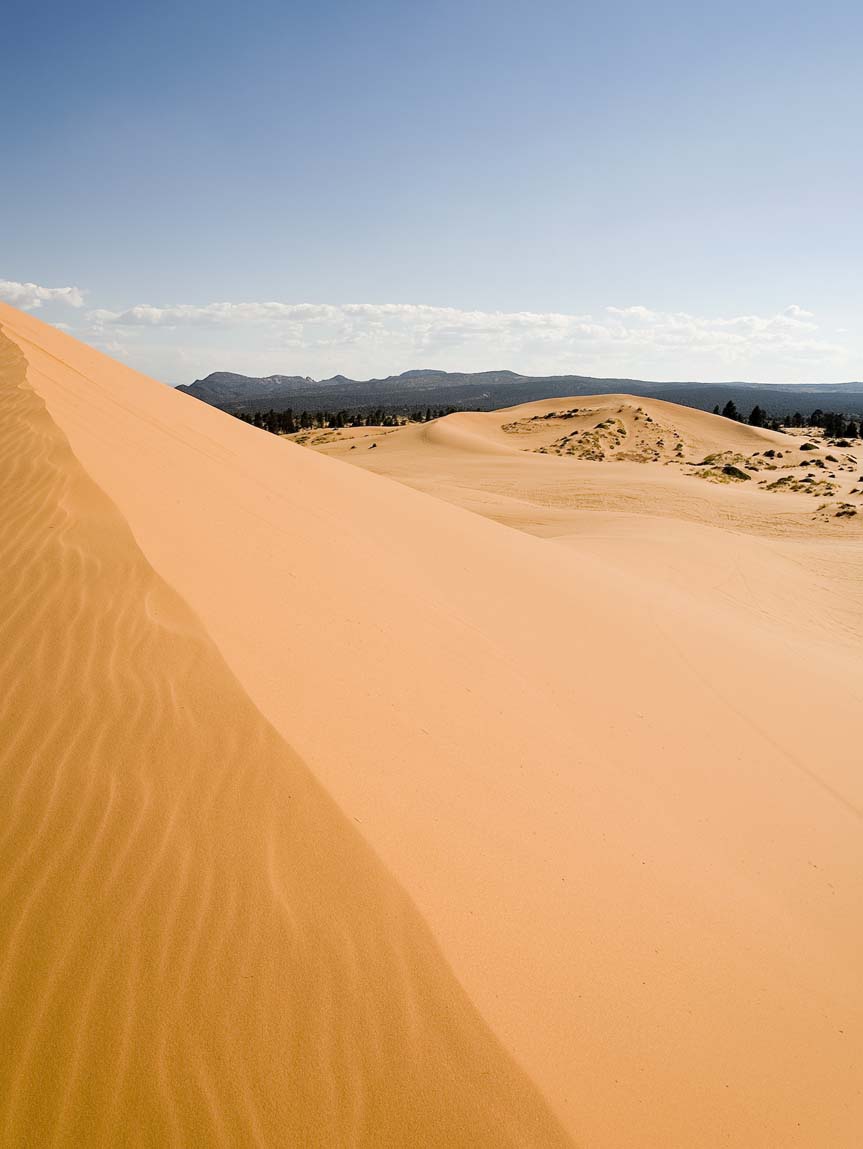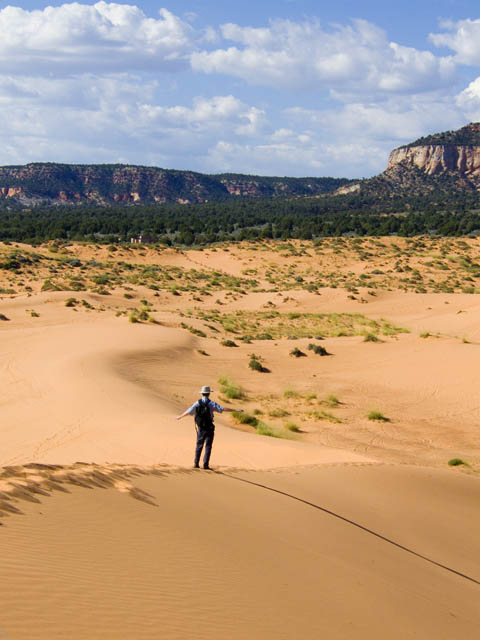 At the dunes, there are a few perfect BBQ and picnic table spots, just a short hop from the campsites.

So then we left Zion and retraced our steps through Vegas, and spent the night in Beatty Nevada Motel 6 for a rest. Then it was off to Mahogany Flat in the Panamint Mountains (inside Death Valley National Park, surprisingly enough http://www.nps.gov/deva/ . Check out the latest "Visitor's Guide" on thaat website page).

Our basic plan for the main event of climbing Mt. Whitney, was to spend a few days in warm up hikes, and especially to spend time at increasing altitudes to acclimatize. Many people feel ill effects of AMS (Acute Mountain Sickness) if they don't do this. I know from past trips that acclimatizing helps me a lot.

For anyone interested in Mt.Whitney hiking, a bit of planning is essential, since a permit is needed, and these are assigned several months in advance by lottery. For the 2007 hiking year, mailed letter applications (no faxes anymore) must be postmarked and received in Feb 2007 to participate in the lottery. After that, it's hit or miss. To learn more about Mt. Whitney and the John Muir Wilderness, or the permit process, go to: http://www.fs.fed.us/r5/inyo/recreation/wild/mtwhitney.shtml It's part of the Inyo National Forest website.


There is a nice 14 mile round trip hike from the 10 campsites at Mahogany Flat up to Telescope Peak and back. Look at earlier

trip report #6 October 2002

to read lots more about this area. It's a favorite. So we drove up to 8133 feet elevation (at the MF campsites) since the road was again good enough to get up there in our SUV, then did the hike, and camped there that night.

At the top: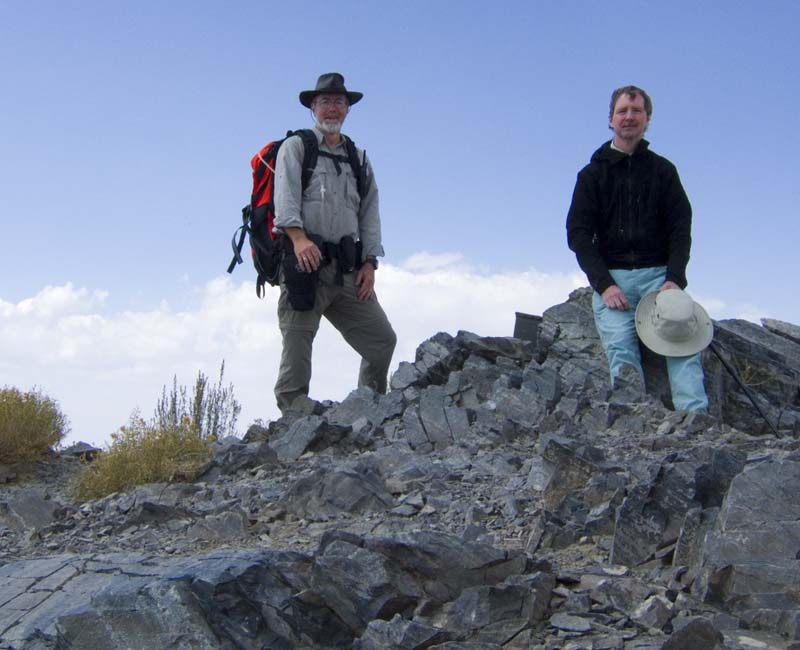 Here's a panorama of the Telescope Peak vista looking east. The weather was perfect the whole day, and we chatted with a few hikers, painters and geologists along the way.




That night the wind Blew Like Hell. It was the kind of wind that would blow your empty tent out of sight in a couple of seconds if it got hold. But no rain, just heavy wind. This was a message from western areas about their weather (though we didn't know it at the time).

The little cactus garden gets an inspection from the local Hare.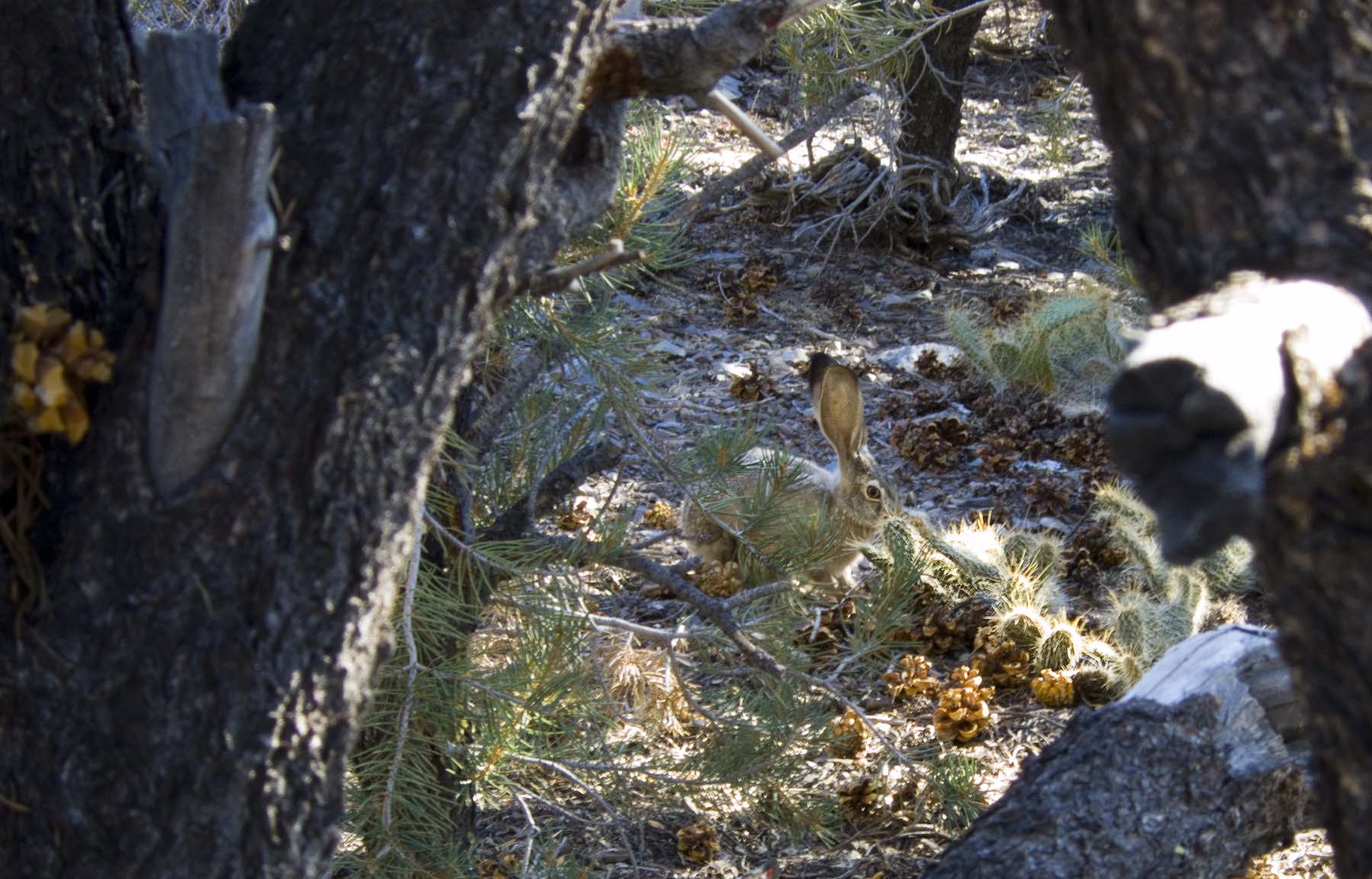 From the campsite, we prepared to head down the next morning. Now, across the way, there is an narrow access road switchbacking up the side of Roger's Peak, up to the solar powered microwave repeater at the top. Take a good look at the next picture. You can see a game trail cutting down the side, but there's another set of tracks. It looks like a trailer or car went off the track and made a direct and bumpy ride to the bottom. No turning around on these "roads".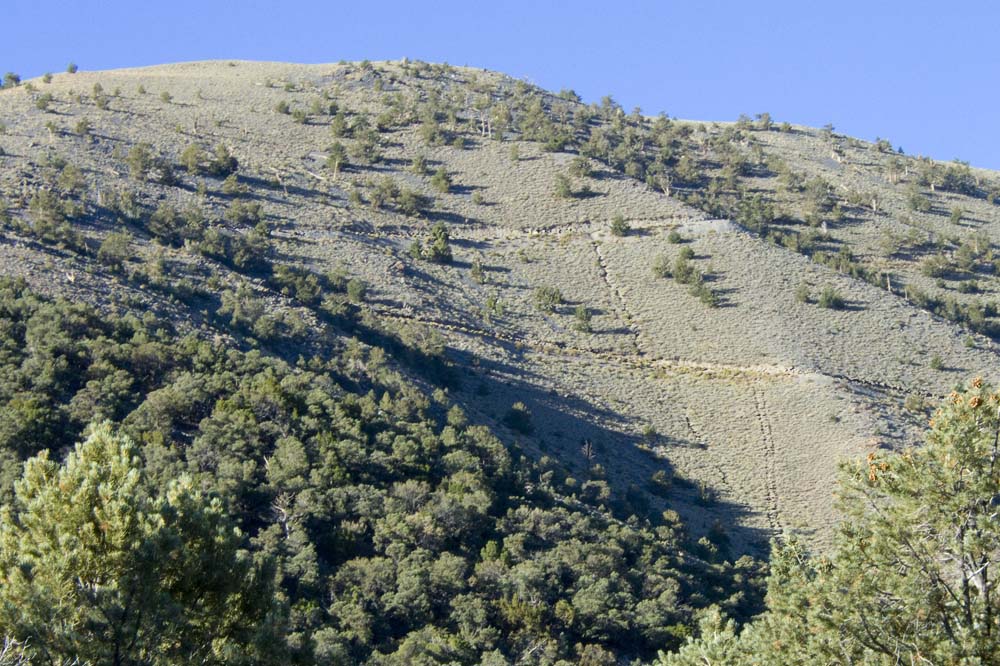 Getting down toward Emigrant Pass, we stopped at the Wildrose Spring for a break.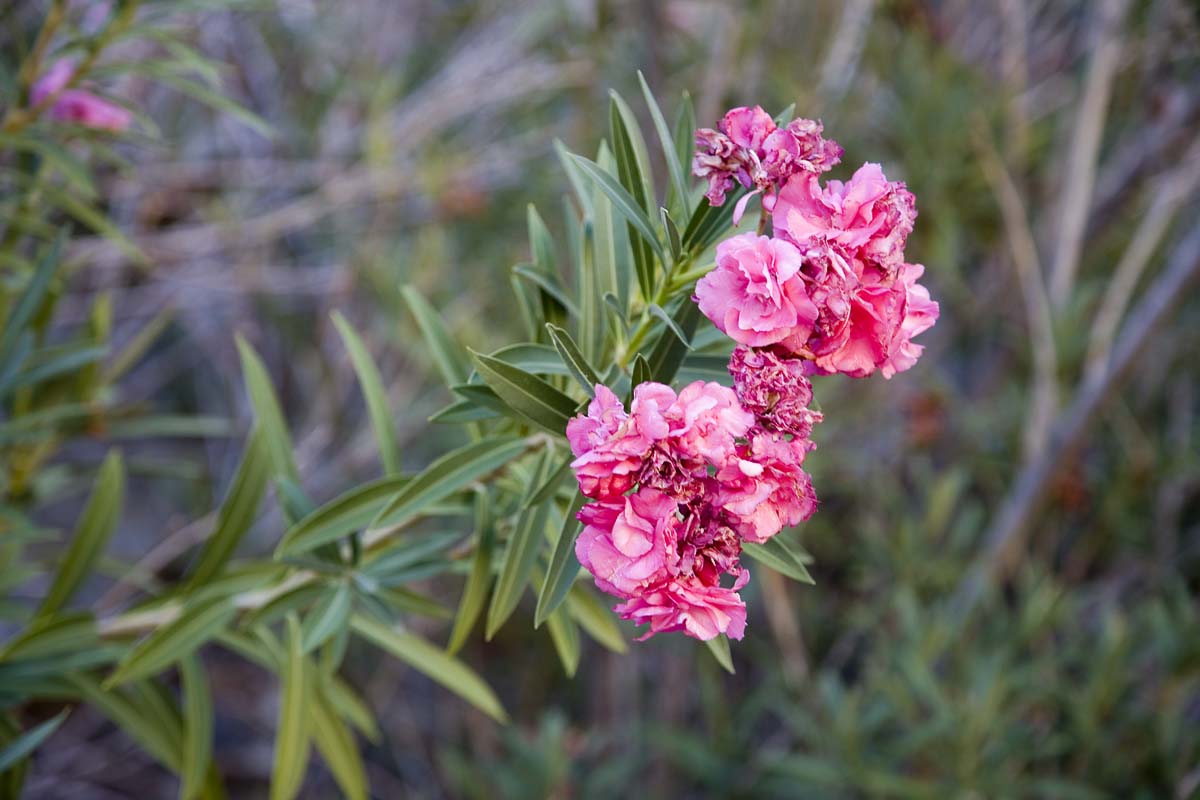 Then off we went west. Another perfectly sunny day. Looking back from Father Crowley Point, we could see Telescope Peak way off across the Panamint Valley. In the picture below from an earlier trip report, you can see snow on the top of it.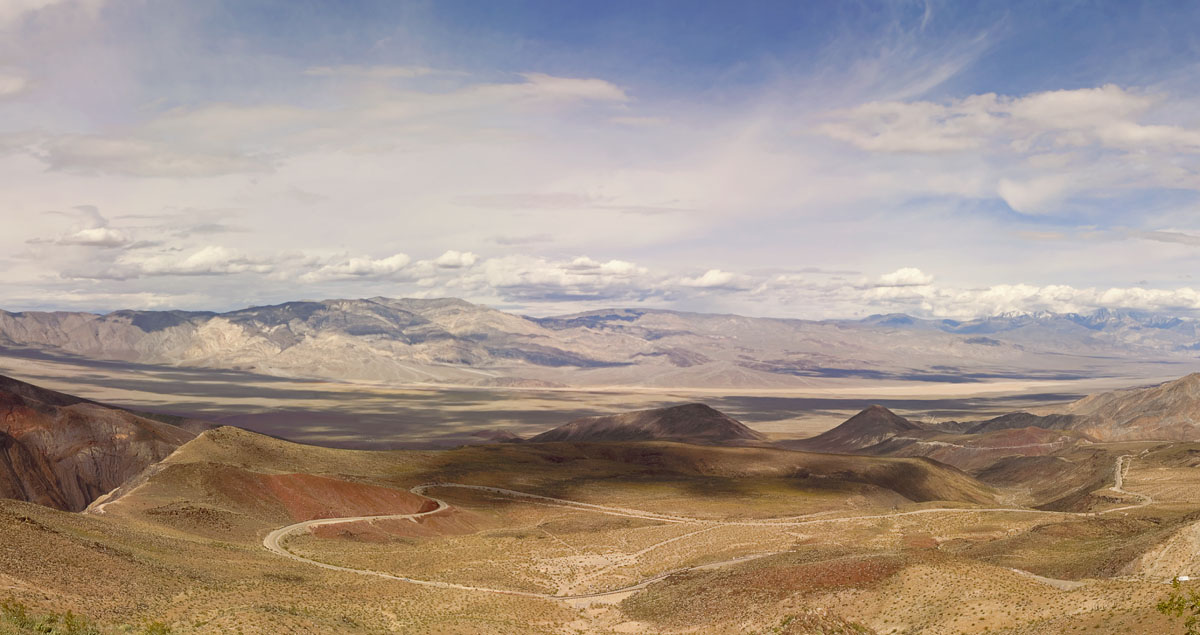 After crossing Owens Valley, we went up to Horseshoe Meadow for two nights camping at 10,000 feet before starting our big hike. It got chilly (14F) and a bit windy that night. During the next day we went down into Lone Pine for supplies and could hardly believe the wind.

On the main drag through town people were walking with their heads down. Some were wearing bandannas as masks. Paper and other stuff was blowing out of store doors into the street. If you looked down the street, you were expecting to see rolling sagebrush and Clint Eastwood riding out of the dust clouds. It was not good. You sure wouldn't want to take your camera out. Again this was an indicator of the heavy western weather all the way down from Oregon that had been plaguing the western seaboard for a several days. .Before departing Lone Pine, we learned that peak winds were over 90 mph at the mountain crests.

The view of Whitney from the Alabama Hills: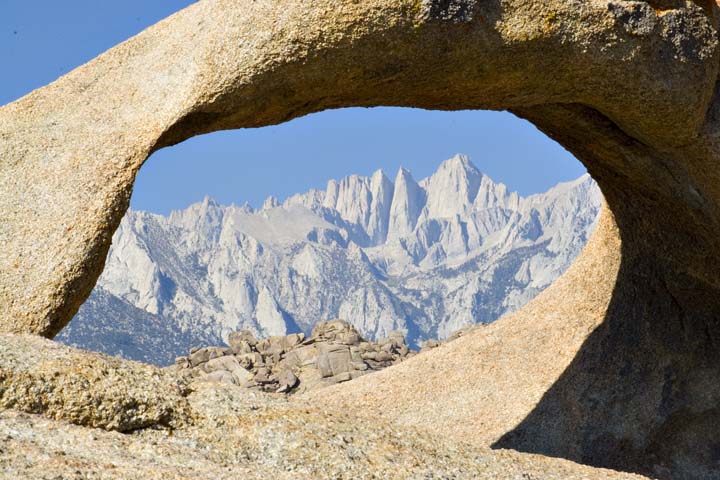 Packing up early the next morning, we then headed down into the valley, then back up to the Whitney Portal parking area to start our hike. Another beautiful sunny day, and we lucked into a parking spot right at the trailhead. Perfect.

So off we went. Our plan was to camp two nights at successively higher elevations, then summit on the third day, with a spare day if needed. Then we would retrace part way before camping again.

Starting up the switchbacks: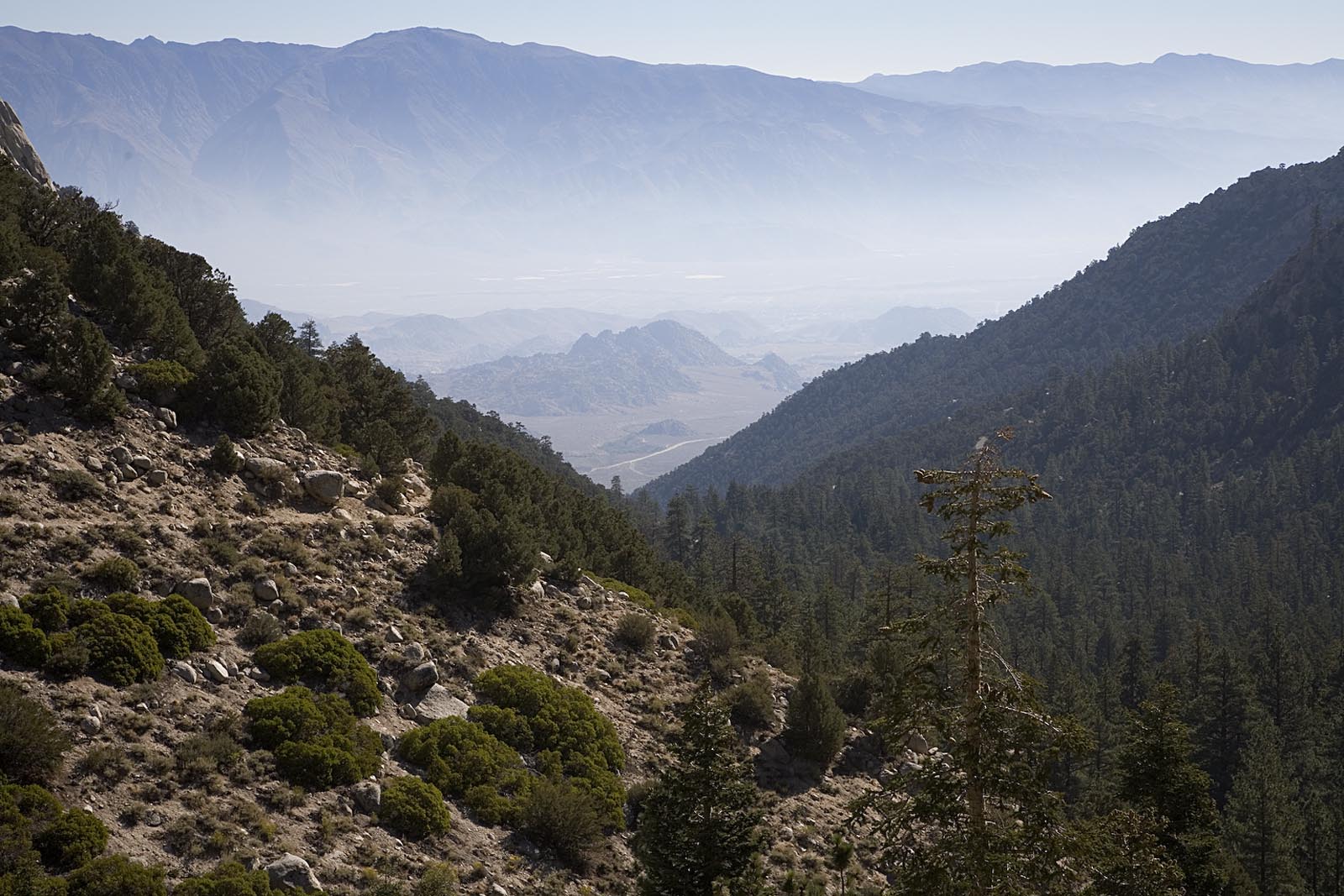 Basically the first part of the route follows the general path of Lone Pine Creek, up mild cuts or canyons, alternating with meadows now and then.

And again, a half hour later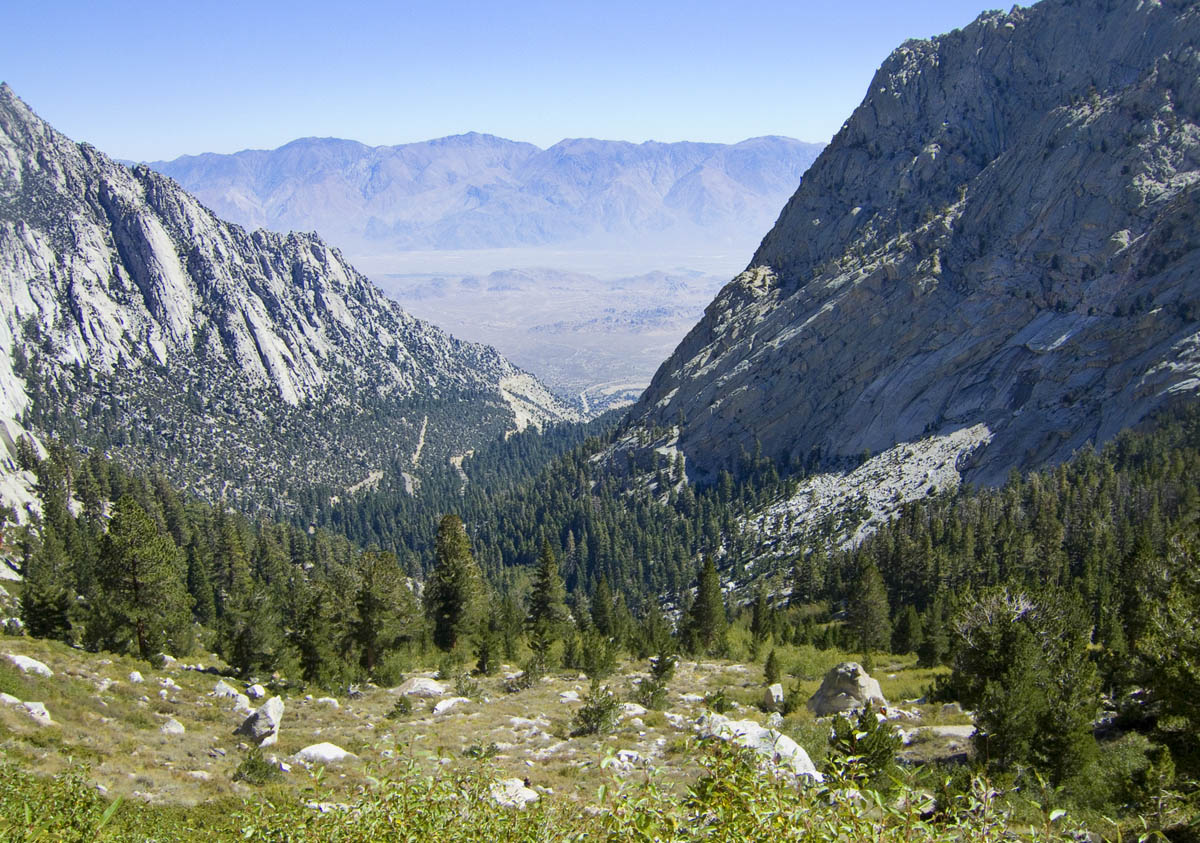 Switchbacks are good exercise going up from the trailhead. For people not accustomed to going uphill with a pack, the first few miles can be a trial. This sleeping guy was well camouflaged, about two miles up the trail.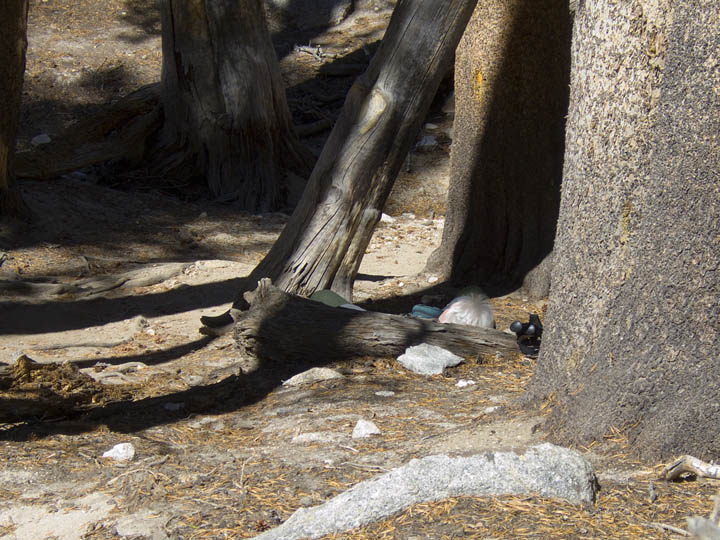 A while later is the first major point of interest, Lone Pine Lake. It sits almost perched on the edge of the flat, overlooking Owens Valley below.




Turning around and looking up the trail, you can see the ridgeline. This is a stereo pair. With a bit of practice, you can see in 3-D. At normal distance from the screen, cross your eyes and experiment until you see a third image in the middle of the other two. Then the effect should click in for you. There are more of these to come…





Up the trail a bit further, the trees start to thin out a bit, and you pass the sign: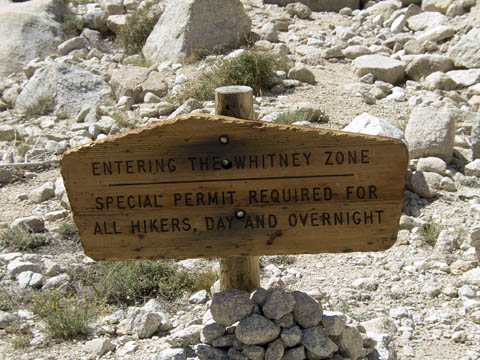 At the next "landing" there is a very lush alpine meadow.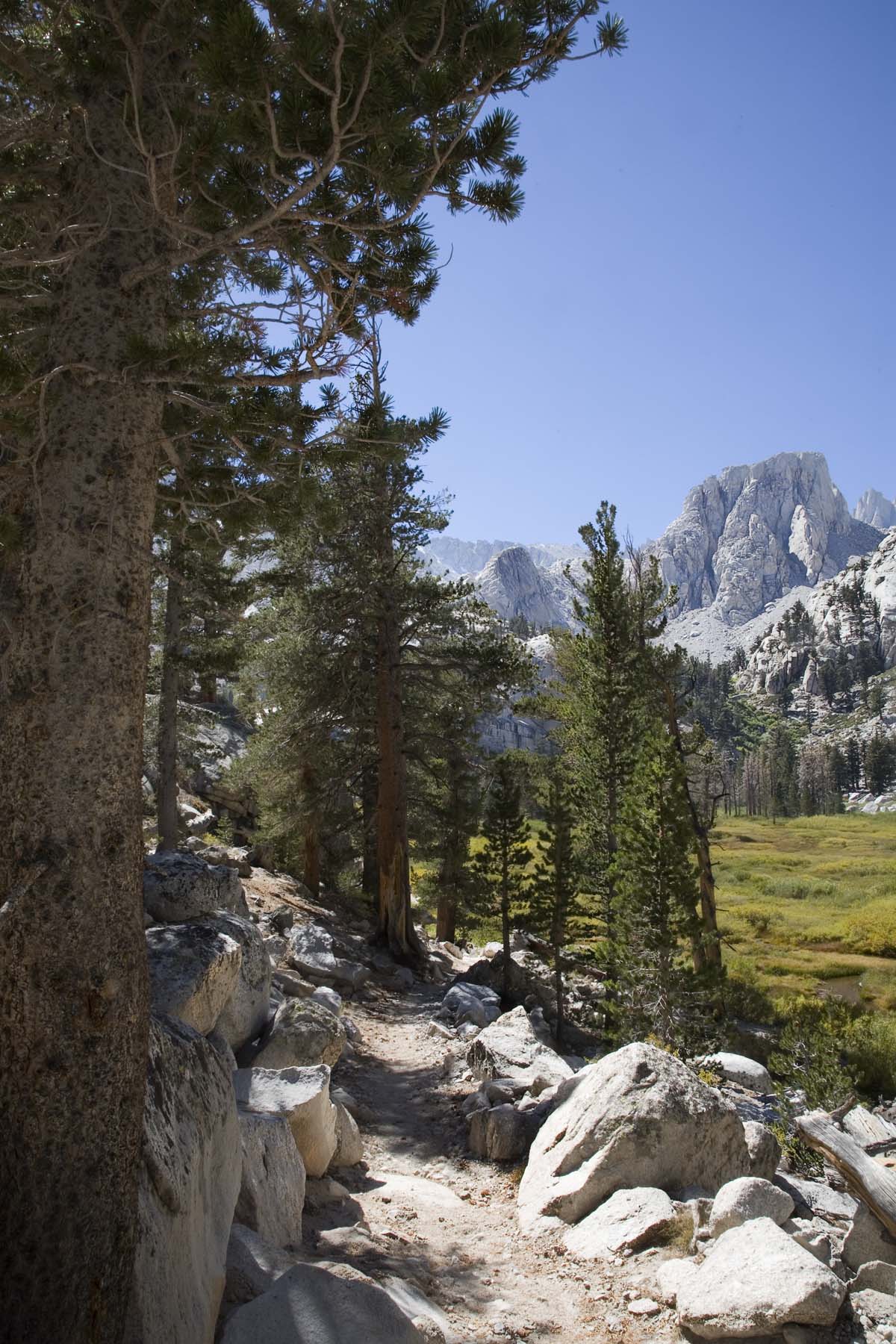 I'm on this nice trail, dappled with sunlight when I come around a corner and meet this guy: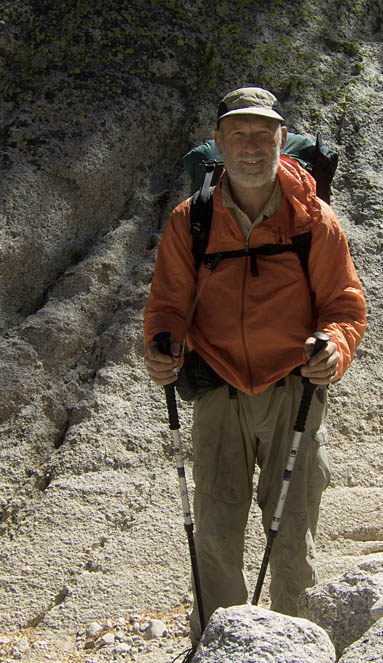 What a story! He had been a month out on the John Muir Trail, coming down from Yosemite. Last night, he was caught on the backside trail up at 14000 feet, pinned to the wall by the strong winds . To live through the night, he crawled on hands and knees to cobble together a rock cairn around him to keep from being blown off. When I told him of the wind speeds, he didn't bat an eye. He already knew first hand. Now,here was a seasoned hiker, well prepared for the extreme weather changes. He had done numerous treks in his time, and now figured this was a good way to finish up on big trips. From now on, "I'm going to spend time traveling around in luxury on my Harley". I wish you well on all your future journeys Sir!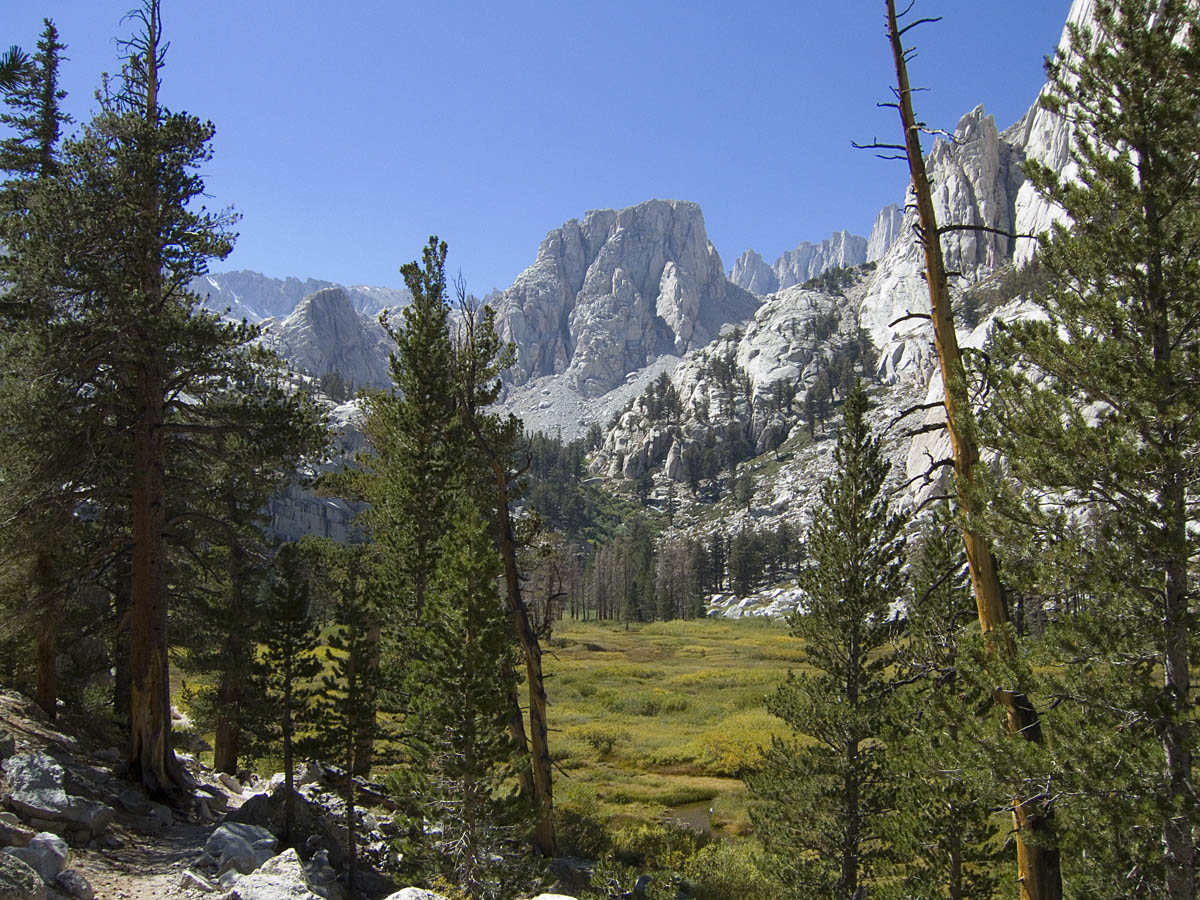 Mt. Whitney is still a long way away, hidden round behind, on the right. At the end of the meadow is Outpost camp, our first night's accommodations.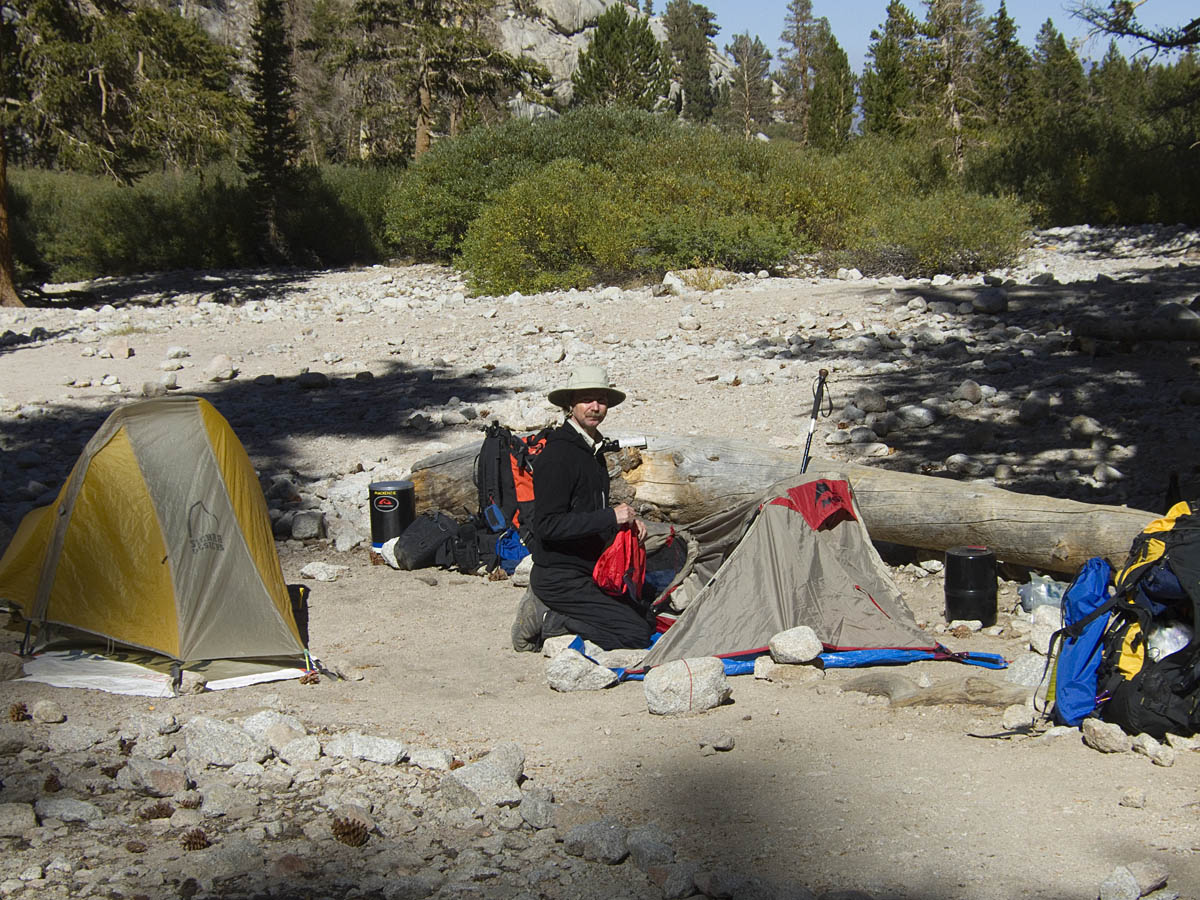 Some adventurous people decided to make a lean-to, and they did a pretty good job of it.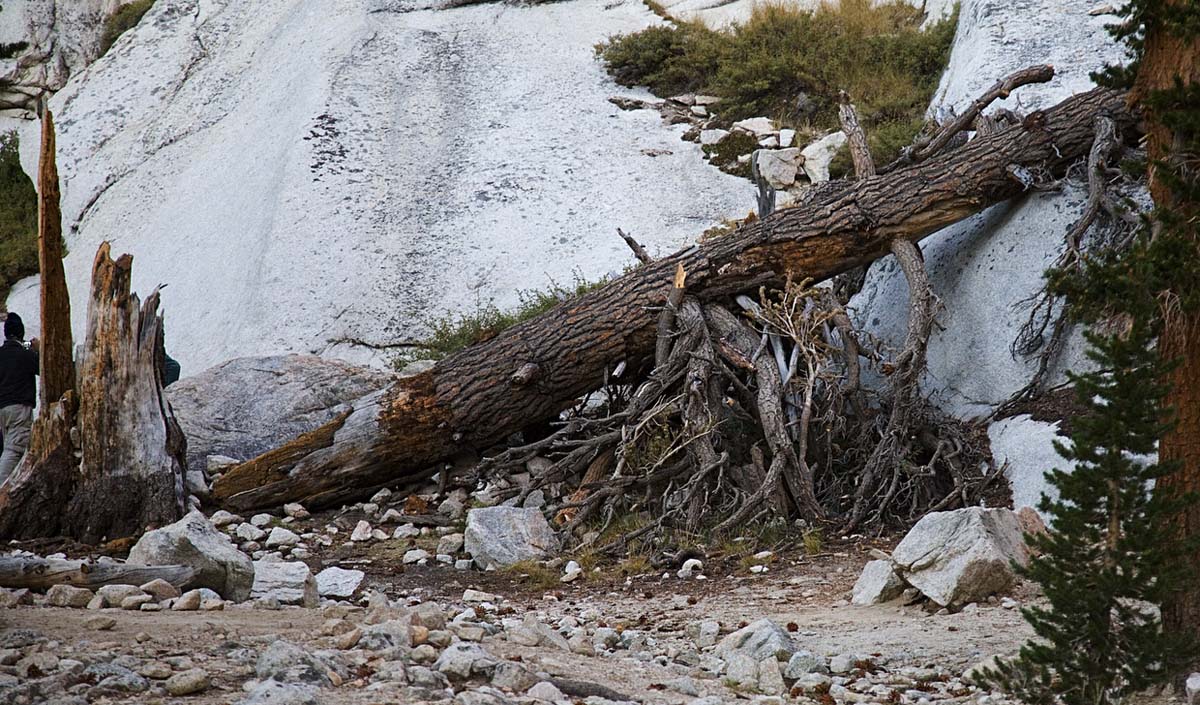 Breaking camp the next morning, I meet two guys taking a break, acupuncturist Dr. Moon and his long time friend T.C. It turns out that T.C. has a long history of hiking - he has traveled throughout Patagonia, and many years ago hiked the Silk Road in Asia. Now that's a trek! Best Wishes to both you guys!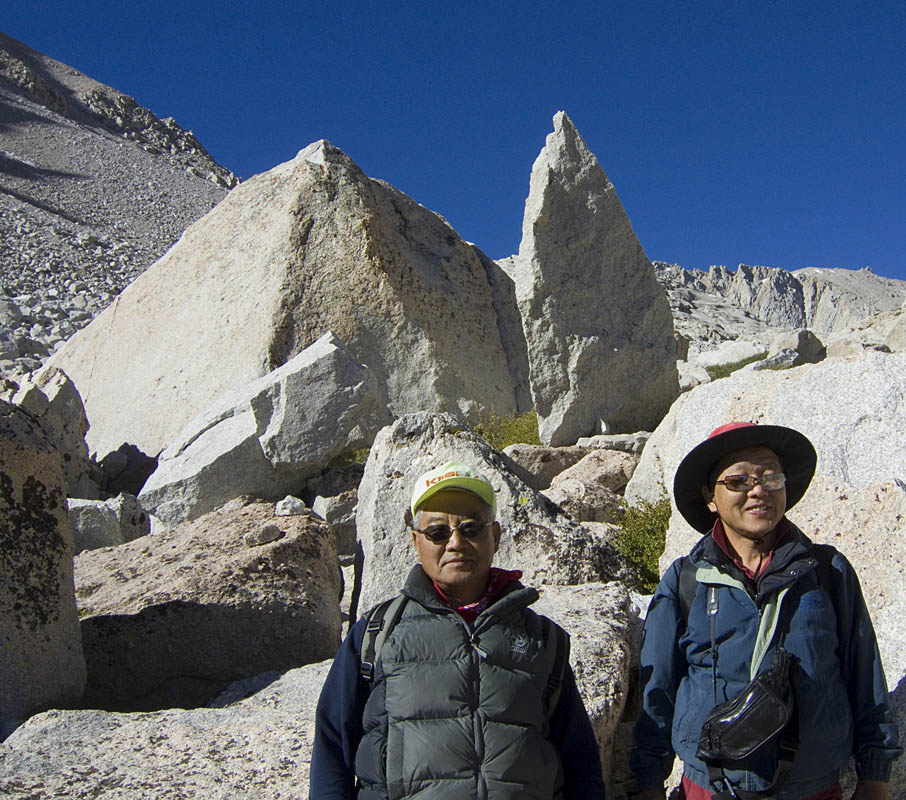 And a short while later, a gent from Bucks County Pennsylvania, out for some photography with his buddies.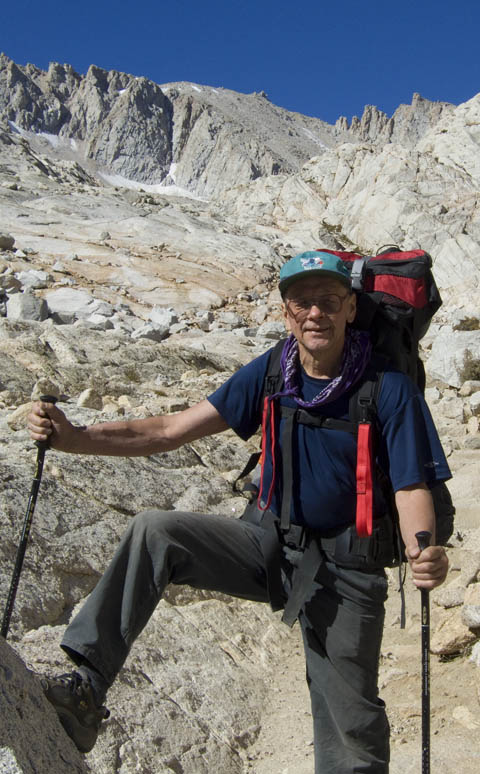 On this look back, you can just see a bit of Lone Pine Lake. Outpost Camp is hidden way down behind the hillock.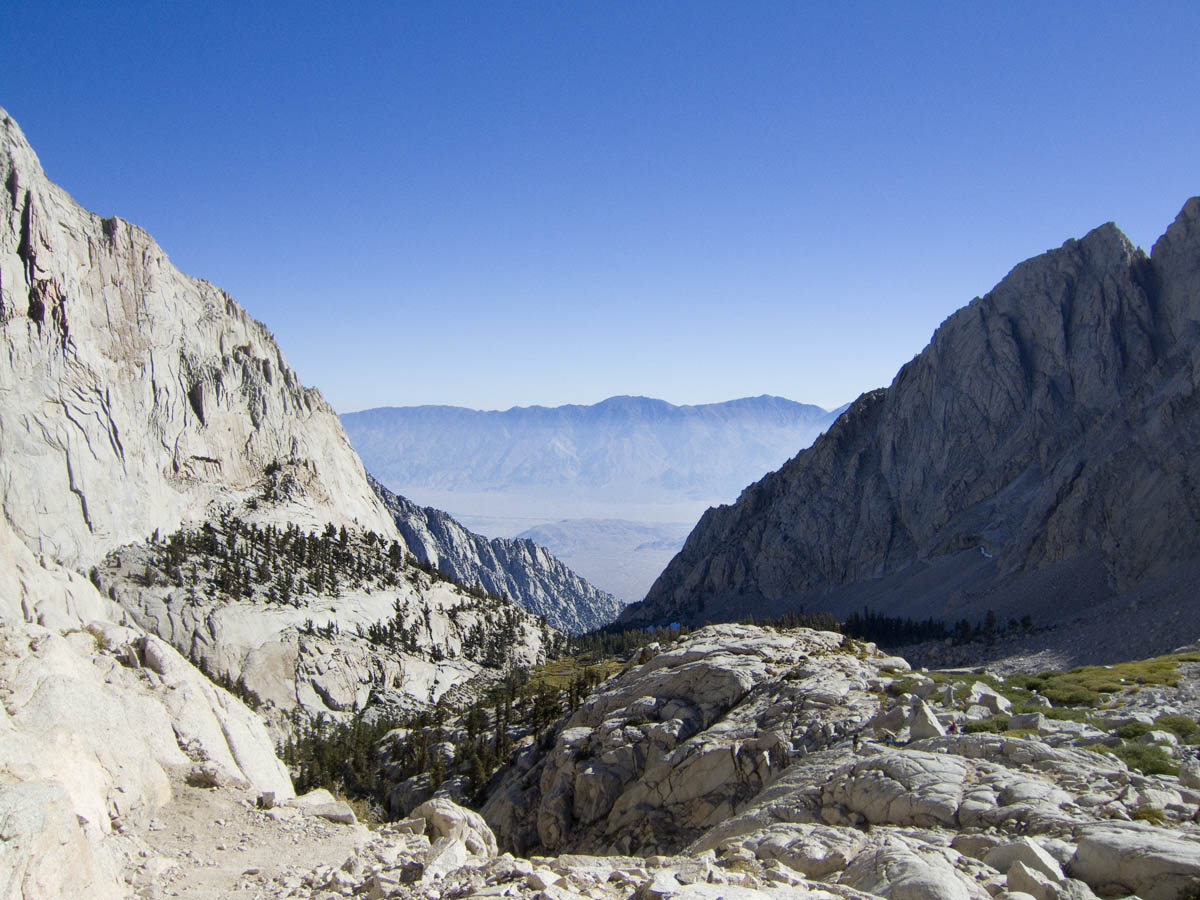 Heading up the trail, you can see the trees have stayed behind. And people are so small as to be left invisible against the rock.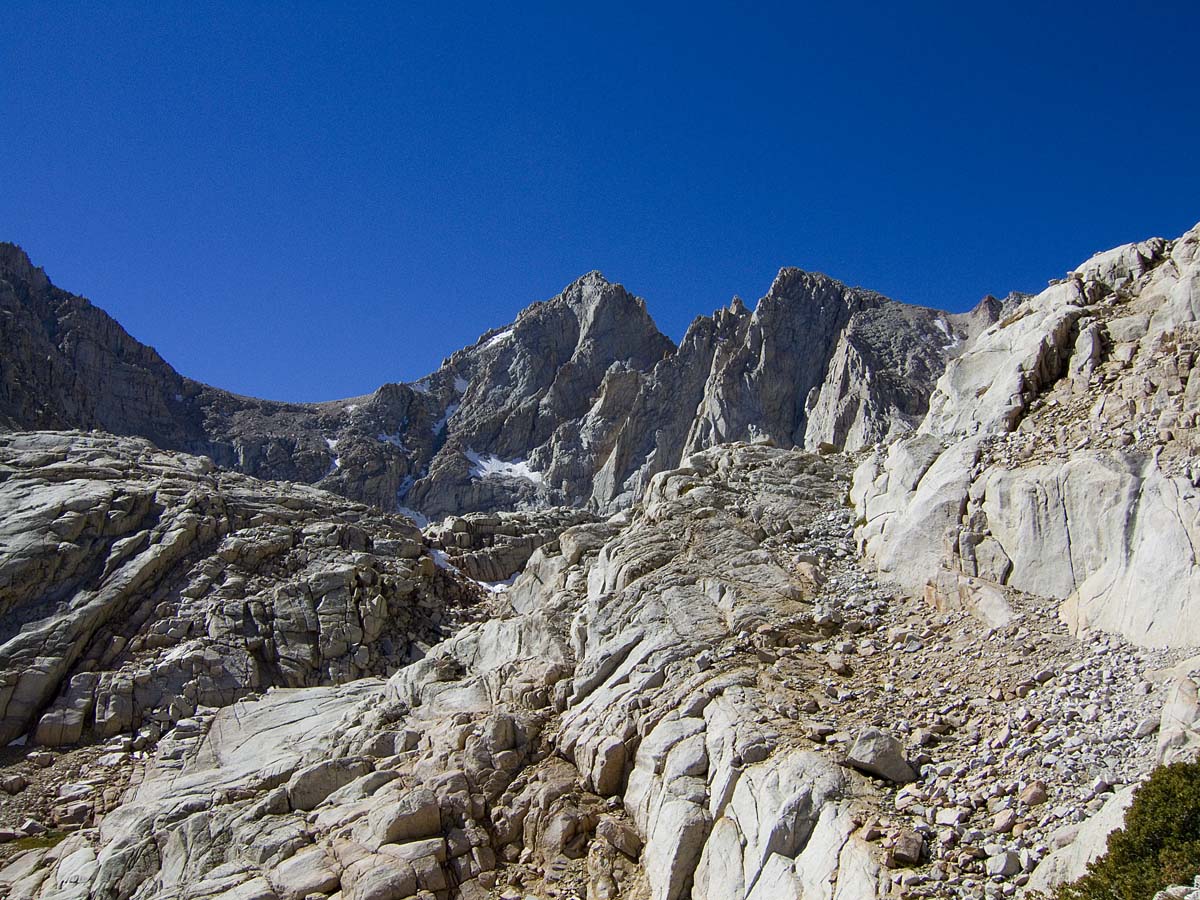 And a bit further up is Consultation Lake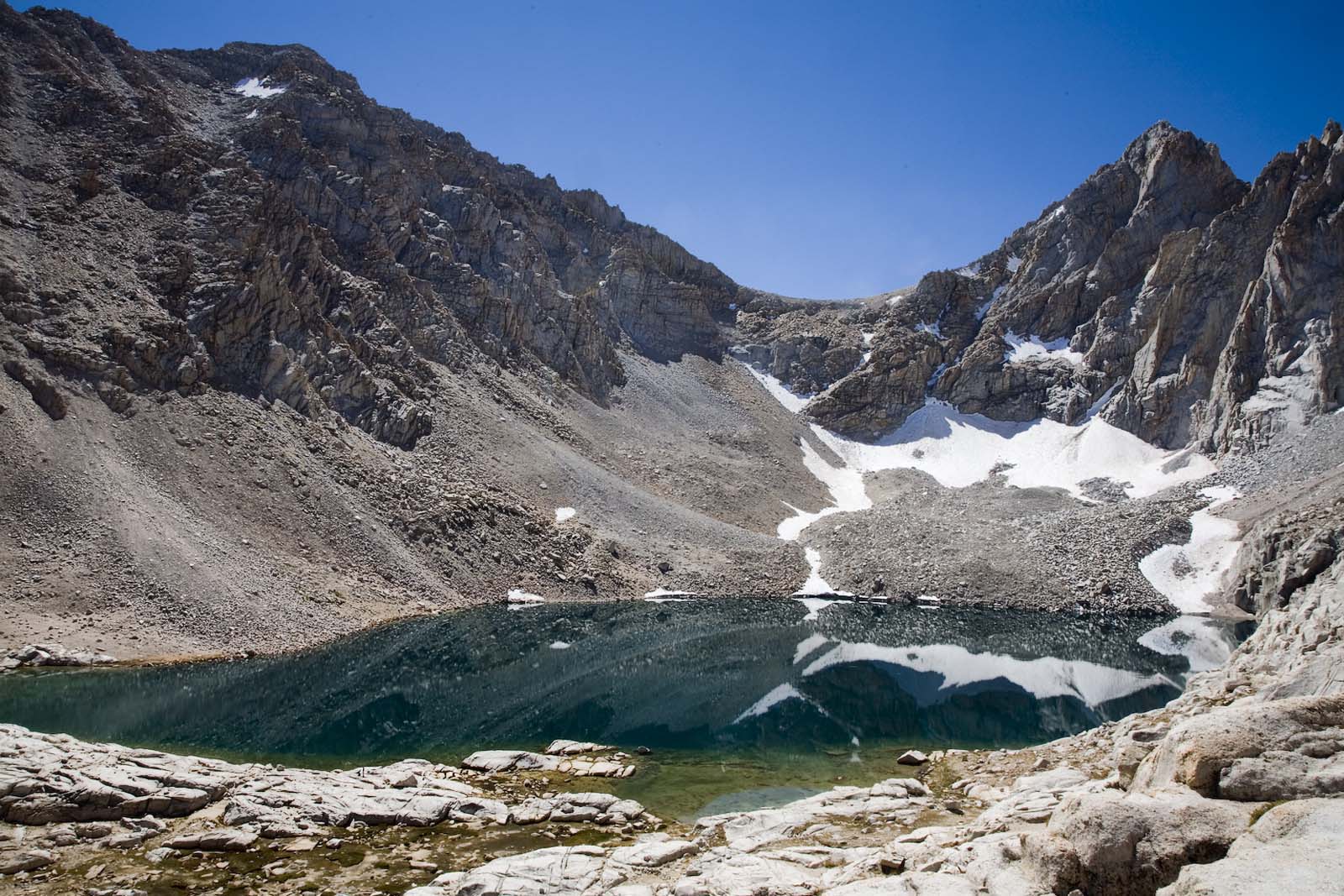 Finally, in early afternoon, we reach Trail Camp, where we'll spend the night. There are already a good number of tents here, and pretty soon there will lots more people looking for places.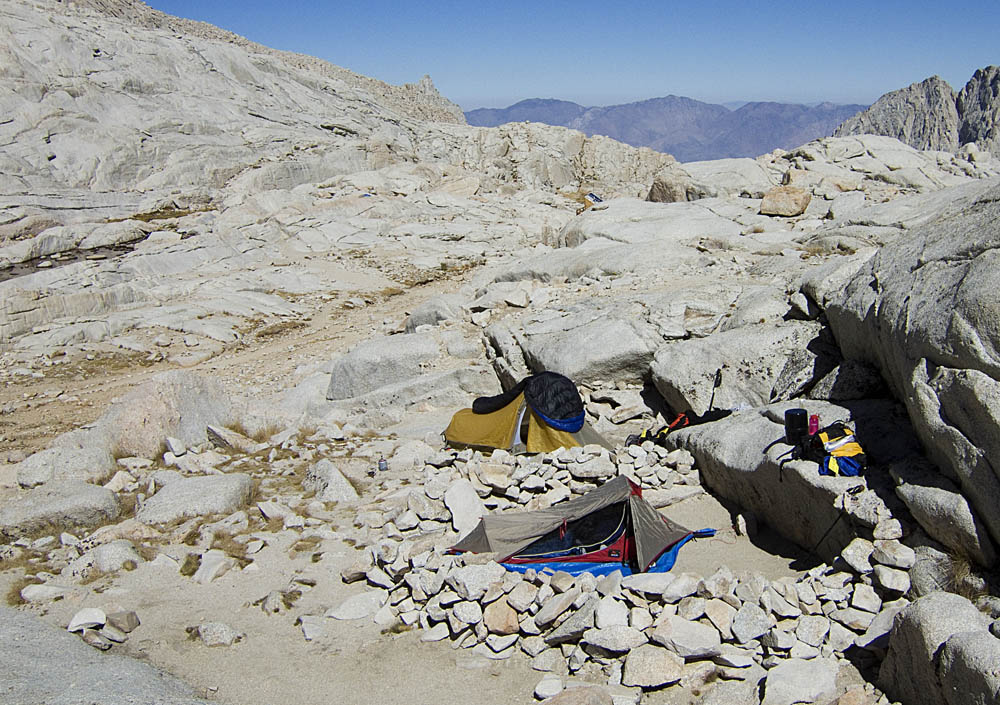 There's a small lake for pumping water, and very nice backdrop scenery. Right now, the sun is warm and its easy to have a snooze…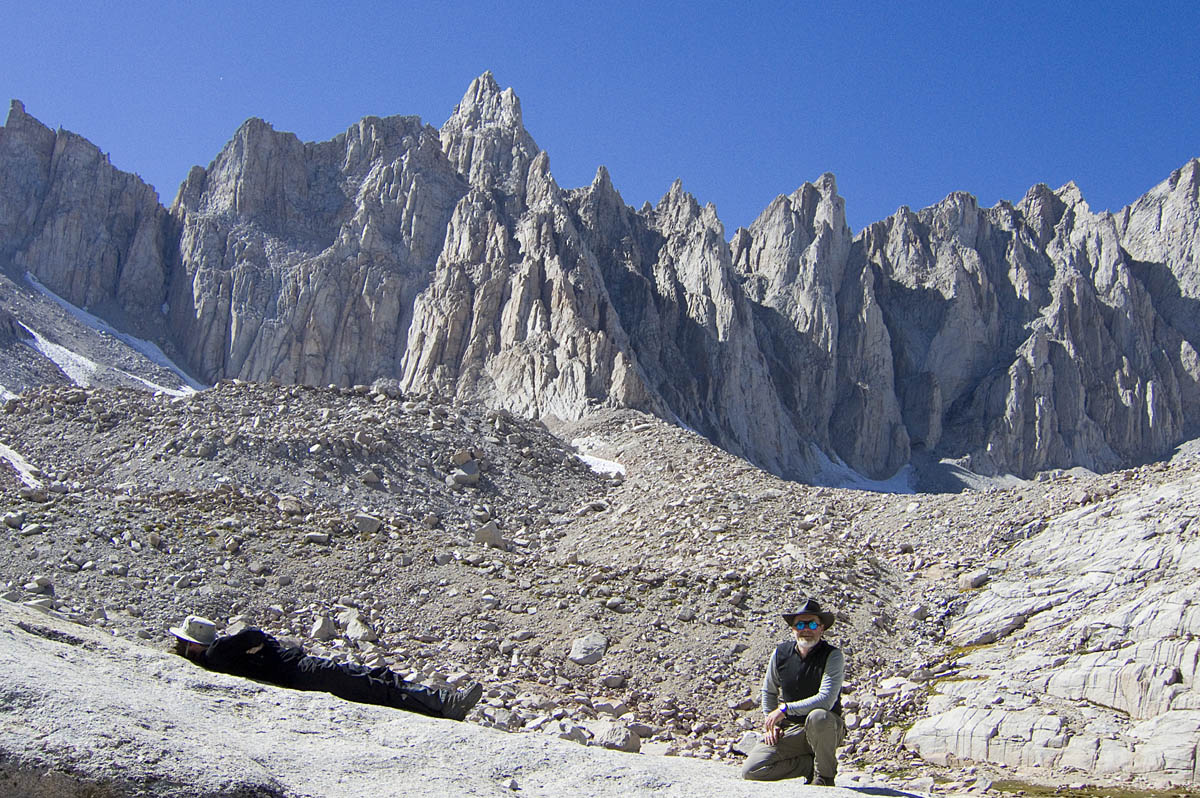 The trail goes off and up to the left, over the ridgeeline and then around the backside to Mt. Muir and Whitney, which are still out of sight on the right.

The big event at Trail Camp is the dismantling of the solar composting toilets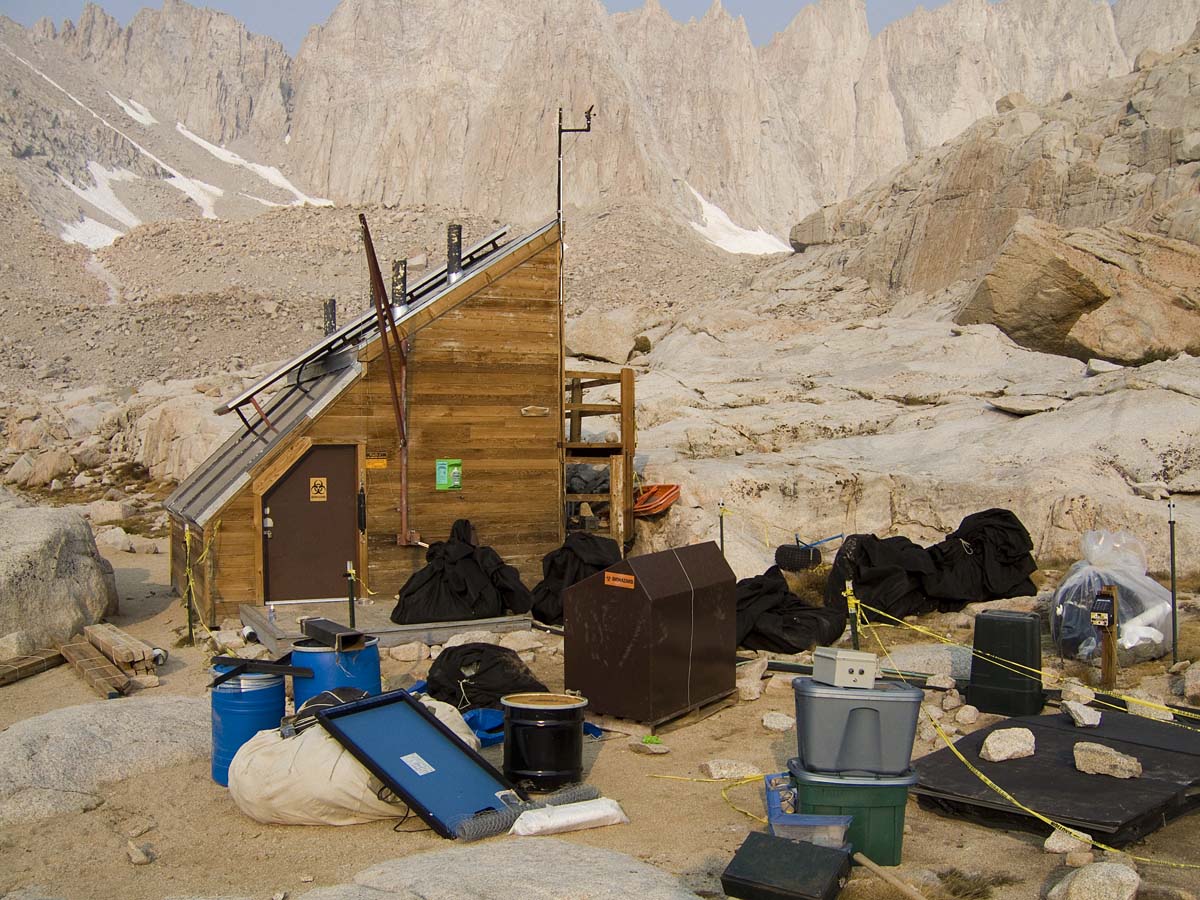 For a variety of reasons, after much lobbying from "environmentalist" groups, they've been closed for good. The plan now is for people to pack out all their waste in a "wag-bag", because the toilets are overflowing. This does have merit-of course, while remembering that because of liquid intake, your pack and wag-bag will generally gain total weight the longer you stay out on the trail.

Interestingly, the somewhat secluded "high-ground" at Trail Camp is a apparently a popular spot for nature calls. You don't want to be downwind, and a stiff breeze raises the little ends of the toilet papers like a display of Himalayan prayer flags. Meanwhile, I'm sure some devoted enthusiasts are lurking in the bushes to nab policy offenders. And naturally, despite the policy and a refusal to pack-train it out from the composting toilets, the actual trails now have a worse share of treasures secreted under assorted telltale flat pieces of rock. Be careful where you sit.

The next morning brings another fine day.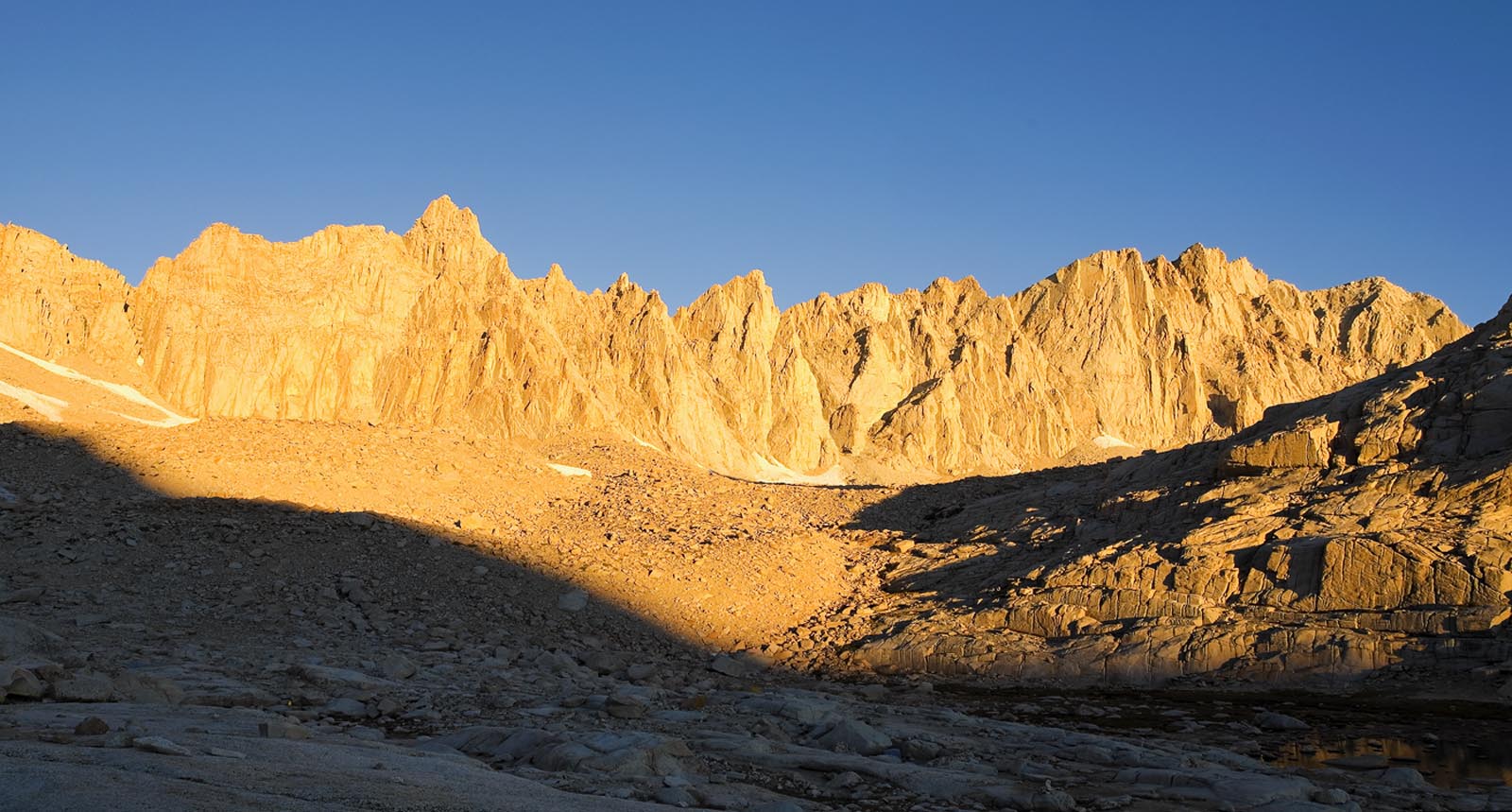 Pausing to look back, Trail Camp is at the left hand lake, and you can just see the trail. We are now on the famous 99 switchbacks!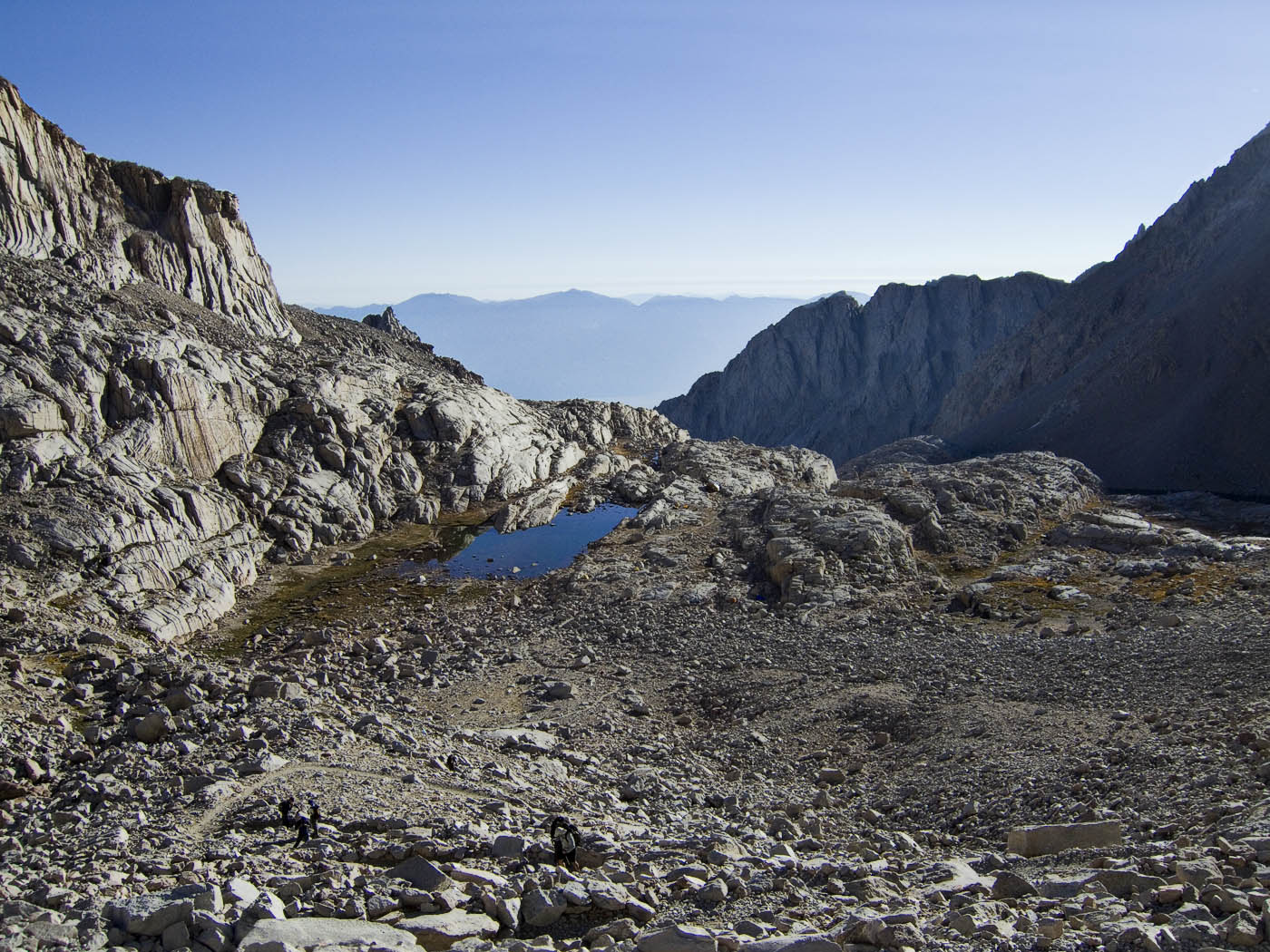 Further along, everything in the world behind you is shrinking fast.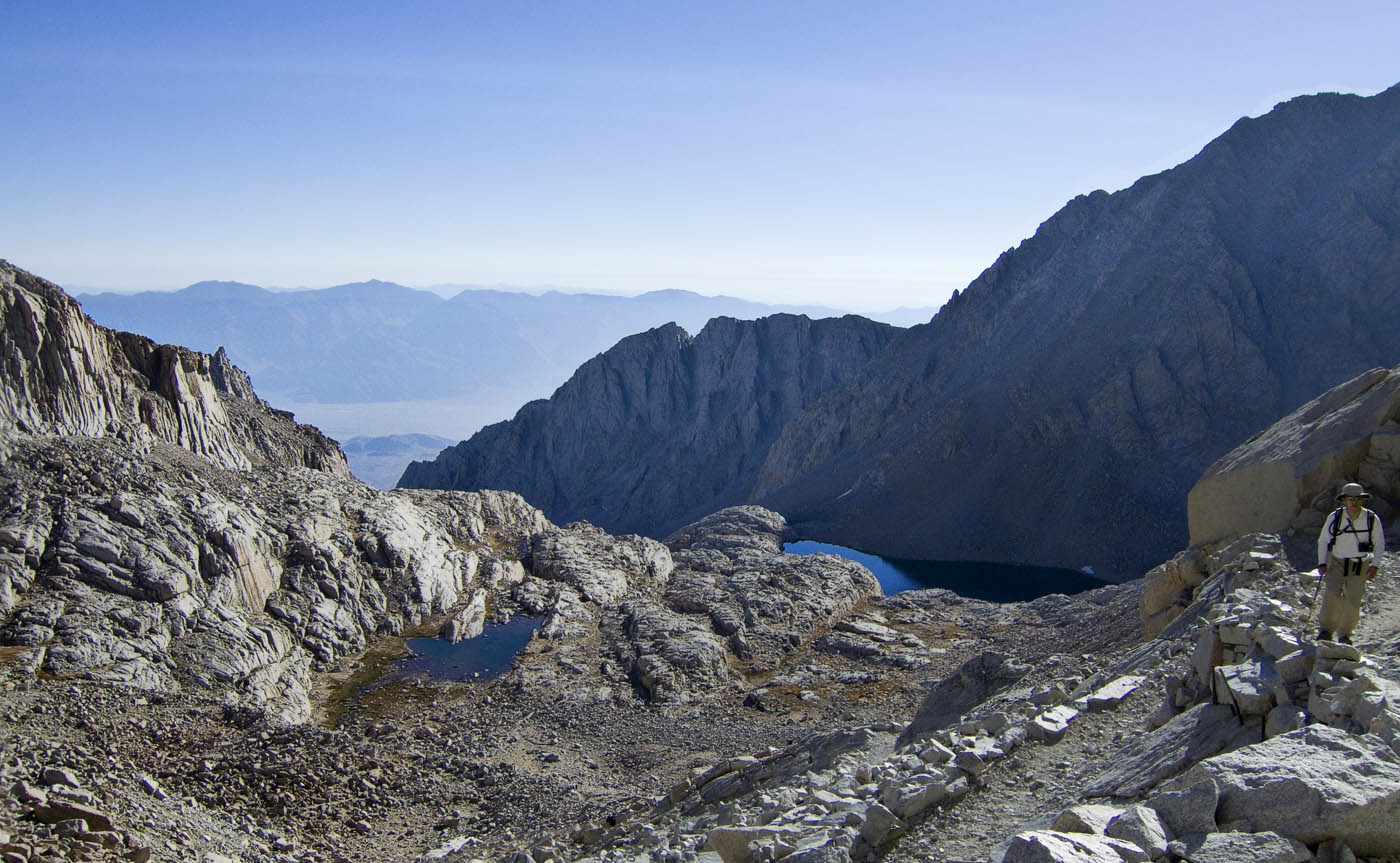 and another 20 minutes…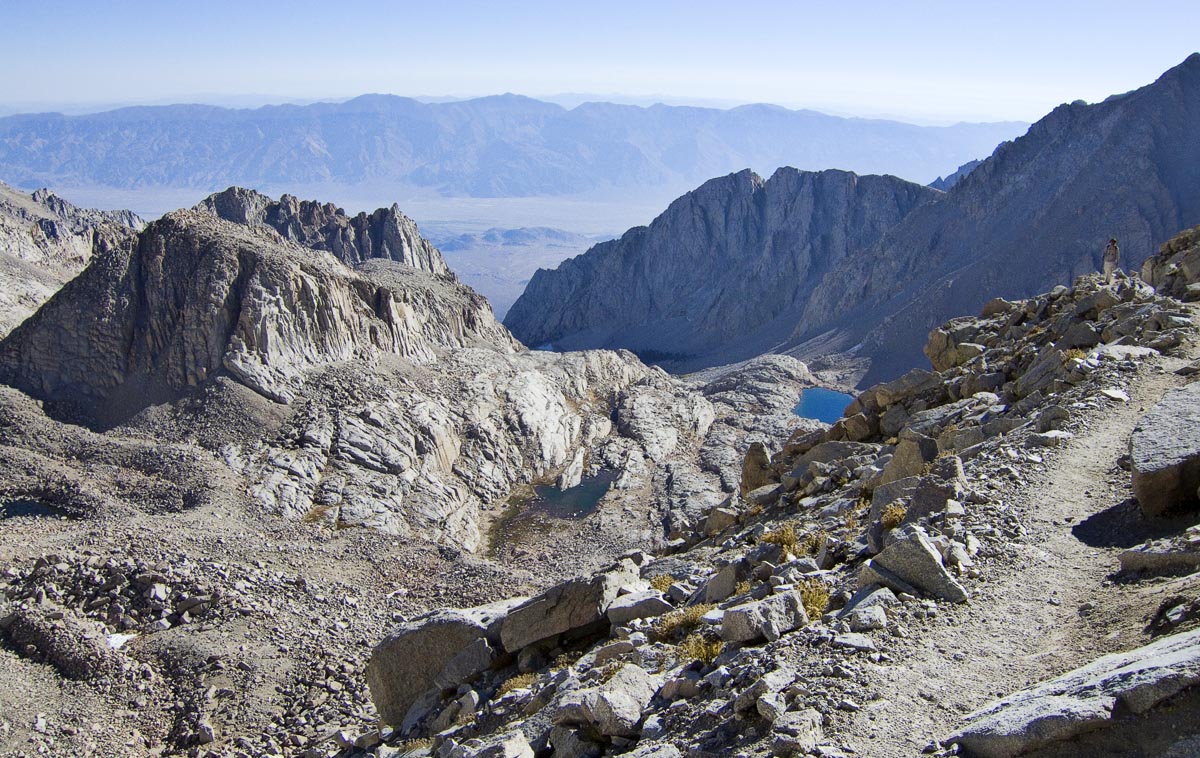 Finally, I see a marker: 3 more to go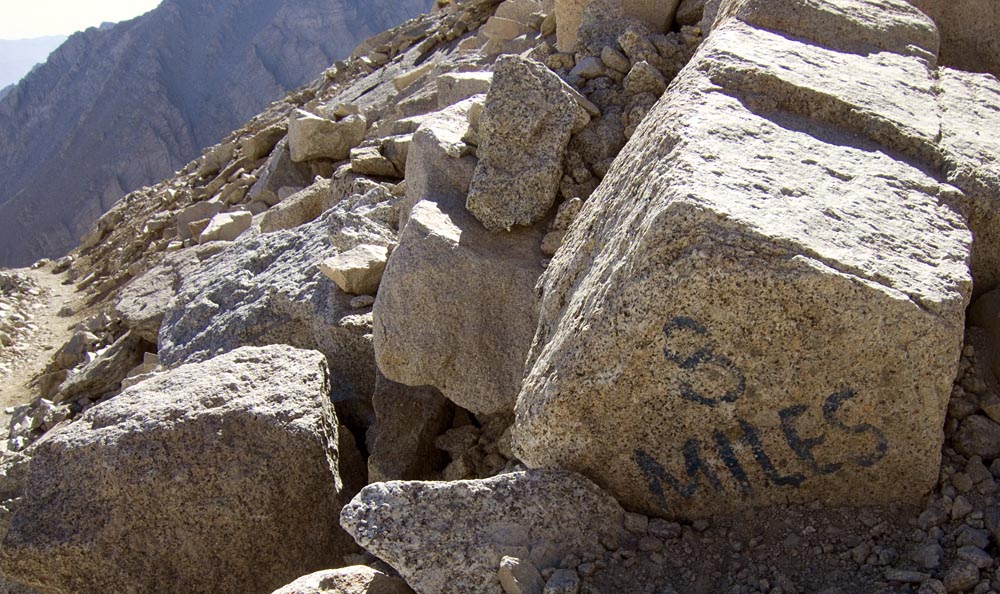 More switchbacks and at last the Trail Crest is in sight. Crossing to the west side of the ridgeline, a whole new vista awaits.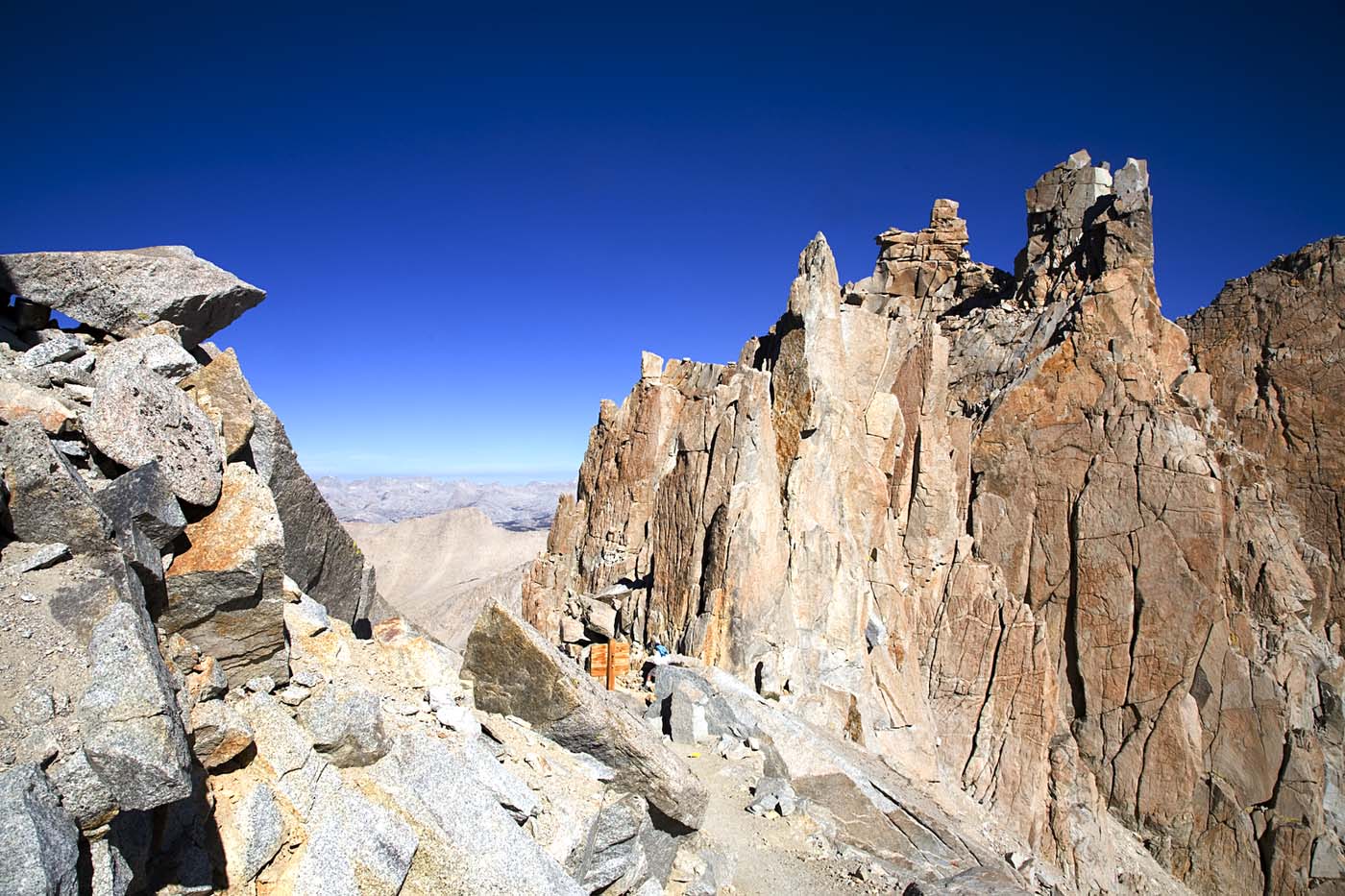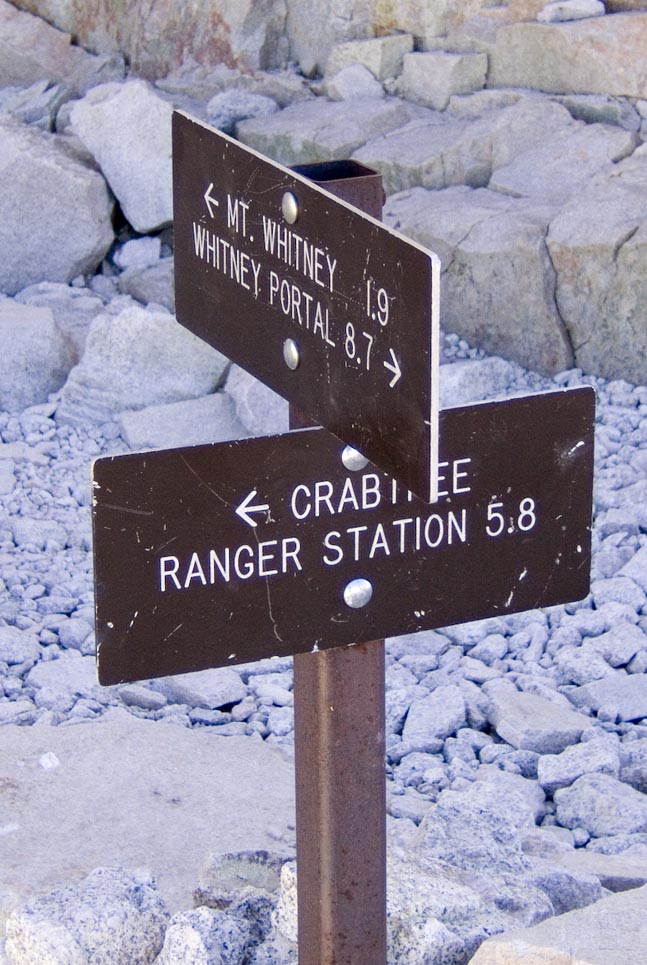 Far below, the stereo picture shows Guitar Lake to the right and Crabtree meadow.




The trail gets rougher on this side, and the rocks larger. The sun is bright and takes the chill off the breeze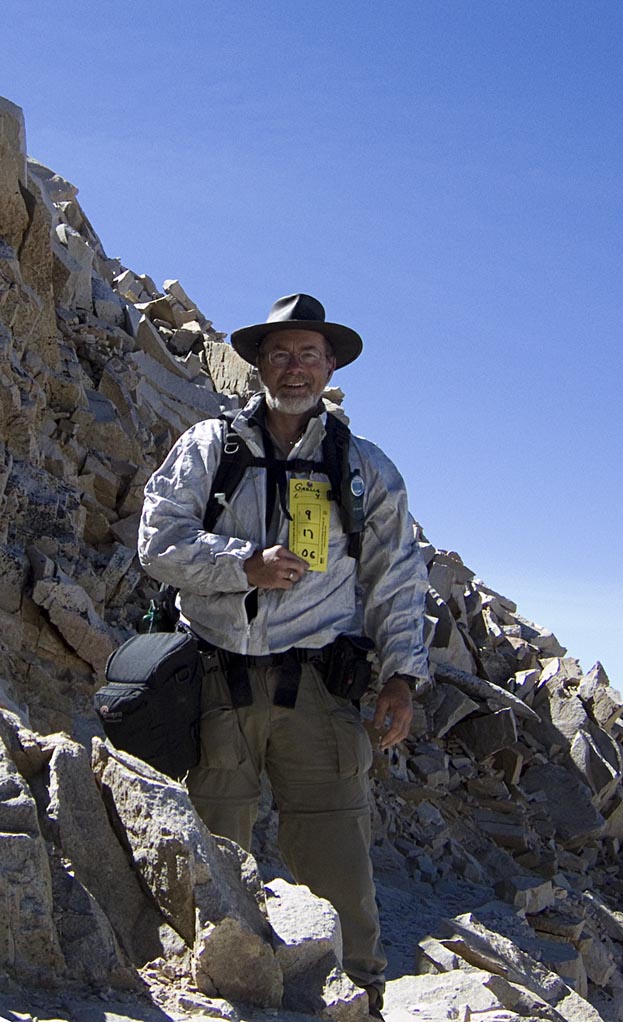 Up ahead are the Needles, through which we can look down toward Lone Pine. Mount Whitney is the farthest peak away.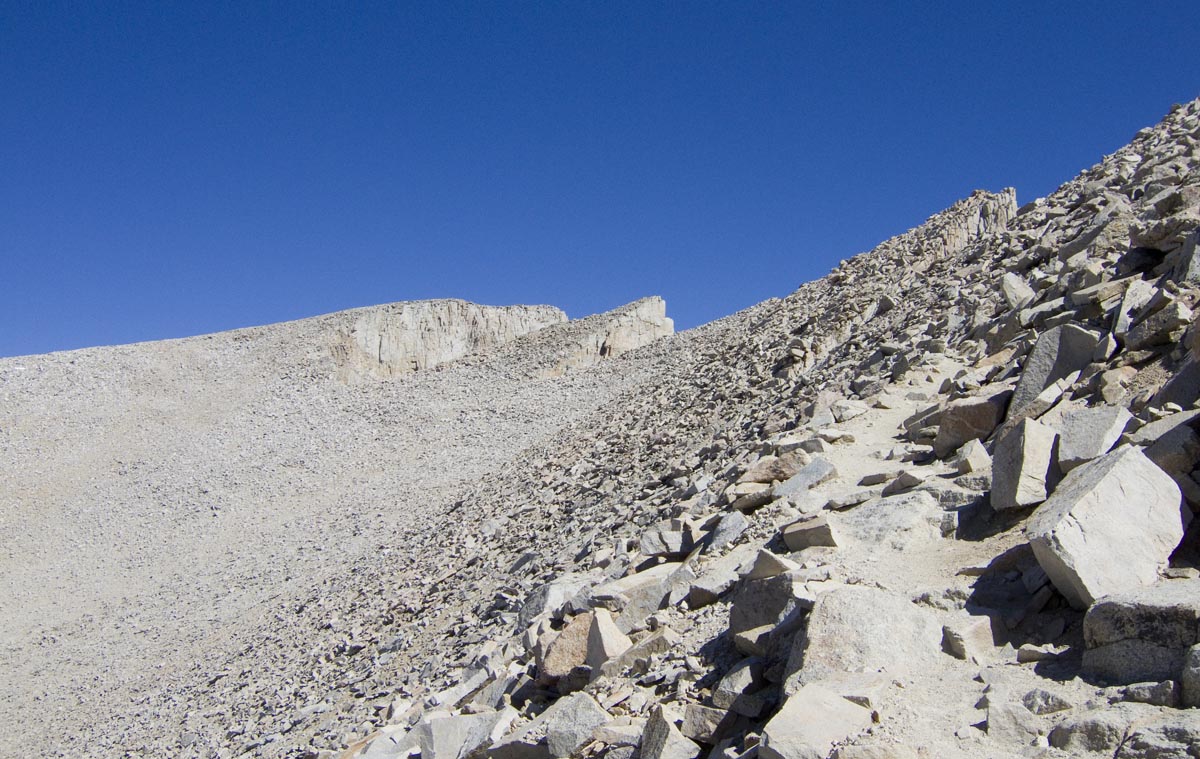 Now a first look down from the edge.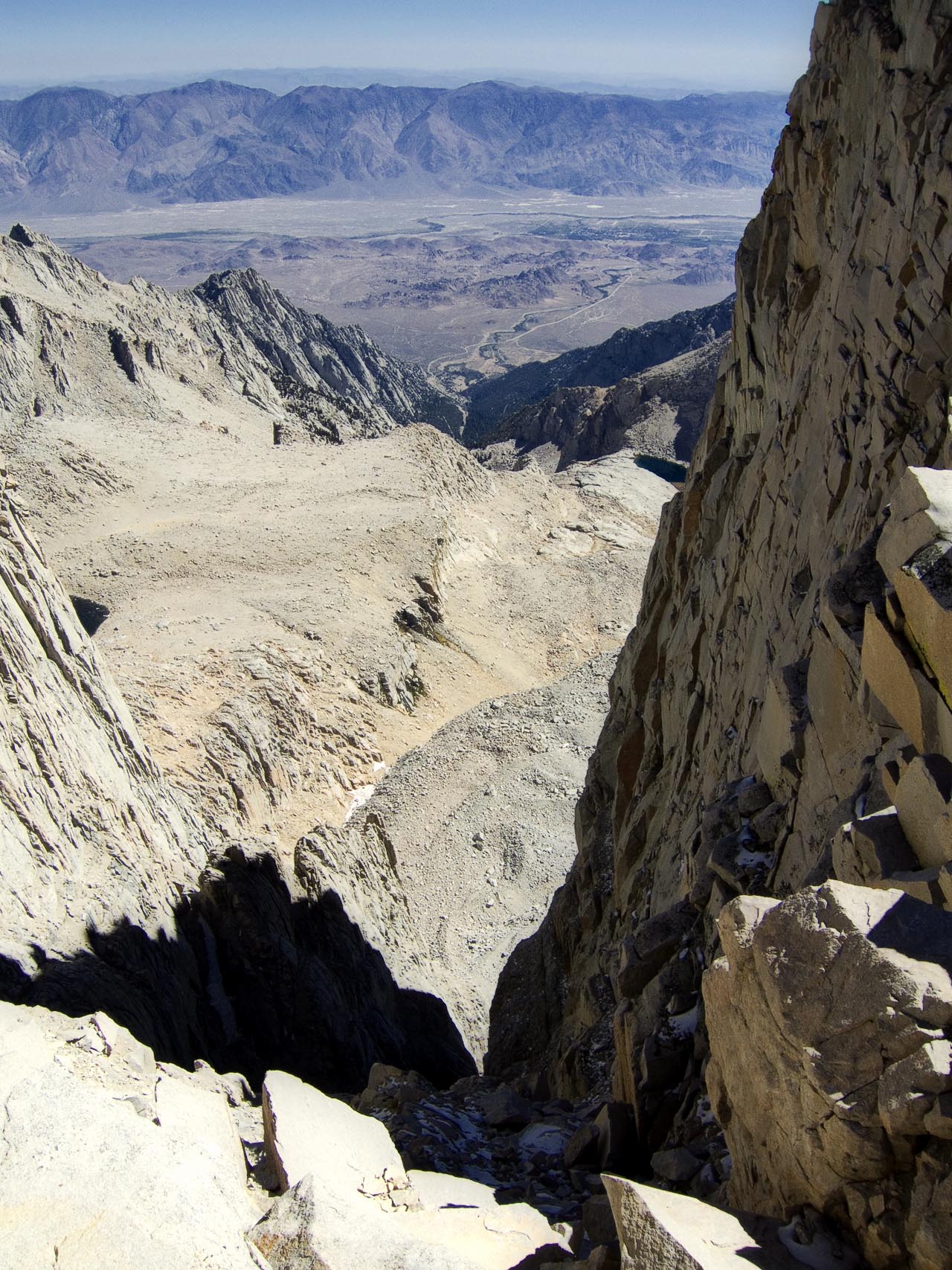 And then a stereo view through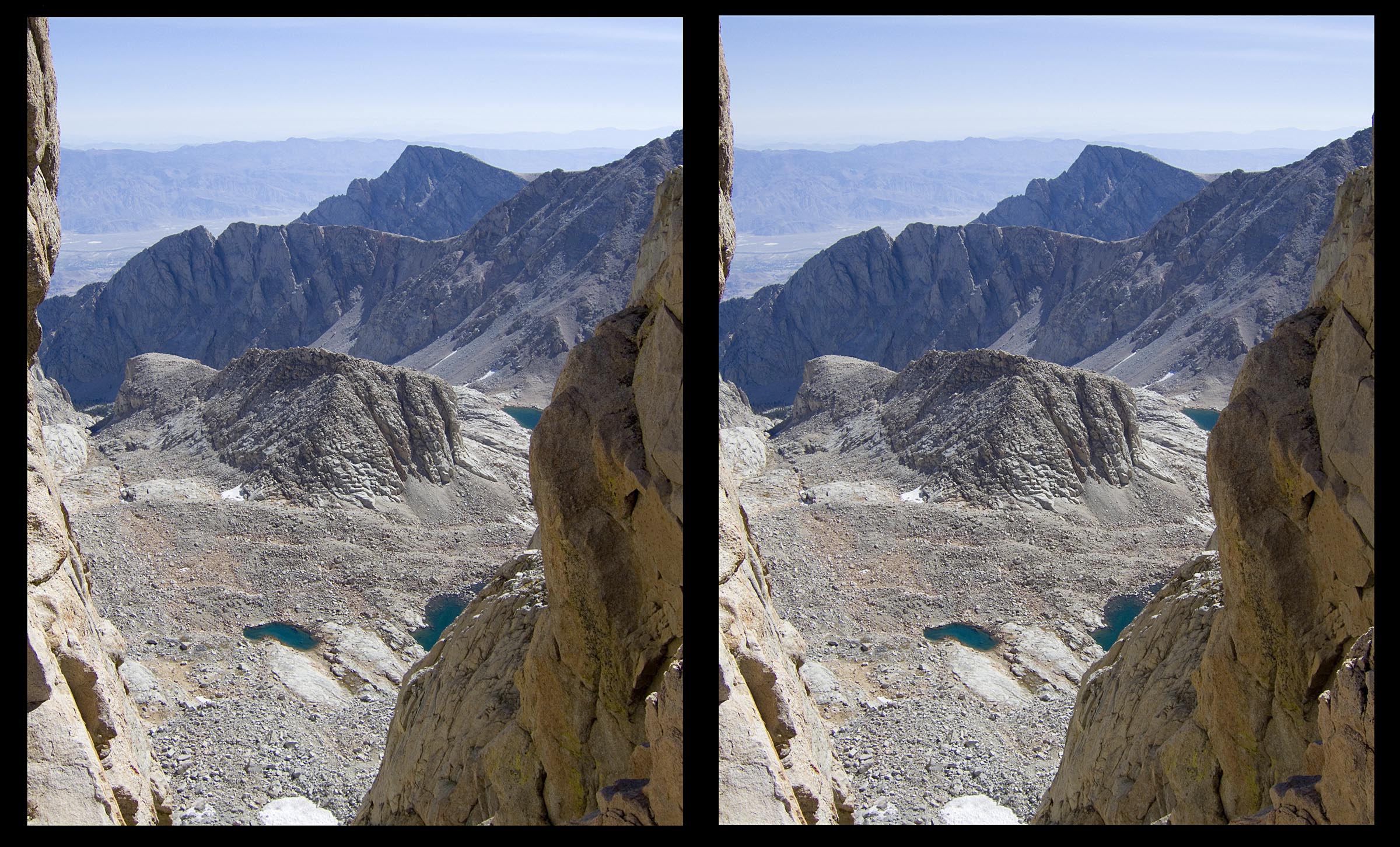 Now I'm on the final switchbacks to the top. I again met a gal who was doing the summit today. Heike is from Germany, and had a good story. Yesterday, their group had gone most of the way up the Mountaineer's Route to the top, but had been turned back by dangerous winds at tricky places. So after going back down to Whitney Portal, she set out early this morning to go up the regular path. Now that's determination! Good Work Heike.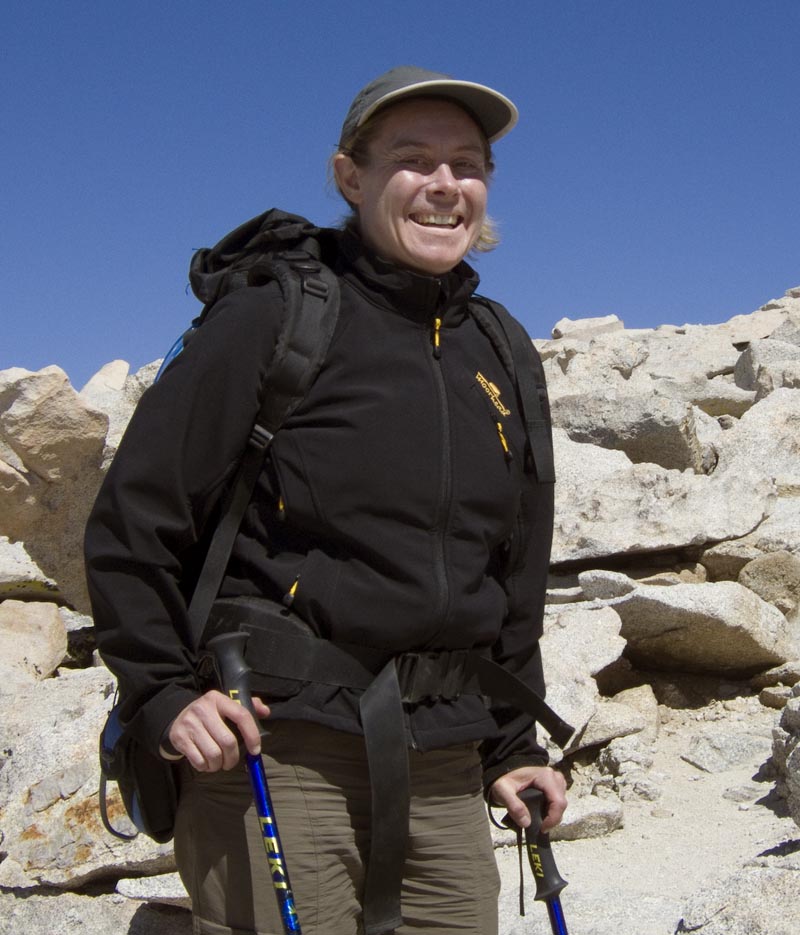 Almost at the top, all you can see is fractured rock strewn about. The freeze thaw cycles are always at work. And yet, here is a most peculiar formation. A cave exposed and a rock within it.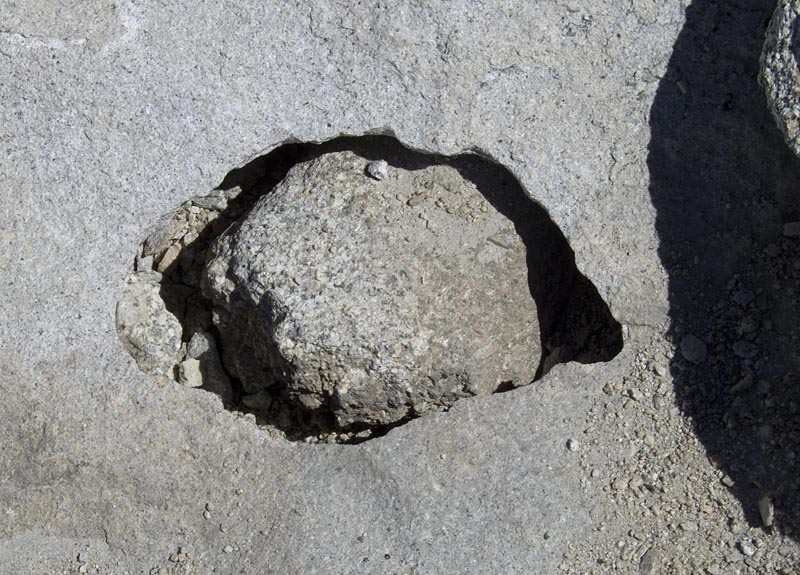 And there is the National Geographic Hut.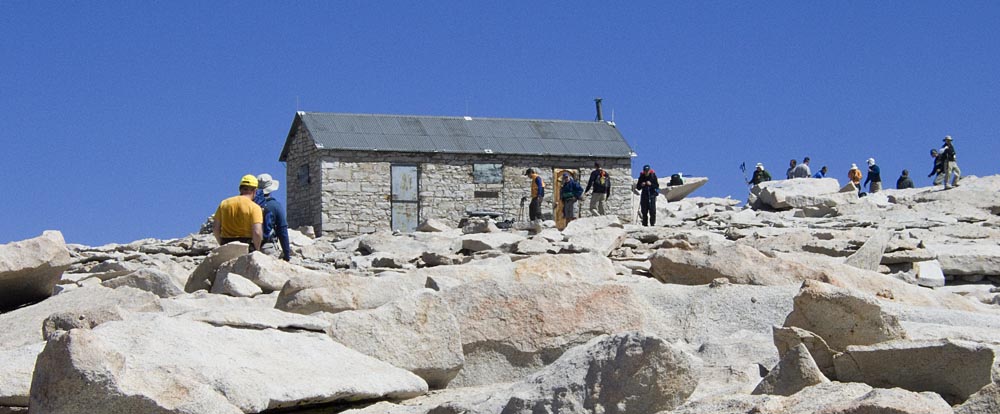 complete with emergency shelter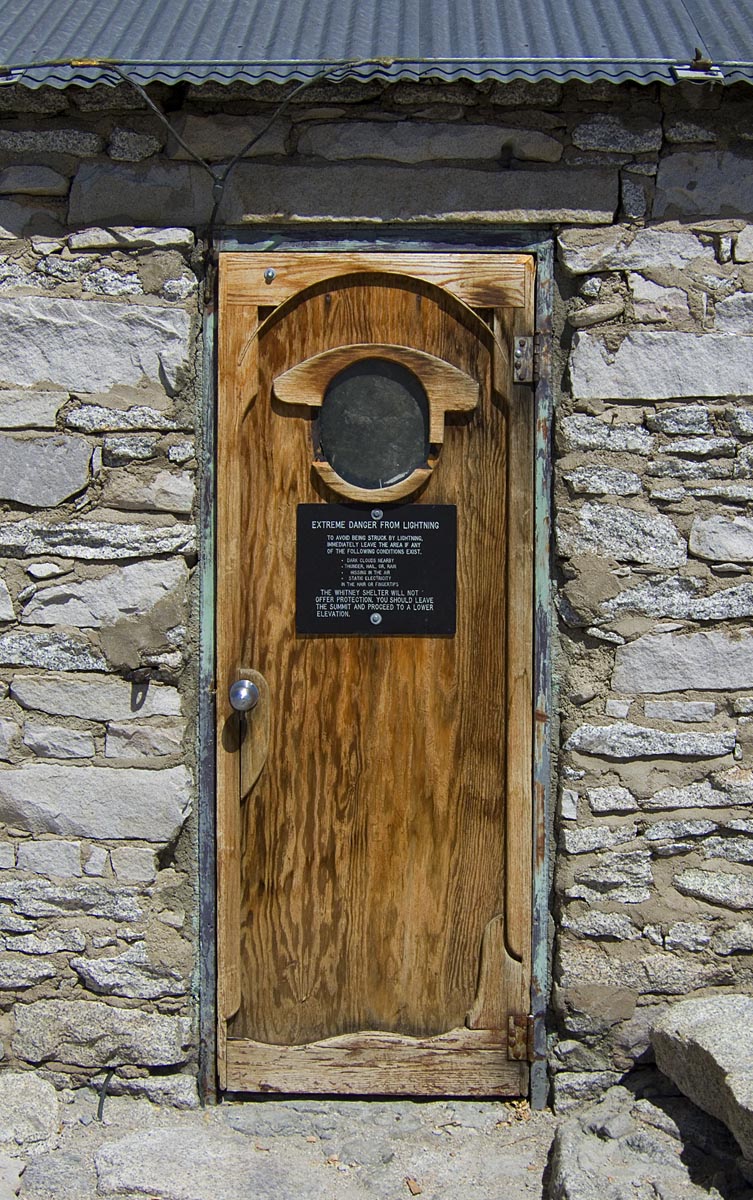 and the lunchtime crowd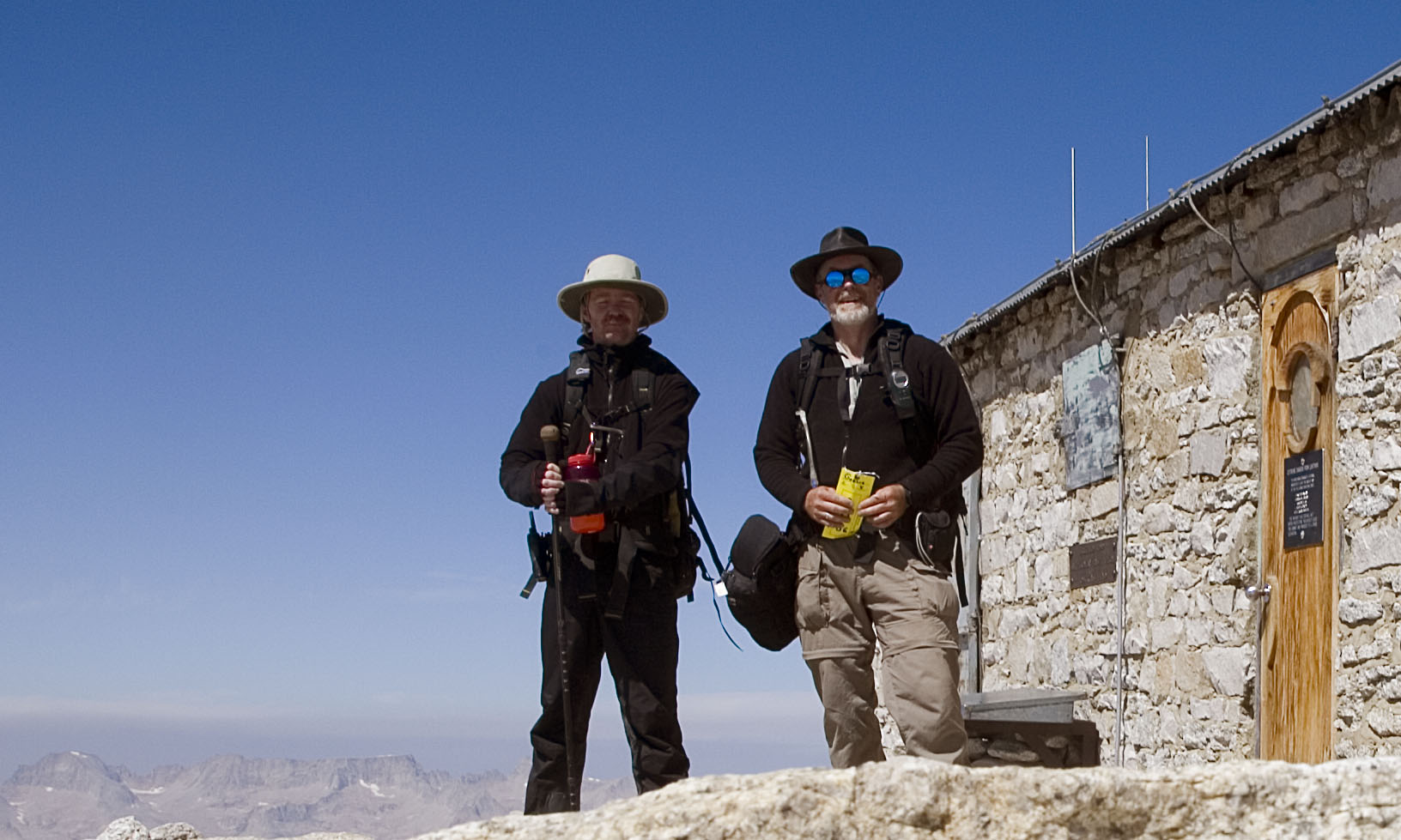 Looking east from the edge



and looking back over Wotan's Throne to distant peaks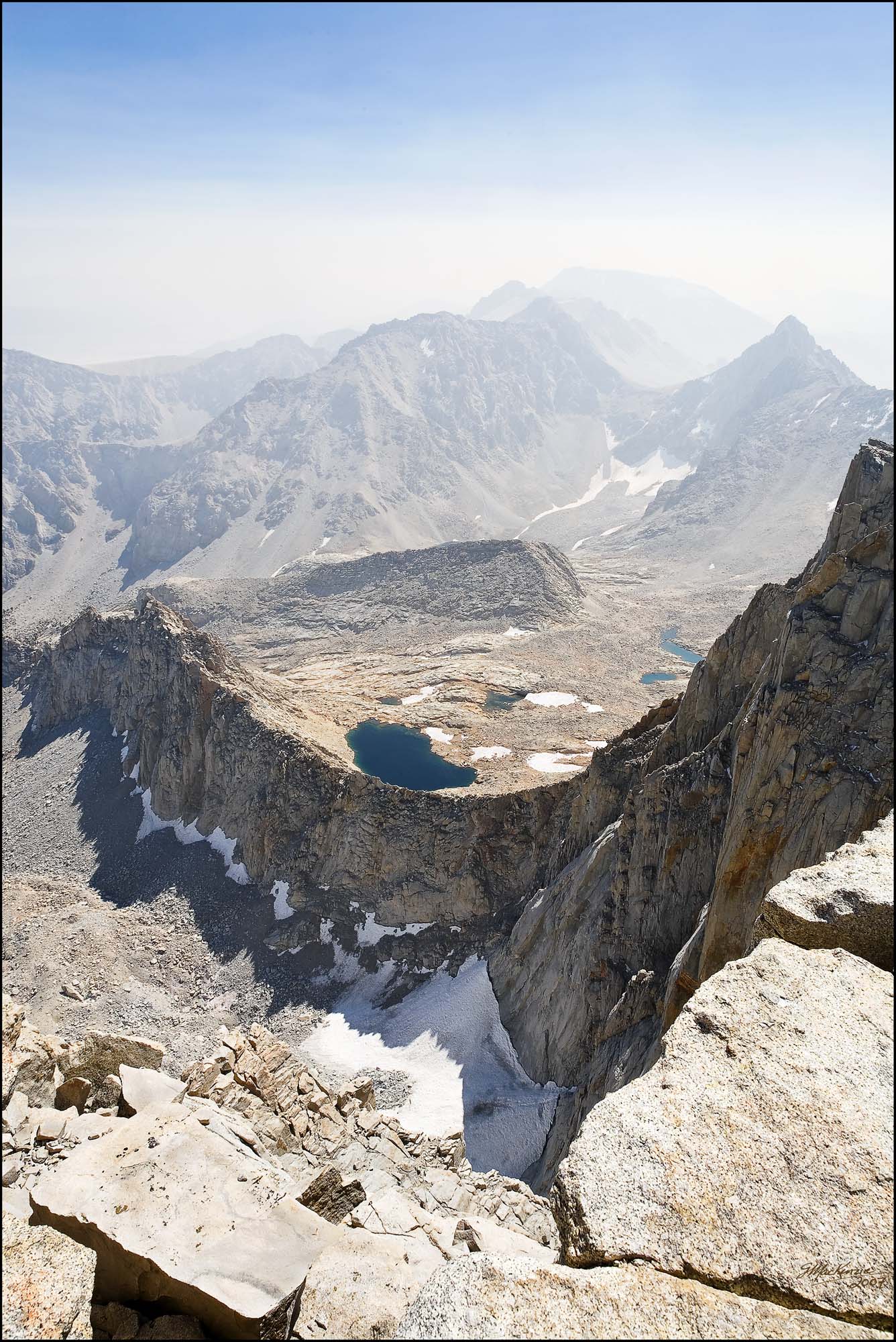 After a nice lunch, I began the trip down. Looking to the ridgeline crossover at Trail Crest: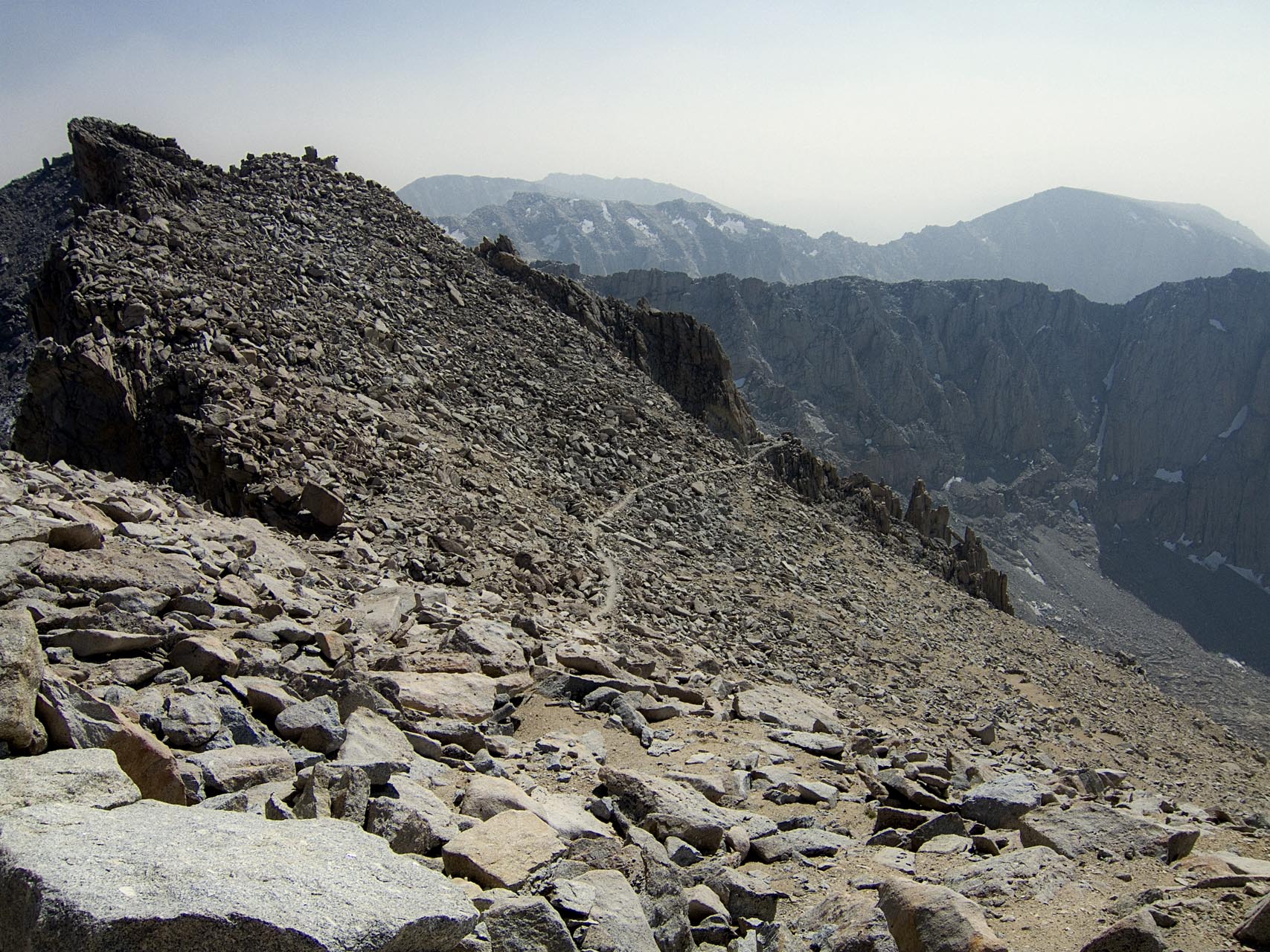 and eventually down to Trail Camp, to spend the night. Bit by bit it gets closer…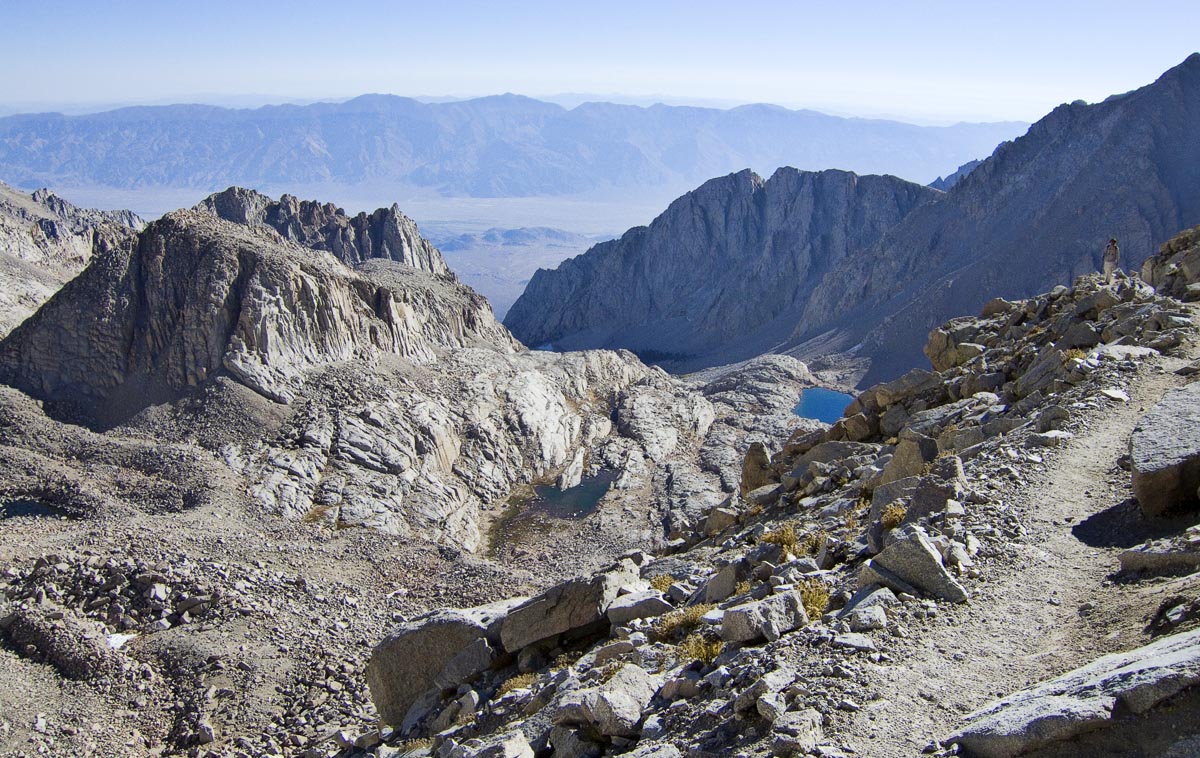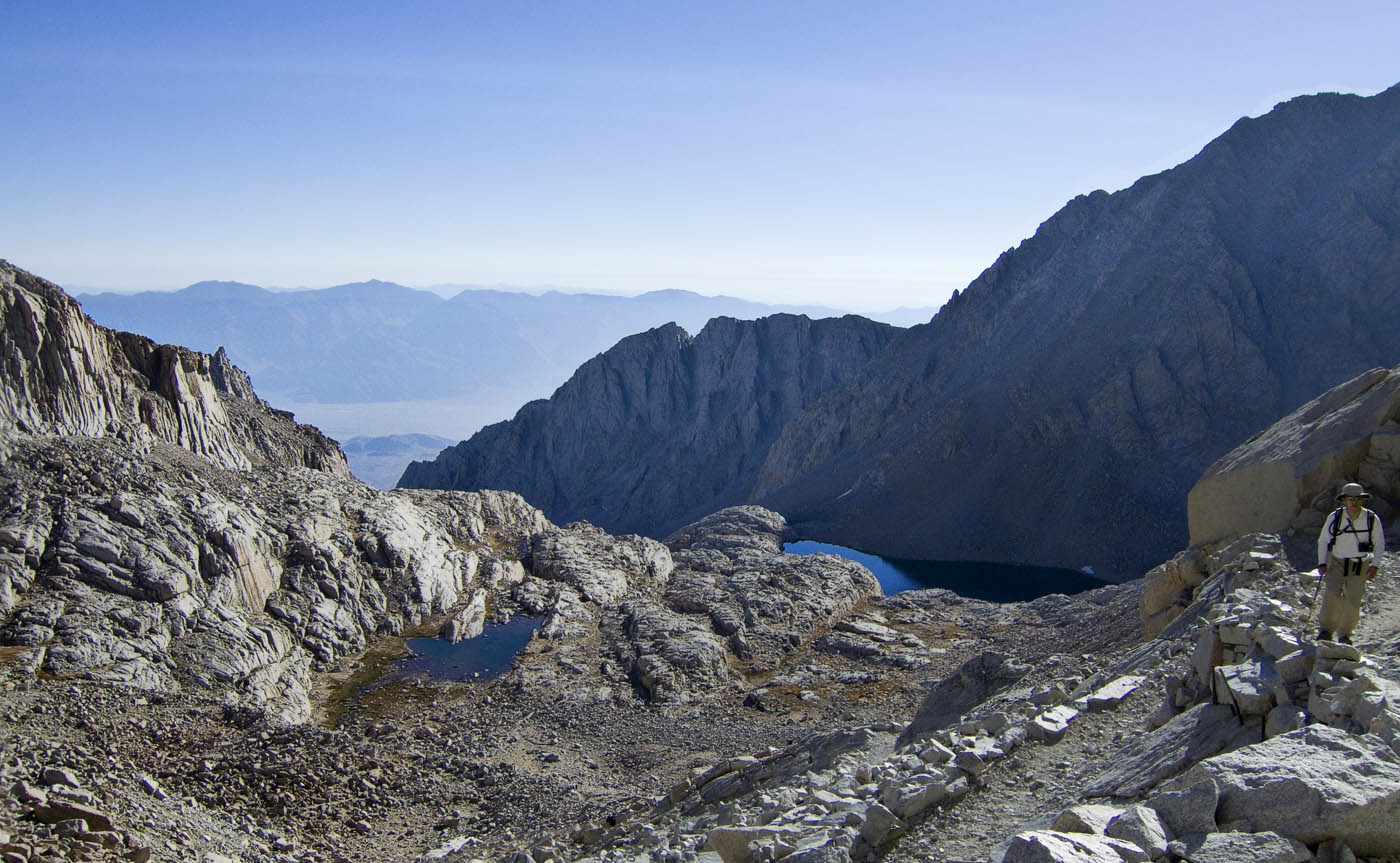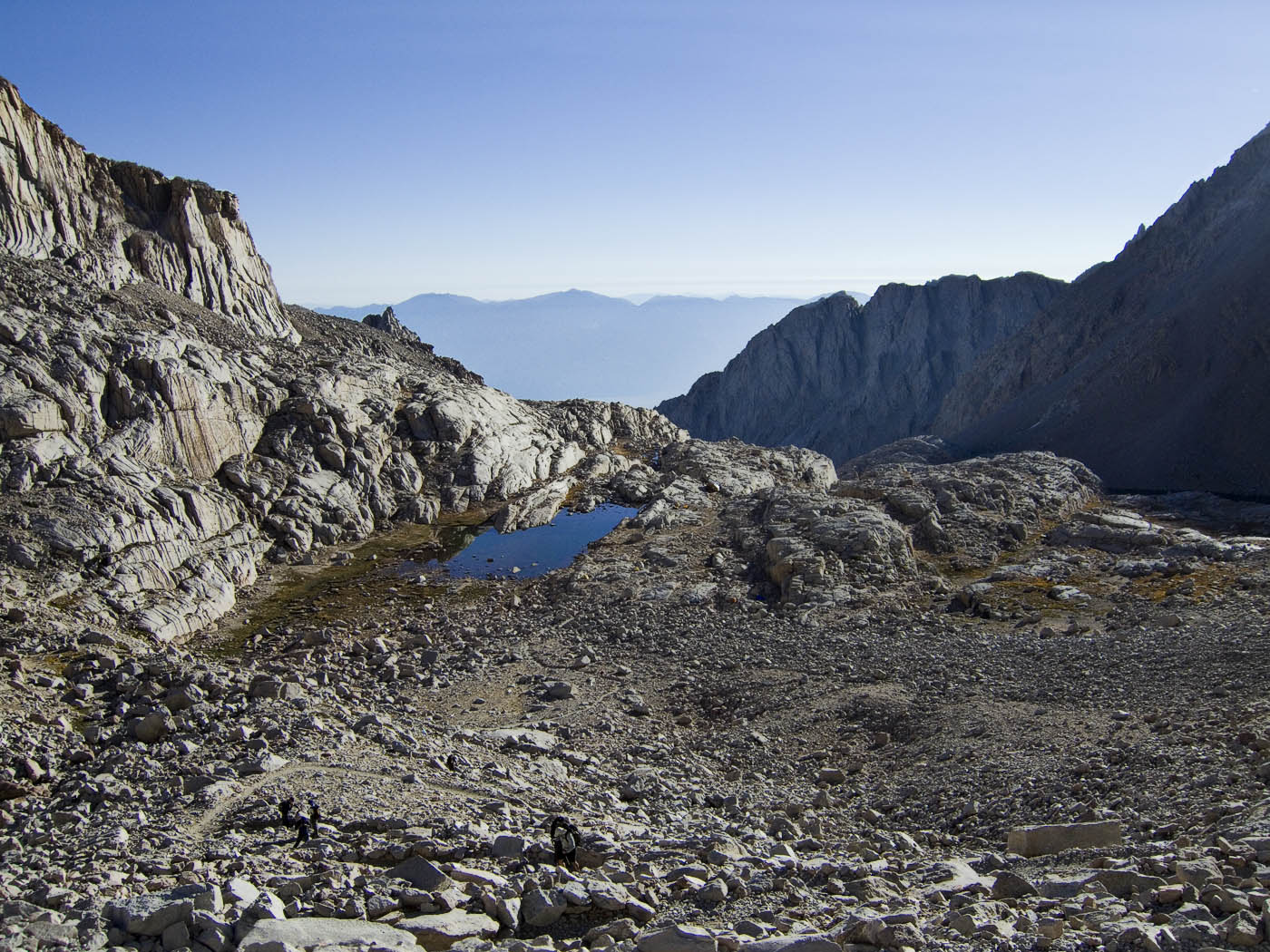 …2


The next day, it's back to the Portal. Coming up on their outbound leg, I met Mitchel and Linda who had another perfect sunny day ahead of them. They were going to spend a night at Trail Camp as well before the big top trip. And we agreed, it's the journey, not the destination!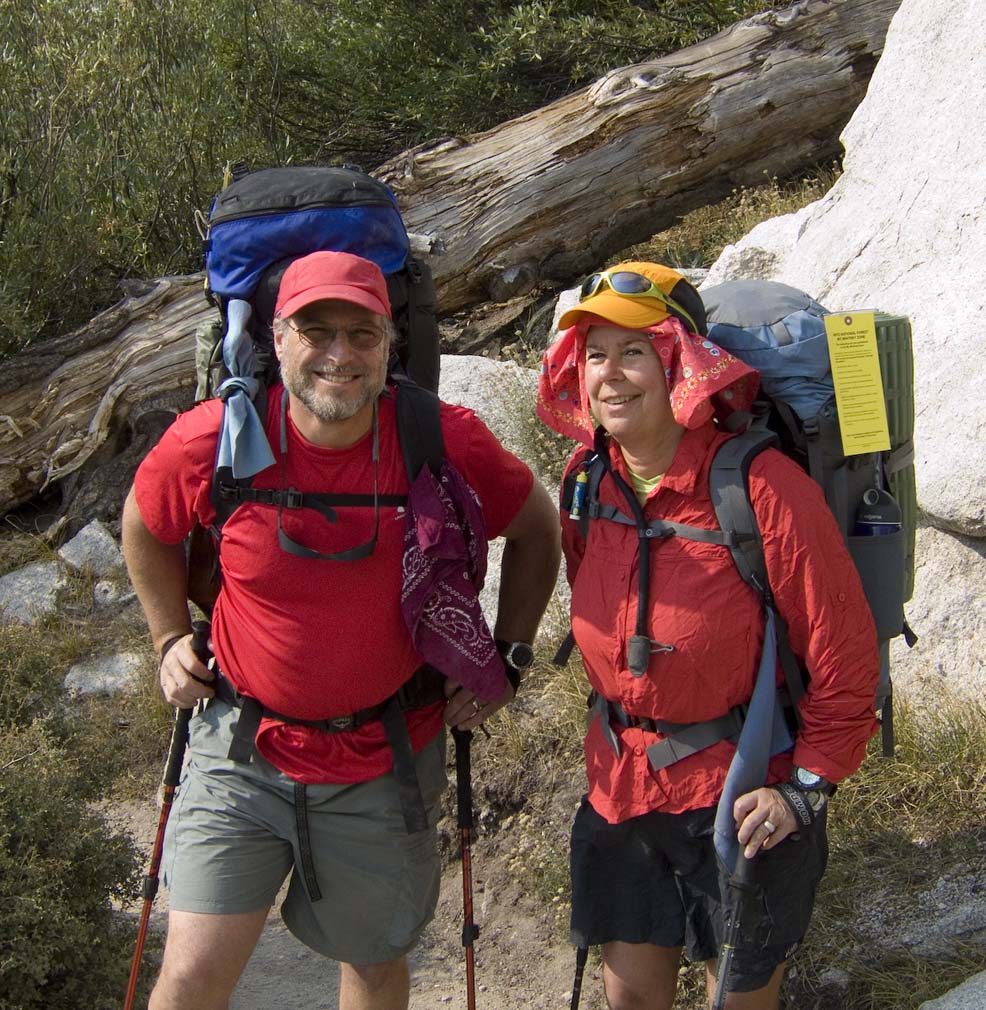 Getting lower on the trail, I though this looked nice.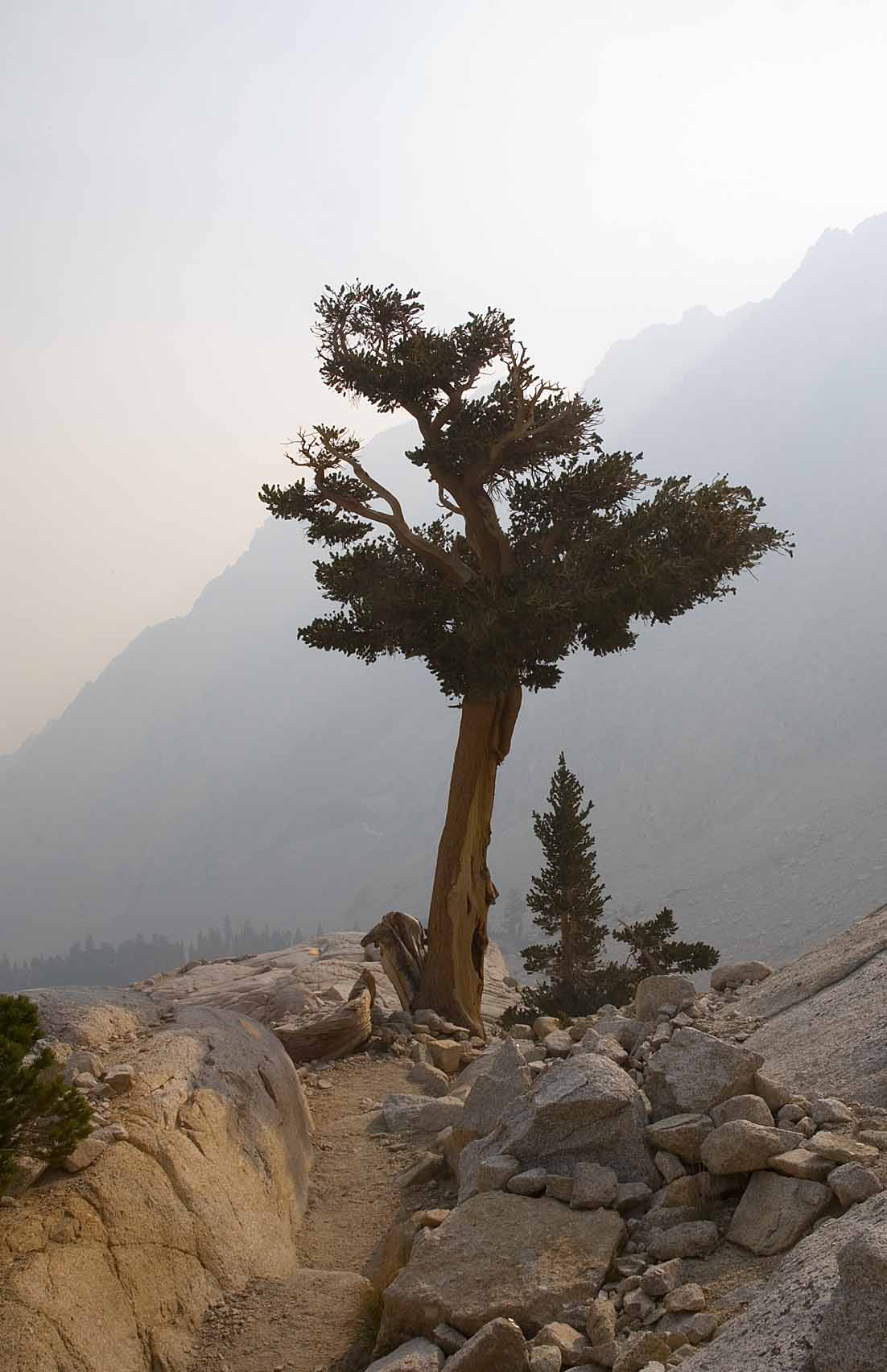 .

By this time, the haze from the Los Angeles fires was pretty much filling the valleys and putting the damper on photos. So it was a pretty quick descent, especially since I was ready to get the 57 lbs off my back!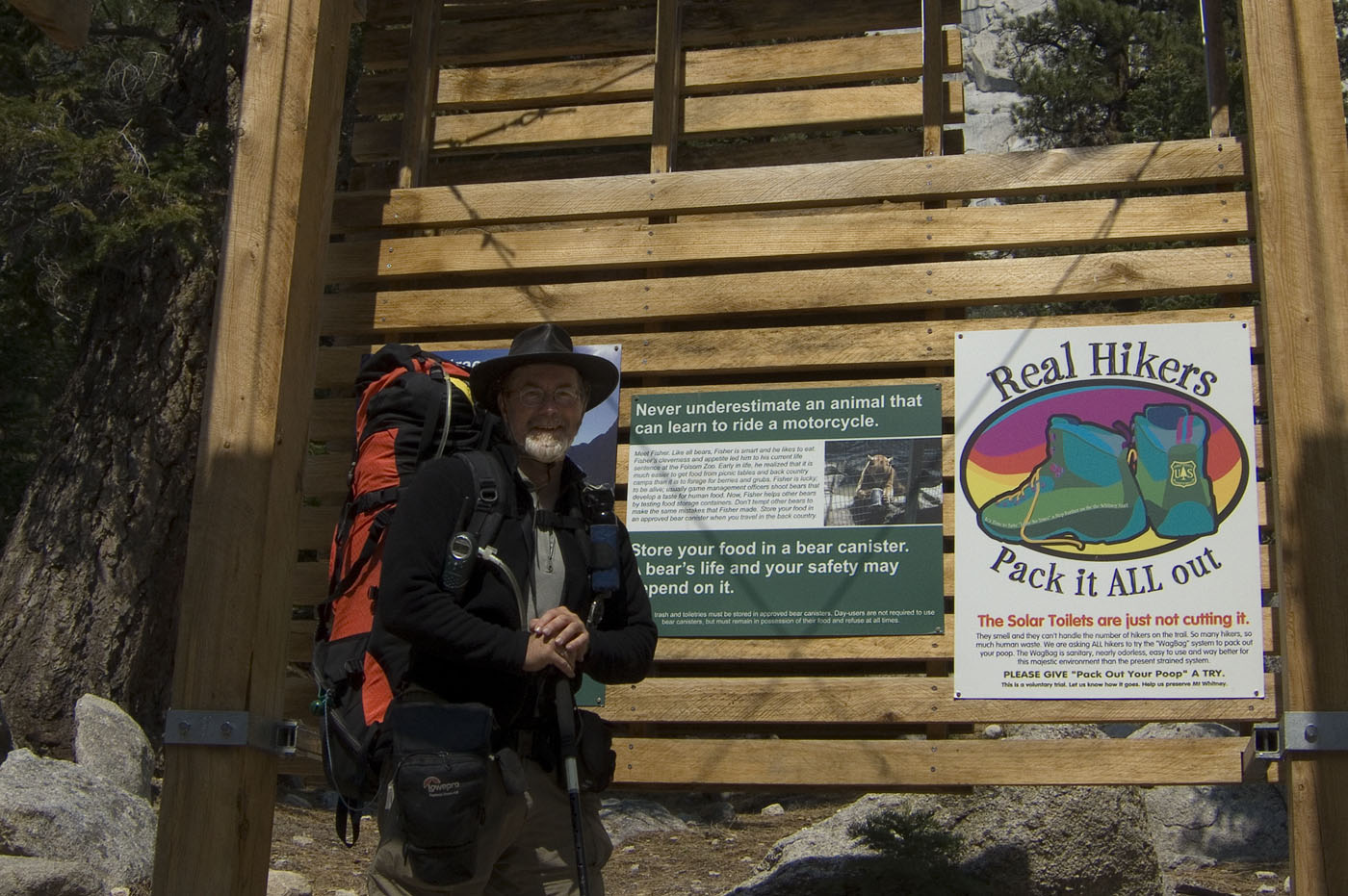 We were exceptionally lucky to have had a perfect window between the heavy winds and their dust, and then the smoke a day later. In between, the views were fabulous. The company was great, and the people I met were first rate adventurers from all walks of life.

Incidentally, the picture shows Fisher the Bear.
He's a very smart convict and lives at the Folsom State Facility (Zoo) where he's hard at work testing a bear canister.
http://www.sierrawildbear.gov/foodstorage/canisterzootest.htm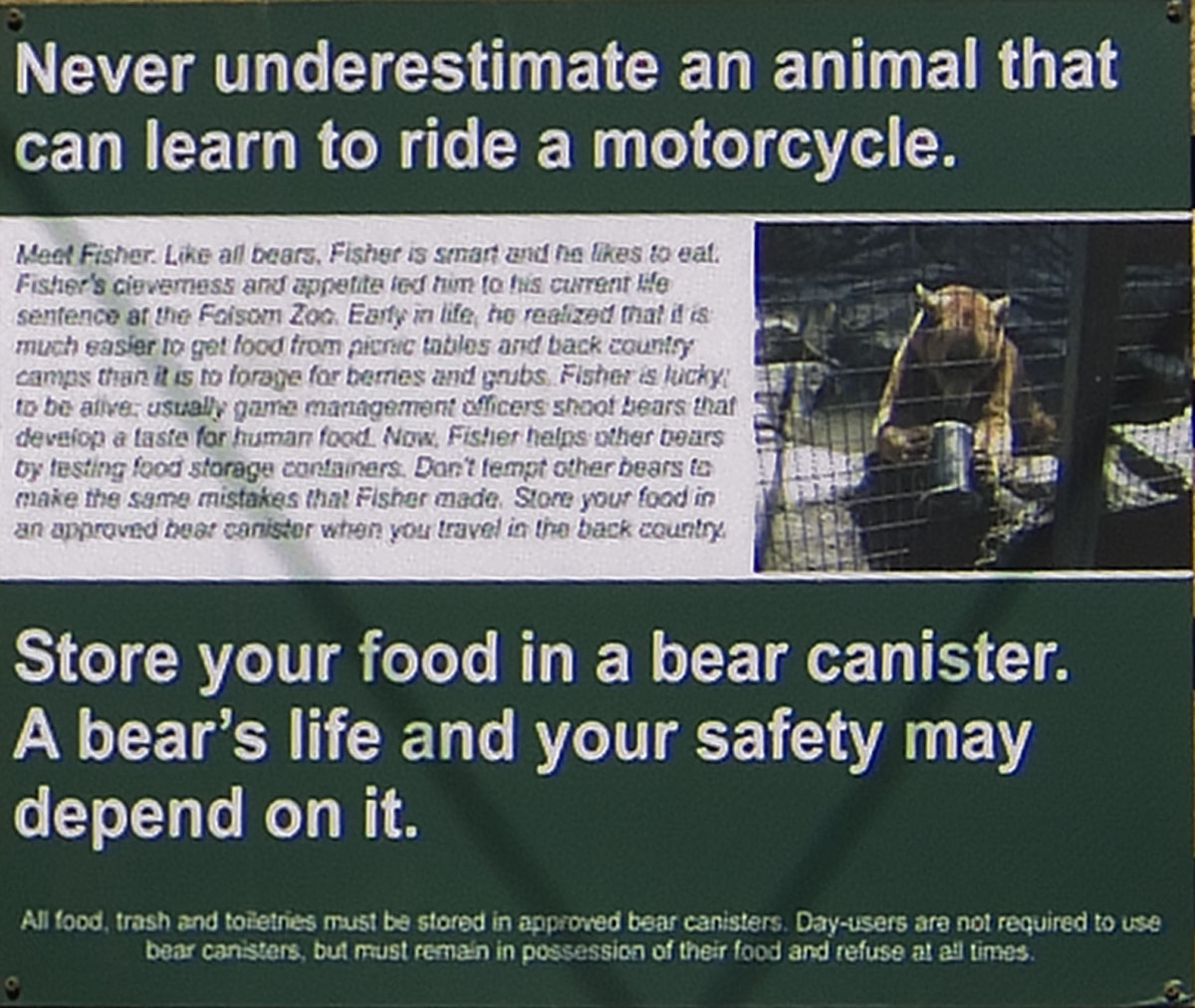 Happy Trails to all of you until next time!

gmk@diffractions.com
1.07