Hiking Trip September 2002

>>>Best viewed with display set to 1152 x 768 or 1600 x 1200 <<<
All images are copyright G. MacKenzie / D. Follows 2002


For some time since our last trip, my old friend David and I had been musing about the next one, and how it could take us into the backcountry a little bit. There is a set of programs called TOPO which offers high resolution (7.5 minute) topographical maps of different regions, one of which is all of Yosemite . With this, we were easily able to scan elevation profiles of various routes, and mileage. Some would say "just head out and follow the trail markings"- well, if you're gonna do it this way, better have a correct map anyway, a compass, and maybe even a GPS. To start with though, we did a test hike up Mission Peak in Fremont, just to stretch our legs.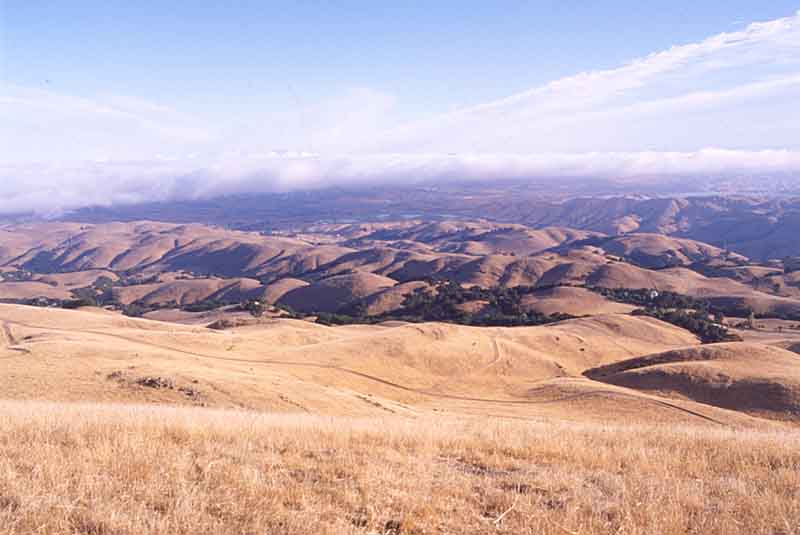 Having had plenty of practice up and down the local trails out of the Valley, we thought it would be nice to continue expanding our pathways up and out of Little Yosemite Valley, which we camped in last time, on the way to Half Dome. So this time, we thought of a round trip out of the valley up to Cloud's Rest, north to Tenaya Lake, and then back through Sunrise Lakes and thence to the Merced, Nevada Fall and back down to base in Upper Pines campground. And basically that's what we did, with a few alterations.
We planned to be gone 3 to 5 days, depending on weather, energy level, and my knees. We'd pump water at streams along the way, and most of the food was freeze dried. A tarp for sleeping on instead of a tent, a bear canister and tree ropes, a range of clothes for unpredictable weather changes, GMRS walkie-talkies (for weather too), and hiking poles were some of the items going with us. And of course, camera stuff.
To go to Cloud's rest, many people do it as a day hike from Tenaya Lake-it is fairly level and not too strenuous. Heading that way from the valley floor is good exercise to say the least. With a pack of 65 pounds, it was up the John Muir Trail to the top of Nevada Falls, rather than the Mist trail like last time. Starting out early, we enjoyed a beautiful sunny day which was warmer than usual for late September.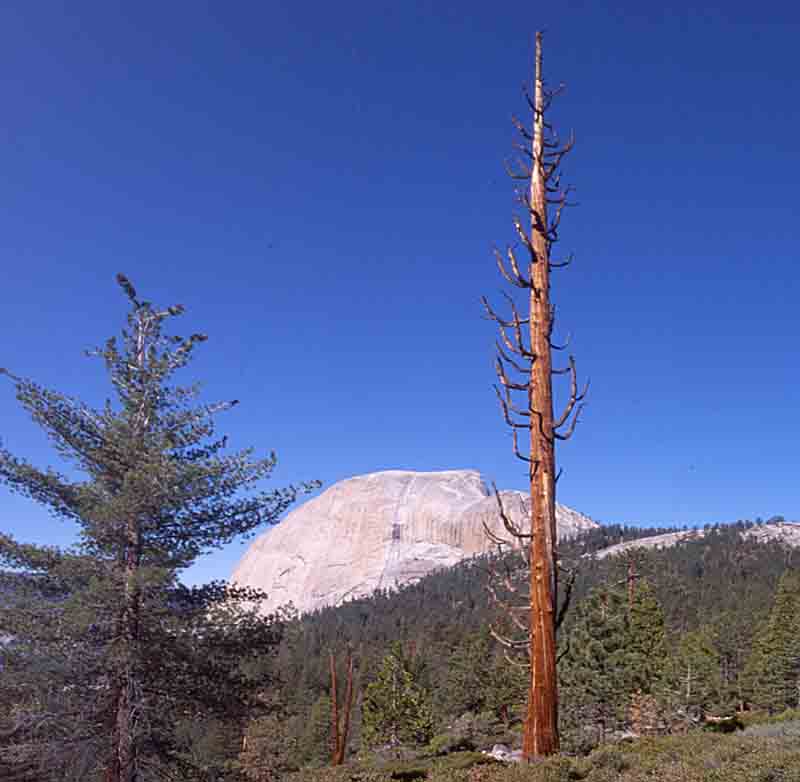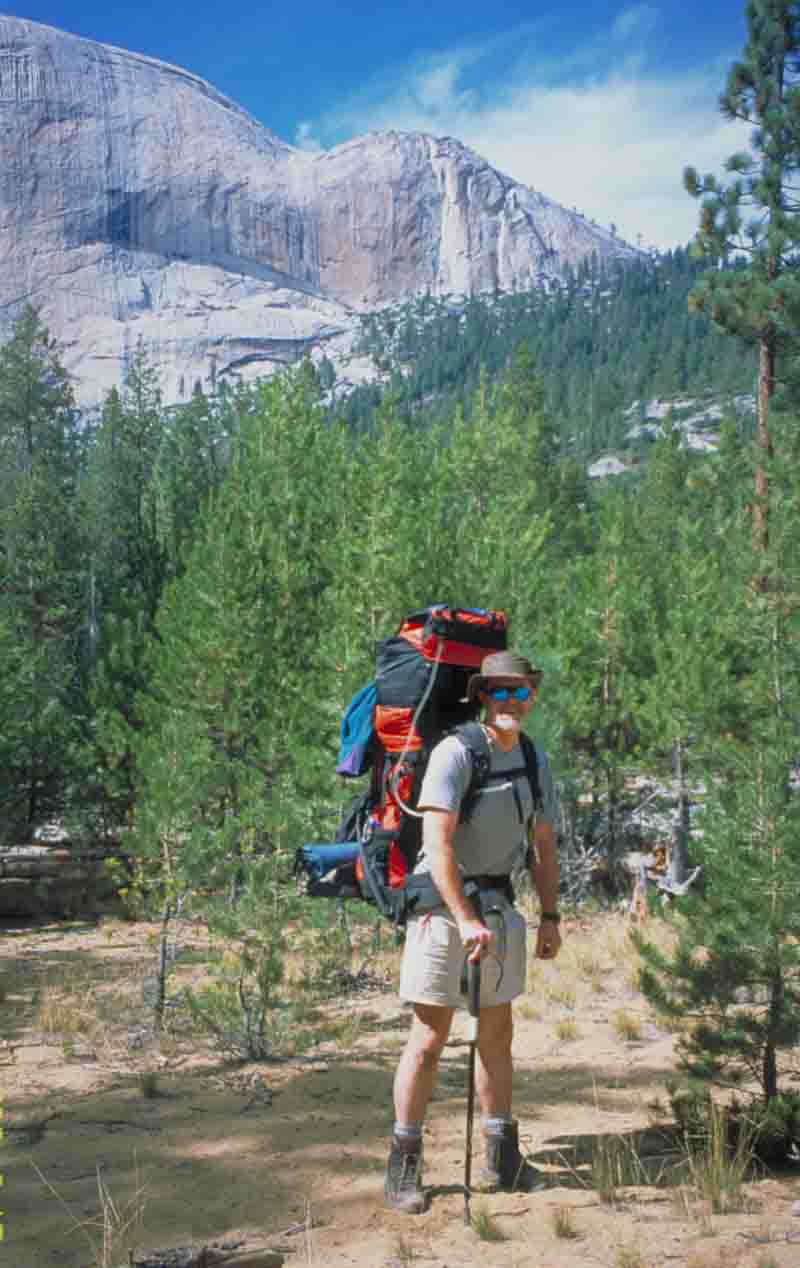 By mid afternoon, we were thinking of how far to press on before striking camp; Little Yosemite Valley backcountry campground was coming up. We decided that since energy was still there, and we had time, we'd get a good start on the long-Haul steady ascent toward the Half Dome trail. Knowing that you've already got some of it behind you when you eake up the next morning, is a great way to feel energized for the next hiking segment!
Dave and I were very glad we kept going. We got past the turnoff to Half Dome, and were going ......along.... All along to our right was the panorama of Little Yosemite Valley, and Liberty Cap behind us.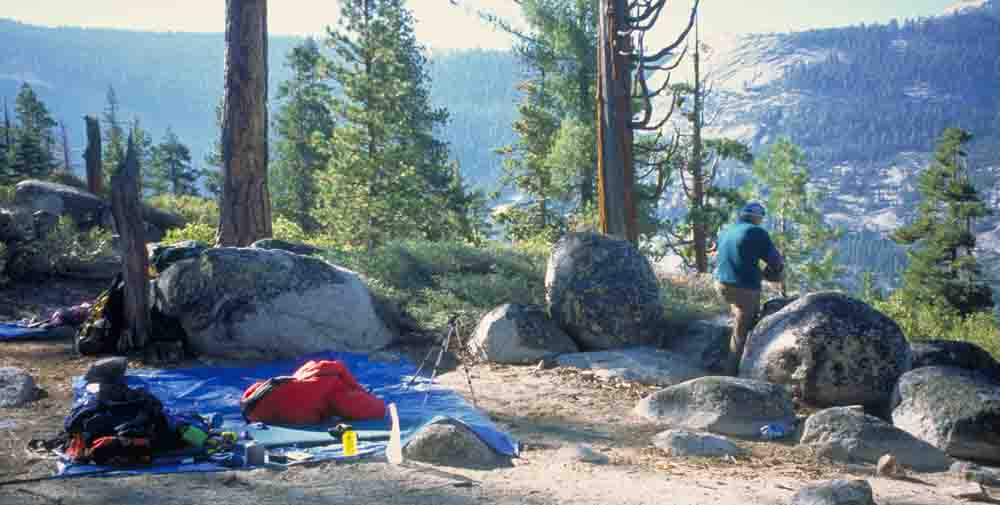 And lo and behold, perfect sites for camping, with vistas open all along in front of us. In this 100 yard long area of small flats, shrubs and tress, there is ample space for several tents, separate enough that other talking and campfires don't intrude.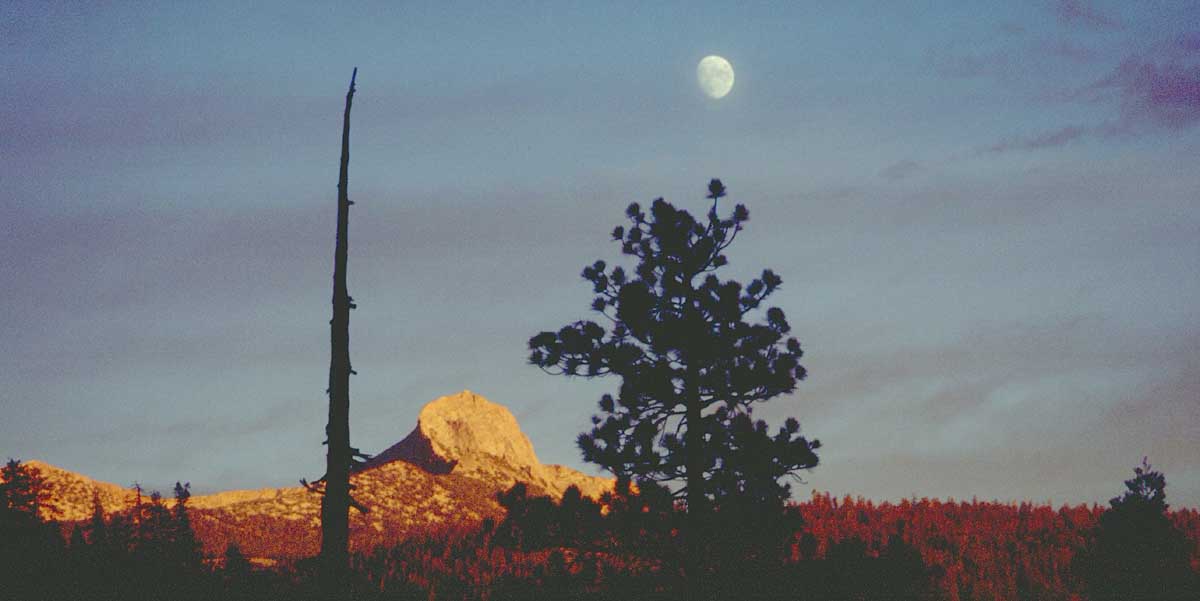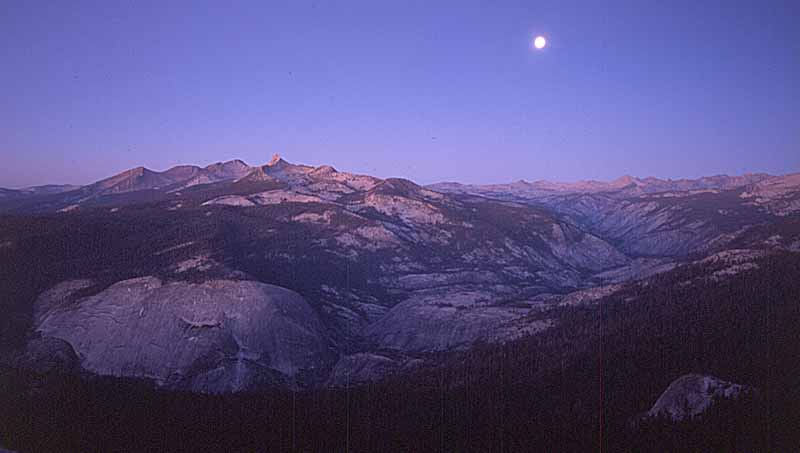 A clear-sky sunrise, no clouds. Oatmeal with milk powder and malt, and lots of hot coffee. Then on the way to Cloud's Rest. We pumped water at .....creek and had a morning of slow and steady climbing. Noontime had us coming round the Pinnacles, and the peak came into clear and fairly close view. Rather than going up the closer (and steeper) way, we went round and came up the northern slope, complete with rock-hewn switchbacks, reaching the top around 4 p.m. There were a couple of other people planning to camp out; plenty of space on a flatrock along the ridge top, or a more wind-protected ledge in case it got even breezier than it already was. Sheltered ledge got the vote.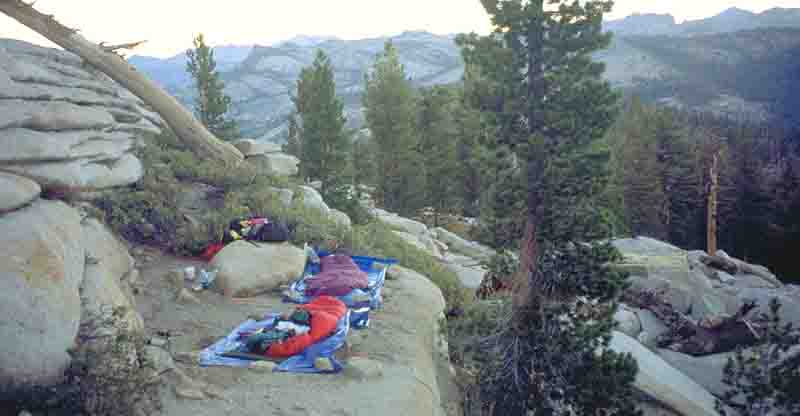 That evening I went up with headlamp to the very top, for some camera work. Right up there just before the narrow (6' wide) ridge there was a friendly group o six who had hiked up from near Sunrise Lakes just to be there for sunset. By the time I headed down a bit later, they were gone, but reappeared the next morning after an early morning hike back up from their campsite, which we could see as a campfire speck way off in the distance that night.





From the top, you get to look down on Half Dome, and the other way, can see the microscopic twinking lights of cars crawling their way along the Tioga Pass road near Olmstead Point. And a full moon to give some ambient light.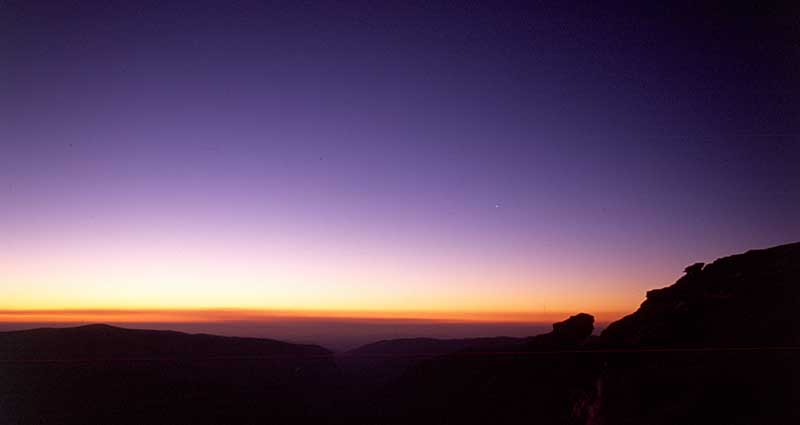 And in the morning, past the sign and up the ridge again for a look down of more than 100 storeys to the top of Half Dome: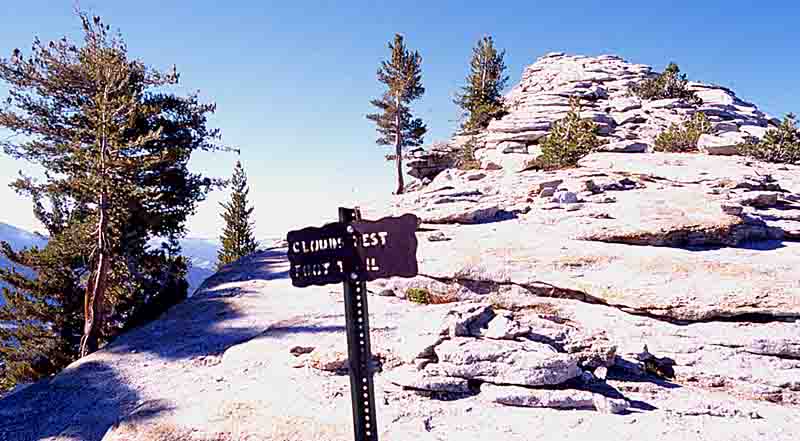 It looks sooo close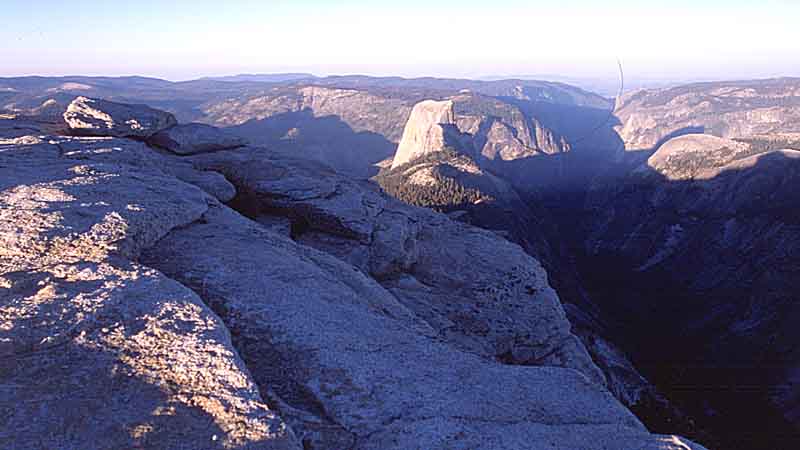 Another good breakfast, and off toward Tenaya Lake. The first part is a pleasant downgrade, and eventually you pass through a lush low area complete with huge talus monoliths that must have rolled for a mile to get there.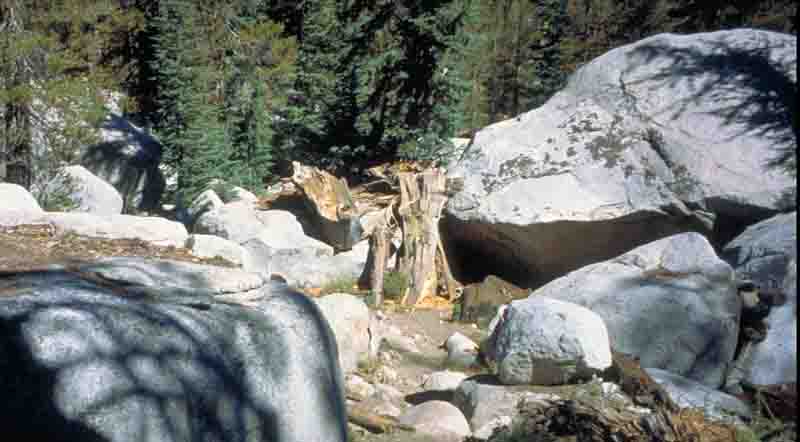 Along here we started to meet dayhikers coming the other way from Tenaya Lake. Being a sunny and warm day, almost all were in shorts and light shirts, half without any pack at all, and a couple with merely small water bottles. Good thing the weather didn't suddenly change!


Not far from Sunrise Lakes, we met a Park Ranger out on patrol and had a good chat. We then decided to forego camping at Tenaya Lake, and instead visit Sunrise lake directly, and then begin the loop back toward the little valley.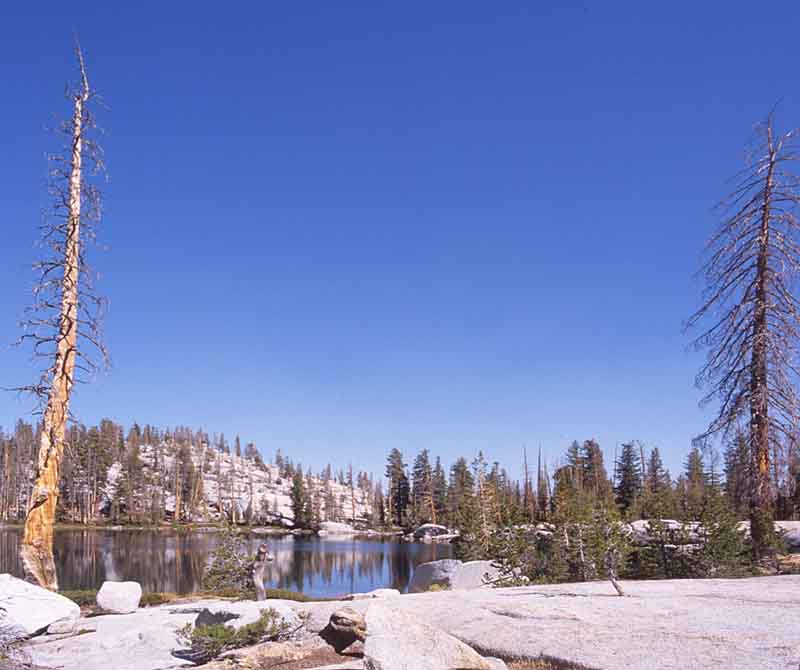 Sunrise Lakes are definitely worth a visit. The water was beautiful and still, with no one else around. And still not a cloud in the sky.

It was around 1 pm when we started continued our loop, beginning to generally head back. We had a steady pace, sunshine, and did lots of water drinking. Then towards mid-afternoon, we decided that since everything was continuing to go well, we would press on and return to the (already favorite) campsite where we had stayed the first night out. Gradually the slope increased as we headed down. Through burned out sections of timber we kept heading down toward Little Yosemite Valley. On and on. Down and downer. We were doing ok although it was already a pretty full day of constant hiking. In the rhythm of movement, in the great outdoors.
Well, at some point before the Merced, early evening began, and slight thoughts of food emerged. On and on. Down and Downer. Dim and dimmer. It became the Israeli Army Training March. Keep up The Pace. Target will be in sight soon. We both wanted to get there, and were prepared to do what it took. Hour after hour.
Following our topo map route, we got close by the time dimmer turned to darker. Ten more minutes and the headlights would have come out for sure. Boy it felt good to arrive. Up and down with a 60 lb pack all day over a range of four? thousand feet altitude, and seventeen miles cross country. Lying down felt pretty damn good. And there was no need to be told "Lights Out"

Coming down the next morning, we passed easily a hundred eager people on their way up to Half Dome. The summer work on the shoulder stairs was completed, so maybe this was pent-up demand over the previous few days. As it was, the weather held up beautifully for them.
On the way down from Nevada fall by way of the John Muir Trail, we passed a couple of rangers on horseback going up-for the time of year it was still pretty warm, and I think the Rangers were looking forward to coller temperatures coming. The rest of the downpath was a good final leg-stretch no switchbacks, bring camp into view around 4. Pm. A load off the back, a shower, laundry, and then the highlight of te eveoining-a large Degnan's pizza with ice cold Sierra Nevada Ale.

So after a restful day or two, we did a road trip through the Tioga Pass to Tenaya Lake. Here we stopped again and enjoyed warm sun and water. And so did a group of friendly visitors who asked me to take pictures for them. After taking a picture with each of their 8 cameras, I caught one myself. What a great place for a picnic!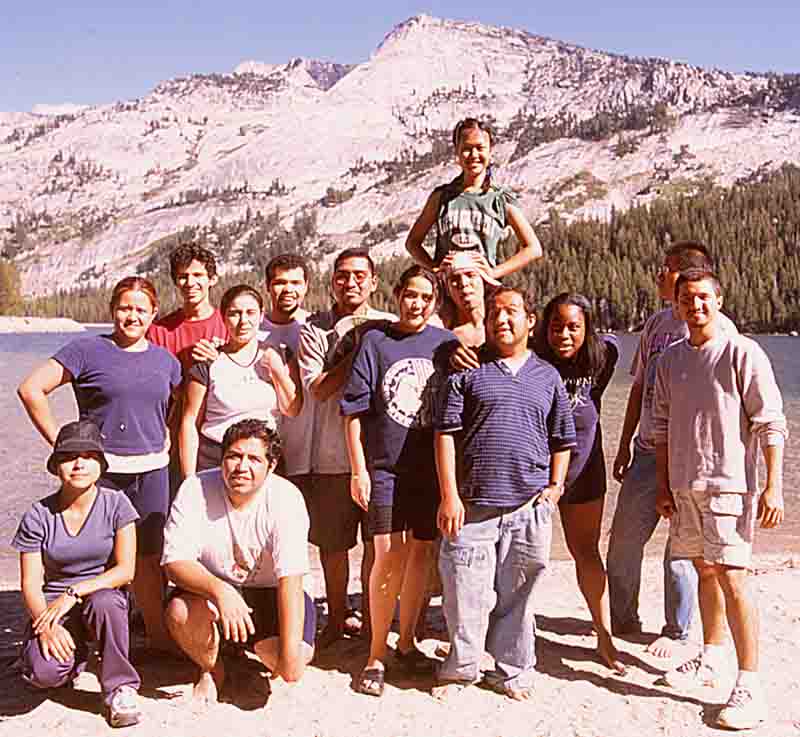 Half Dome from Olmstead Point on Tioga Road: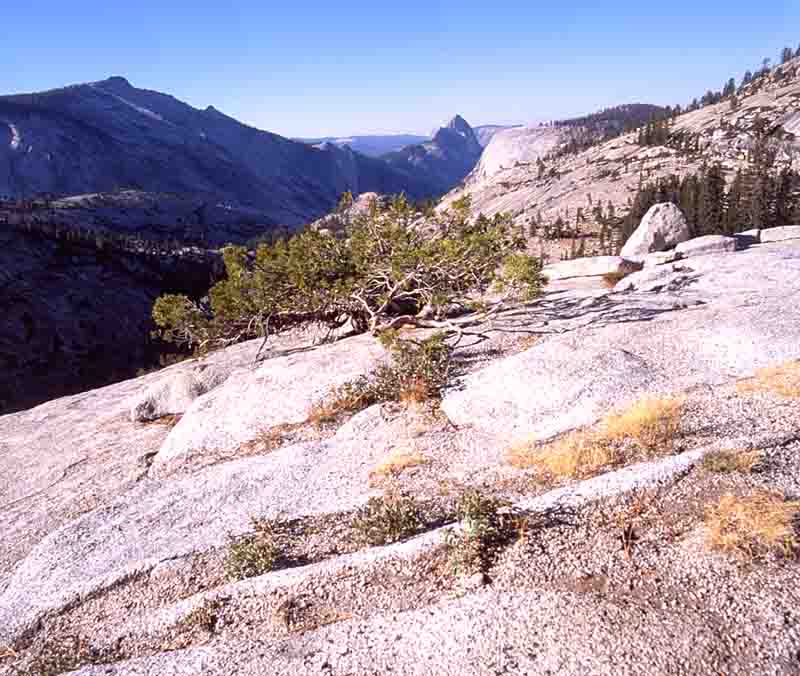 Then it was on to Mahogany Flat in Death Valley's Panamint Mountains. Dave hadn't been here in a couple of years so it was definitely required.

In Panamint valley getting ready to go up into the mountains...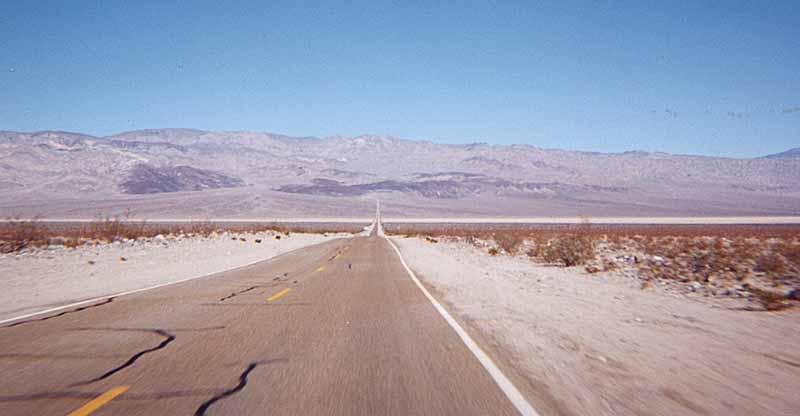 Thirty minutes later we're closer...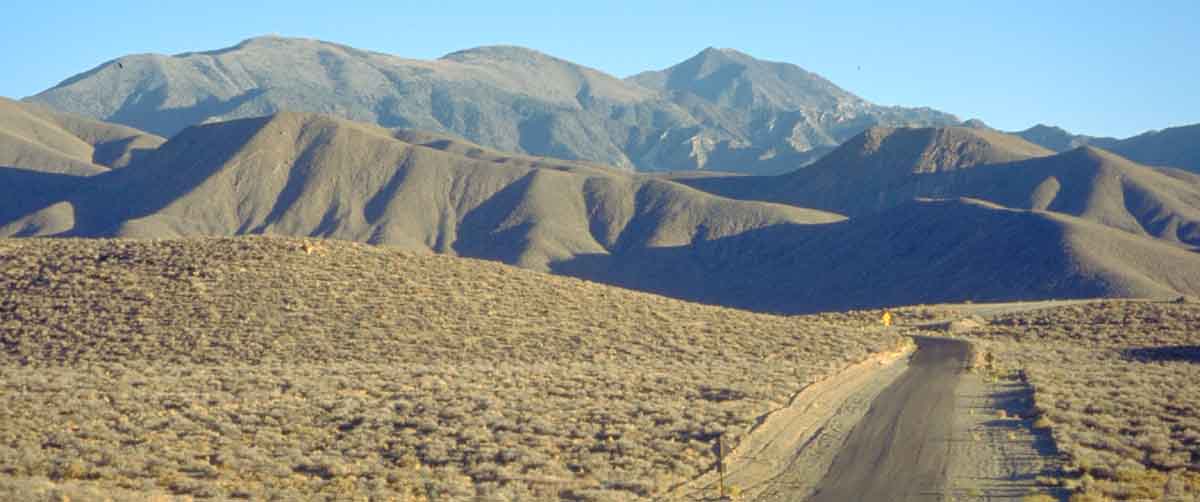 As usual, only two of the 10 campsites were busy, and it wasn't long before the evening brought sounds gentle rolling thunder of distant military jets out for a fly. We had a good dinne and beer -as usual.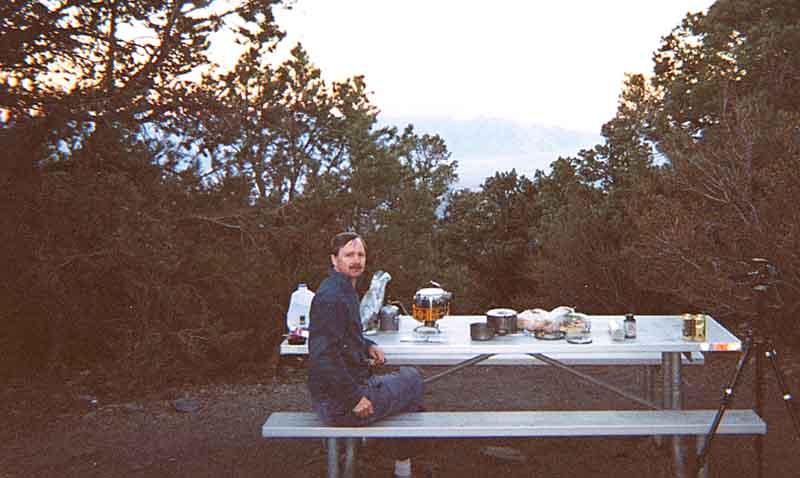 The next morning we headed out for Telescope Peak again. On this trip, we hiked up via the service road rather than the steep trail winding its way on the other side. We would get to the radio antenna complex, and then go across the saddle, connecting there to the official trail.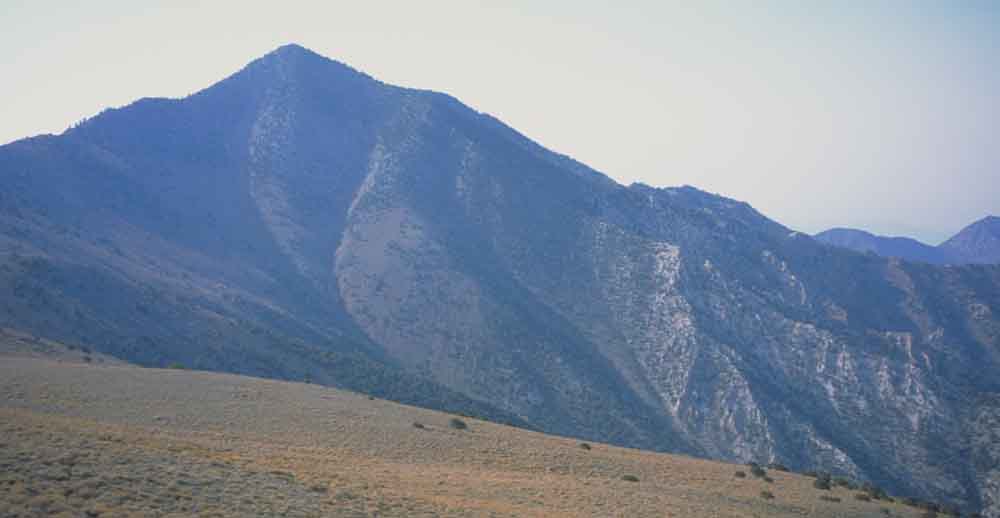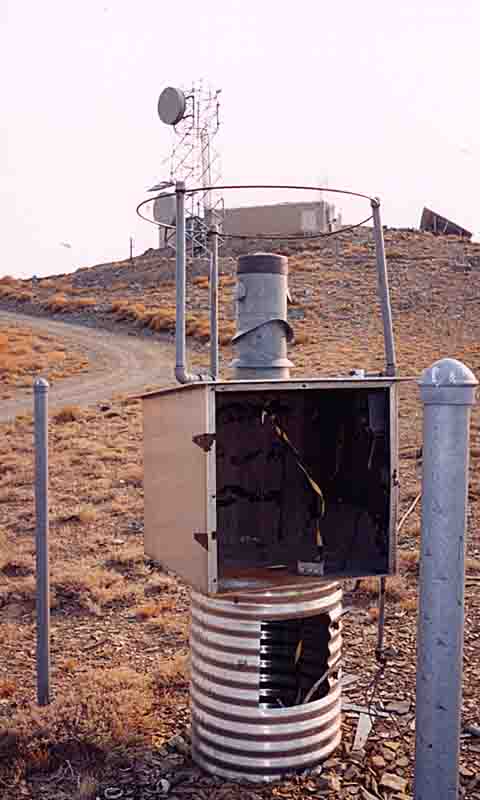 We saw the sun full for a good part of the time, with a bit of high thin Cirrus . Across the saddle and up into the switchbacks as full-tilt sun beamed down. I'd rather feel a bit warm than cold anyday.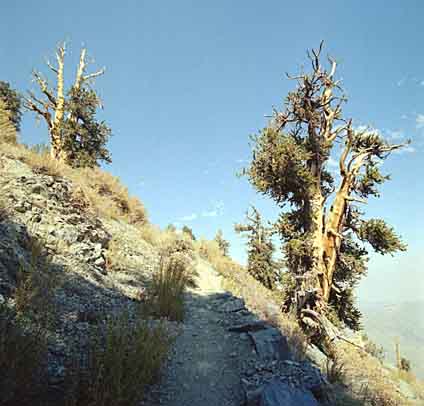 So to the top, after a pretty energetic six hours. Panoramic view, and the white box containg logbooks of hiker's anecdotes and the occassional donated bottle of water and chocolate bar.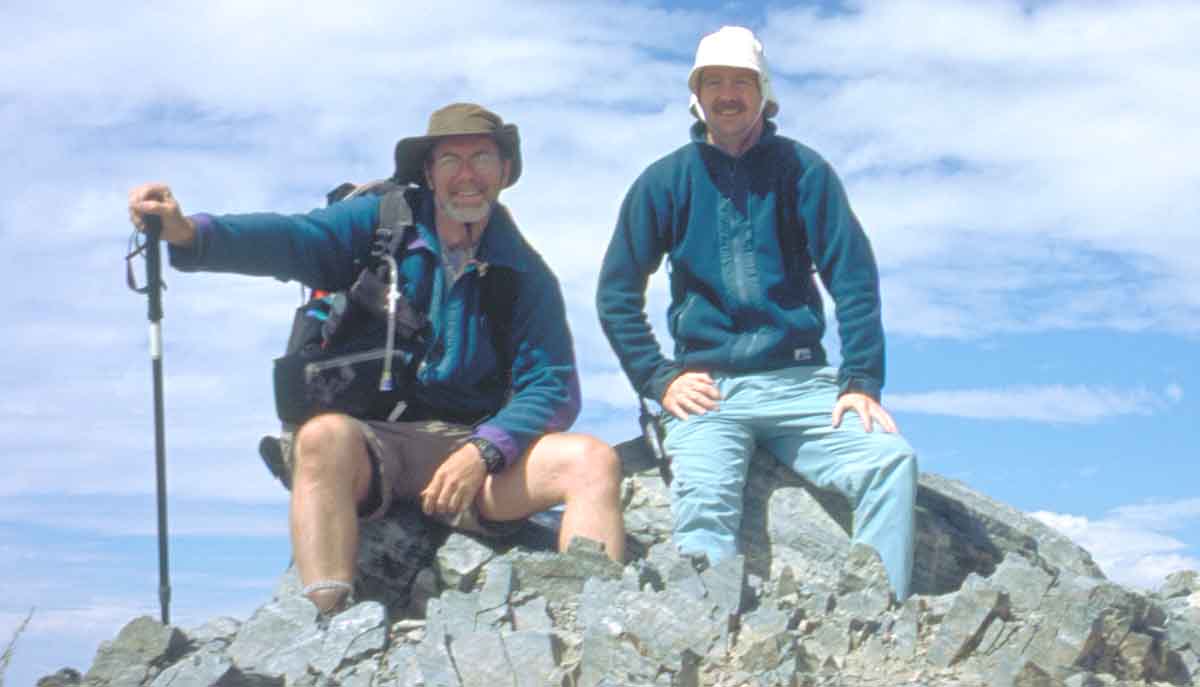 After writing a page in the book, the wind was coming up a little, and way off down the Panamint Valley you could see a firmer tuft of cloud developing bit by bit. In the space of twenty minutes it was clear that the cloud had grown and was slowly advancing our way. So of course the priority became to get down to lower environs just in case..

It was a good thing we left when we did. The sky well behind us was slowly filling with condensing cloud and the front starting to coming up the valley was getting darker . .A sensble steady pace brought us back to the saddle and starting up to the last incline when a brief squall hit, miles up in front of the advancing darker clouds. In the space of less than a minute, the wind picked up from a light breeze to a steady blast that you immediately positioned square onto your back.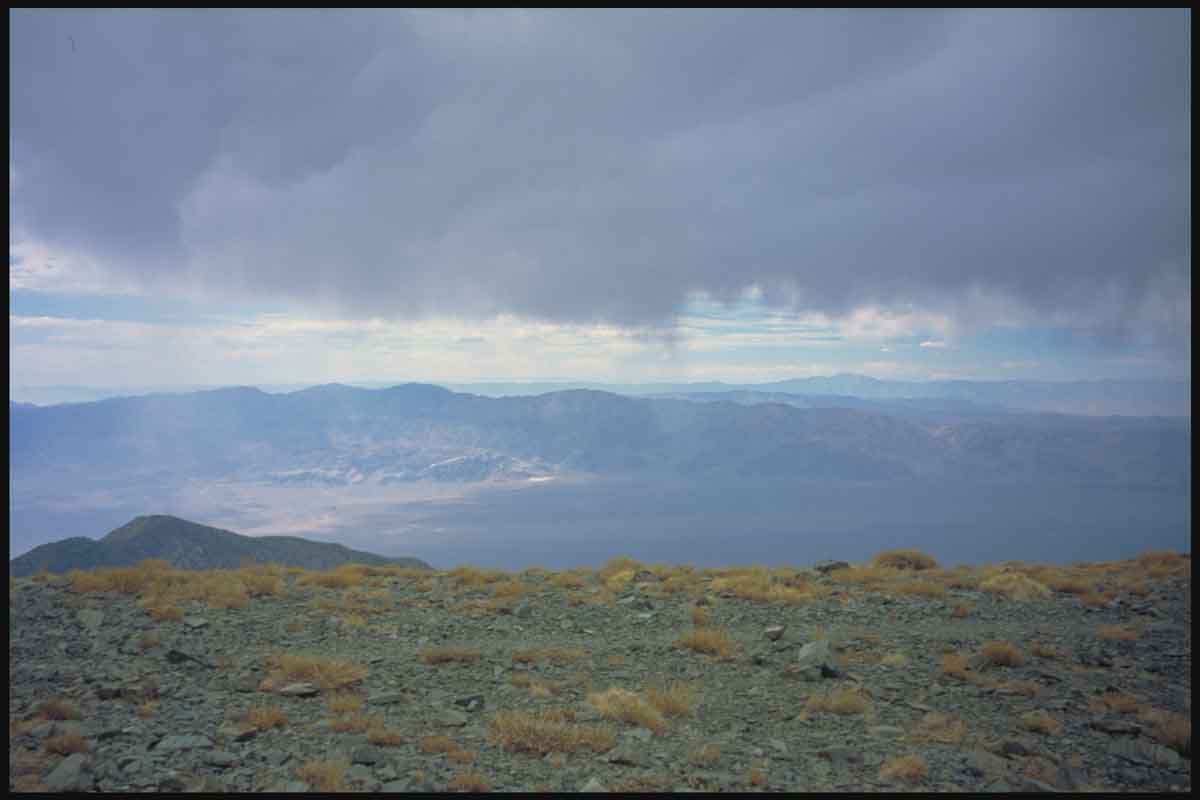 Goretex already on. Hood up. Hands in front of you as the icy rain starts spitting and flying halfways horizontal at you, up and over the saddle. Brush and grasses being swept in waves, and anything loose instantly receding down the sadlle slope, off into the distance- by magic carpet ride..

And then the hail. No too big, but enough to sting like hell iof it hits your hand...so it's time to decide.. now you're at the saddle, the coming storm looks not too good, so in case there's lightening coming, go straight down fast along the leeward valley toward the bottom of Death Valley..

....but wait a sec- now the hail has stopped and so has the spitting rain And not only that, but the trundling approach of distant darker cloud has veered off and is clearly heading up the Panamint rather than up and over..and it's getting brighter-lightning is still the issue although none had been seen or heard.
It stopped pretty much as fast as it started. Almost like the cloud that had encroached upward toward us was being pulled back into the main. And soon it was decidedly less stormy., so continue along the chosen descent rather than a beeline down into the valley.

The rest of the descent around the hill and back to Mahogany Flat was uneventful. Before long, the sun had returned with warmth to quickly drive out thoughts of how cold and windy it had briefly been.

For us, this was great reinforcement of why you must carry gear for unexpected conditions. Anybody caught there with only shorts and sweater would've risked hypothermia even in that brief period. So windbreaking and warm clothes even on warm days in the mountains. But more than that. We could have gone straight down into the Valley to avoid thunder and lightning if necessary. We each had two Platypuses and extra drinks and food.-enough to make a very long winded detour of many miles , by night if necessary. At the start of the day, an unexpected storm, not even mentioned in the weather broadcast, was furthest from thought minds, except in terms of packing and preparation.

Good weather continued from then on. We did a big round trip down through Trona and Ridgecrest, coming back up through Death Valley. Along the way, we caught a couple of "technology" images about as diverse as you can get, within a few miles of each other...

A Solar Power Farm stretching off into the desert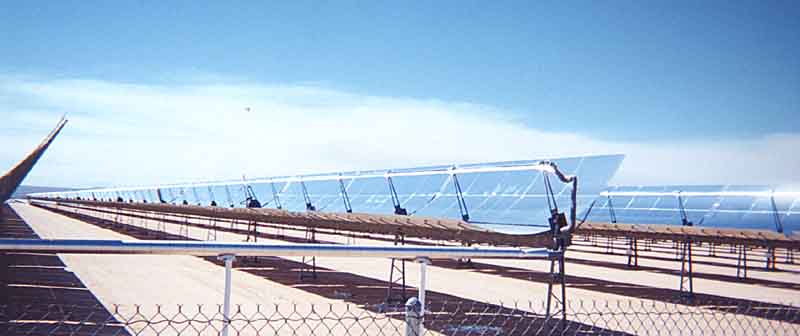 and then Fred Flintstone's roller!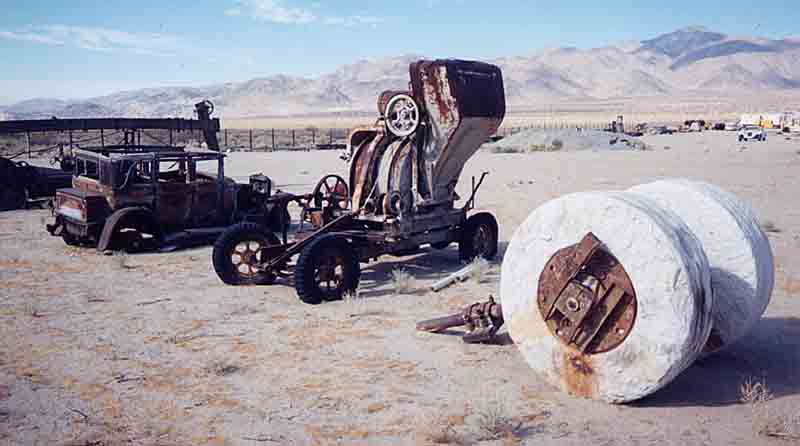 And then a surprising warning sign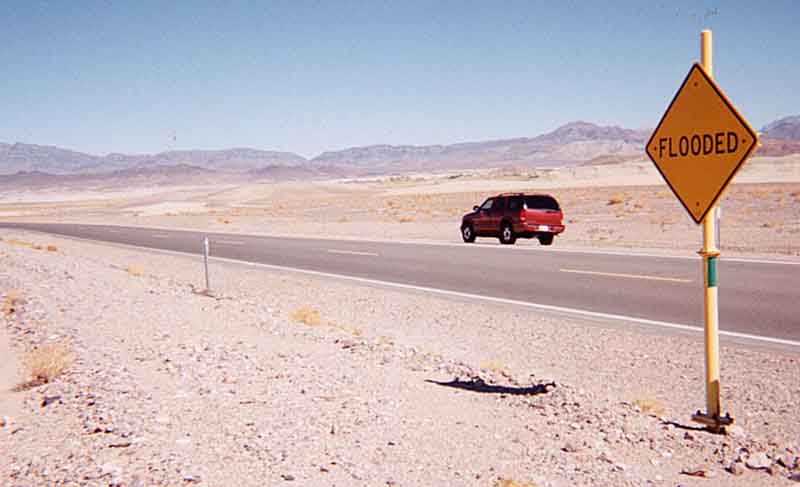 A 28 mile 4 wheel drive "road" brought us in the back door to Dante's Peak around 4 o'clock,




Sunny and hot. The kind of hot that bakes the winter cold out of your bones in no time flat. And sunny, and hot. Warm enough that two blackbirds didn't fly away, but stayed carefully and completely in their little patch of shade from a sagebush. Being well past the high summer temperatures, it was only 115 degrees.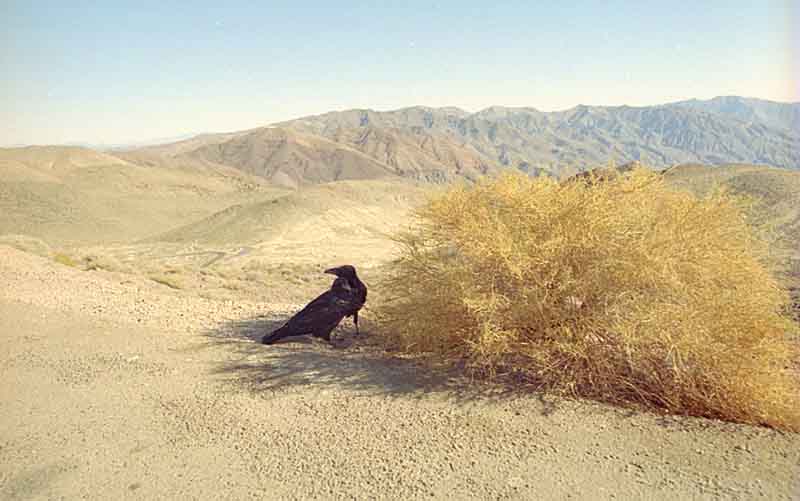 And then the great shifting sanddunes up toward Stovepipe Wells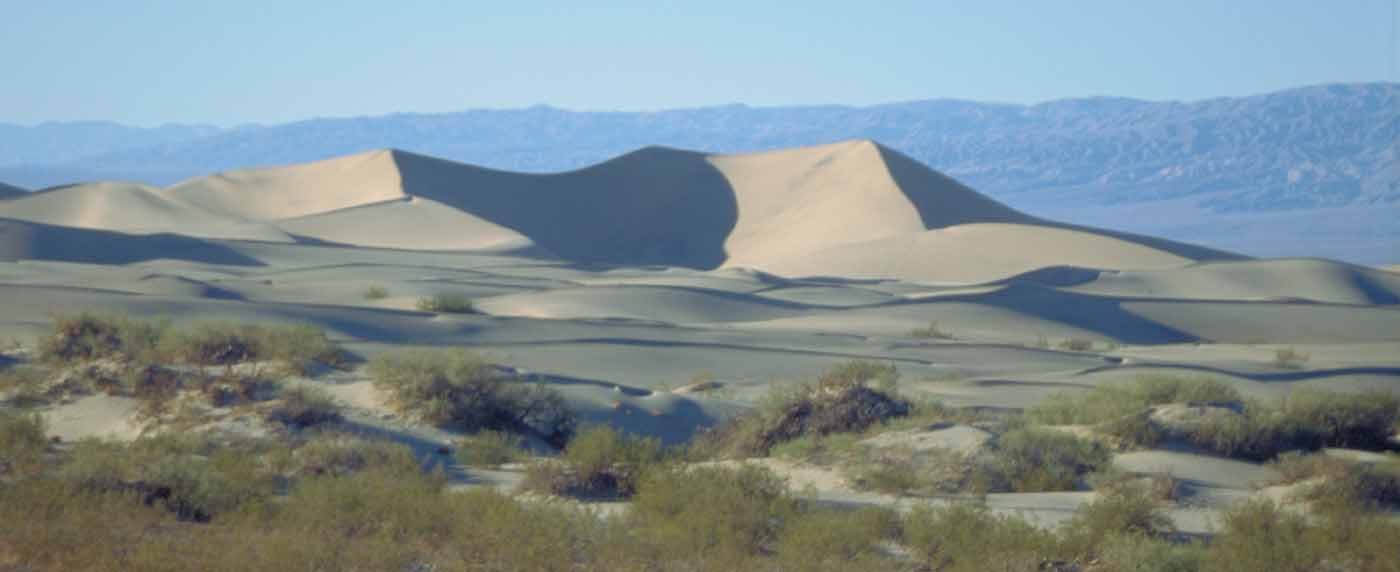 Finally, with a couple of days let, we headed back to San Francisco, well exercised and content. It was just a matter of days or a couple of weeks before the unpredictable autumn weather patterns would fully emerge. For us, it was back to Ottawa, to enjoy the fall colors of the leaves, which, as it turned out, started late, and lasted into November!!

All the best until next time!