Well, once again in December '00 thoughts turned to sunnier climes, and what this year's spring runoff in the Sierra Nevada would be like. This year though, it looked like my girlfriend Heidi might be interested in joining me to take a nice couple of weeks to California in the spring. Being one who enjoys travel (having not-so-long-ago spent two years on a posting in Sri Lanka), she thought it was a great way to do lots of camping in a new area. Of course, she was less thrilled with the idea of 400 storey backpacking climbs out of the valley into the mountains beyond. But you know, we started going to the gym for workouts, and bit by bit the general idea was less intimidating. Through the winter months our leg strength and conditioning improved, and we settled on the idea of a round trip through the Sierras and Nevada, including a week in Yosemite with a plan to get to the top of Yosemite Falls (300 storeys). So plans were laid, and Heidi got a great deal on a pickup truck rental from Budget-enough room for 2 people, packs etc, -and with a Vortec V6 engine we should have enough power for the mountains, right?

Training hike at Luskville Falls in Gatineau Park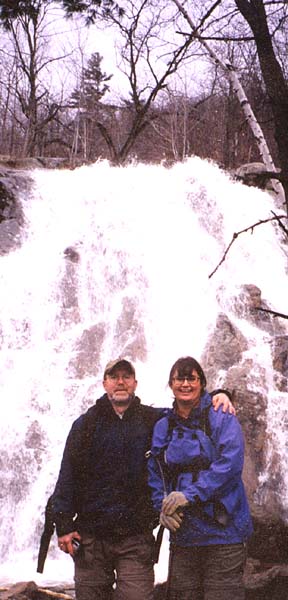 On May 3rd, armed with 300 lbs of camping gear and photo equipment we set out for Yosemite. California, of course is more than Yosemite, but we had the bug and Gordon's track record, so the focus of this trip was definitely on this National Park. Good thing we are both focussed and flexible. Focussed I say, because of the weeks of vigorous training we had endured to be in shape to hike the "extremely difficult " trails. Focussed, I also say because of the "gruelling" schedule we'd set for ourselves. If this is Tuesday, we must be where?

Fiiiiinally <g>, all the stuff was packed, and arrangements made for house and cat-sitting. Of course, Juniper wants to come with us!

.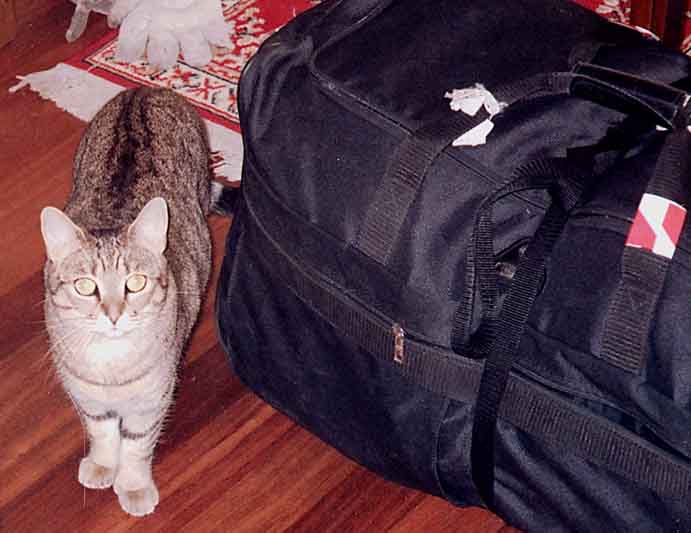 Frequent-flier trips routes don't always get you there most directly, but this one was straight through Chicago with no hitches.We arrived in San José after a long day's flying, wound up like cuckoo clocks we neede to head for the stores. There are certain things which we could either not fit into our bags, or could not legally take on an airplane...camping gas, styrofoam cooler, ice, sushi..
.
So we picked up the truck, and the first segue onto 101 out of the airport got me thinking about Ford Rangers. Just merging took the engine well up intro the three thou' range-what in heaven's name would 15 mile steady ramps into the mountains be like-and how big was the gas tank in this thing anyway? But hell, what a great deal, and a chance to try something different!

After supplies at REI and Safeway ( an old discount card and phone number still works each year even after five years gone from San Francisco), we spent the night at the famous Fremont Motel 6 and the next morning headed out of Dodge.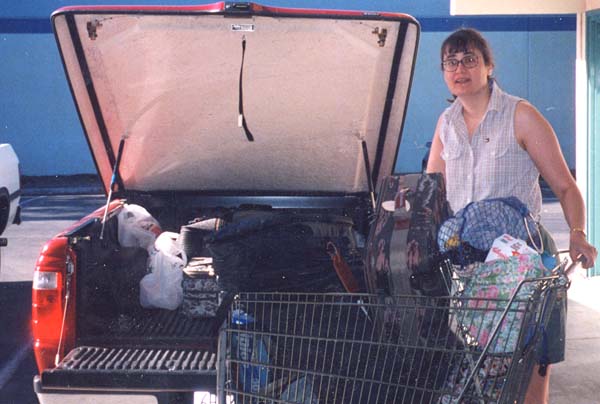 On May 4th the saga really begins. We headed north, did a quick tour of San Francisco, went over the Golden Gate Bridge, paused at Treasure Island, took a few pictures of Alcatraz out over the Bay, and took our picnic lunch to the Marin (pronounced muh-Rinn) Headlands and met up with the tunnel singer. Now what on earth is a tunnelsinger.com? Check her out! Lee Ellen walks the tunnels in Northern California and likes to listen to the echoes made by her voice resonating against the round walls. Think of a huge outdoor cathedral sound.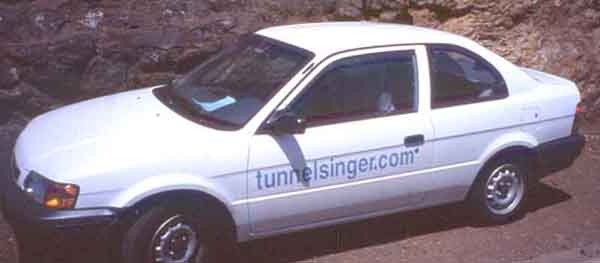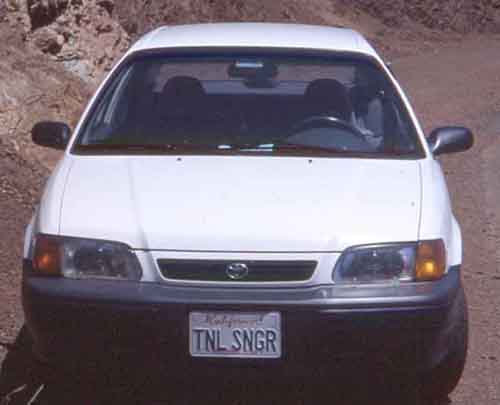 After a pleasant time listening and exploring there was no time to spare. We then buzzed along the winding roads to visit the Muir Woods where the trees are 800 years old, and without a minute to spare headed over to the Sonoma valley to camp.

The next day (May 5th) was devoted to the Sonoma Valley. We toured the Ravenshead Winery,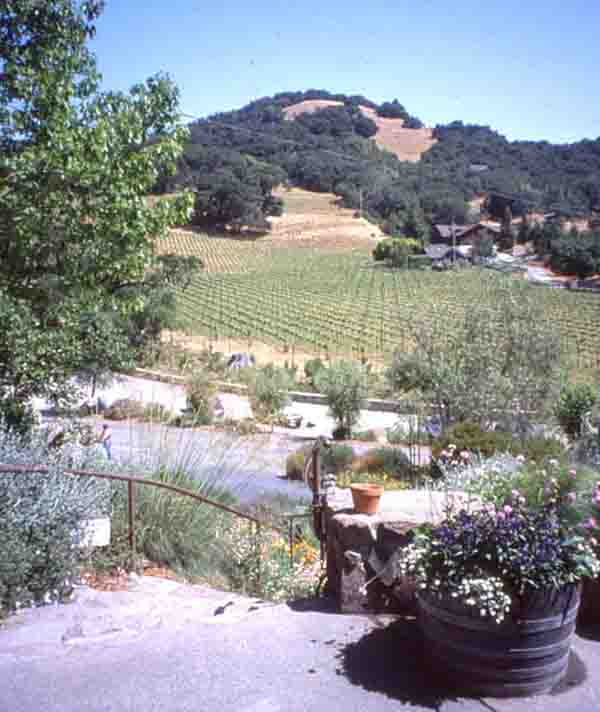 then found a delightful little thrift store called the Churchmouse and visited the most northern of the Spanish Missions at Sonoma. Then off to Sacramento, where we saw the railway museum and toured what is a relatively quiet town.

May 6th – We left Sacramento much too late, and spent quite a bit of time having a key cut so we wouldn't lock ourselves out of the rental truck in the middle of nowhere. A few hours of San Joachin valley driving brought us to the western foothills





And soon through the tunnel taking us officially into the Valley. Despite the extra distance, we took the second entrance so that we could enter at the exactly picture perfect spot.

This tunnel exists for the sole purpose of connecting Yosemite. Coming out of it into the valley, I was suitably impressed.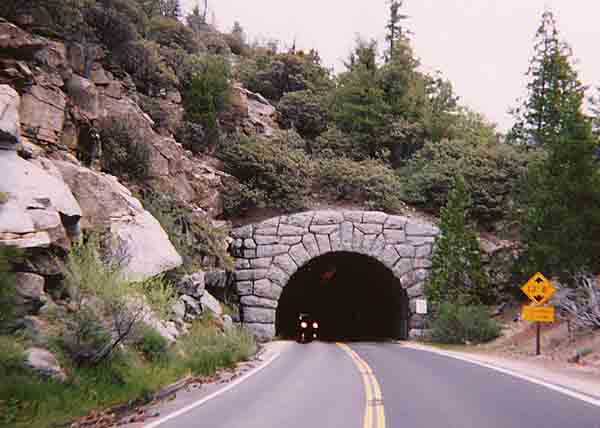 .

The next day (May 7th) was a perfect day for a warm-up hike and so we headed for Vernal Falls via the Grand staircase on the Mist trail. Considered a "moderate" climb, it is wheelchair accessible at the very bottom and lots of people attempt the first quarter –at the top of which incidentally is the last place there are actual rest rooms.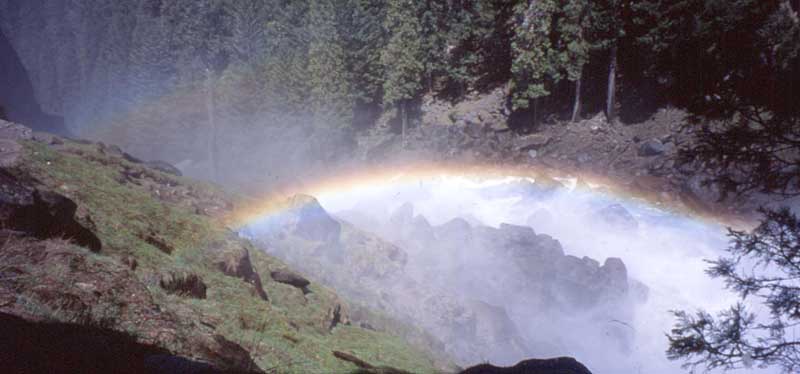 The climb to Vernal Falls was spectacular, but not what I would call moderate. It is true that there are stairways carved in the stone, but these are steep and winding. There are many areas where the mist from the falls feels more like rain, and it is cold even though the sun is beaming. Many people turn around when the trek gets difficult, and we met one woman almost in tears where she had decided to quit and wait there for her husband, who had left her behind. Gordon tried to persuade her to come with us, but despite best efforts, she wasn't convinced that our company would make it ok.

Just before the top of the falls there is a very narrow walkway carved along the cliff edge. I clenched my jaw, said a quick prayer, and followed my guide. In the back of my head I kept convincing myself that they wouldn't allow us there if it wasn't safe. On the one hand, don't people sue over stuff like this...but on the other hand, maybe it's all about taking personal responsibilty for activity with risks...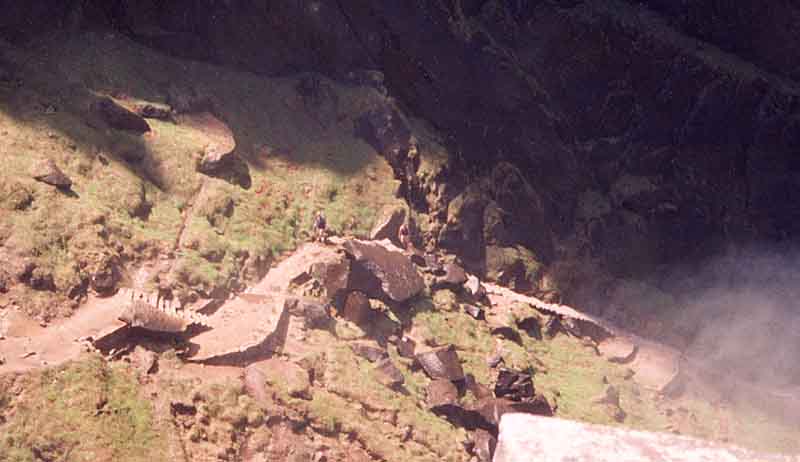 After dinner, we took in the full moon and we followed the other tourists to see a moonlight rainbow on the Merced river. What good fortune to be there at the perfect time.

It was time for some laziness. This was the in-between day where we gathered our energy for the big climb. We drove out to the Mariposa Grove and wandered amidst the thousand year old forest. In the interest of conserving energy we boarded the tourist bus which took us around the grove and our driver/tourguide gave us a great history of the trees. Several had been planted recently to replace those which inevitably will die in the next centuries. Early last century people actually camped around the trees, and drove their cars and horses on and through the fallen ones.


Early morning of May 9th...the grand day for the big climb had arrived. Because the sun is late getting into the valley, it is quite dark starting out with a plan to be on the trail at 6 a.m. (This way, you get well up the slope before the sun can start beating straight at you on the first leg to Columbia Rock). Everything food-wise and scented went into the locker first though...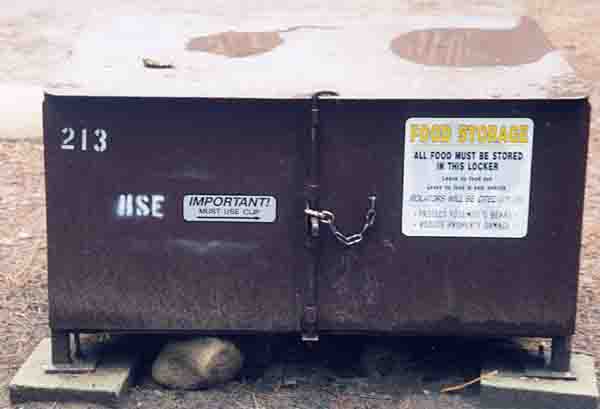 By 7:30 we were on the trail. It wound and wound and wound and went up and up and up. We kept going and going and going. At times it was necessary to go down in order to go up. It was hot. It was sunny. We had the necessary hydration packs, ropes, cameras, tripod, food, bear bells, emergency supplies, t.p. and shovel.


Approaching Middle Cascade, the Valley is getting ready for a day of sunbeams.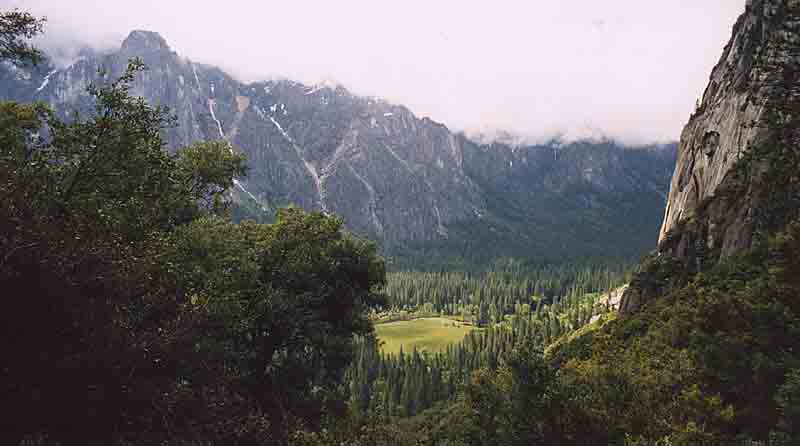 It was around 10:30 that we hit the switchbacks up the talus to the top, so it was still relatively cool and only heated up to the bearable level for the last little bit. If you leave the valley later in the morning, you hit this section past midday, just when "Yellow Face" is shining straight down onto you and all the bare rock around. Think of not much wind, and walking through a warm kiln, and that should be enough encouragement to get you up and onto the trail early enough to avoid being caught there.

At a good steady pace, we made it to the top in good time. With many stops for pictures and victuals we reached the top of the falls by about 1:00, in time to make a couple of phone calls home to those poor people stuck at their desks. We took many pictures and time to relax. Gordon had thoughts of going one further kilometre to Yosemite Point, but by then my legs and courage were spent and I refused to go further. We did it, it's grand and it's enough for today!!!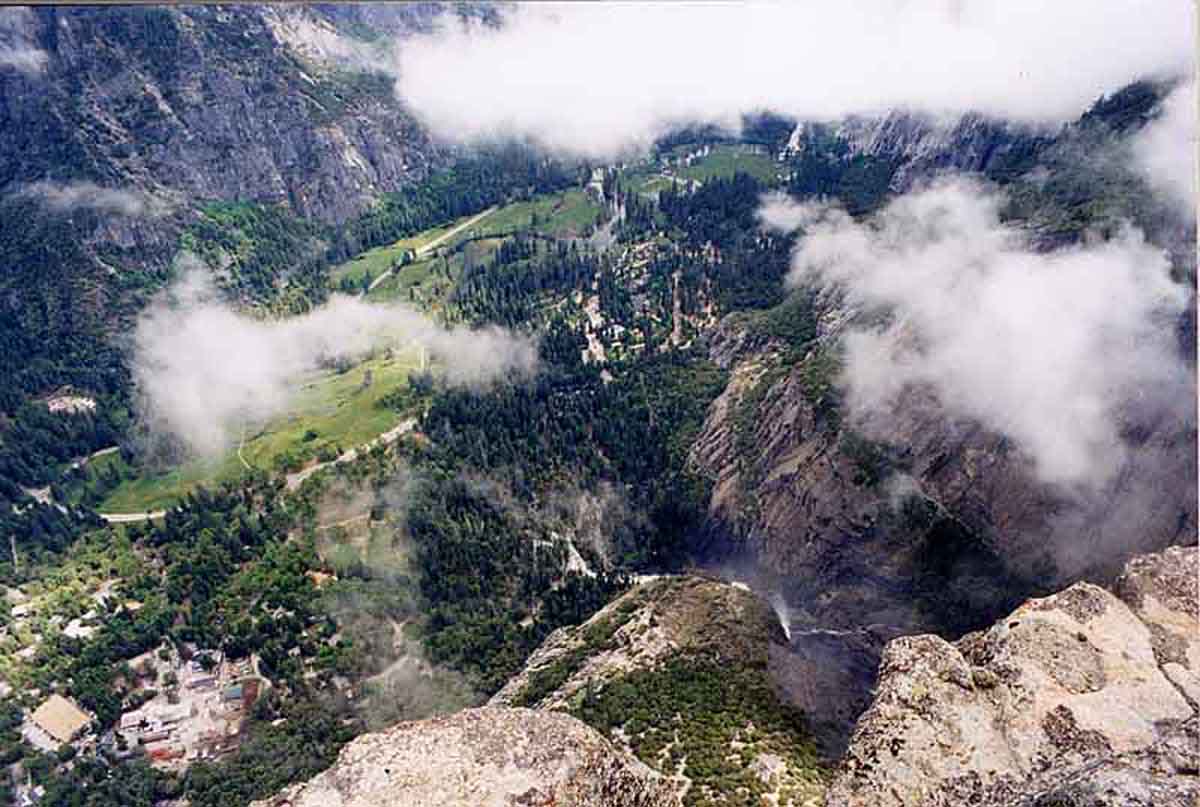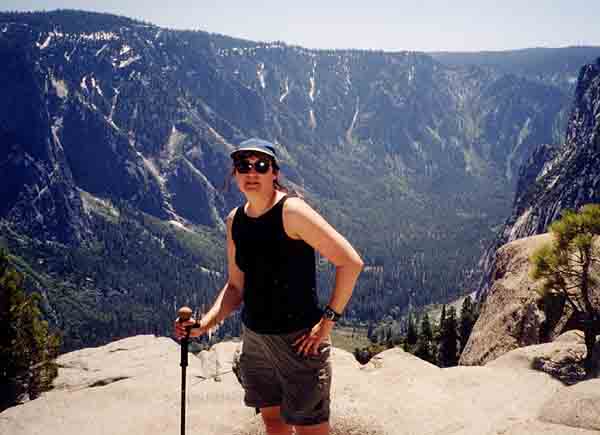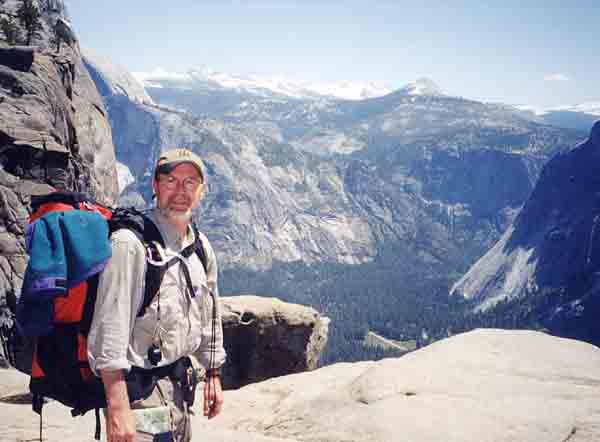 And we had a great lunch, even though Heidi's special gorp had been fast depleted by me on the way up.

Surprisingly, there weren't that many people there, especially at such a wonderful time of year. Coming down later in the day, we still didn't see many people, even up to the Middle Cascade!
One may think that going down will be a breeze, but in fact it is sometimes more difficult, in part because of fatigue, and in part because of the stress on one's knees. There are at least sixty switchbacks because of the grade and of course in reverse, it is necessary to go up to go down. We made it back to the truck by 7:30 pm. A full circle on the old clock.
.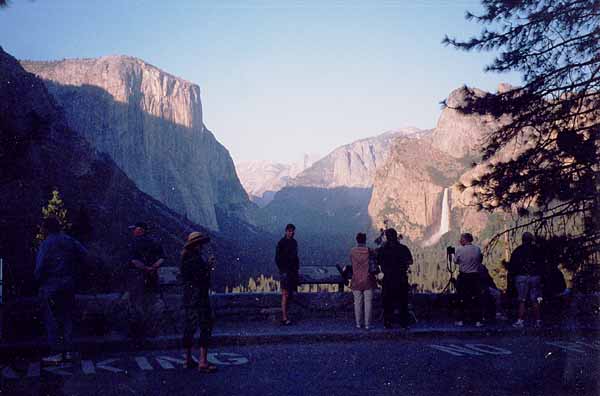 Sadly we left Yosemite Village the morning of the 10th. There was still so much to do, and so much to see, even after that day of scenic touring , including cougar tracks well past Forrester on the dirt road. But we set out for Sequoia National Park and the big trees.

Well, it was a wonder that that little Red Ranger didn't explode. Even with a its V6 engine, it couldn't help going to the redline regularly, just to keep up 55 mpg with the other traffic through the steep mountain roads. You couldn't put it in a lower gear for fear of generating a long line of angry traffic behind, so it spent the day frequently downshifting, then up, back and forth back and forth. What ever you do, remember this when you're choosing a vehicle for Sierras travel.

The better part of a day's driving brought us to Sequoia/Kings canyon, and a change in the trees, as a result of being a bit further south, at higher elevation. There was snow at Lodgepole campground. Sleep came easily, but not until we supped on BBQ'd steaks and chocolate pudding. Thank goodness the days were warmer than the nights.

The General Sherman tree and its relatives made quite an impression on Heidi.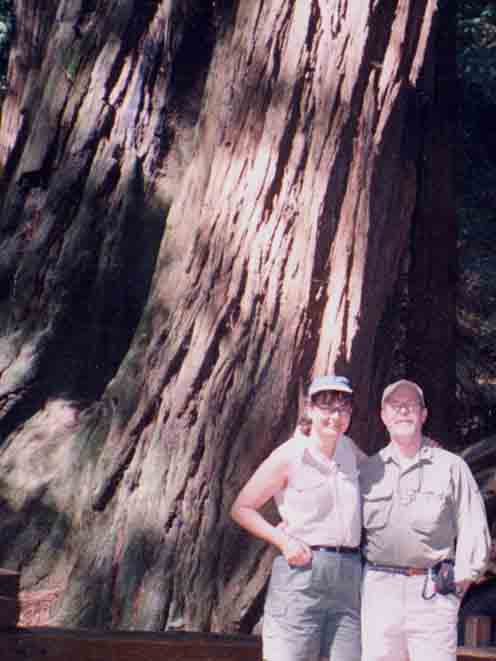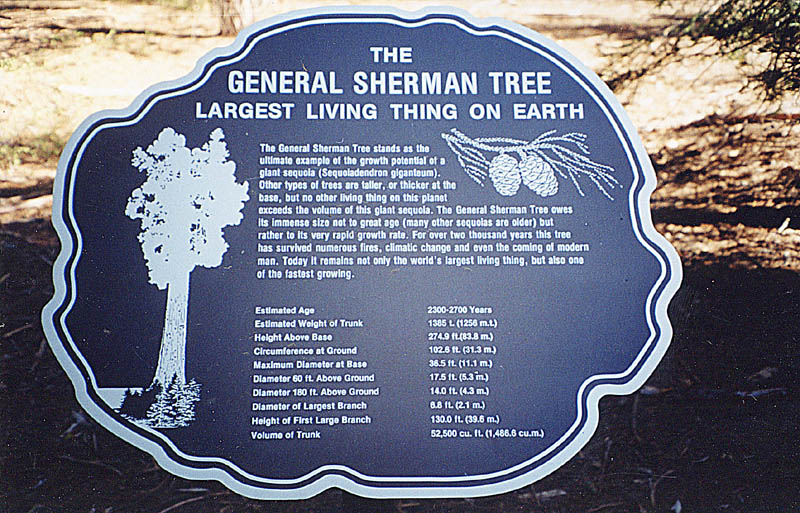 And the view from Moro Rock was great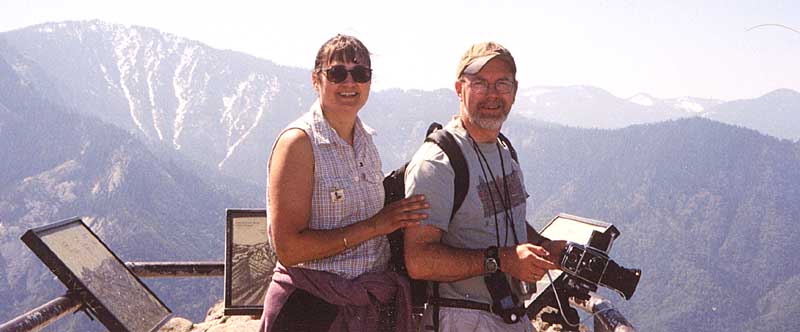 A chilly night at the Lodgepole campground, and we were on the way to the desert by serpentine descent into the San Joaquin Valley where I saw my first Yucca trees. We bought cherries on the side of the road for $1 a pint and drove merrily along spitting the pits out the window. (Well, at least I did.) The long drive took us south and back eastward through the Mojave desert (briefly), where I got a quick glimpse of an airplane parking lot & a quick natural history lesson at the visitor's information centre. And then northward. Mahogany Flats seemed a very long way to go to camp for the night. Why couldn't we simply stop at Stovepipe Wells in Death Valley? I had no idea of course, what Mahogany Flats was at that time, and the spectacular climb that was awaiting us.

If I had to describe the single most thing which impressed me about this California trip, it was the climb up to Mahogany flats. Death Valley is known for being at sea level, and for harbouring the lowest place on earth, some 350 feet below. To get to Mahogany flats one must cross two tree lines. At the absolute bottom it is too hot and dry for anything but a few cacti and sagebrush, but as we start climbing, the temperature drops and there are quite respectable trees and forest. Mahogany is at about 8000 feet elevation and above the second tree line. It is possible to see the Panamint Mountains and for miles and miles. The road is almost verticle there and the camping is free at MF. we left some spare t.p. in the facilities. Without a 7-11 for possibly hundreds of miles, it would be a terrible place to run out of t.p. I think we dined on salmon fillets that night, with ginger. It was glorious.

The Little Engine That Could actually made it. Ford should be proud.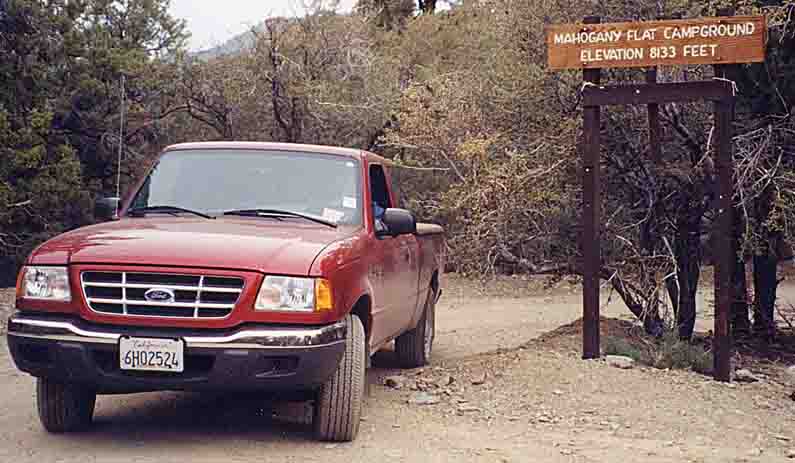 Perfect weather. Perfect views. With just the occasional evening sound of jets from Edwards and China Lake streaking down Panamint valley- the drawn out rumbling sound of them reverberating into the mountains even though they were tens of miles away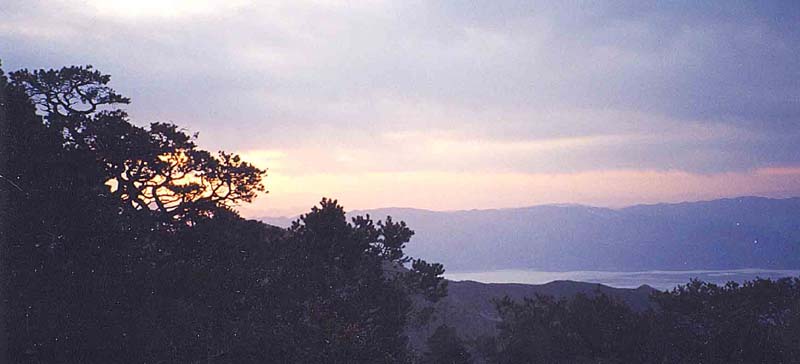 Well, it would have been nice to stay, but there was so much to see. We came down from the flats, with a stop to take several pictures of the charcoal kilns which were left there from the silver mining days. We drove around the Rainbow Canyon (36 21.502N, 117 34.472W), visited Panamint Springs (a misnomer) then off to Darwin. The desert looks mean though,with only the occasional Joshua tree, and probably crawling with rattlers. Luckily, there were no live rattler encounters today.

Darwin, complete with dance Hall and Post office.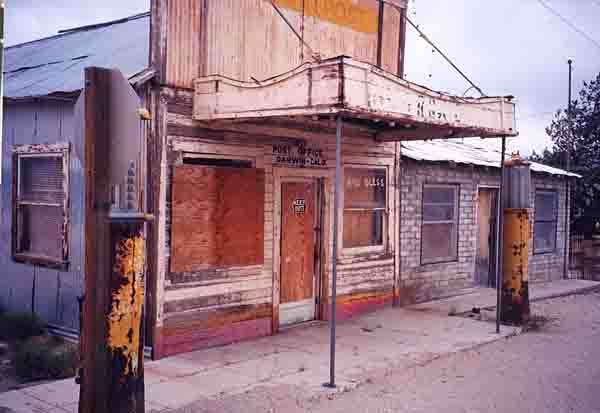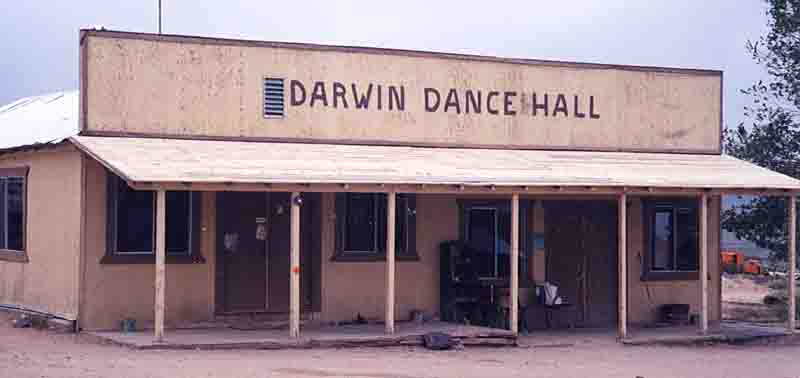 There are still a number of people living here. But not so at Skidoo, which is a10 mile rough road detour in the Panamints.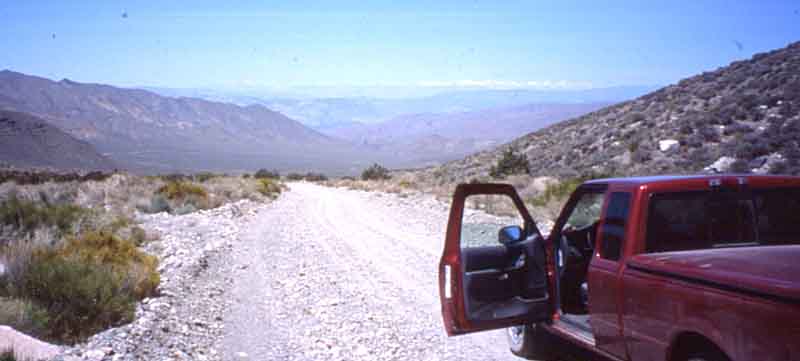 I think Skidoo has one of the highest densities of open mineshafts in the entire southwest. To think that men dug these shafts by hand, some of them being 300 feet deep. And now they sit amidst the utter silence of bygone days, until reading the local history and walking there brings them alive with activity again.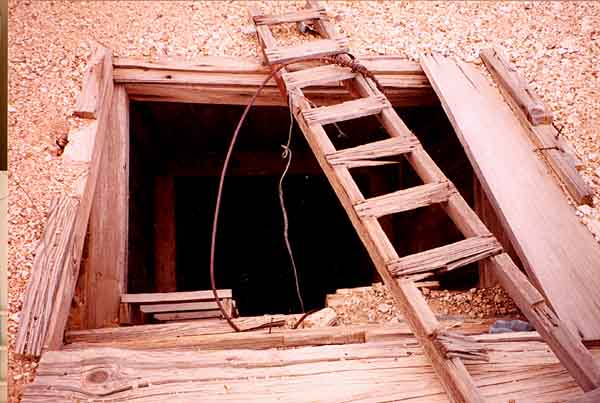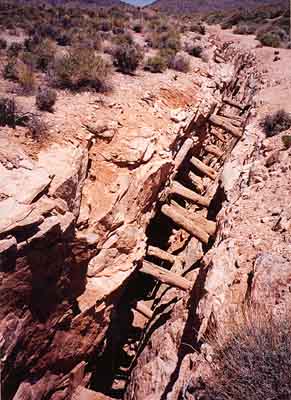 We stopped at Stovepipe Wells for gas, right in the middle of a dust storm. With the truck door open, a big gust of wind wrapped itself around Gordon's sentimental map of California and took it dwinding into the distance across the desert. I gave chase for a while, only to turn around when my sense told me that I was probably in heavily populated snake country. I felt terribly guilty that the map had gone, it made a good story, but that map meant a lot to Gordon, and I was sorry. But wait, why am I telling this story? Lo and behold, when we left the gas station, way down the road there was a Tourist Information Centre. New map, you say? No indeed: the wind had taken the sentimental map down all that way and it had wrapped itself around a fencepost. All's well that ends well. We retrieved the map and headed to Vegas for a night on the town.

Vegas is a lot of glitter, noise and people. Naturally, I had to see the Pink Flamingo, and so that was a natural spot for dinner. Money was burning my pockets and I had to try my hand at the one armed bandits. Being the cautious type, I sprung for a quarter. Well, bingo. With that 25 cent piece I kept winning and winning. At one point I had $14.50 when my luck changed. I settled for $14 and we called it a night.

Being an engineer, Gordon would not let us leave Las Vegas without a side trip to the Hoover Dam. Okay, it is impressive, but I certainly had no desire to walk across it (Gordon's suggestion).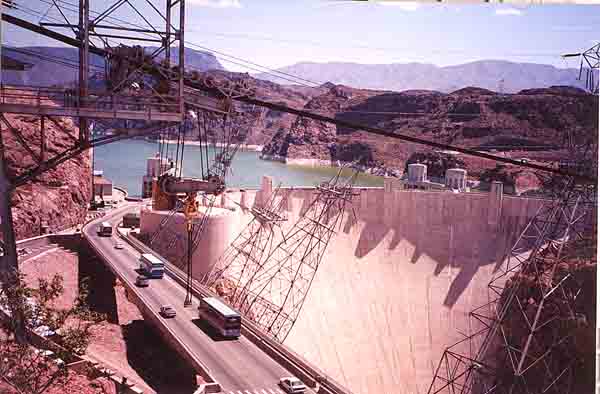 There were wild rams on the hills near the dam, and it promised to be another hot and sunny day. This was Mother's Day. We were going back through Death Valley, with visions of spending the night in Big Pine, just north of the National Park. We left Las Vegas without a hitch, and headed north first through Nevada.

Ryolite is a ghost town just out of Beatty. Unfortunately, we were a year early for the Jamboree, scheduled for April 2002. This little town had boomed in the early 1900's after they struck gold. There is still a Tom Kelly's bottle house and ruins from the bank, the school, jail and general store. We lost track of a hare in the dusty tumbleweed, but following it was fun.

Beatty is a typical two horse town, too hot and not the type of place one would make a detour to see. I had visions of native arts and at least a few shopping stops. Mother's Day is revered by the native Shoshone band. All the shops and restaurants were closed. At least we could buy gas though, and prepared ourselves for a seldom seen thunderstorm in the dusty desert. Since its occurrence is so rare, Gordon and I decided to pull off the road and watch the clouds gather and the thunderbolts dance from cloud to cloud, and the picture perfect areas of rain under the cumulonimbus.

In the middle of the field in front of us was an unusual small domed structure. This definitely called for an unscheduled pitstop. Here we were in Cactus Springs and approaching the Temple of Goddess Spirituality- Dedicated to Sekhmet. I still haven't research who Sekhmet is, but the temple was a one room structure with a fire pit, an opening to see the stars and let out smoke, and several doorways. It was furnished with cushions for floor seating, and later that day there would be a special Mother's Day gathering followed by the blessing of children.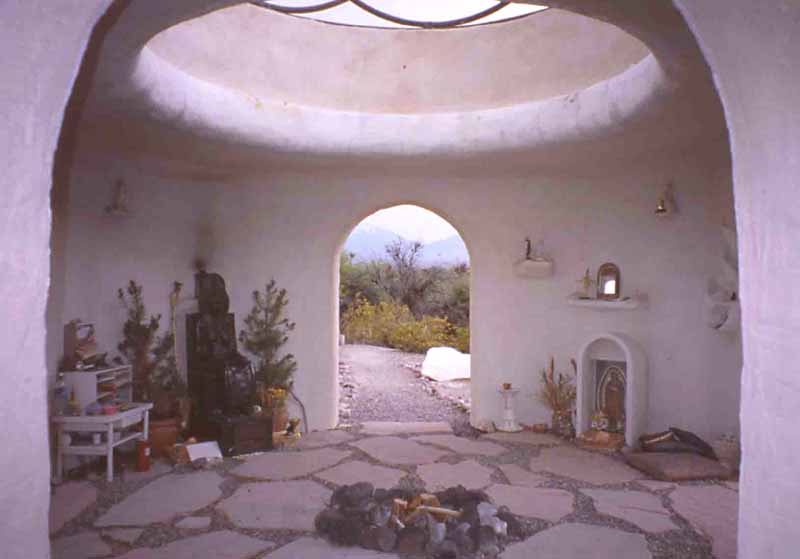 The parking area had a sign which said Witches Parking only – all others will be Toad. This is a sacred space to the Shoshone natives, and clearly their love and respect of the environment is utmost. Despite the witch's warning, we parked and at lunch while the thunderstorm cleared away.
.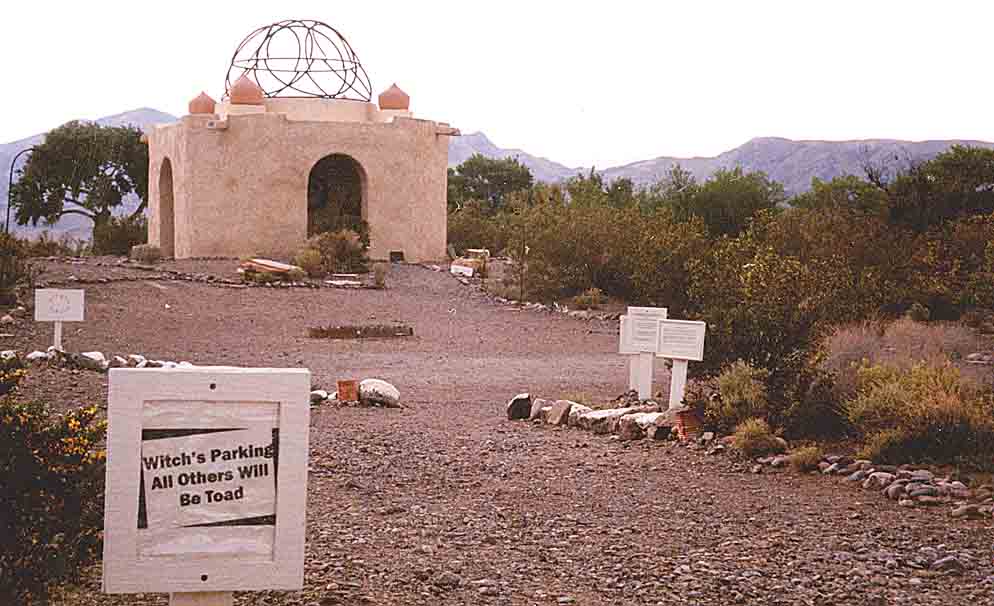 What an interesting day we were having. North again we headed through Death Valley and to the Ubehebe Crater (affectionately known as the Heebee geebee Crater). It was my decision to visit the crater before buying gas. Those who also travel to Scotty's castle get to see a true oasis, even before getting there. As you wind up the valley gorge to get there, the palm trees spring up (pun intended) and everything is lush The AAA guide said that Scotty's Castle would be open until 5:00. We got to Scotty's at 4:45. The site was closing up and the gas attendants had left for the day at 4:30. Oh dear, we definitely did not have sufficient gas to head through the unpaved and seldom travelled road to Lone Pine. It was hard to believe that we would be happy to see Stovepipe Wells again, and really happy to head up for the night to Mahogany Flats.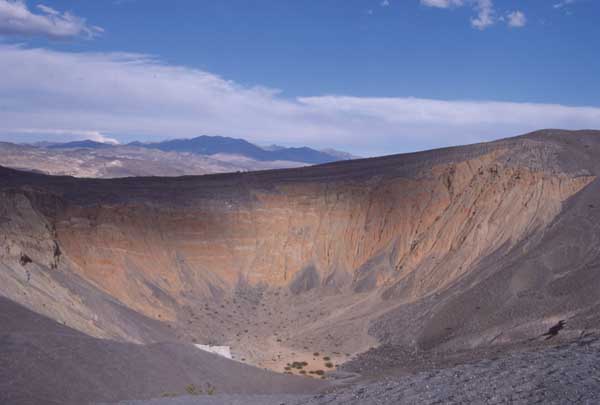 Up toward Stovepipe Wells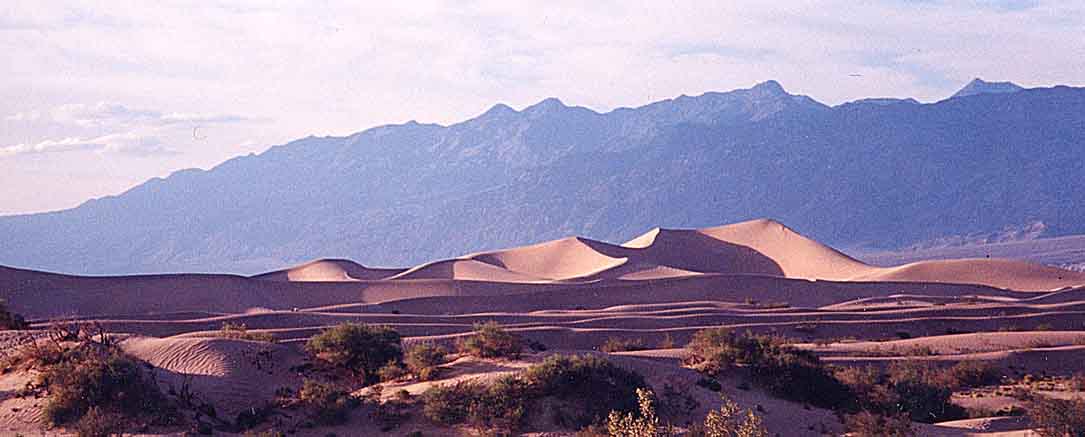 May 14th saw a splendid morning at MF,with the wind sounding like the ocean when it blew up the mountain. There are absolutely no manmade noises there and the silence is awesome. And so it was until we headed out, this being a travel day. Tioga pass had been opened finally and we drove up the east side of the Sierra Nevadas and through the snowy pass back to Yosemite Village.

Close to 395 in the vicinity of Mt. Whitney.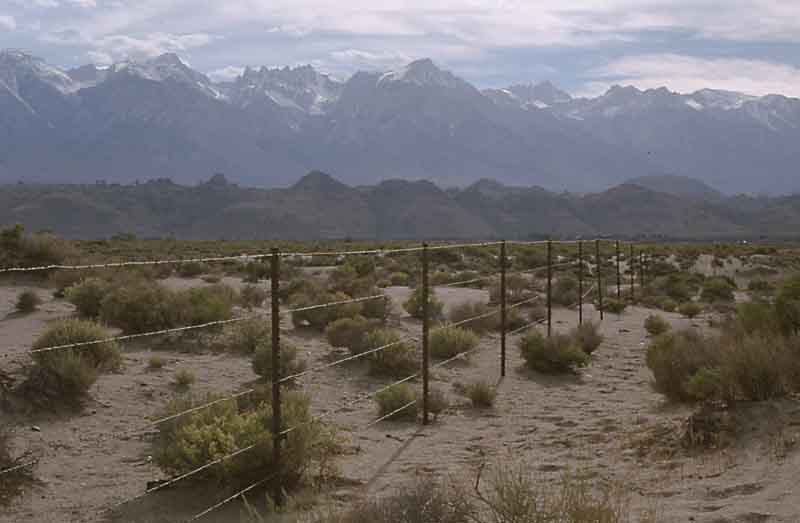 Well, we camped one more night in Yosemite Valley after arriving through the Tioga Pass in the Dark. I was in the doghouse because all the scenery was missed by coming through late in the day. Oh well... Anyway, since we were back in the village we took advantage of the laundry facilities. Near the Housekeeping site the Merced river flows and the river bed is speckled with gold dust, so we waded in to try our hand at panning, without the required pan. The river was ice cold, but the thrill was worth it.

The next day, we packed up and headed for points west, near the Garlic Capital of the world at Gilroy.. We had a reservation at the Henry Coe State Park off Hwy 101 up in the hills south of there. It was very pretty, although the drive to get there took 40 minutes each way on narrow winding and switchback roads. Henry Coe State Park is located at the top of a mountain. It is the type of place you would expect to be free, and the poor cyclist we passed on the way up should be paid to go up there. So far up there that from the campground it is possible to see Silicon Valley throught long grasses and trees. Gentle breezes and stars made for a good and restful break from the travel to get there.

Early morning came and Gordon took the day to visit friends and former colleagues up in Fremont. I, on the other hand shopped to my heart's content at the Gilroy Factory Outlets. It was necessary, being in Gilroy and all, to try the Garlic flavoured ice cream (quite good), and browse through one of the shops dedicated exclusively to garlic. Too bad we weren't there for the Garlic Festival.

During our time at Coe, there was time to do a bit of exploring down a steep wooded slope right behind out campsite. Just before starting back up to the top there was a glint of color way down in the trees below. And what was it? Well, the wind must have blown it loose from its moorings earlier in the season. The Park Ranger was quite surprised to be given the biggest thing yet for the Lost and Found! (and he hadn't heard about one being lost)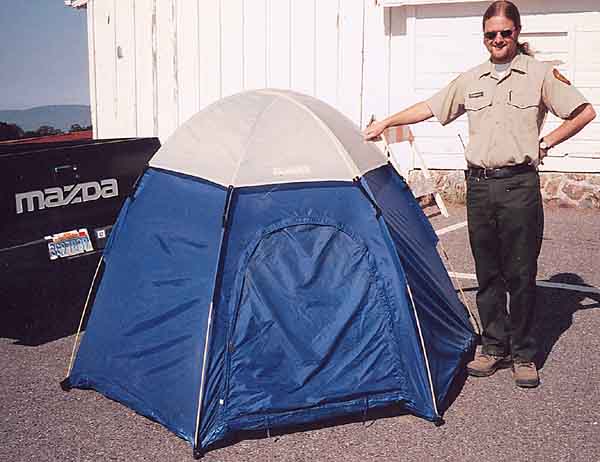 Meanwhile, Heidi had been studying the maps and it was decided that Big Sur and the coastline was the next port of call.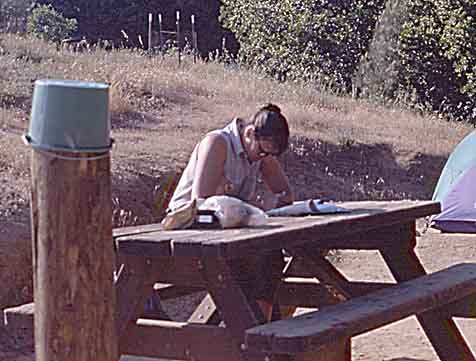 On the way across the Coastal Mountains, we came across a wonderful carver who would also be the envy of kids who love tree-houses.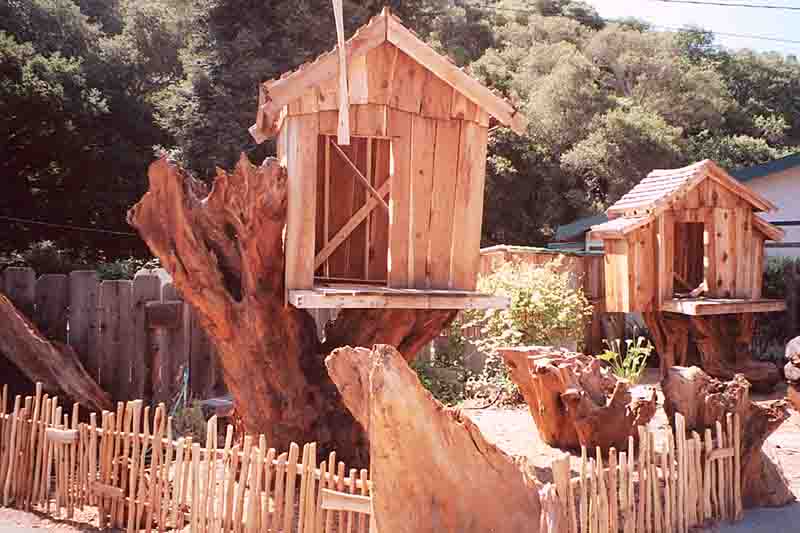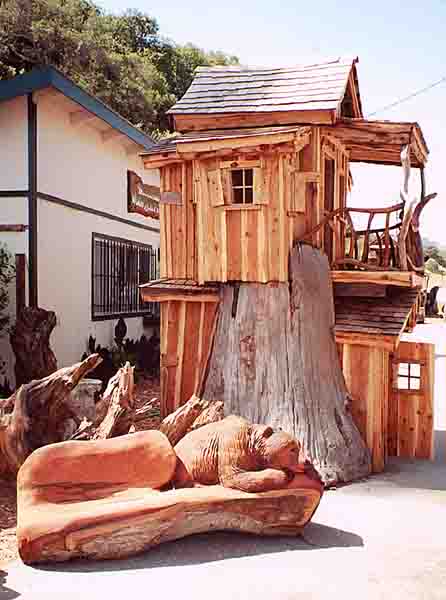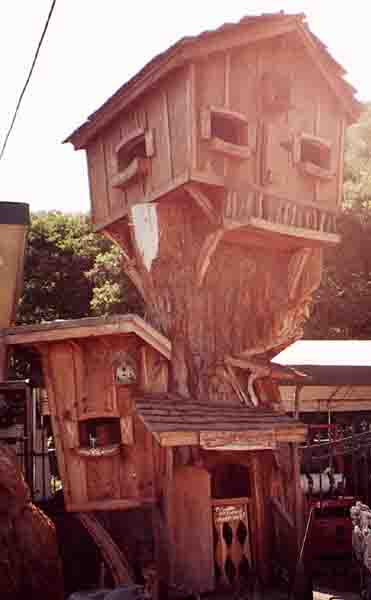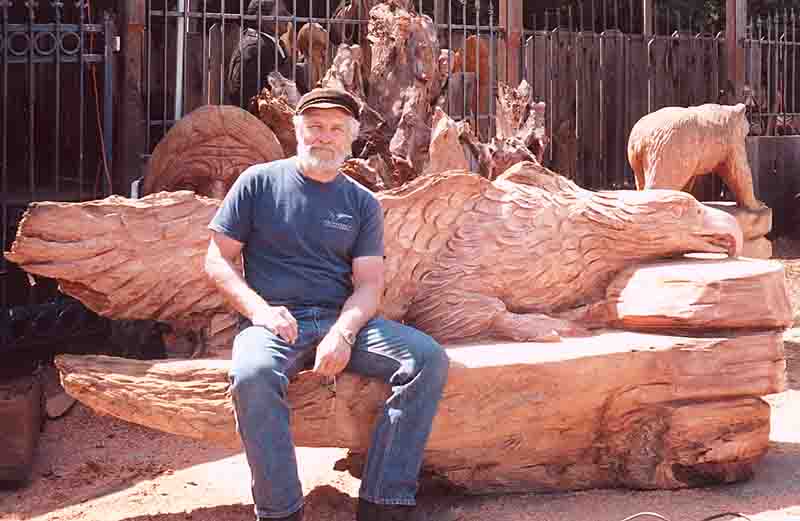 A visit to the San Francisco area would be incomplete without a visit to Big Sur, and we did just that on May 17th, going through Carmel and taking a leisurely drive on the oceanfront cliff road. We camped at Pfeiffer State Park and had some excited moments the next day when Gordon in the truck was waiting in the wrong place for Heidi, who for her part thought he'd gone off by himself Fortunately we got it together after an hour or so of searching, and all was well.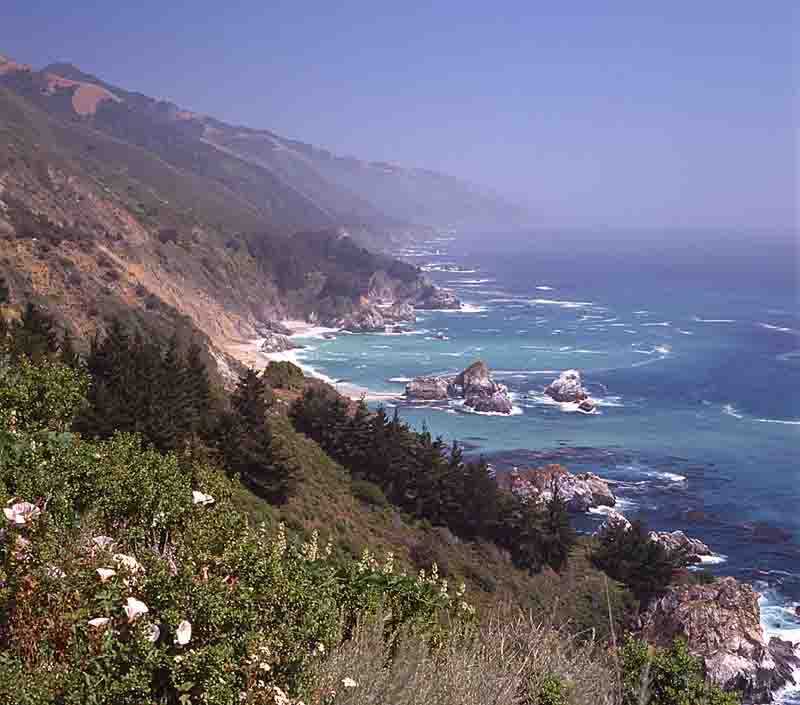 Heidi and friends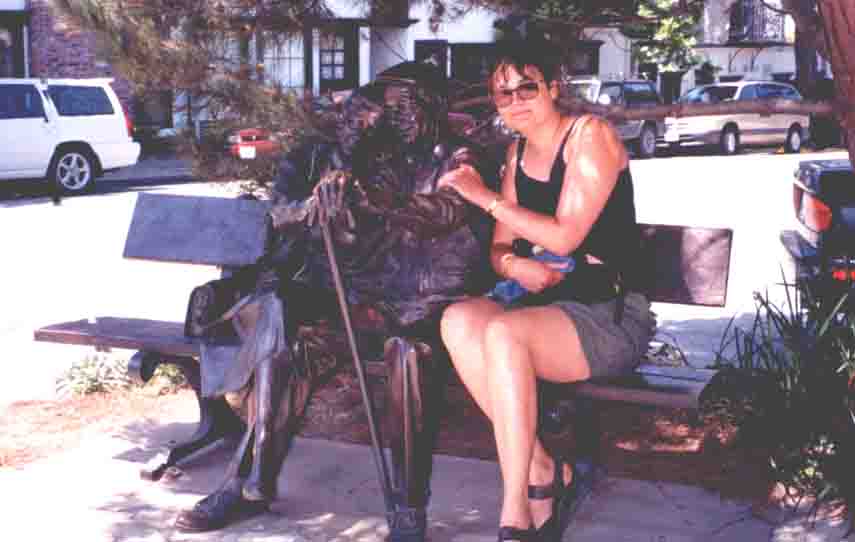 Finally, it was back up into San Francisco. We visited the necessary Chinatown (having a scrumptious lunch there), Golden Gate Park and the Breakers where they were preparing for a very large Gay Pride parade. We had supper at the famous Rocco's and walked amidst the huge number of Street People, complete with shopping carts and sleeping mats in doorways. Nearby, to be close to the airport the next day, we stayed at the downtown hostel (YMCA), which is a fine old building with a great past.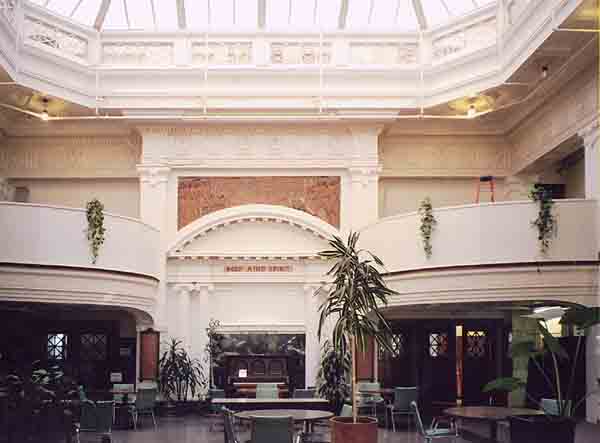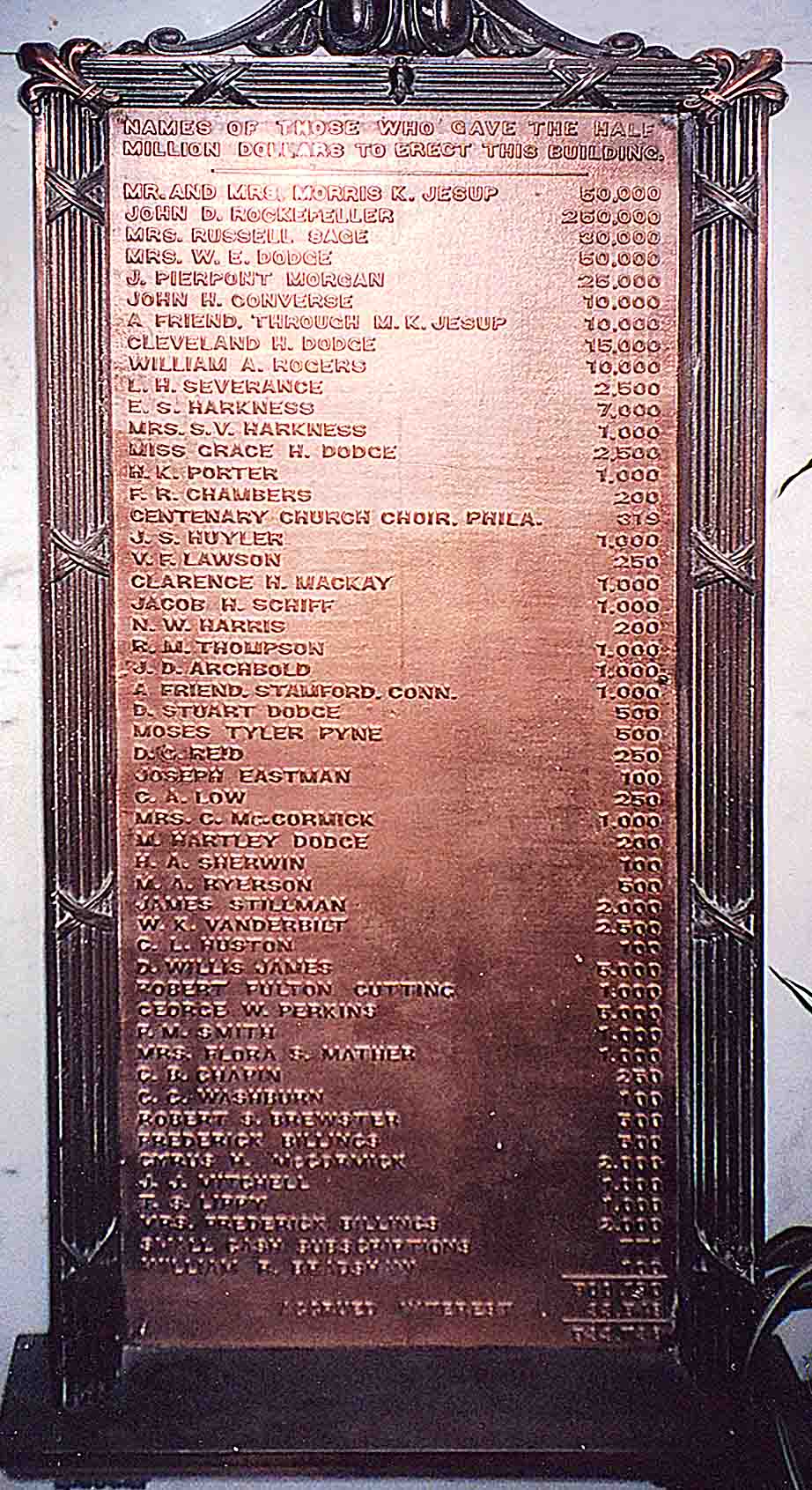 And of course, no trip to San Francisco environs would be complete without the Golden Gate Bridge!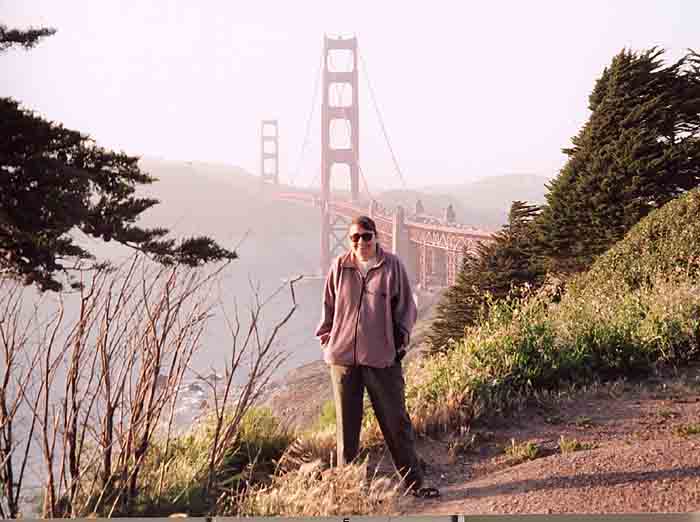 And remember that when it comes to Nature: Look at it, Photograph it, and Leave it

Till next time,

Heidi & Gord, with postscript picture from Toller, who wants his Mistress back