Desert Trip of May 2005 260705.1


It's always a little surprising just how fast the pages turn on the calendar. In some ways it seems only yesterday that Dave and I were starting our trip into the Cathedral Range of Yosemite back in 2003. Now it's well into 2005.

A few weeks ago, I was able to take a trip back to the desert areas of the southwest for a couple of weeks of camping, hiking and photography. The trick was to do the traveling in bursts from place to place, so that it would not occupy a lot of the time. Without too much trouble, and only a portion of a full day, you can get 400 or 500 miles and still have loads of time for other stuff-the trick is leave early to get there early. And so the trip took me 3000 miles in a circular kind of route.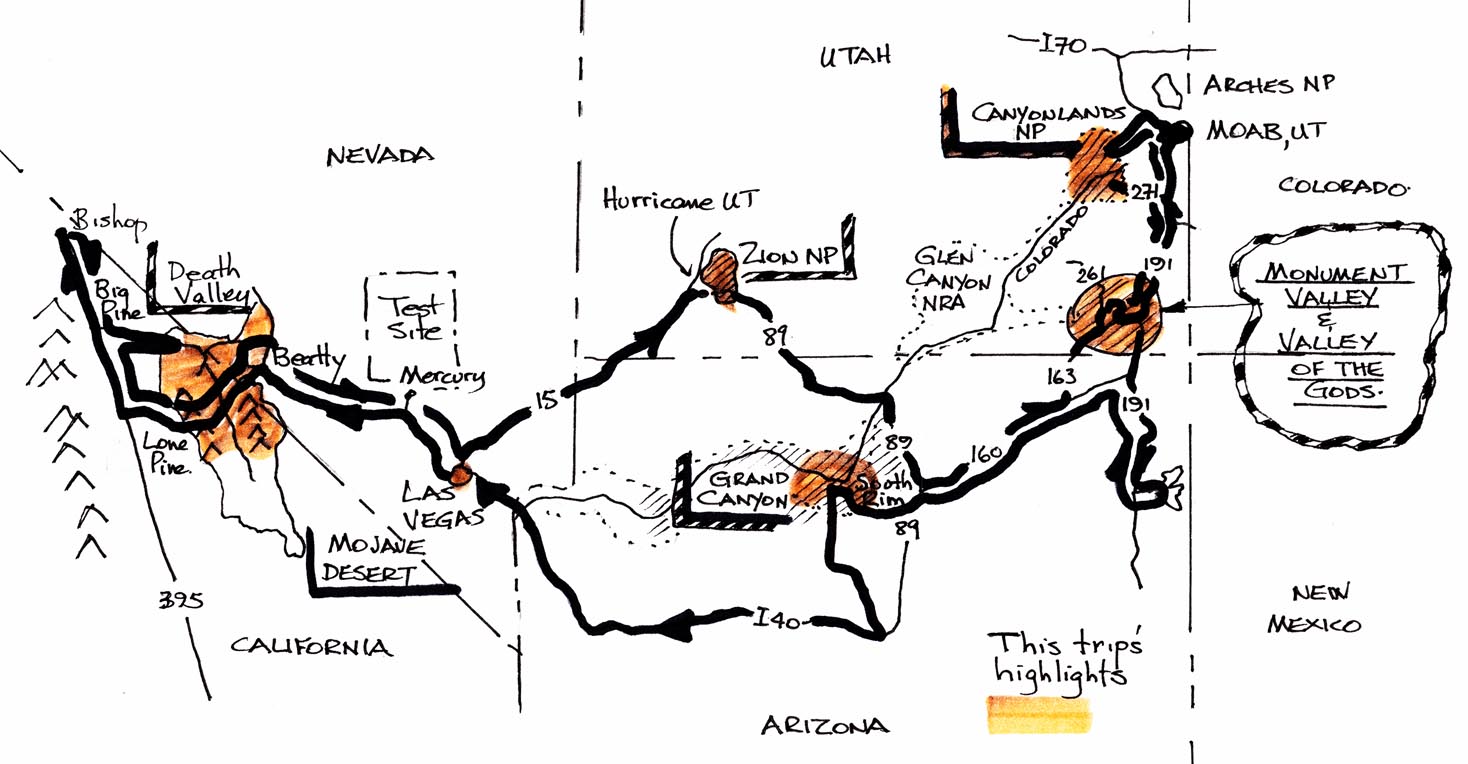 Flying into Vegas....west to Death Valley...west to the Sierras at Bishop California....back at death Valley on the way to Zion National Park....Monument Valley....Valley of the Gods....Moab Utah....Canyonlands....Grand Canyon South Rim...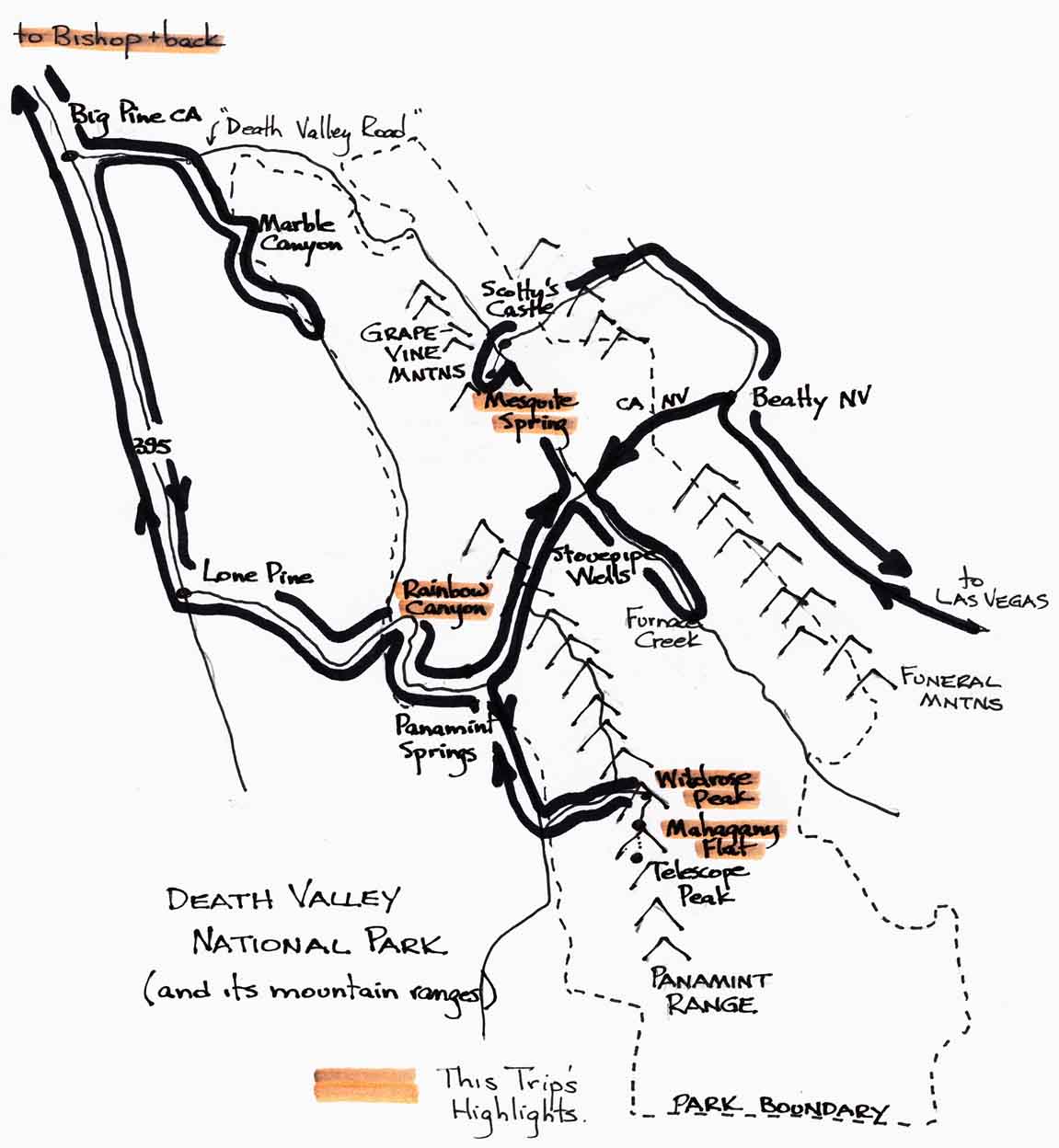 In the airport terminal, there were lots of great advertisements for local attractions, and the usual gamut of advertisements. I don't think the network security guys thought their method of protection would be sharing space with another local business...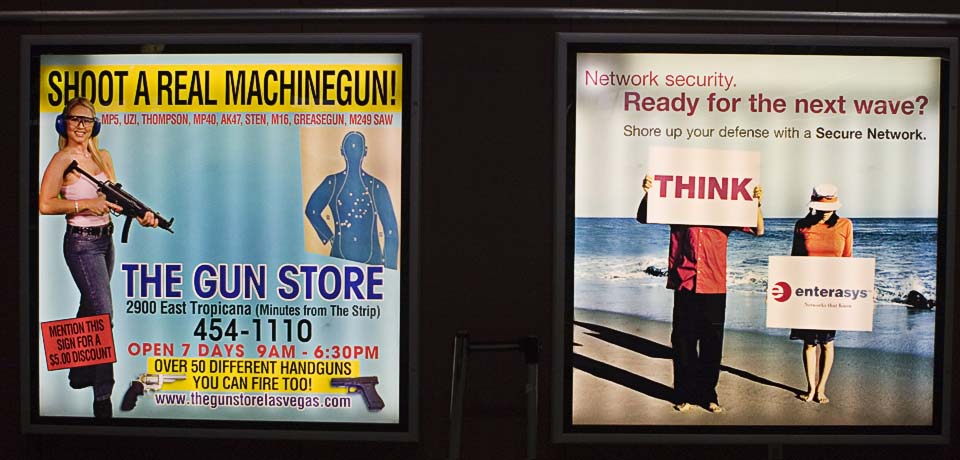 Which of these captions applies?
1) "Two Ways of Dealing with Network Security"
2) " Never Mind Enterasys, just Cut to the Chase"
3) " Do You Want to be Holding These Signs?"


Those two advertisements put together like that reminded me of a billboard I saw near Thermopolis Wyoming on an earlier trip. When the McDonald's guy rented half the billboard, I guess he never bothered to check on it…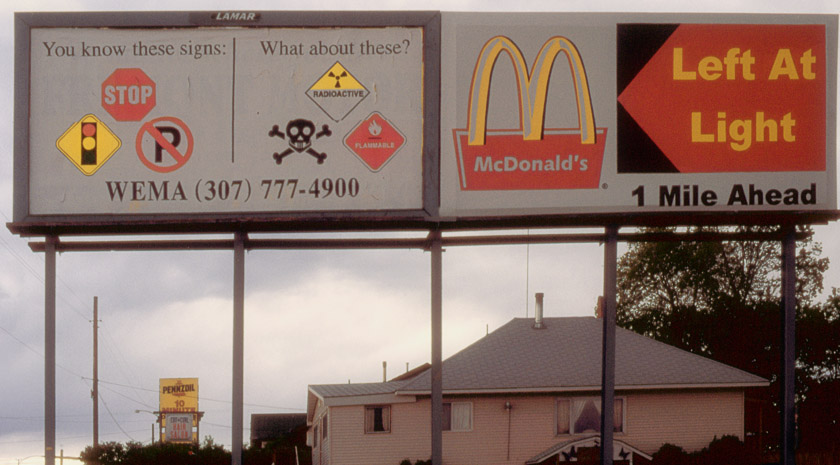 This time into Vegas I had found a web bargain at the Stratosphere Hotel for that first night after arrival. Over 100 stories tall, it's even got a roller coaster and rocket sled rides at the top of the tower, for those who like the wind in their hair at 1000 feet. You can see the roller coaster cars and the rocket sled people strapped in and launching in this pic: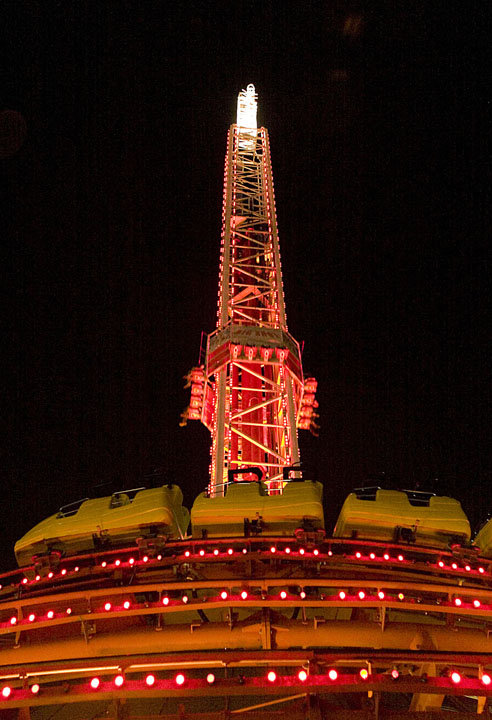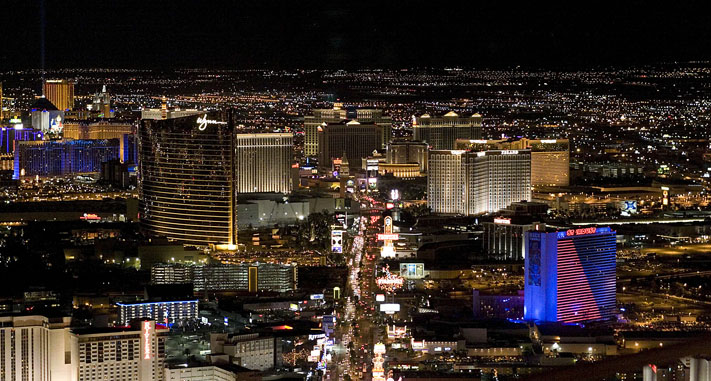 And below the Stratosphere, the Strip stretches away beneath, and you can see how far the suburbs are penetrating into the desert off to the east. A lot of those new areas have streets lined with big trees. Pines with trunks more than a foot in diameter don't grow anywhere overnight, and I wonder where they came from, and just how much it cost to bring and transplant them here. Whoever did it knew what they were doing, because they look very healthy and well cared for.

After shopping for supplies the next morning, it was off to Death Valley . Coming up to Daylight Pass, you can see the heat waves against the strip mining at Ryolite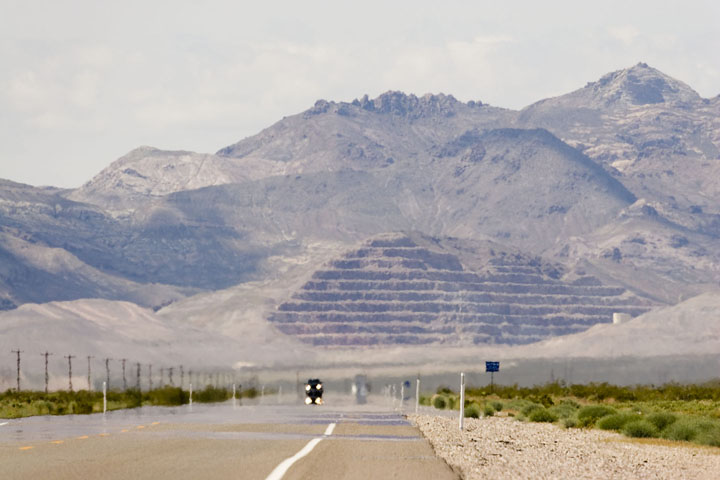 Death Valley(national park) and up into the mountains for a couple of nights camping at Mahogany Flat ( favorite spot at altitude...8133 feet) . Now the snowfall had been quite heavy this winter, so a lot of the peaks were still heavily snowcovered.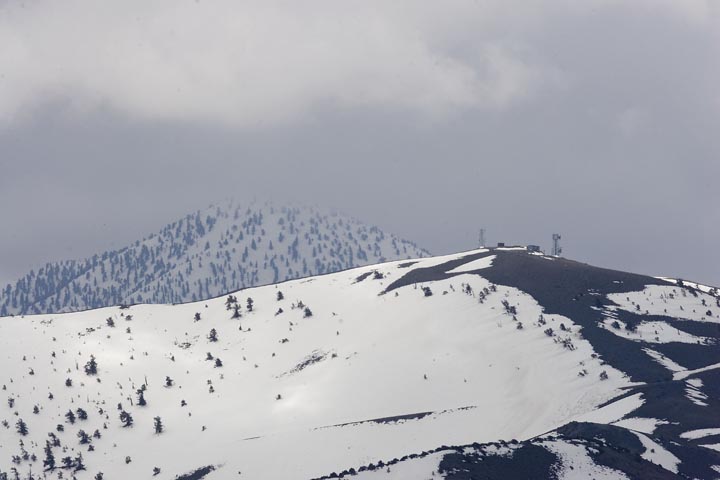 The truck made it up the trail, which was in better condition than it has been in some past years. There was only one site occupied by a couple down from Utah. Paul and Sheri Wilson were avid hikers so we had lots to talk about. They also loved the Four corners area (Colorado, Arizona, Utah and New Mexico,) so were excited to hear that I was going to spend time at Muley Point and Valley of the Gods.

That night, the storm clouds rolled in, and blew quite a bit. The next morning, I moved everything down to the Thorndike campsites ( 1 other person there) in case the upper road washed out. If it did, you'd be sitting up at Mahogany for God knows how long with your truck. Anyway it only rained a little. There was still a lot of snow on the "road" even at 8000 feet.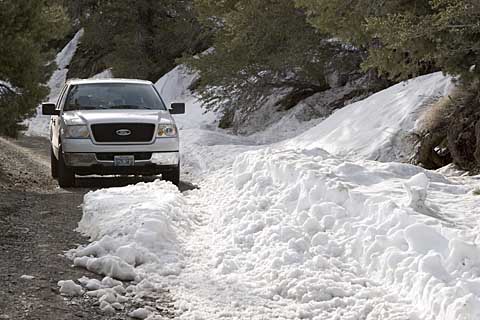 Telescope Peak trail was still fully snowcovered, so instead of fighting through the snow for 14 miles I did an "India Overland" hike up the ridge behind the charcoal kilns, just for a few miles' ramble, with Wildrose Peak on the menu for the next day before heading out to Bishop.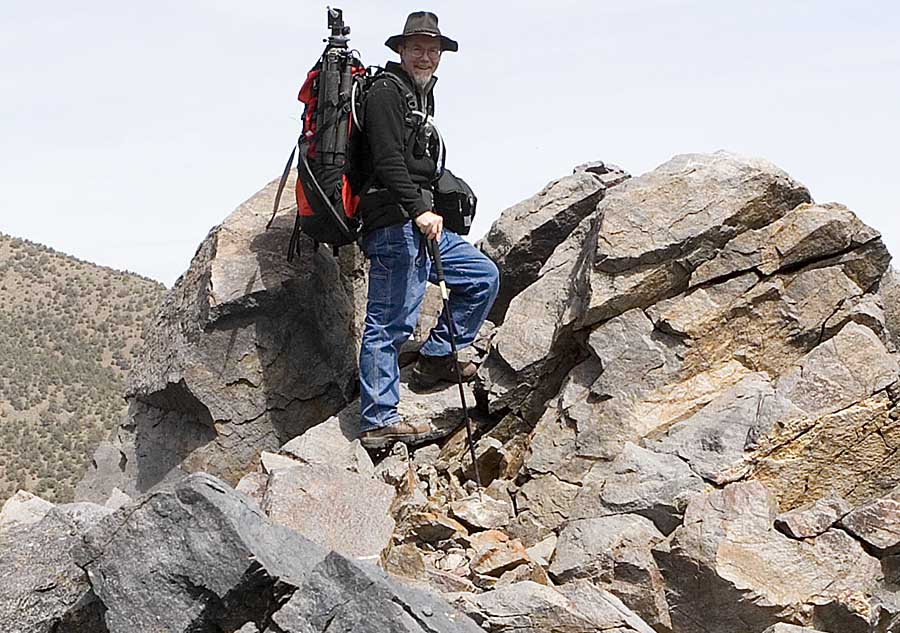 That evening, I met a couple of Speckled Panamint Rattlesnakes (Crotalus mitchelli stephensi) in the middle of the dirt road near the charcoal kilns. I wanted to get them off the road before they got flattened so I tried to get them moving with a nice and safe 6 foot stick. Well, they were "occupied" as you can see, and only started paying attention when little pebbles starting hitting them from a good safe distance. It was hilarious: nobody rattled, but the female (I presume) had the good sense to start moving into the bushes, but she had to drag the male along for the ride-he just sat there looking at me.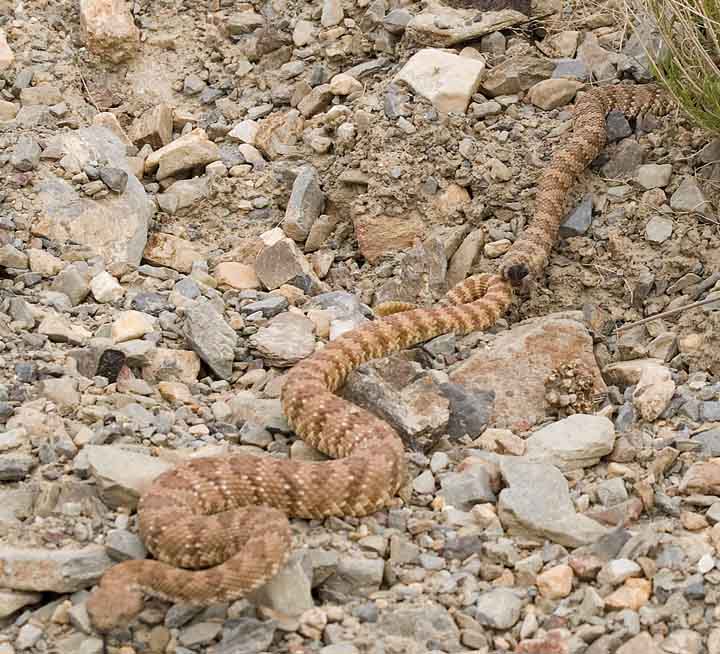 The next day was equally hot (+90F) for the Wildrose hike. The "road" to Thorndike campground looks a long way down, as does the valley road back toward Wildrose campground and Panamint Valley.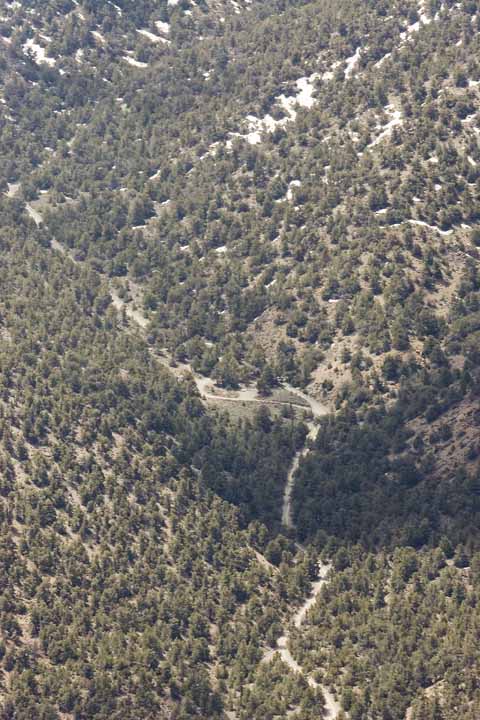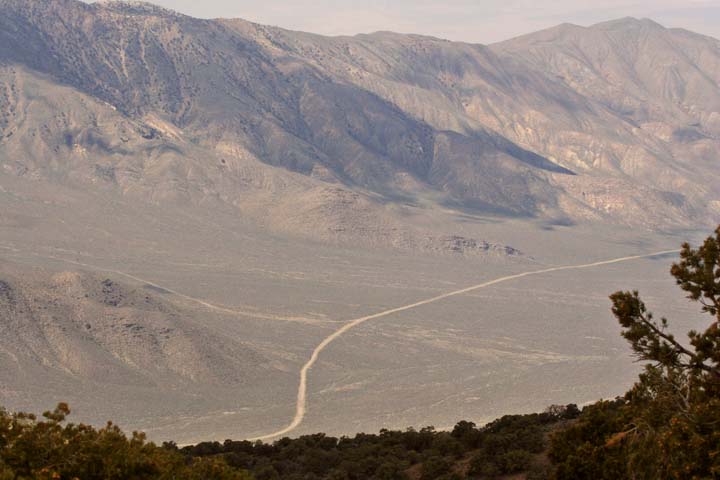 On the way to the top, the trees get gnarly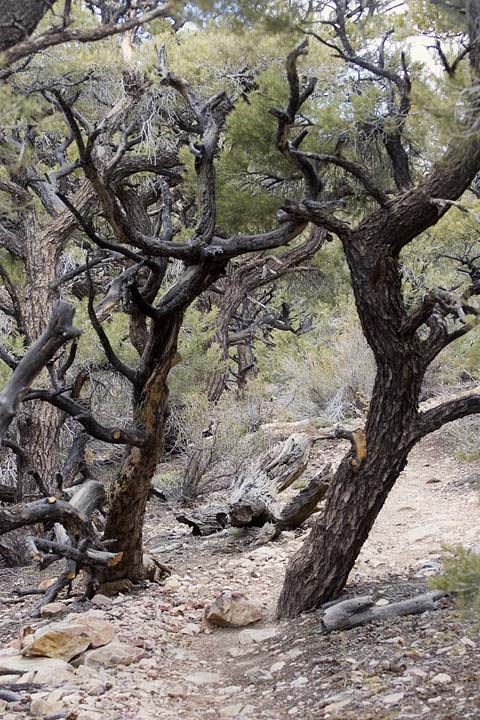 Death Valley view from the Wildrose saddle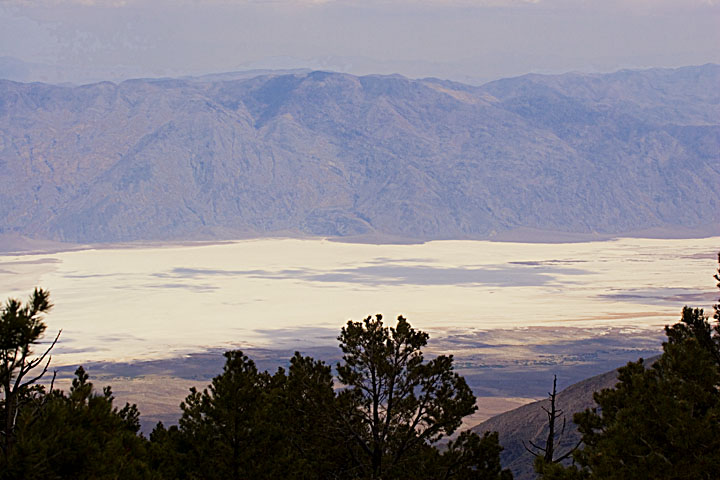 Halfway down up the Wildrose trail, I again met Jeremy, a New York cop who comes to the desert as often as he can. We made rough plans to have dinner if we met up in Zion a few days hence.
Later that day, after a few hours of driving and being chased by storms, I made it to Bishop for some Sierra storm pix.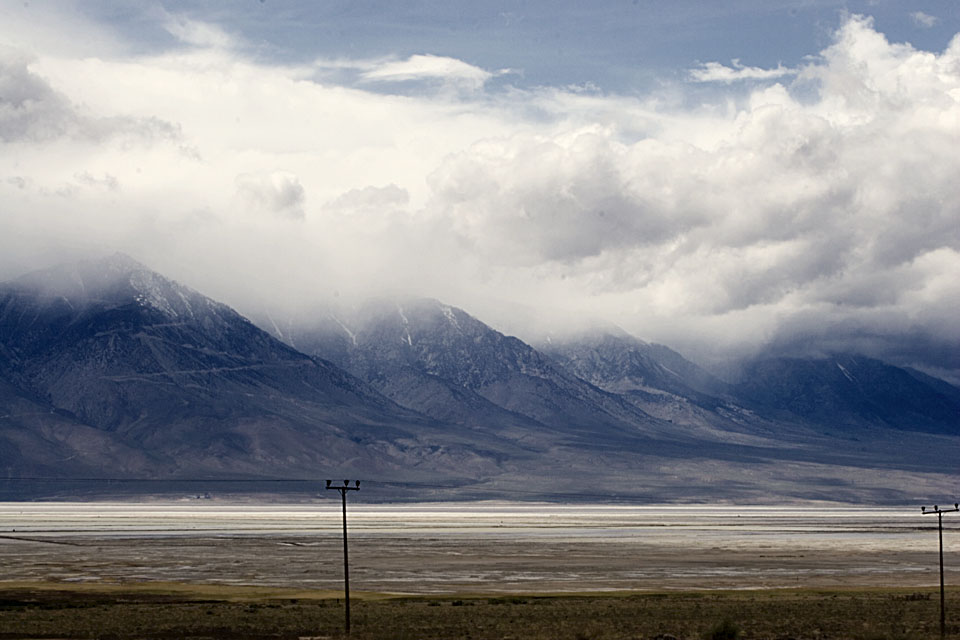 At the eastern foot of the Sierras, Bishop is a jumping off place for the high country and fishing. The place was just packed with fishermen since the season had opened just the week before. Everyone at the Trees Motel had fly rods galore, and many many ice coolers. Everybody and his brother was talking about the one that didn't get away- I was pumping gas and this guy happily shouts over to me "Hey, I hope y'all left some fish for me". He didn't seem convinced when I told him I'd just come out of the desert!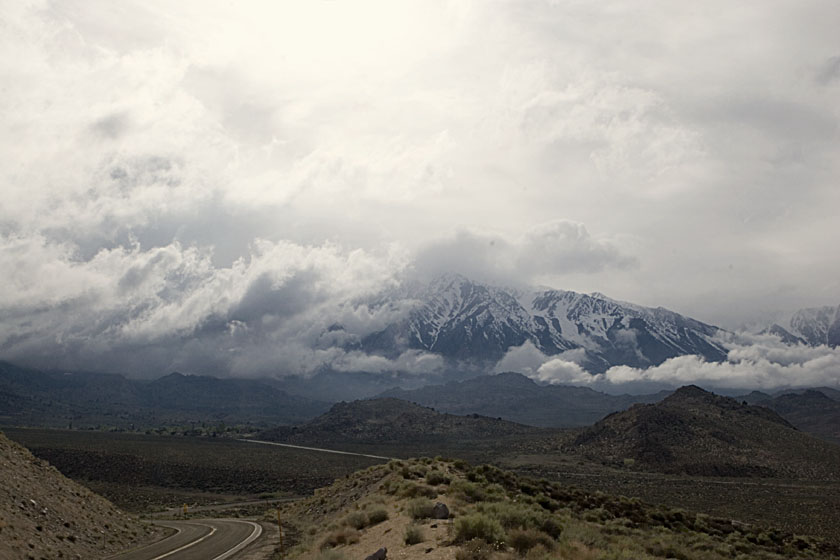 Now it was time to get going east, with the next major stop to be Zion National Park in Southern Utah. Coming back east from Bishop, I again had to pass over the Inyo Mountains before getting to the valley and the Panamint Range. I took the Death Valley Road out of Big Pine, with a plan to take the Saline Valley 4 wheel road into Death Valley.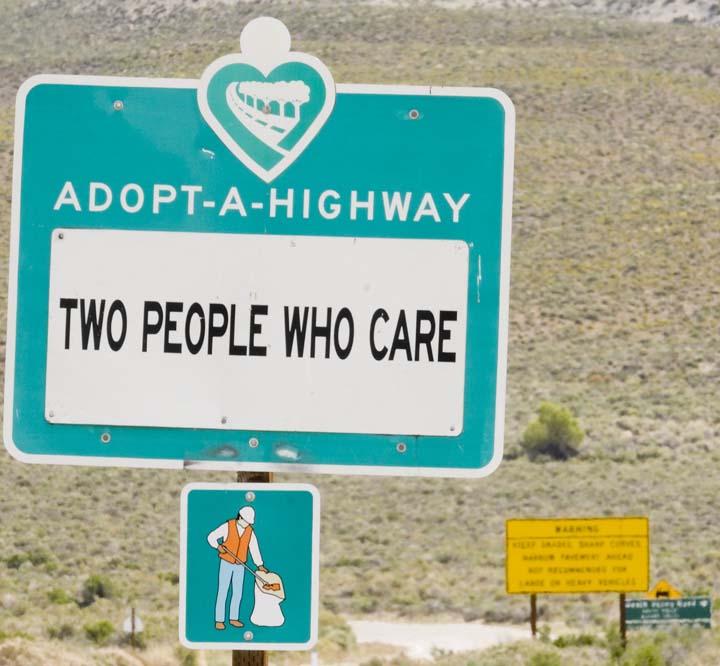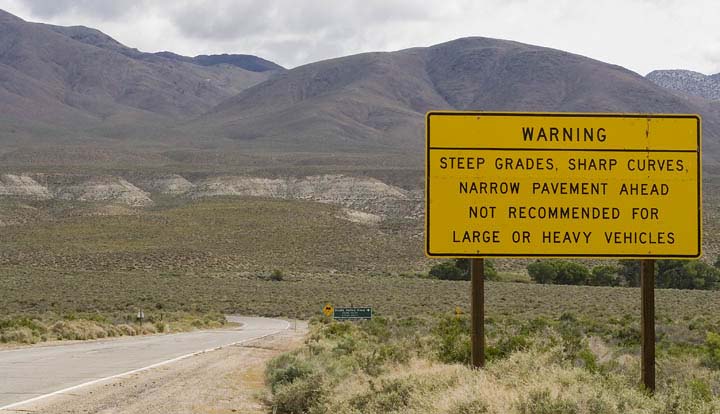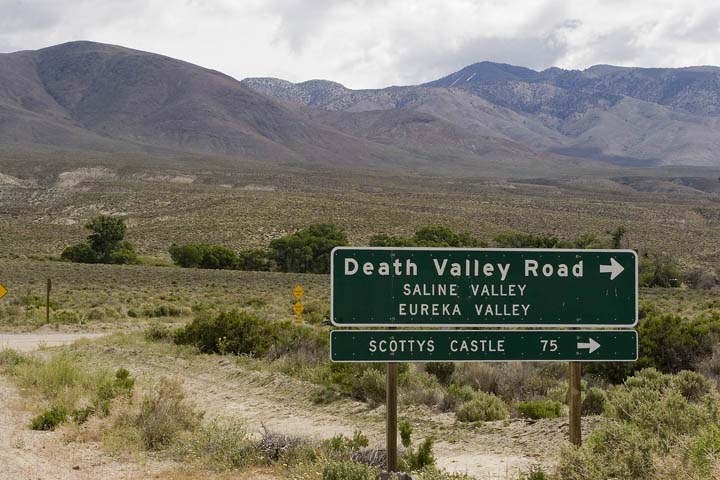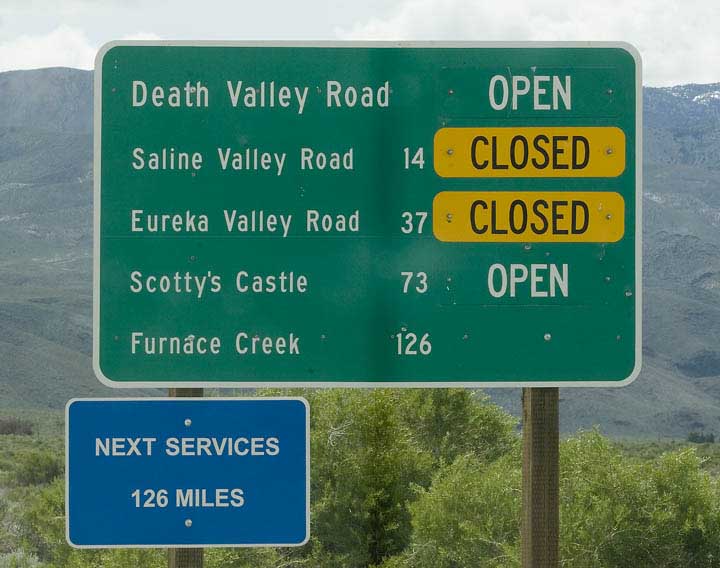 As I got into Marble Canyon, there were all these small old mineheads, with the open shafts descending into the depths. Some of them, you can toss a rock and not hear it hit the bottom.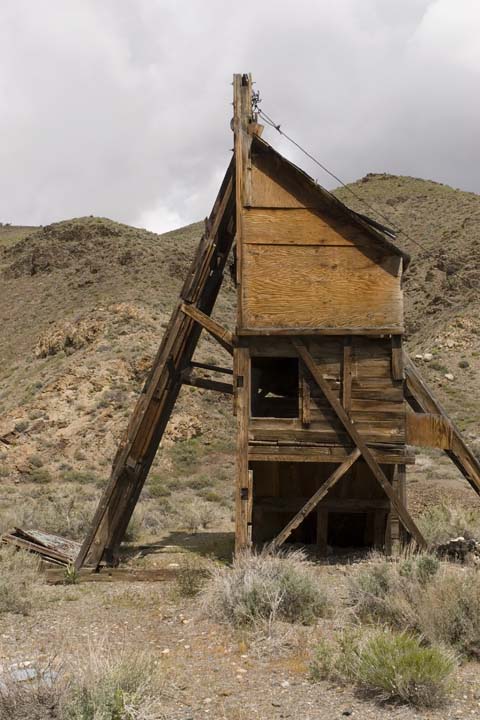 And then the storms came again. In the space of 10 minutes it went from sunny to dark and darker-about 10 minutes after this picture was taken, I managed to turn around part way down a narrow steep canyon road and got back out before the rain came.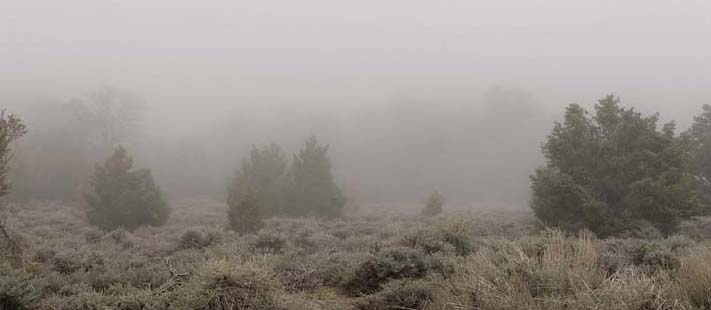 Just before you enter the Panamint Valley, the road takes you next to Father Crowley Point and Rainbow Canyon, which is often good for a surprise or two.

This Rainbow Canyon is perfect for aircraft flight training (combat), and it's often used by the Marines out of China Lake base. Sometimes you'll see dogfighting jets blasting up out and over the road, but this time it was a helicopter. Just by luck I grabbed a pic as it was zooming up over the edge at a 45 degree angle .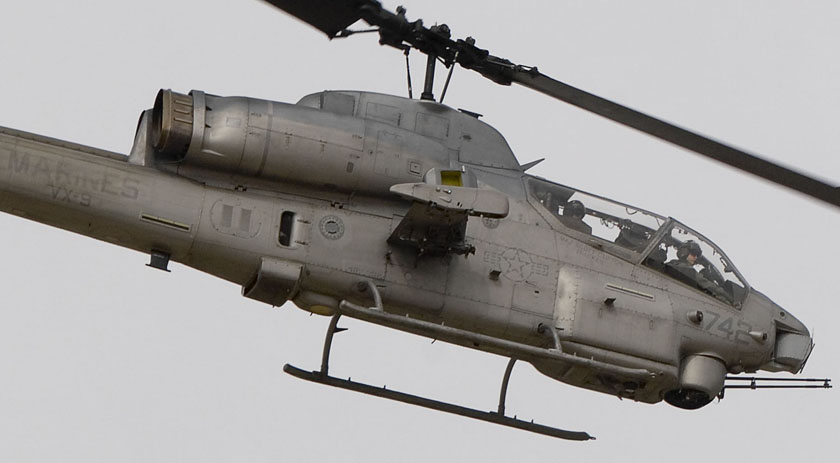 Panamint Valley stretches out below, viewed form Father Crowley point. Snowy Telescope is in the clouds at right. (altitude 2+ miles)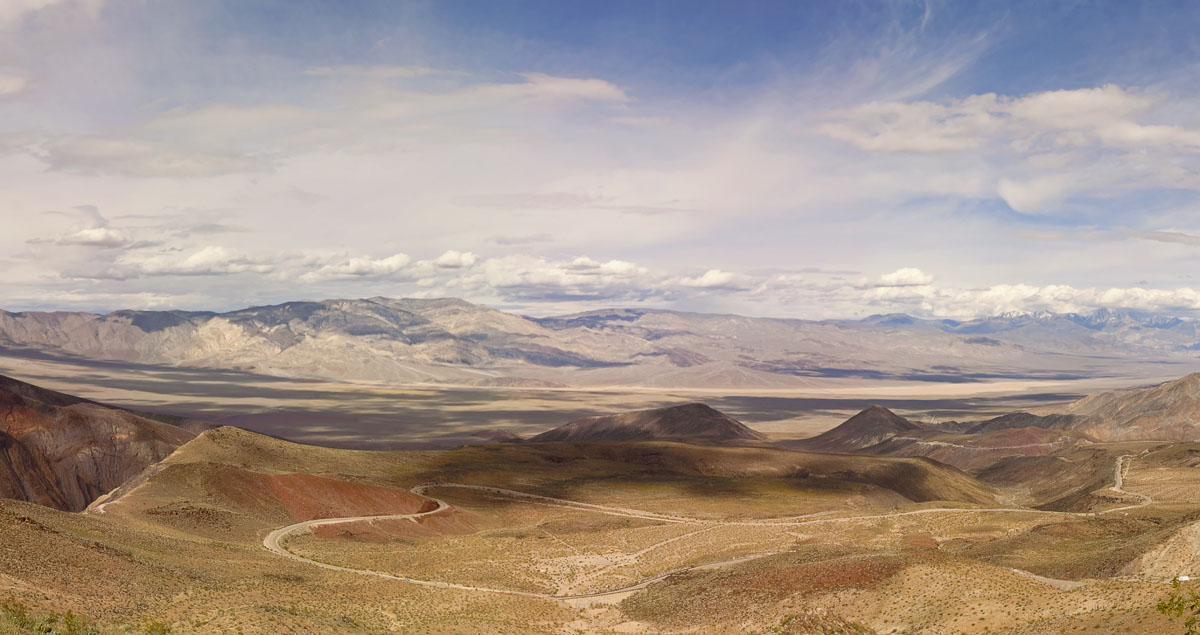 Continuing on the way to Zion, I stopped for the night at a Northern valley campsite in Death Valley. It's near Scotty's castle and it's called the Mesquite campground. In the middle of the desert, there's a solar powered credit card camp reservation machine, and it worked great.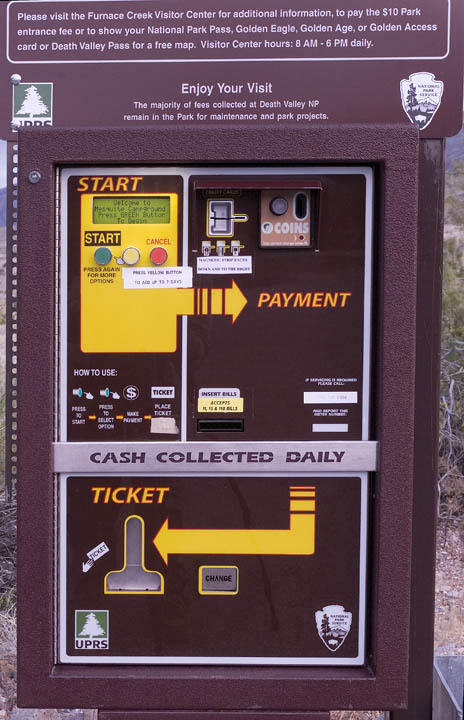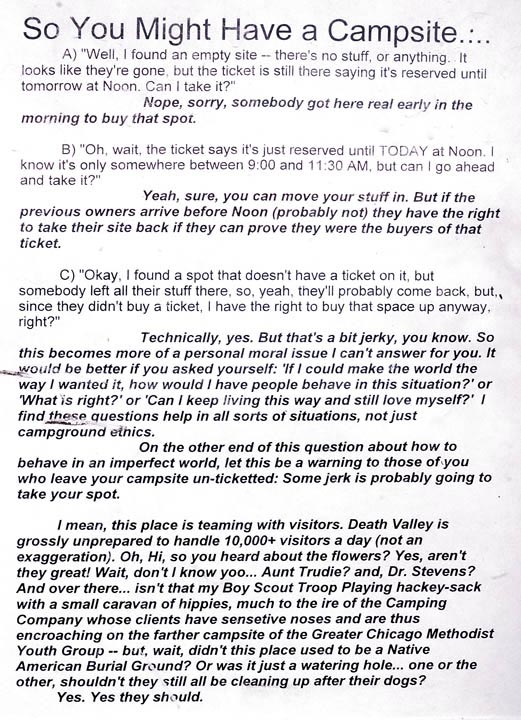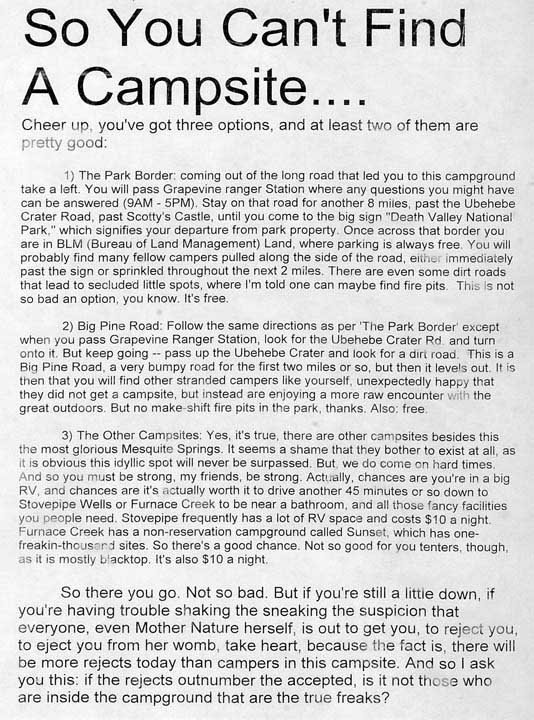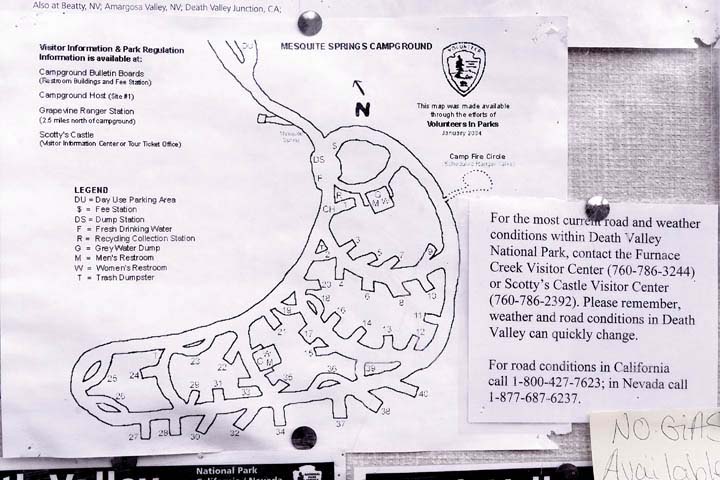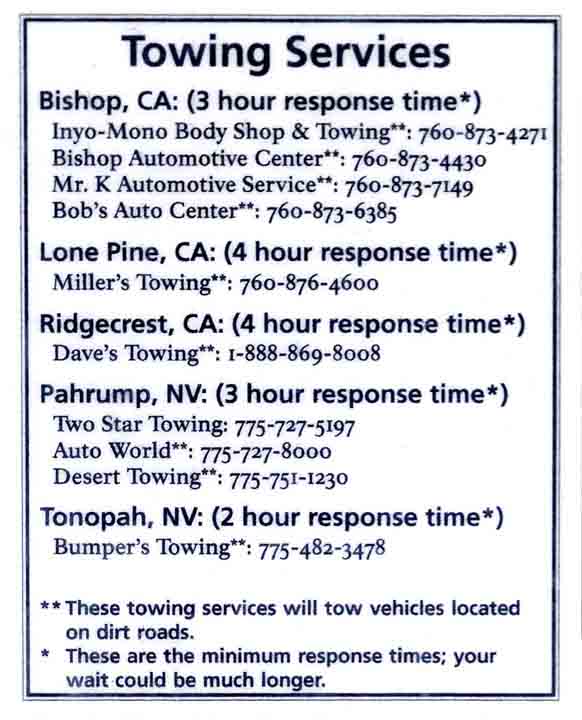 My campsite view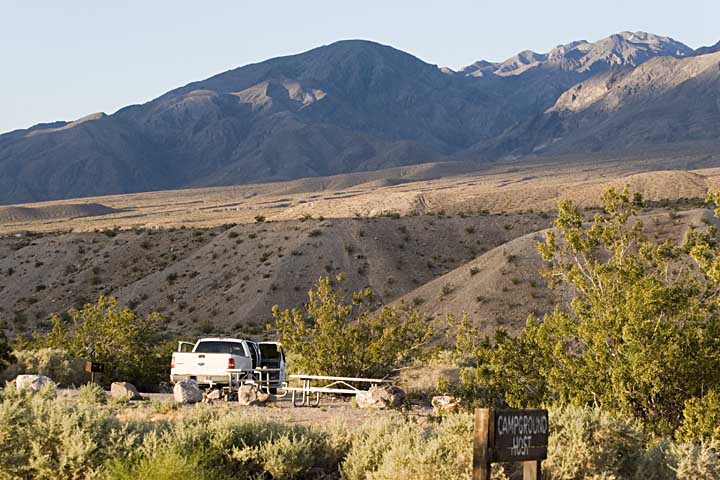 Heading out through the Grapevine Mountains and down toward Vegas again, you could see telescope peak across the Amargosa Valley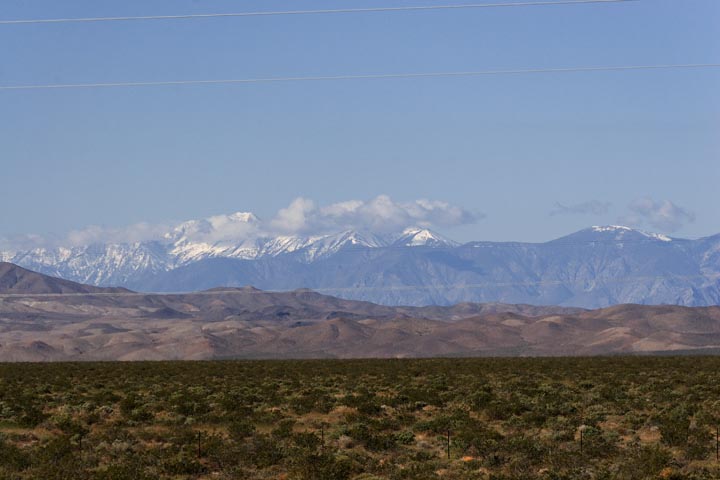 And a bit further along, at a temperature of 100F, there is the old road to the Nevada nuclear test sites, and the support town of Mercury.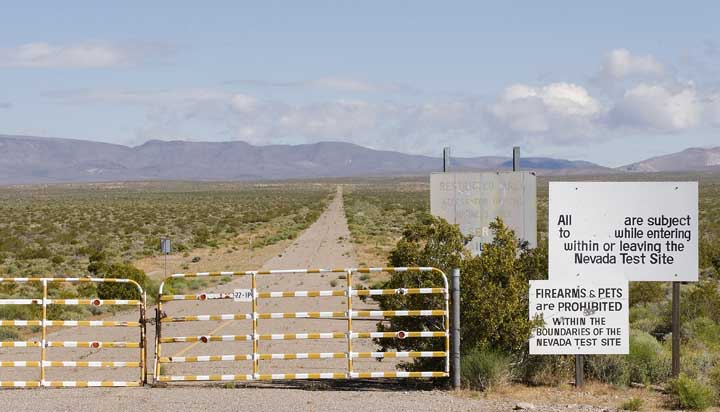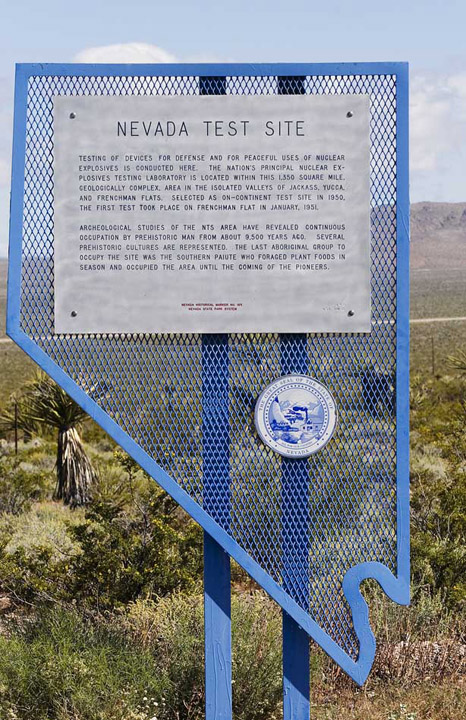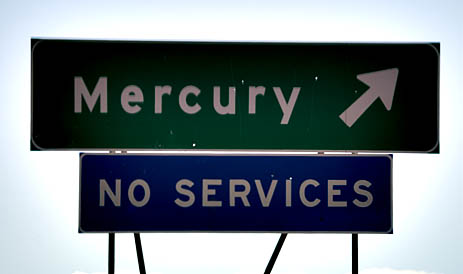 After getting through the incredible construction congestion of North Vegas and now blasting along towards Zion, you go through Hurricane Utah. Some very brave or stupid people have decided to live dangerously.

Which homeowner has the smaller brain?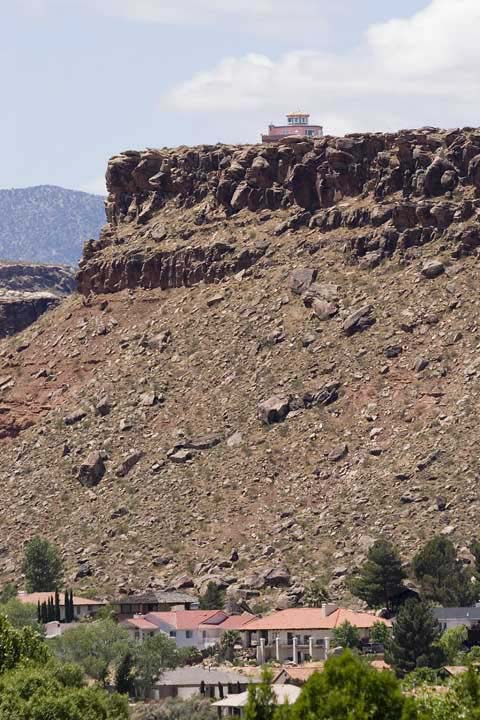 Arriving at Zion: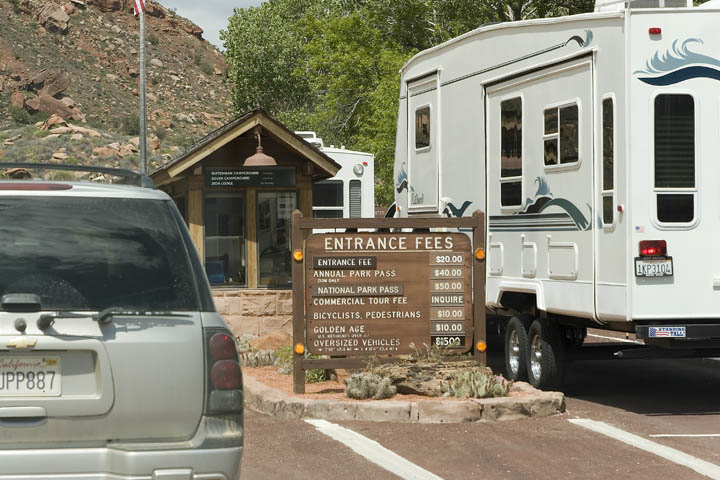 Camping at Watchman campground, I got up early the next morning to catch the first valley shuttle bus to the Grotto stop. This is where the trail starts on its way up to Angel's Landing. It was a beautiful day, and perfect for hiking and pictures.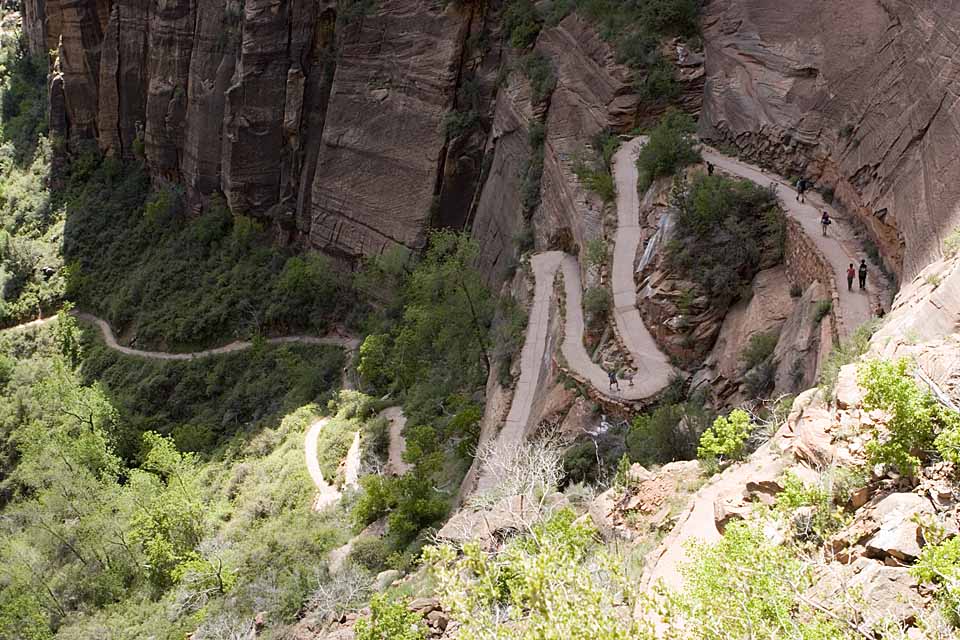 After getting through Walter's Wiggles, and the switchbacks, I made it to the first major top, where I chanced to meet two Engineers.




Sitting down is Andreas, a Mechanical Engineer from Germany, who is bagging several National Parks around the continent before returning home. Alvin is a Software Engineer, out for some R & R a fair ways away from Minnesota.

Up toward Angel's Landing proper there is a thin rock ridge which takes you there. If you look hard, you can see people climbing.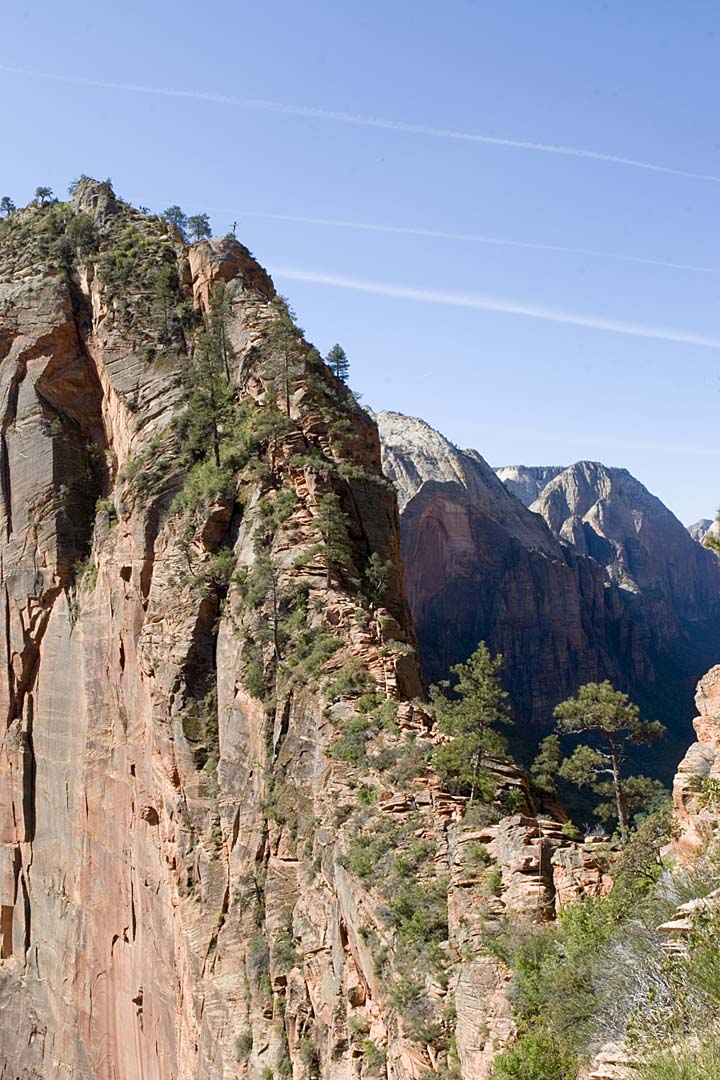 Don't Fall.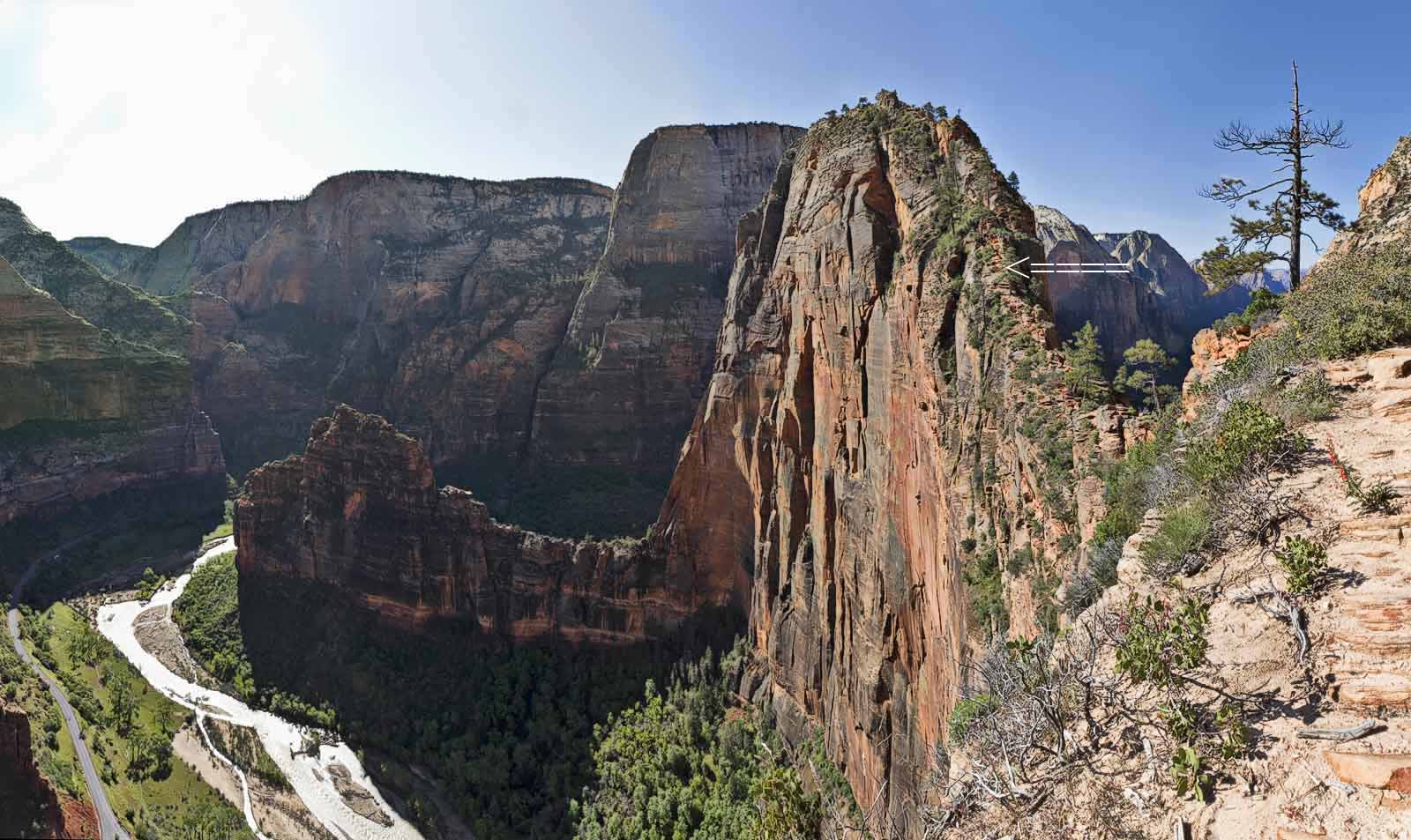 Once across the ridge, then a steep climb up, with many of the tougher or dangerous places having chains to hold onto.

Not a Divided Highway…Watch Your Step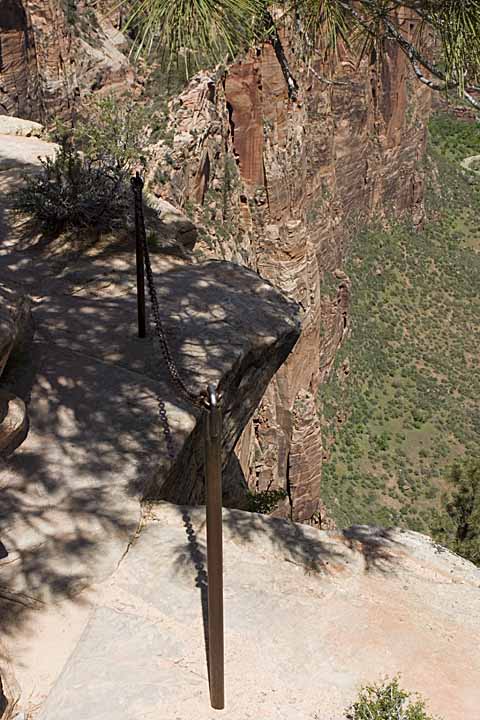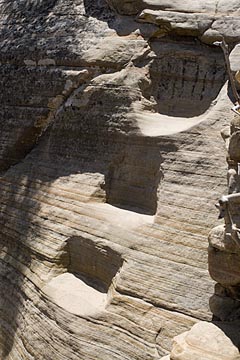 At the top, lots of sun and panoramas to enjoy.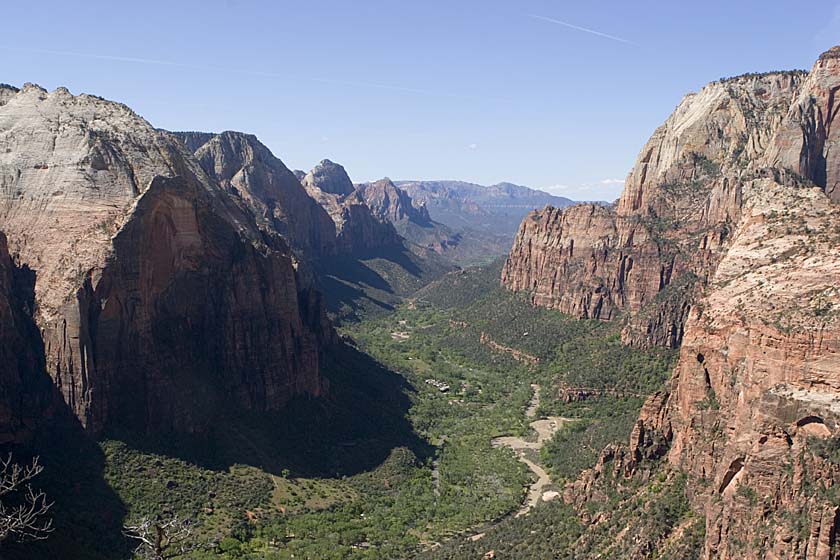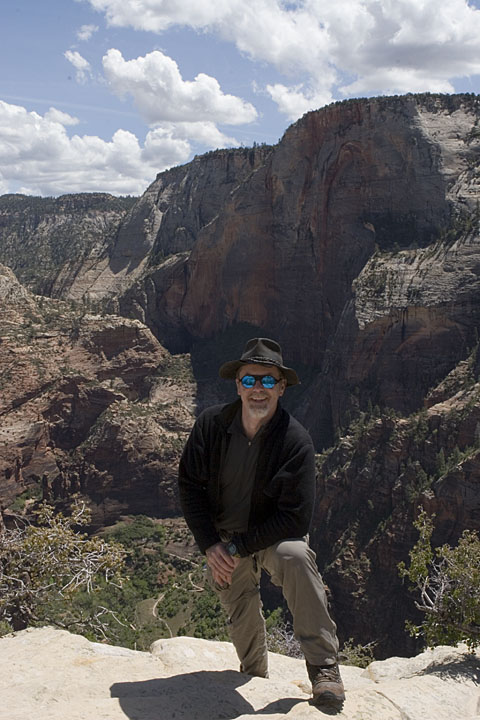 On the way down, you still have to pay attention.

These pictures are stereo pairs. Sometimes it's hard to see the stereo image. Try this:

-About 18" from the screen, make sure your nose lines up on the middle black line, viewing the picture pair

straight on

.
-Touch the middle of the center black line with your finger, and

focus your eyes on your fingertip

.
-

Keeping focussed on the fingertip

, slowly bring it toward your nose. As you do this, the middle black line will become

two out-of-focus lines in the background, opening apart like curtains

.


-When the "curtains" are open

the same width as the one of the images

(finger approx. 4-6" from nose), then just

raise your gaze above your fingertip to look at the "middle" image

.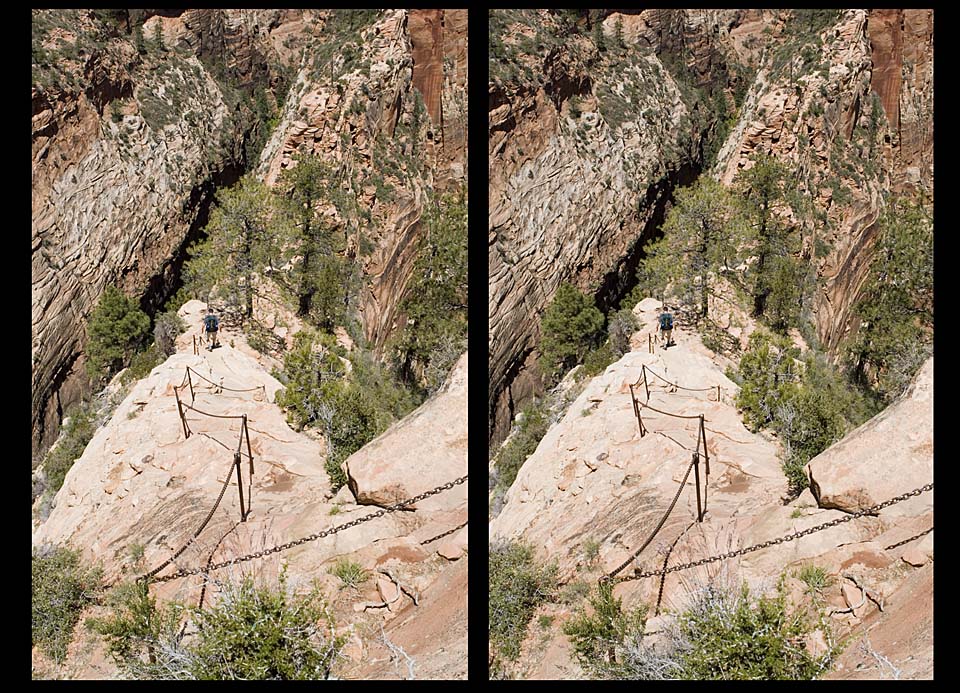 Close to my campsite was the evening theater. That night a ranger gave an excellent talk on desert animals, complete with slides.


The Red Roads of Zion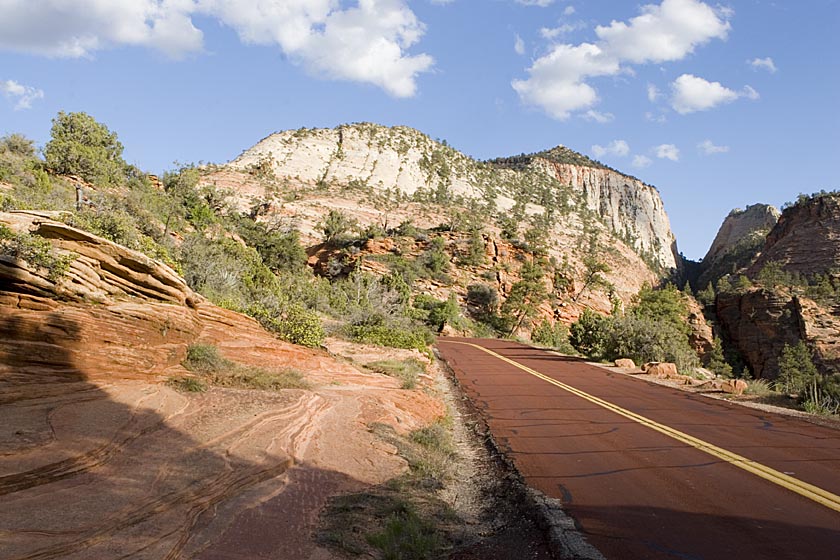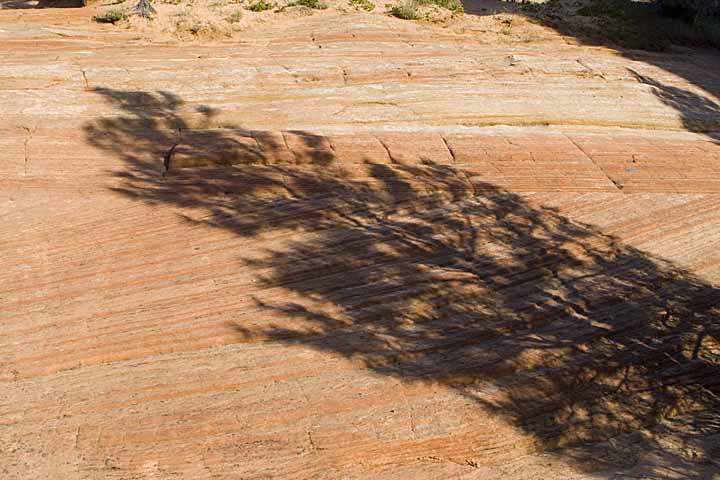 The next stop was through the Mt. Carmel tunnel and on to Monument Valley for a day of shooting with a Navajo Photographic Guide, Tom Philips. Because it called for an early morning start, I stayed at Goulding's Lodge, and had excellent views of the landscape out the window. It was up at 5 a.m. to catch the sunrise.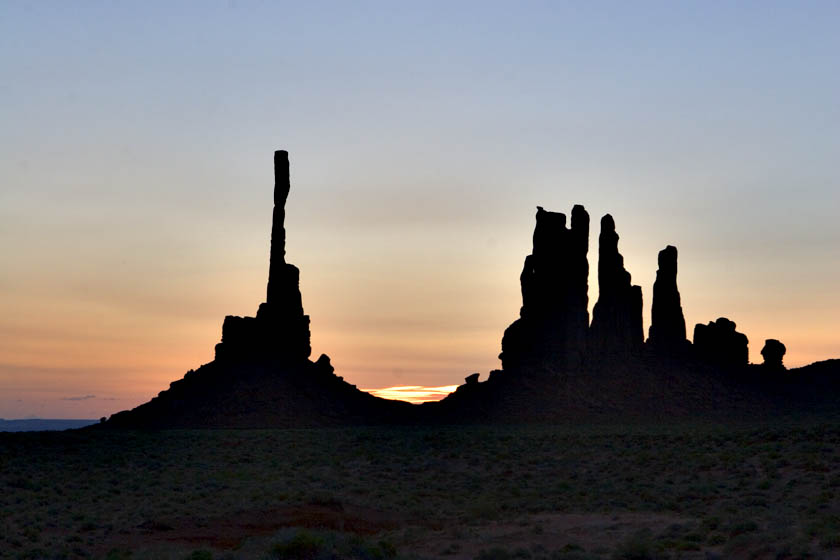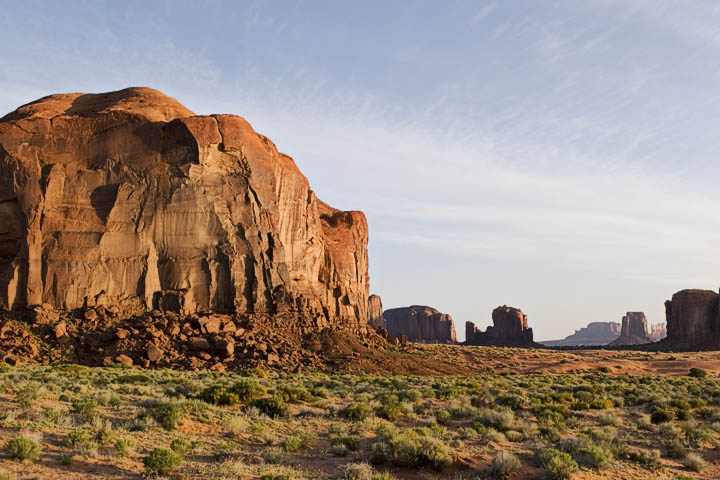 That afternoon the wind picked up big time and the clouds rolled in. You don't want to be filling the camera with dust, so I went back to my room and drank beer. This is always a good thing to do after outdoor exercise, especially when you've been in 100 degree temperature for several days. It's also good when you have a window view when the sun comes through the clouds later in the day. This panorama is actually 5 feet long.






The next morning it was off to Valley of the Gods. Above the Valley, you're on an escarpment, and Muley Point is a good overlook, and an ideal place for brewing a morning coffee and reading the newspaper. In the distant background, you can see some of the buttes in Monument Valley.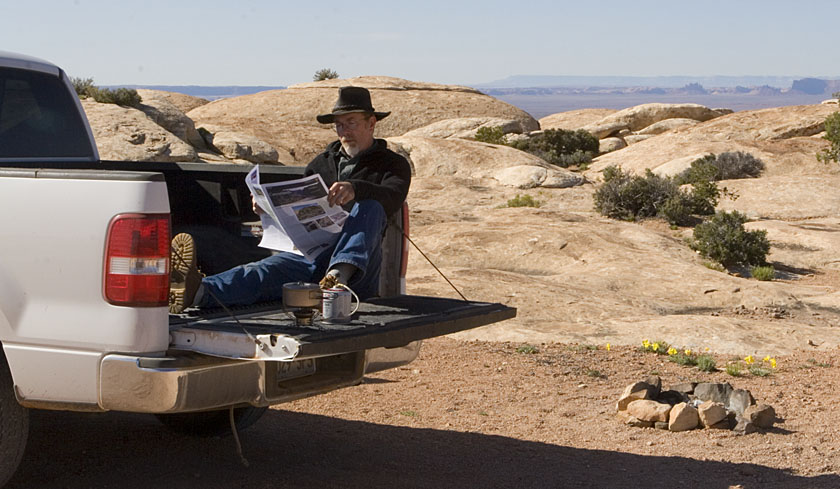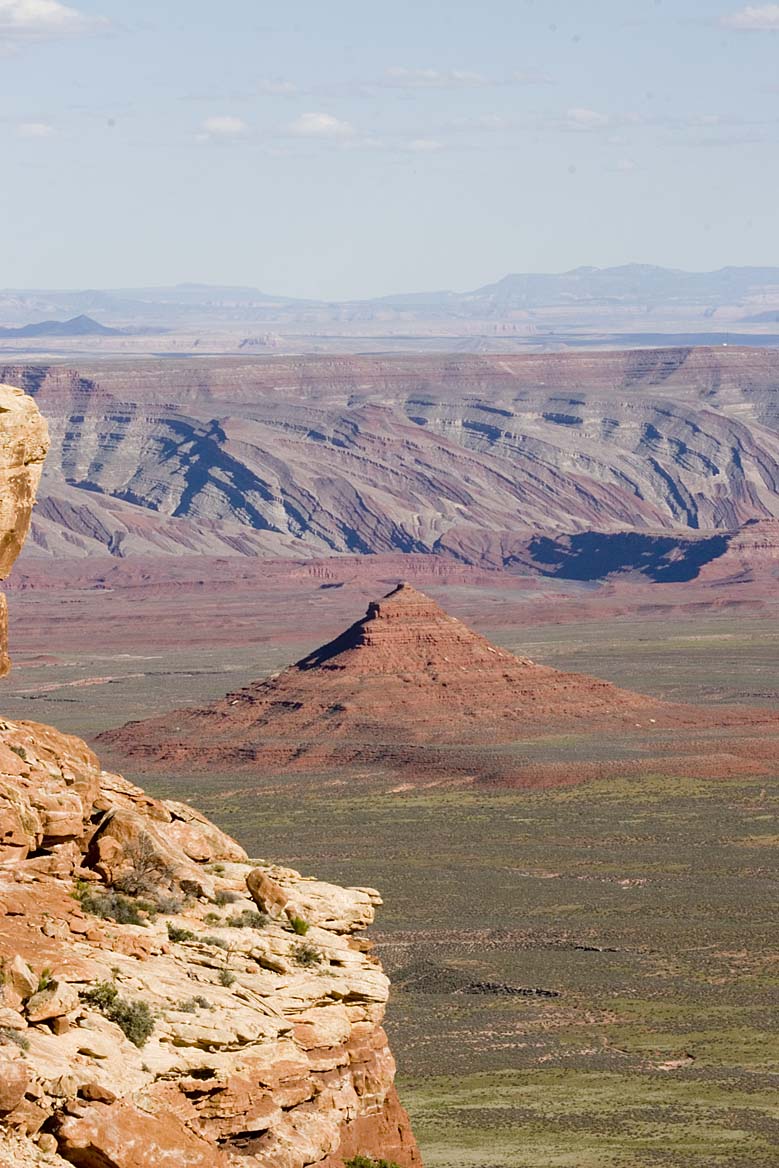 Then it's down the switchback road cut into the side of the cliff. It's called the Moki Dugway, and the signs aren't joking.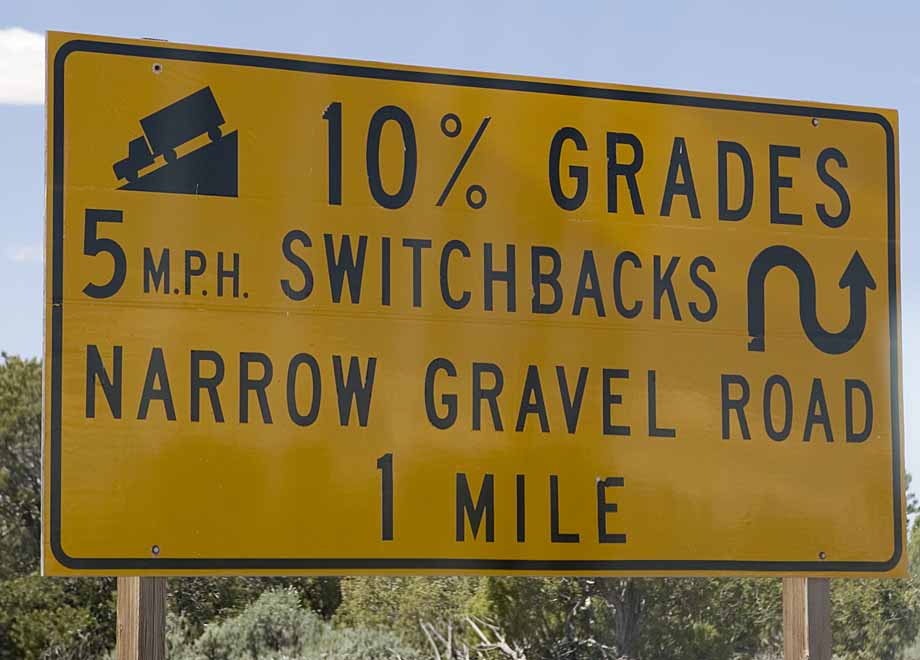 Somebody with a big transport truck didn't read the signs, and damn near went over the edge. Take a close look at the tire tracks in this next picture. It's only several hundred feet down at this point in the road.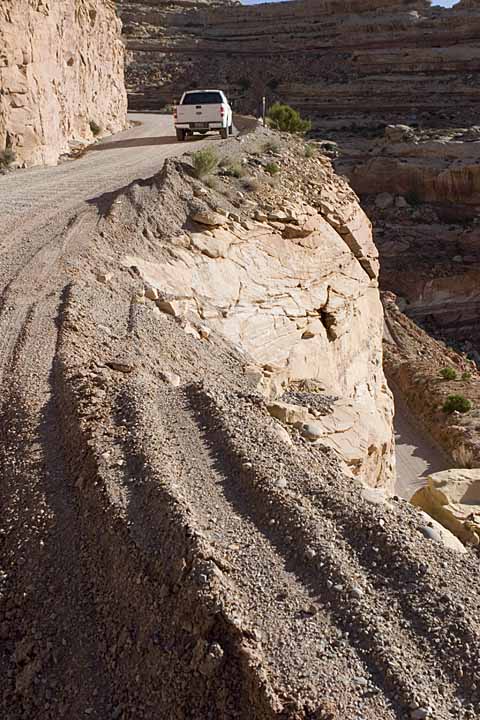 That first evening, I camped about halfway along the 17 mile road in the valley.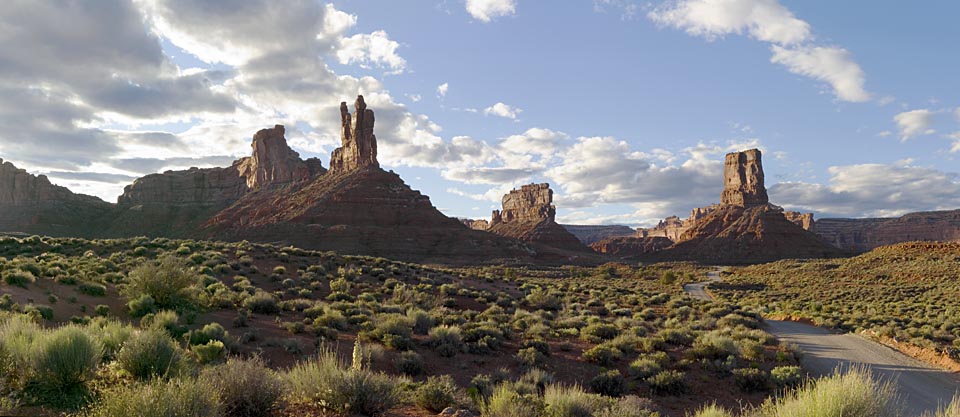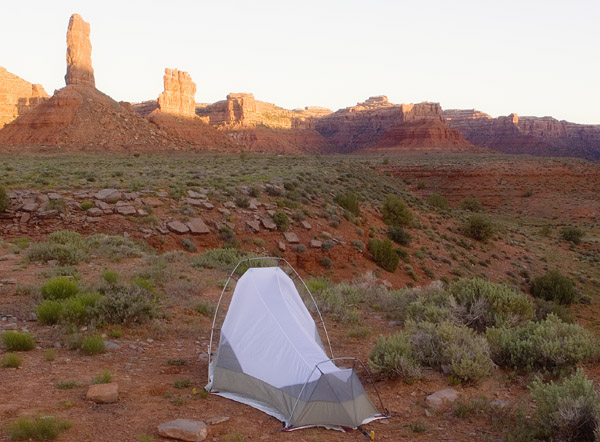 The second night I pulled into Gary & Claire Dorgan's Valley of the Gods B&B. It was fully booked, and there were 3 other photographers there also. one from Europe, one from Connecticut and one from Utah. We had a great evening of conversation.

The next morning, after a scrumptious breakfast of eggs, I got the full tour of the ranch. Gary and Claire rely on solar and wind power as their daily power supplies, and are constantly striving for improvements. We spent a good hour talking about solar, as I had spent a few years in the 80's working at a solar electric energy company in Ottawa, Canada.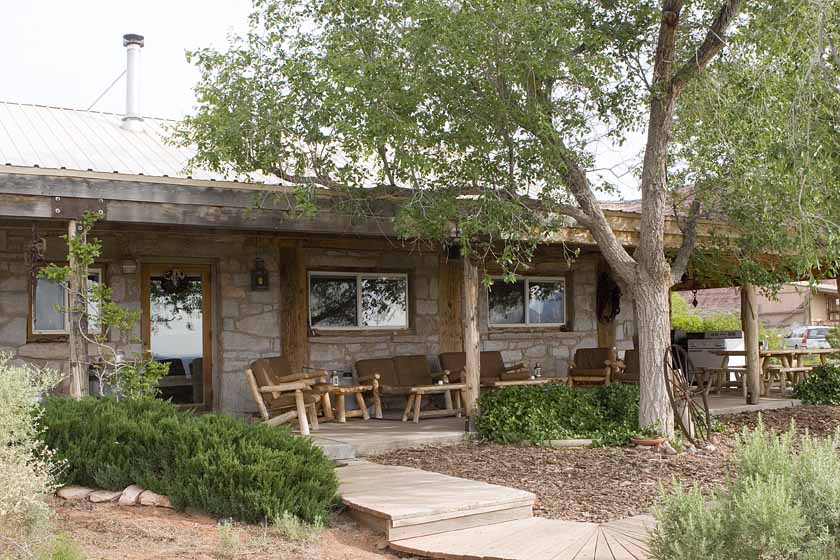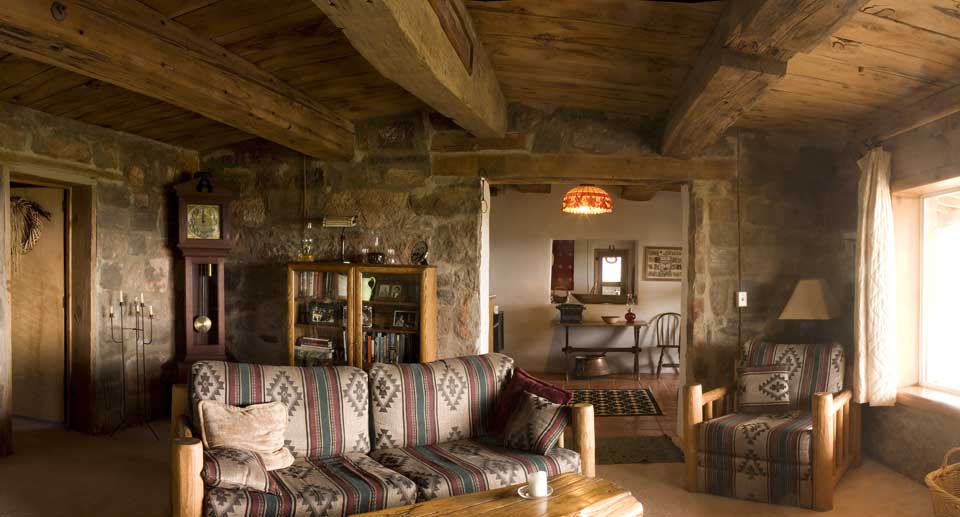 It was also nice to be able to shoot the interior of the ranch. Claire and Gary were keen to get some decent pictures of the living areas, so they kindly let me go about with camera and tripod. Perhaps some of these pictures will eventually make it onto their B&B website at www.zippitydodah.com/vog. For sure, it's the place to stay and is worth going a few hundred miles out of your way for the experience and the scenery. They're usually booked up well in advance (months) especially with European tourists, so get a phone call in early.!

Then I took a sidetrip up to Canyonlands national Park, and on the way stopped at Newspaper rock.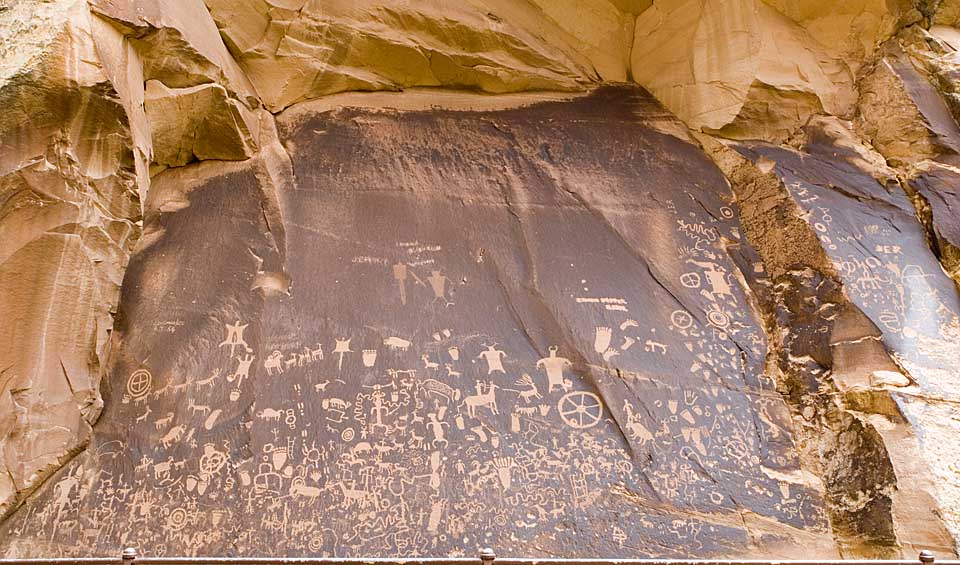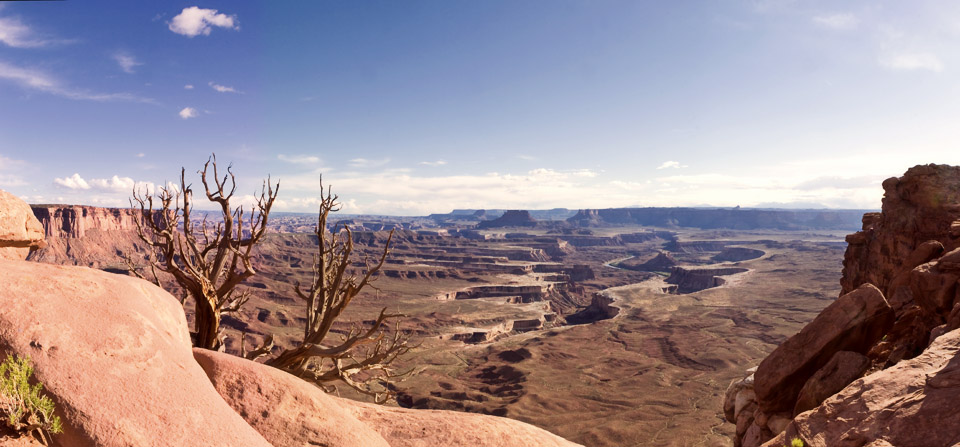 Moab was the place to stay that night, so I bagged a cabin in Moab (by plain good luck) and filled out the day with a great pizza and a few beers.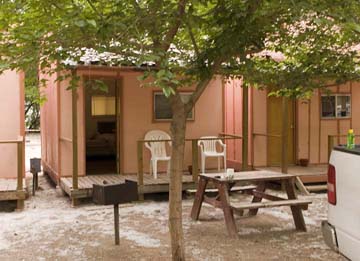 Man, that Moab is still the gravitational epicenter of Jeeps and off-road machines. There was even a place renting a parking lot full of Hummers for the serious "rad rockers"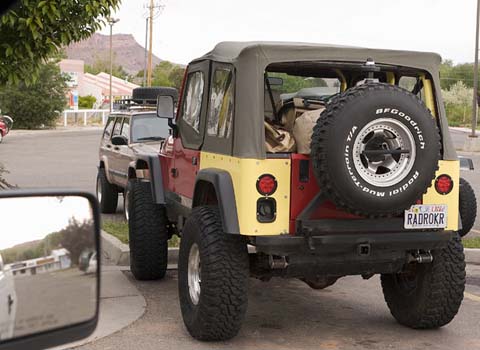 These little trailers are all the rage, and are being exported to Europe. www.tab-rv.com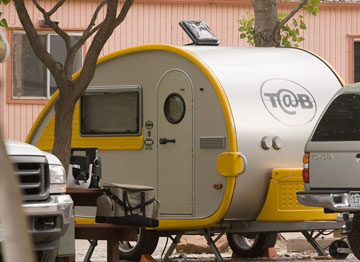 Then to Grand Canyon. A few days earlier in my trip, the NPS called me to say that the North Rim campground was still not open due to 6 foot high snow still hanging around. So they re-booked me into Mather on the South Rim. It's a good place as I'd been there before a few years ago.

The next morning I took an easy time of it till about lunch, and then decided to get a bit of exercise. It was pushing 90 degrees and prospects were for a nice hot day. I decided to spend a few hours hiking part way down and back along the Bright Angel Trail which descends into the canyon via Indian Garden.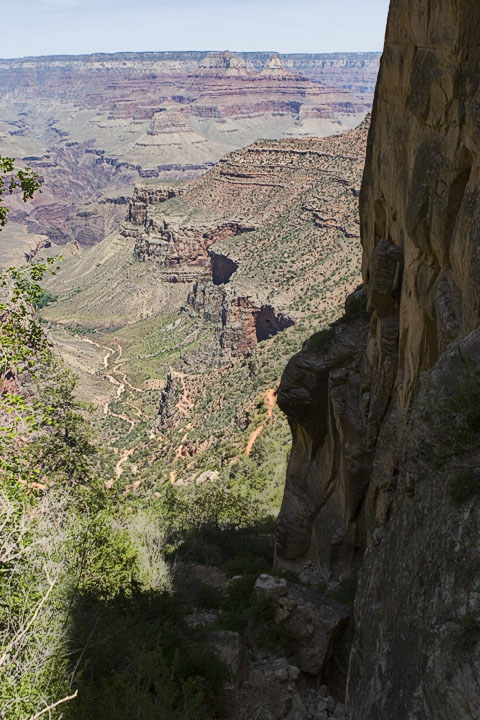 Part way down the Bright Angel Trail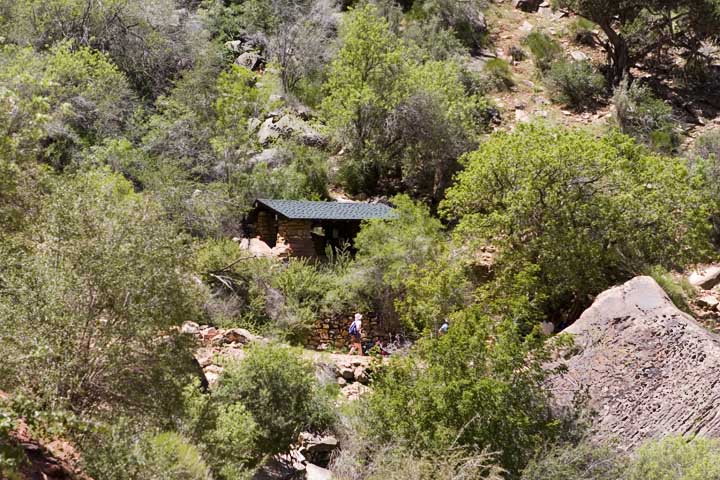 One of two Rest Stations (this one with tapwater)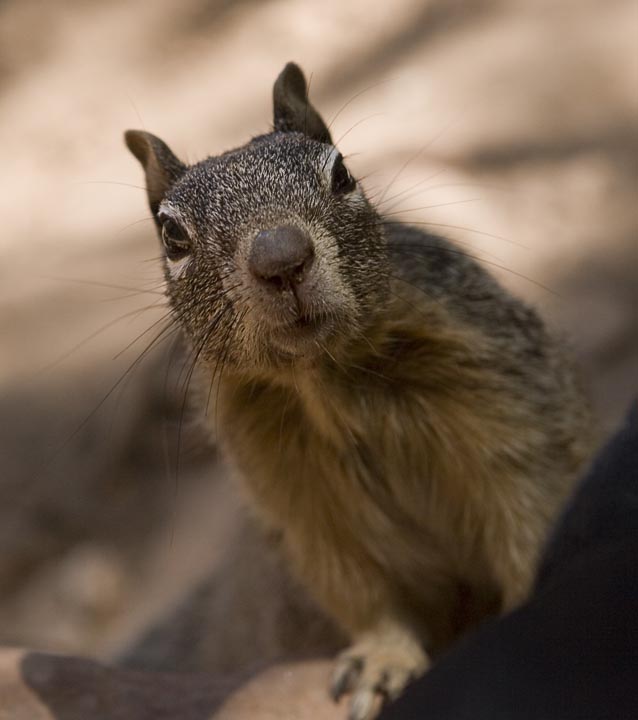 hoping for some food.. "What's in Your Backpack?"

On the way back up, at about 3 p.m., I met a family going down whose teenagers were pretty adamant they wanted to go all the way to the river. This is a full day's heavy hike, and the local brochures are all screaming "never try to go down and back in one day. They didn't have, clothes, water or packs, but they did have street shoes. The parents had asked me where they were on the trail, so I was able to show them the map and talk to them a bit. Fortunately, the father and mother were convinced this was nuts, and so I think another calamity was avoided. 8 people last year died in the Grand Canyon, either from heat and dehydration, or falling off the trails and cliffs.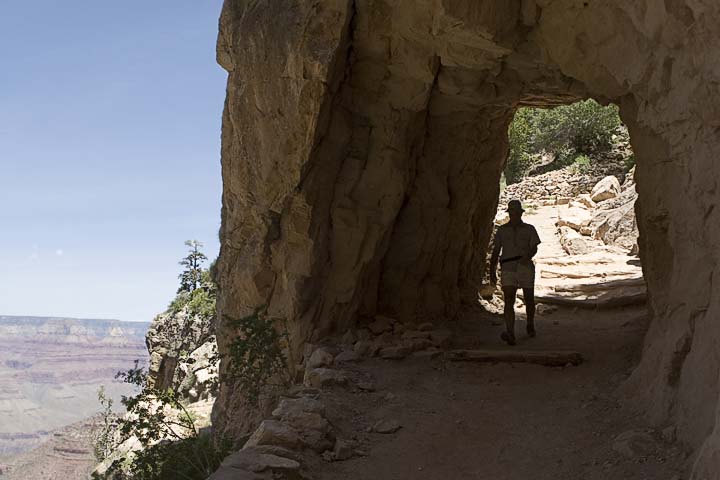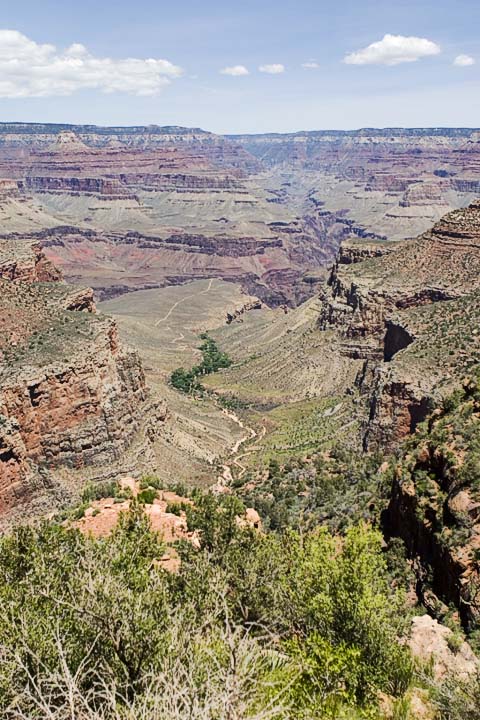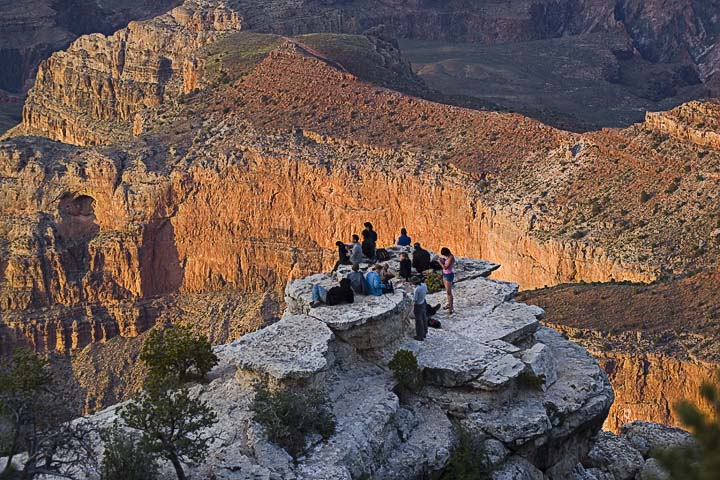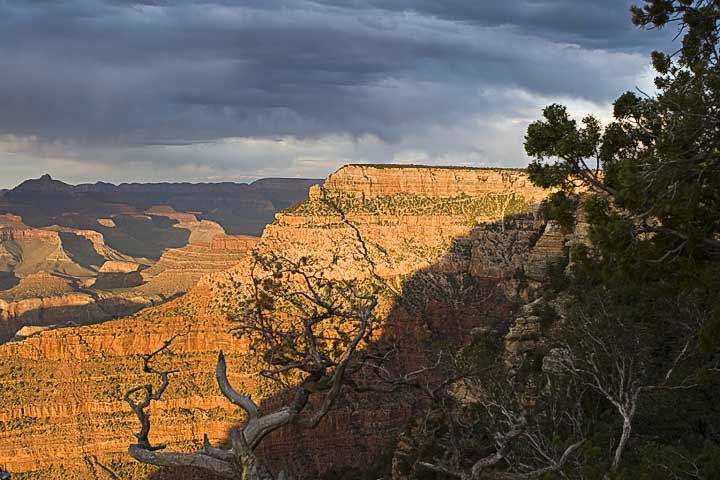 Then next morning, I head off to Vegas in preparation of returning home. Had I got to the hotel a couple of hours earlier, I would've gone to see The Blue Man Group at the Luxor, but had to settle for a great dinner of pizza and beer as reward for many days of very healthy eating on the trails.

And so it was, after a day of strolling and relaxing in Vegas that I made my way to the Airport for a red-eye back to Ottawa. The Delta terminal at McCarron airport is very artistic.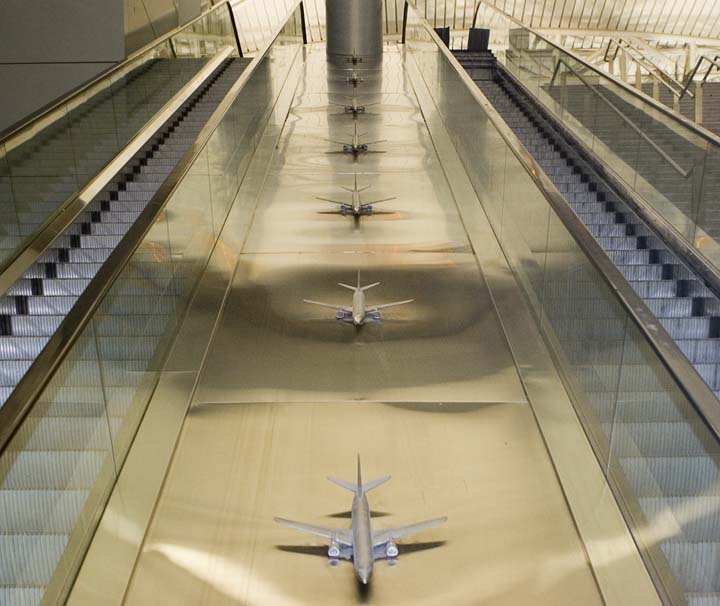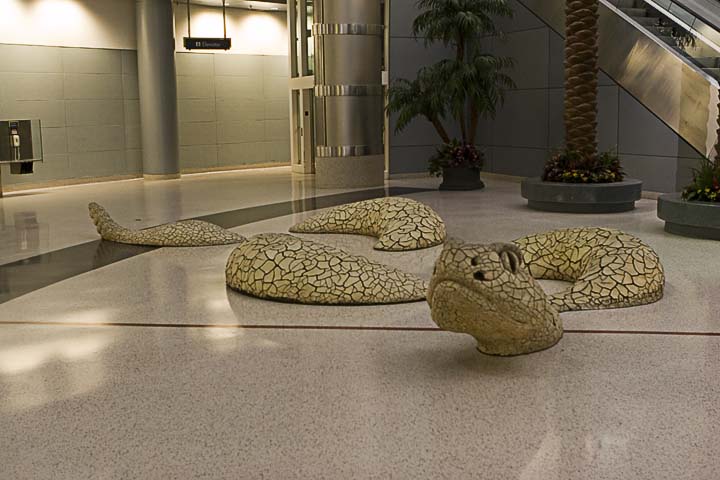 i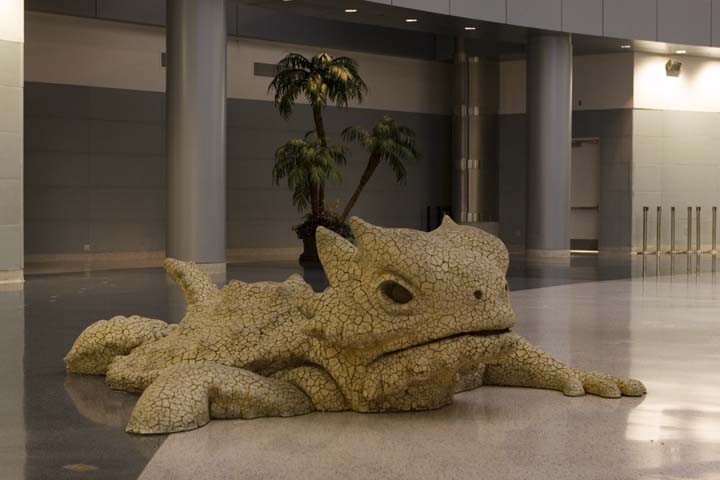 Last picture of the trip... sunrise in the airport at Chicago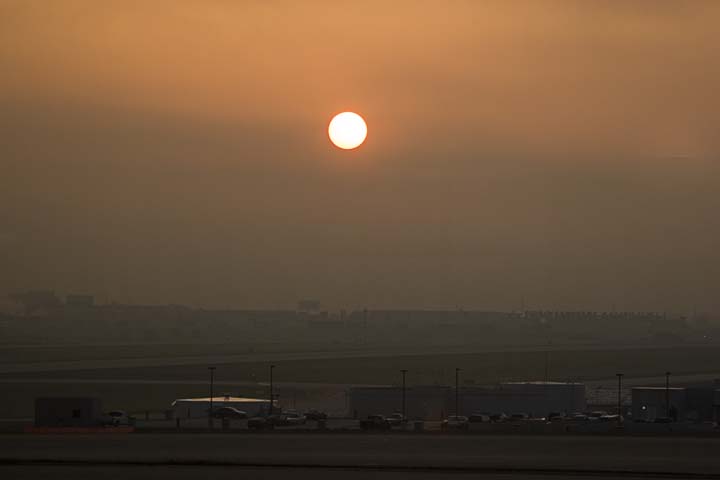 Now that my legs have logged a few miles this trip, I'll be training and getting ready for the big trip this September into the Clark Mountain Range in Yosemite.

Stay tuned, and have a happy summer,
Gord