Gordon's Exploration of the Great Western Outdoors copyright G.MacKenzie 2000
....

When planning a trip, there are usually so many places to choose from, that the choice of an ultimate route is a challenge. This was no exception. However, I will attempt to keep it brief, with pictures to tell of some highlights. (The pictures themselves have been extremely compressed for web bandwidth reasons.) Hope you like it.

The Story

Before going anywhere, I set out to explore the Bay area, and can highly recommend Coyote Hills (Anita is a big fan), Los Trancos, Wind Hill, and certainly the San Jose Tech museum. There's just no end of things to do.( including cityscape photography at night, and moonlit ocean and surf within easy reach)

Bay Bridge at 4:30 a.m .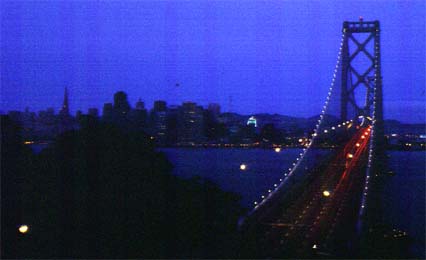 copyright G.MacKenzie 2000

One place some of you have heard me talk about is Mission Peak. We can see it so easily from the Plant, yet from the top, it's tough picking out the factory, as the foothills and gentle elevations blend to flatness across the whole valley. At the peak, there is a sighting pole with little pipes to sight through for landmarks. For those desiring punishment, go up on a bicycle, rather than walking. It's OK to get off and walk from time to time-the ride down along the Ohlone College route is a blast, and only takes about 20 minutes.
Inspecting the factory from Mission Peak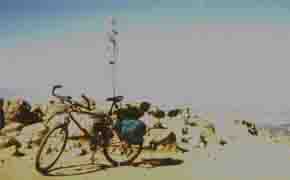 Preparation
So anyway, I was planning to spend a month soaking in some more of the Bay area/California lifestyle and sights, but ended up spending 2-1/2 months instead .. Much of this time was spent on side trips to Sacramento, Lake Tahoe skiing (below), Napa, Los Angeles, etc. Ultimately, I took two warm-up trips, each further afield, before finally making tracks over the mountains toward the eastern frontiers .


Top of Heavenly @ Tahoe-California one way, Nevada the other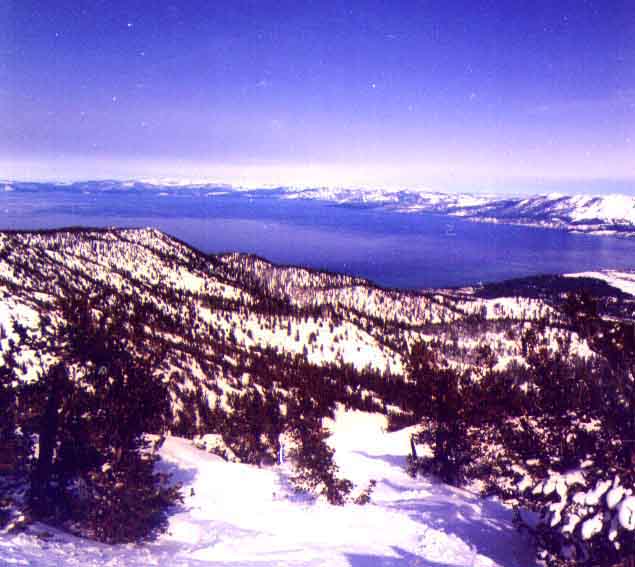 Warm-up #1- Joshua Tree State Park http://www.nps.gov/jotr
In the high desert east of Los Angeles, this park is a must-do if you enjoy the outdoors, and is a good introduction to desert wildlife, formations and fresh air. The park's campsites are clustered in several enclaves, most of which reside under towering rock formations left over after the softer surrounding rock was worn away by wind and water. Lots of exhibit plaques, and some good walking trails , together with really deep blue skies and full-star nights.
Undisciplined Joshua trees grasping at the blue sky in the high desert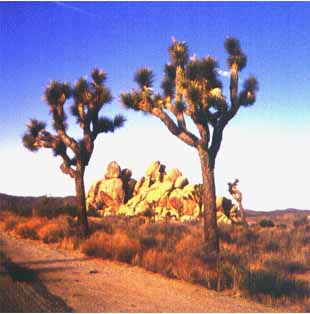 In the middle of the high desert, an immaculate mission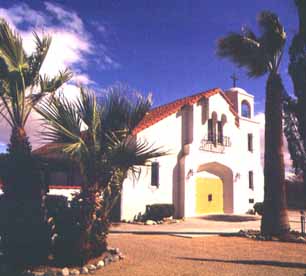 Warm-up trip #2 -"The Great Circle Route"
As a way to get an ever-widening perspective on the West, I decided to do a loop through nearby States, so that I would have an idea of places to hit again on the full tour.
-so I went camping: SF--Las Vegas--Grand Canyon--Natural Bridges http://www.nps.gov/nabr --Monument Valley--Hovenweep Ruins--
--Mesa Verde http://www.nps.gov/meve--Gunnison http://www.nps.gov/blca--.Salt Lake City --Fremont .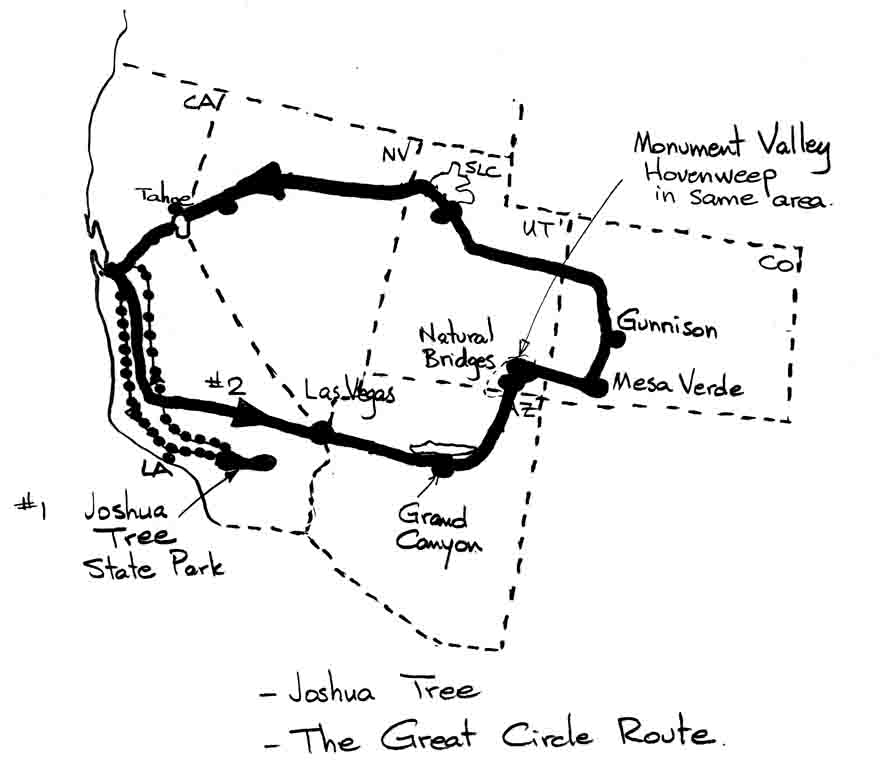 Before traveling, I thought that there would be a couple of these places I would like to return to on the way east. As it turned out, every place I went to was worthy of a re-visit, and this was borne out later for every place visited on the trek east. It would be so eeeeeasy to spend six months….
As you can see, it was a beautiful late spring day (mid 70's) when I pitched my tent on the south Rim of Grand Canyon.
Grand Canyon South Rim
The next morning, it was like Christmas with a temperature of 30F, and a good 6" dose of the white stuff.
Waking up the next morning…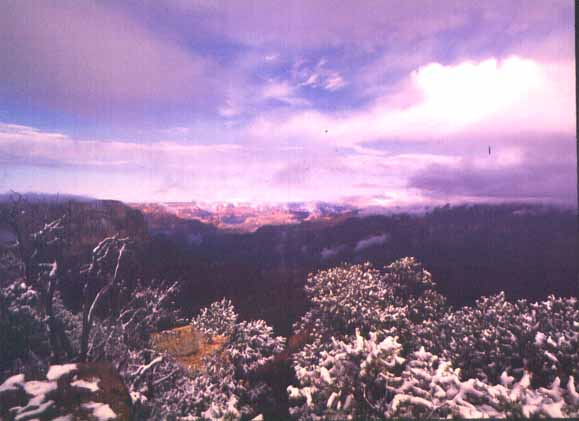 While at the canyon wall before sunrise, it was like looking out over the end of the earth, into the gray of space. ("Here be Dragons"). When the sun came out, so did the early season busloads of German tourists, who had a bit of a surprise with their sandals in the snow before it all melted away, the warm sun heated you to the bone, and the colors started to wash out of the rocks 10 miles away at the north rim.. At this time of year, you can see the full personality of the canyon, how the character of the land is perceived so differently for a few fleeting hours of winter.
From here, it was off to Natural Bridges National Park, where the stone has eroded away over the eons, leaving the most delicate and slender archways spanning huge canyons and riverbeds. The camping was crisp amidst light forest in the mountains, and the surroundings spectacular.
Even though I have experienced it many times, the speed of the quick change from alpine to desert still impresses me. Coming down to Mesa Verde brings you back to the traditional southwest landscape. This Park is also a world heritage site, due to the extensive native history and lodgments dating from thousands of years ago. You travel up and up, to what seems the top of the world, to arrive at the main essence of the place, with all its ancient pueblos, and extensive archeological story.
From there, it was time to head north into Colorado, and a visit to Black Canyon of the Gunnison-this is a magnificent narrow (1100 feet) and deep canyon where the walls practically plummet a third of a mile straight down to the river.
Then, it was time to turn west and start for home, via Salt Lake City and the Bonneville Salt Flats, which will figure again on the real trip.
Back In Fremont
Now it was time to breathe the salt air of the ocean, and prepare for departing. The last of my goods I sent in boxes with UPS to New York, and laid my general plan for the trip.
First of all, let me highly recommend everyone consider an overnight camping stay on Angel Island out in the bay. There are a handful of walk-in sites, and most of them overlook the Bay. I chose to wake up with a view through the tent door of San Francisco off in the distance. (Campsite #2 and #6 location). A Bart ride from Fremont, a visit at the dock to Boudin Bakery for a loaf of Sourdough bread and a steaming coffee, then a cool ferry ride past Alcatraz (at a safe distance) to Angel Island State Park. There's lots of history here, as it was the immigration point of entry for the west coast for many early years. Reservations can and should be made in advance to guarantee a campsite, and once you have one, you can enjoy a full day, including sunsets, without worrying about catching the last ferry back at an all-too-early ~4:00 p.m. Depending on desire, paths from the picnic arrival area lead gently around the island, or race more quickly up to the peak. Bring a camera!
The Golden Gate from Angel Island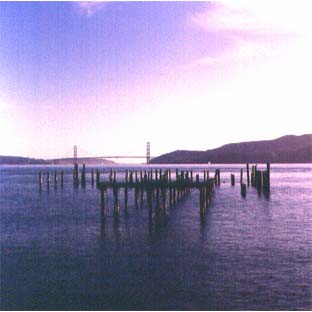 Bay Bridge from Angel Island

waking up the next morning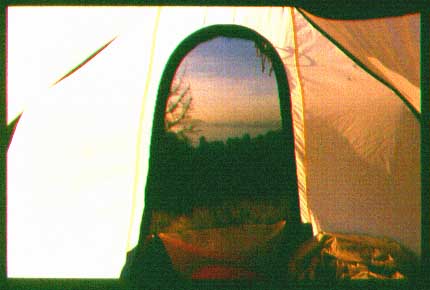 So close to the city and yet so easy to enjoy.Just a short ferry ride.
Finally, it was time to enjoy San Francisco out on the town one last time: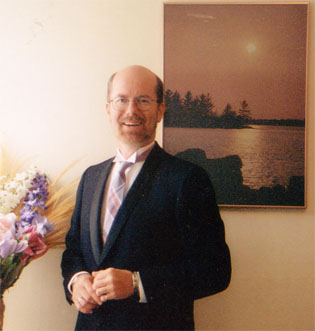 And then I set out....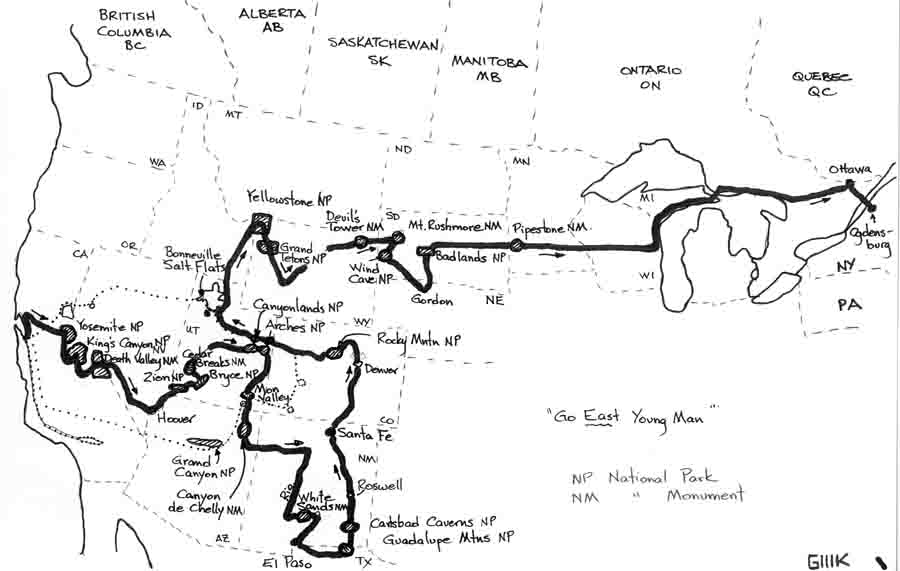 First stop Yosemite (http://www.nps.gov/yose) for four days, a combination of both outside the valley and in the valley proper. I like hiking and so most of my time was spent huffing and puffing, such as to the top of Nevada Falls, passing Vernal Falls on the way. For some distance, you must pass throught the eternal spray and mist of the falling water, so a full rainsuit or a trashbag made into a wetsuit is advisable. But the views are worth it. And every hour you climb, the closer you get to the start of your Half-Dome climb…
Vernal Falls, over the edge (with mountain gear and sturdy anchorage)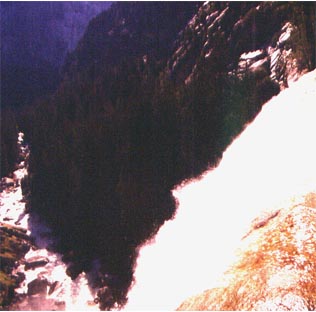 Nevada Falls rocketing over the top
Back safely on the valley floor again, I had the opportunity to photograph the key sites, including El Capitan which was hosting a climb of 10 days duration by a team with an 80 year old climber. With a strong loupe, you can actually see each climber on the negative.
El Capitan, majestic as always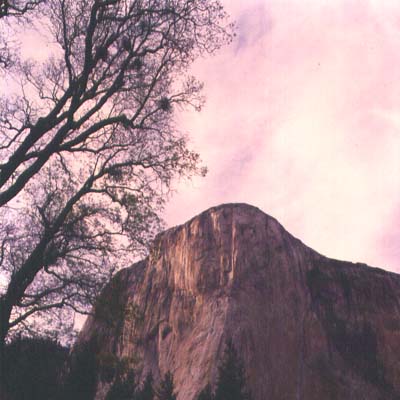 Half Dome at sunset
Four days and no bears later, it was off to Sequoia/King's Canyon Park.(http://www.nps.gov/seki.) The winding road brings you high into the towering Sequoias and clouds till you reach Lodgepole campground, and beyond to Moro Rock- up there in the sunset, there was for 30 minutes no wind, and the only sound was the whoosh of air flashing past birds' wings as playful groups raced up and over the granite edges .
After a few days camping among the tall trees, it's quite a change of scenery to descend and enter Death Valley. This National Monument is actually mostly in the Panamint Valley and its Mountain range to the east. Up and over them, and you hit Death Valley, bordered on the southeast by the Funeral Mountains. But I get ahead of myself.
As you climb from the valley toward the campsites in the Panamint Mountains, you come across old charcoal kilns that once consumed local trees in service of the mines 20 miles away. Now they stand like sentinels amidst the scrub and creosote bushes.
Kilns from yesteryear in the Panamint Mountains of Death Valley Park (http://www.nps.gov/deva)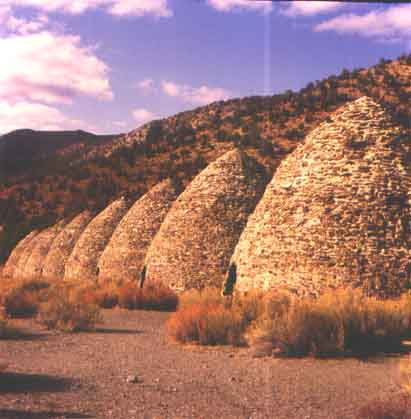 I can highly recommend a couple of days here at Mahogany Flat Campground overlooking Death Valley. It takes a four wheeler to be sure of getting here, but it's achievable in less: on the way to Mahogany Flat I helped a couple out who had a flat (tire) in their fully loaded minivan amidst the boulder cluttered road -he was an astronomer and was coming up for the clear night air viewing (in a rented van).
From the campsite, you can hike trails that take you around some of the local topography, all with good views. I like the 7 mile trail to Telescope Peak, which is pretty alpine in nature, especially in the spring before all the snow has gone. But make sure to acclimatize, since driving into the park takes you basically from sea level to Mahogany Flat at 8000 feet, and then hiking to Telescope takes you to 11,000.
Death valley from Telescope Peak trail circa 10,500 feet .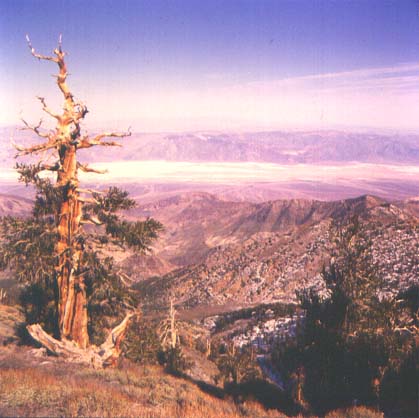 copyright G.MacKenzie 1999

By June, the road over the Panamint Mountains from Mahogany Flat to Stovepipe Wells in Death Valley is open (rather than having to backtrack and take the highway north and over). You then have clear (and hot) sailing right through Furnace Creek (105 F) and on to Vegas eventually. On the way to Stovepipe Wells, you can branch off into the desert to explore old mines, as monuments of incredible effort and desire, now in the middle of nowhere, just looking out over their domain.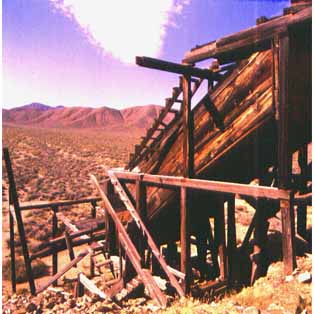 copyright G.MacKenzie 1999

Hoover Dam, just outside of Boulder City is a must-see as well. It is a pilgrimage that all modern people, especially Engineers should make. Words and pictures simply cannot impart the strength and magnitude of the undertaking and its result. You want to see physics in action, or what can be done by a project team, come here, make an advance registration, and take the hardhat tour. Jim Woodward would be proud. Seventy stories down by elevator through the dam itself to the very bottom, and looking up to a band of the heavens wedged between towering granite cliffs.
The generators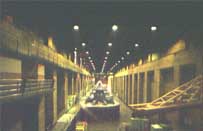 A stairway tunnel curving out of sight within the dam itself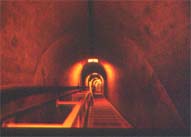 From Hoover Dam, it was off to camping in Zion National Park http://www.nps.gov/zion for 3 days with side trips to Bryce Canyon and Cedar Breaks http://www.nps.gov/cebr, where we had snow flurries. Zion is a canyon in the desert with basically a river producing an oasis of greenery and forest within. In the Watchman campground, the deer would come all around the tents in the evening, and paid little heed even to young children coming up for a closer look. From the emerald pool hiking trails to the shooting star flowers hanging from the wet walls of large overhangs, it's a great place just by itself, and a perfect jumping off point for the other parks in the area.
Bryce Canyon at sunset (http://www.nps.gov/brca)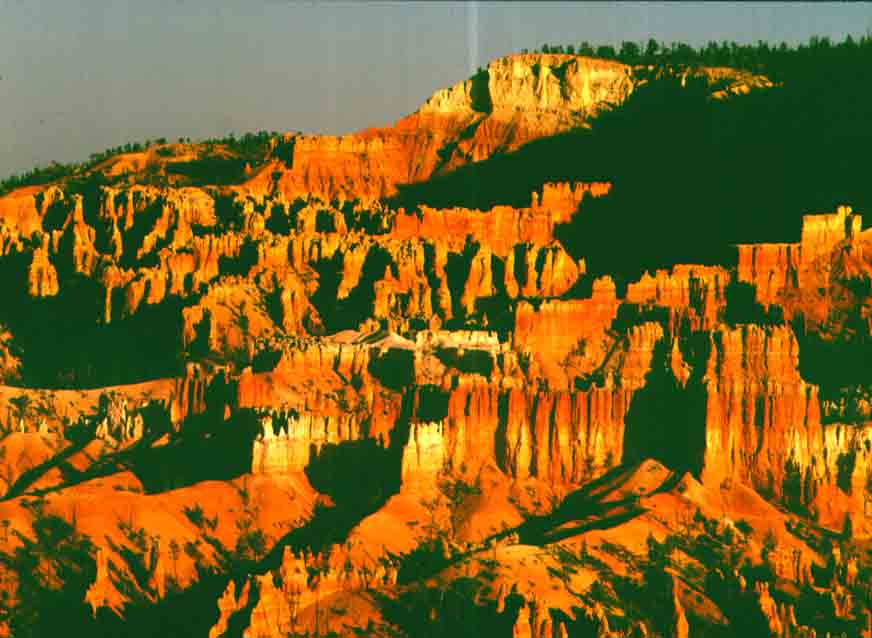 Also in this area is the town of Kanab, and near it, an old ghost town of Pariah. You get to it down several miles of dusty road, across narrow roads abutted by canyons on either side. The view of the landscape speaks for itself:
Painted desert geology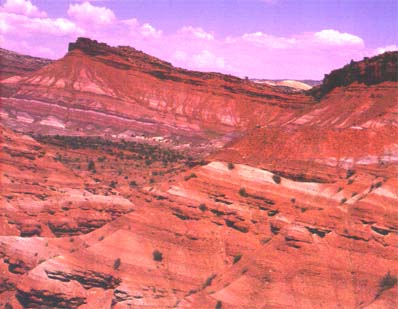 In the more Northeastern part of Utah is Arches National Park http://www.nps.gov/arch, and its companion, Canyonlands. Arches doesn't participate in the national park telephone registration system, so you can just imagine the lineup of cars starting at 6 a.m. for whatever permits come available for camping. Fortunately, Canyonlands has sites too, and Moab is just 10 or so miles away. Arches has the famous rocks, and they are worth a visit by themselves, but Canyonlands for my money is at least as impressive.
Canyonlands heavy weather coming in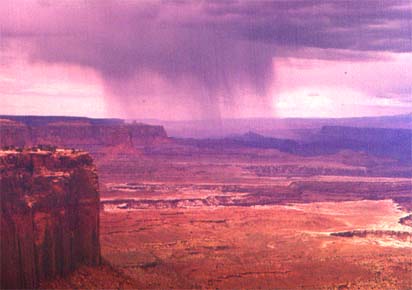 copyright G.MacKenzie 1999
(http://www.nps.gov/cany)
Heading south now, with a visit to Coral Pink Sand Dunes State Park. Here the dunes are the color you see them here, in a very fine grained sand, stretching for miles.
Coral Pink Sand Dunes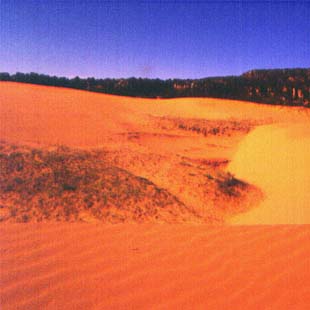 I'm going back to one of my favorite areas near "the four corners" where AZ,NM,UT and CO all come together. This is where Native American lore abounds, and there is a distinct aura of tradition and antiquity. Just outside of Blanding Utah is Hovenweep, an ancient ruins of millennial age.
Hovenweep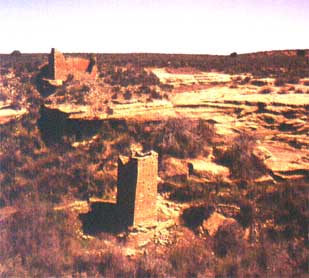 An hour's drive will bring you into Monument Valley, where the sands give way to monoliths of spectacular height and presence.
Monument Valley. The nearest are 10 miles away .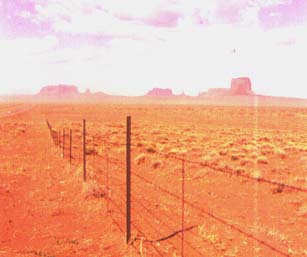 Up close and personal-3 miles away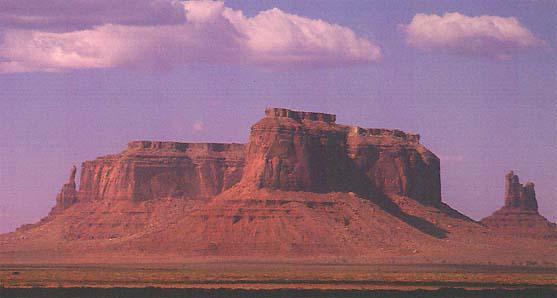 Now an interesting thing happened on the way out of Blanding. I was on my way to again visit what is called, with full justification, "Valley of the Gods". You're comfortably driving along this well maintained paved road (at about 80 mph) and you see this sign:
A yellow "warning"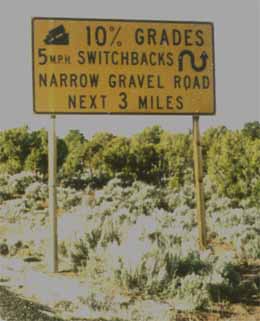 Then you see it again a mile later, and ahead you can see that the road changes to dirt/gravel. Then as you enter this section, you slow down a lot for a curve you can see coming up ahead, round a blind corner. And as you swing round the corner, you see this:
About half a mile straight down.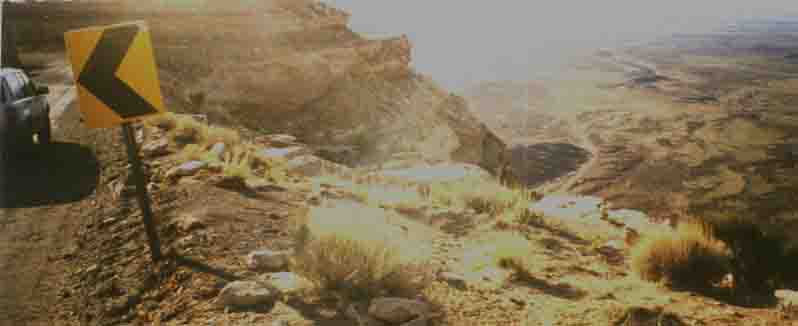 This then is the Valley of the Gods, with gigantic statues of natural stone looking out over the miles and miles of flatland--what the towers of Monument Valley have in mass and sheer magnitude, these have at least the equal, by way of the personality and power that projects from their tall and angular forms- what powers of nature over the eons had left only these sentinels to watch over the land?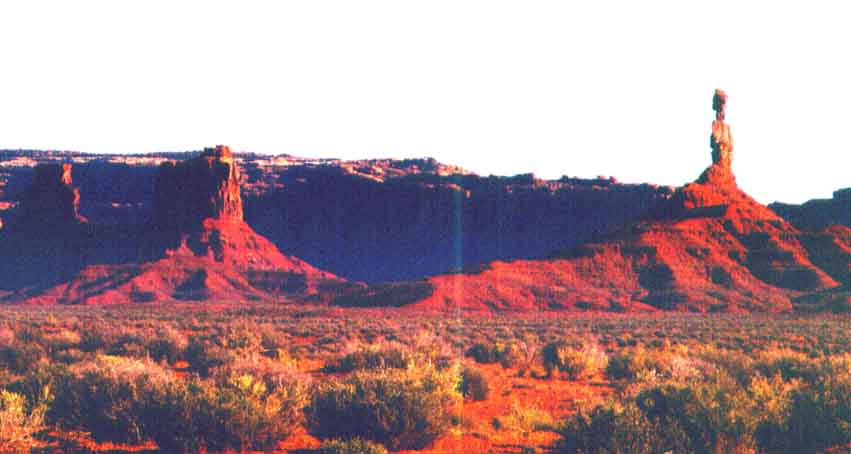 There is a trail of some many miles that winds through this valley. The map records it as a dotted line- "four wheel drive only-weather permitting". I had gone this way before on my first great circle trip a month ago, but I went out with extra water, winch, ropes and pulleys, compass and map, and survival kit for desert, just in case. Being dry, the first part of the trail looks more like a dirt road, and is easy to drive at 30 mph (except for the sudden hairpin turns round blind corners). But from my previous trip, I knew that the part ahead of me is rock strewn, with heavy washes, grinding turns over large jagged rocks, and frightful pothole pits and washouts. In several places, at the flat rocky crests of sharp rises , there is undisputed evidence of deep and heavy scratches, imparted not from mufflers but from engines and transmissions of cars back in the Forties and Fifties I would have thought.
And there it was. Fifteen miles from my end, just coming onto the reasonable path I was leaving. Making way towards me in an unnatural and painful fashion- a late model Oldsmobile with a full weight-load of people. I could hardly believe my eyes. I waved, thinking to offer help if they needed it, but they rolled their eyes and kept on. The car sounded none too well, but they were onto manageable dirt now. What they must have done to get through that section I shudder to think. To get over a couple of those rises, they must have checked out the "road" ahead in person, then gunned the engine so as to "float" over the top rocks at the crests. The "gods" must truly have been watching over them. Just think twice next time you are tempted to buy a used rental car.
Now on my way south again toward Canyon de Chelly, I went past the famous "Mexican Hat" rock
Mexican Hat rock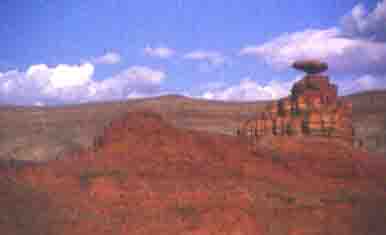 Cayyon de Chelly is honored Navajo territory with history going back toward the time of Christ. In the base of the valley they still tend crops, and you can plainly see the ancient buildings constructed inside the cliff caves. What a view, and what history.
Canyon De Chelly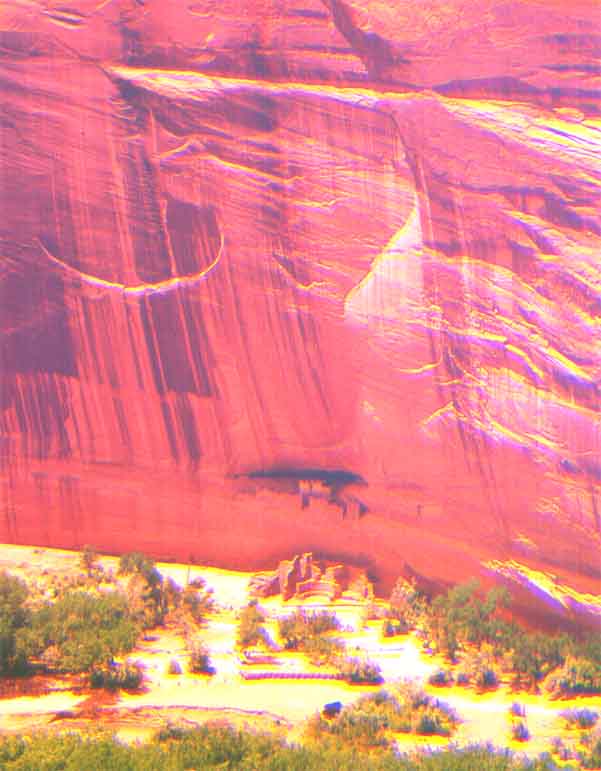 ( http://www.nps.gov/cach)

The highways in the southwest are very good generally, and the Interstates excellent. So it is easy to cover a lot of distance in a short time. Consequently, I went on through Albuquerque and down the Rio Grande to White Sands National Monument.( http://www.nps.gov/whsa) Here there are huge sand dunes of gypsum, that stretch for miles. If you didn't know the outside temperature, you would swear that the roads were ice with snowbanks plowed on both sides. Off the roads, even here, there is life
.
Stack, anchored by bush on top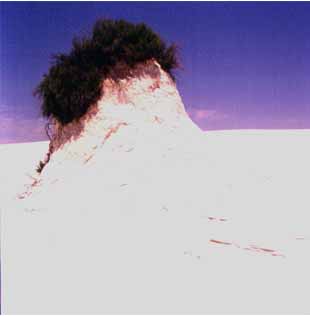 Solitary plant in flower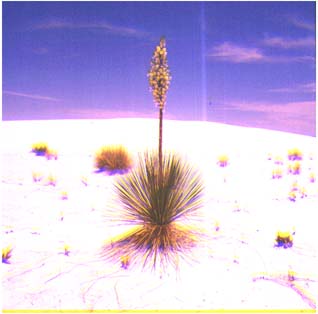 Going into the dry season…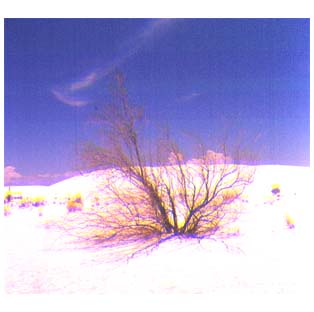 101 degrees and bikers enjoying themselves at White Sands (NOT Bonneville)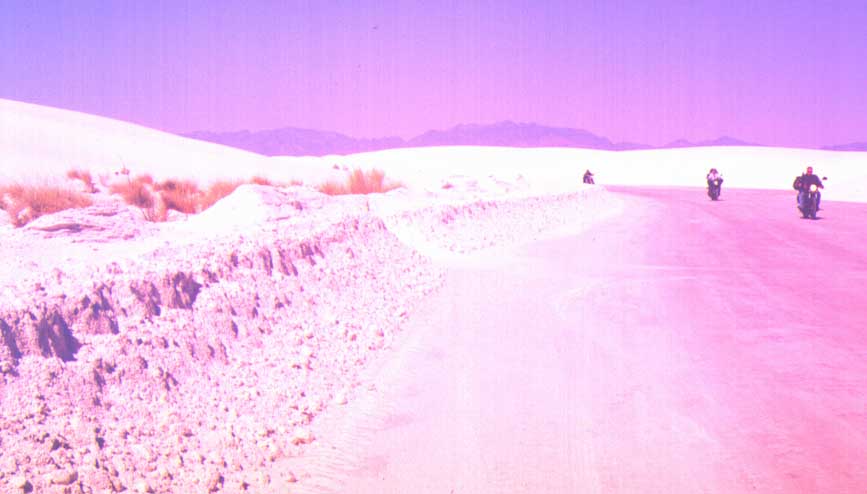 I was glad to spend a couple of days here, hiking the Alkali Flats, and the huge dunes. On Saturday, people came with lawn chairs and BBQ's, just like at the beach. The kids brought round aluminum snow saucers, and would spend the day climbing and sliding down the larger (steep) dunes, just like winter snow. That evening, with a bright moon, many people were out in the dunes with bonfires and good music.
Next to White Sands is Alamogordo, so I had to go there. There is a very interesting Air and Space Museum with lots of exhibits.
A motor for a New & Improved Skylab CD Crusher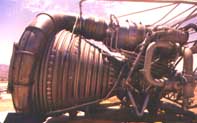 (what do you think Fernando?)

Next on the itinerary was the famous Carlsbad caverns http://www.nps.gov/cave, and I took a jaunt down to El Paso and around to get there. The Guadalupe Mountains http://www.nps.gov/gumo are quite close to Carlsbad, and worth a visit if you like mountain desert terrain. The caverns themselves can easily fill a day of your time, entering through the natural entrance cave where the millions of bats come out each night. (the "bat" caves are well away from the deeper caves toured) The tours are all guided by rangers along paved paths throughout the caves (which run for miles, sometimes with ceilings 20 stories above you).

By the time I got to Santa Fe I felt like taking a room . I can highly recommend the "El Ray", as it is both full of southwestern charm and reasonably priced.
The El Ray courtyard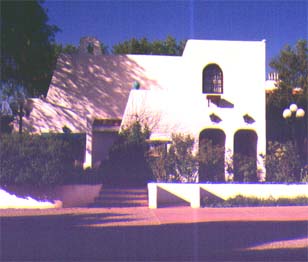 Lots of space to relax and enjoy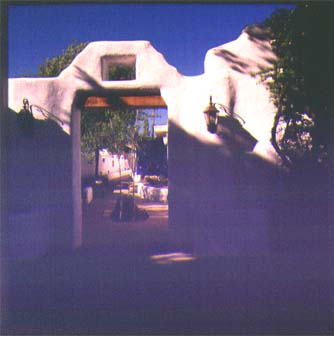 After a good time in old Santa Fe, it was again northward, up toward the Rocky Mountains, and again across the Continental Divide.
Rocky Mountain National Park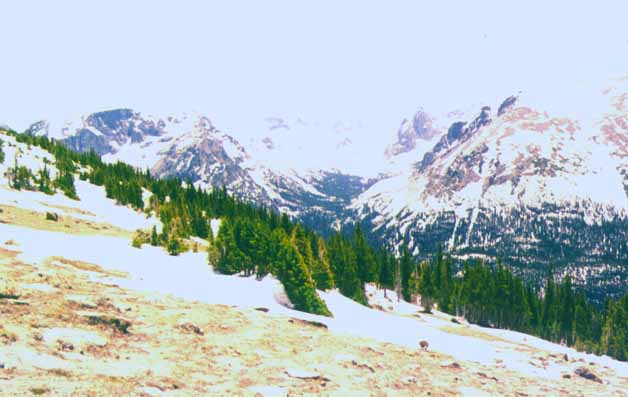 ( http://www.nps.gov/romo)

Continuing on, I was able to get some good shots during a revisit of the Bonneville Salt Flats just outside Salt Lake City. Until the summer sun evaporates it, the water lies shallow over the flats, preserving the past year's activity.
Bonneville Salt Flats under 4" water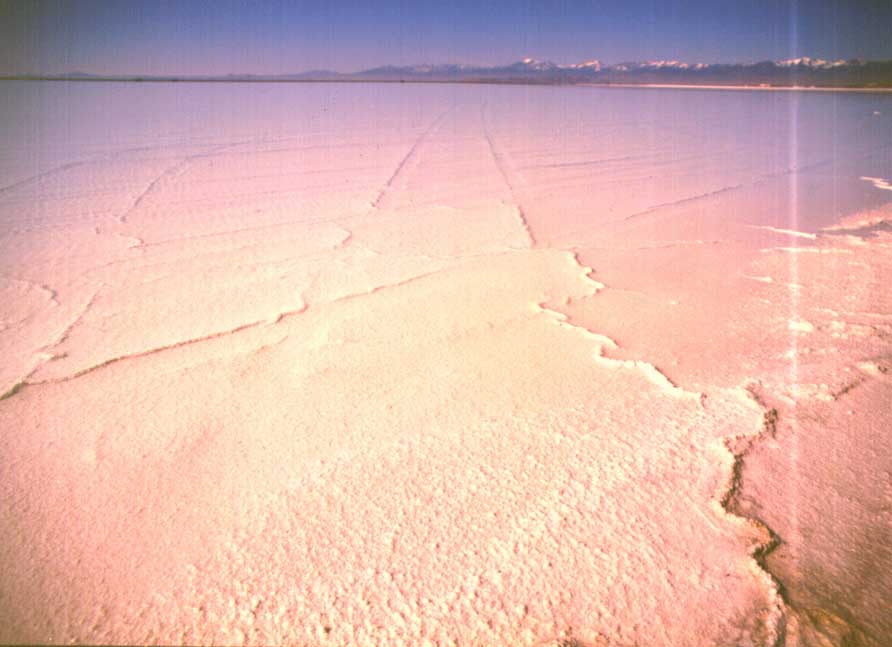 copyright G.MacKenzie 2000
Now Yellowstone is an interesting place, and is quite unlike other parks. http://www.nps.gov/yell
Storms above and storms below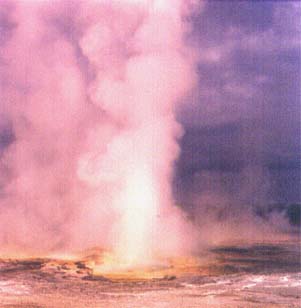 Here, heaven meets hell.
It's not just Old Faithful- it's boiling water flowing out of the ground, and in some places, steam issuing up through the earth, while the ground around the walkway sizzles like a frying pan. Elsewhere, you can see into the boiling depths through crystal clear water.
Camera perched high on a stand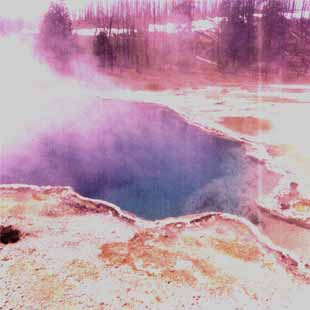 In other places, amidst boiling water and colored algae beds, a little clump of special grass makes its stand, safe from humanity
There are several good areas to camp within Yellowstone-just be aware of the free-ranging buffalo. They come right up around the tents when grazing-it's an interesting experience waking up to the sound of a herd of beasts outside. The rule is stay quiet and inside 'till they leave. Buffalo don't care about tents, but they regularly charge at people when they get too close, especially when startled.

From here, it was through the Grand Tetons, as Georgina had recommended. http://www.nps.gov/grte (They are very worthwhile, and I was tempted to extend my stay.) . Now heading east, it was off to Devil's Tower.
Devil's Tower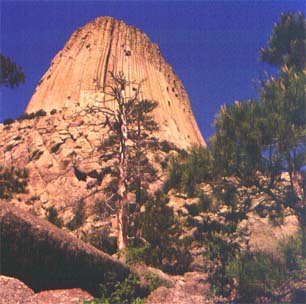 ( http://www.nps.gov/deto)


From here, I was getting toward the last leg of my trip, as there are relatively few parks compared to the west.
However, Mount Rushmore http://www.nps.gov/moru was most worthwhile, and camping nearby in the Black Hills of South Dakota was excellent. In this area, it's easy to also visit Wind Cave http://www.nps.gov/wica and Jewel Cave, both National Parks/Monuments. The fine boxwood structures (thin flat angular sheets) are in stark contrast to the huge stalactites of Carlsbad.-and the paths and stairways in the caves are much narrower.
After a brief detour to Gordon Nebraska, it was off to Badlands National Park http://www.nps.gov/badl, where the campground had been evacuated the night before for a tornado. Not knowing this at the time, I had been in bright sunshine running in front of a very black storm wall coming up from Nebraska, and pitched my tent with all extra guy lines as soon as I arrived. It was a most unusual feeling. Just after finishing, and for about 5 minutes the breeze absolutely stopped blowing from the south. So I had enough time to open a beer-and within another five I was thinking if it got any wilder, motorhomes would be blown over with violent gusts and wind changes. It kept up for an hour (with no rain) and then it was gone as if nothing had happened.
It gives you a huge new respect for the power of storms gathering strength across the great plains. (but talk about good opportunities for photography…)
My last park stop was Pipestone http://www.nps.gov/pipe, just inside Minnesota. Here is the best stone for peacepipes, a sort of red soapstone found in thin layers between thick beds of limestone. It was prized in all four corners of North America as the best material, and was regarded as a most honored gift.. To this day, Native People still quarry it here in small amounts by hand.
And then I headed straight east. An oil change in LaCrosse, through Oshkosh to Green Bay, then up and over Lake Michigan. A motel in Newberry, just outside Sault Ste. Marie, and then an easy day's drive across the border and over Lake Huron to Ottawa.
From Ottawa, it's only a 50 minute drive to Ogdensburg, which is right on the St. Lawrence River at the International Bridge .

.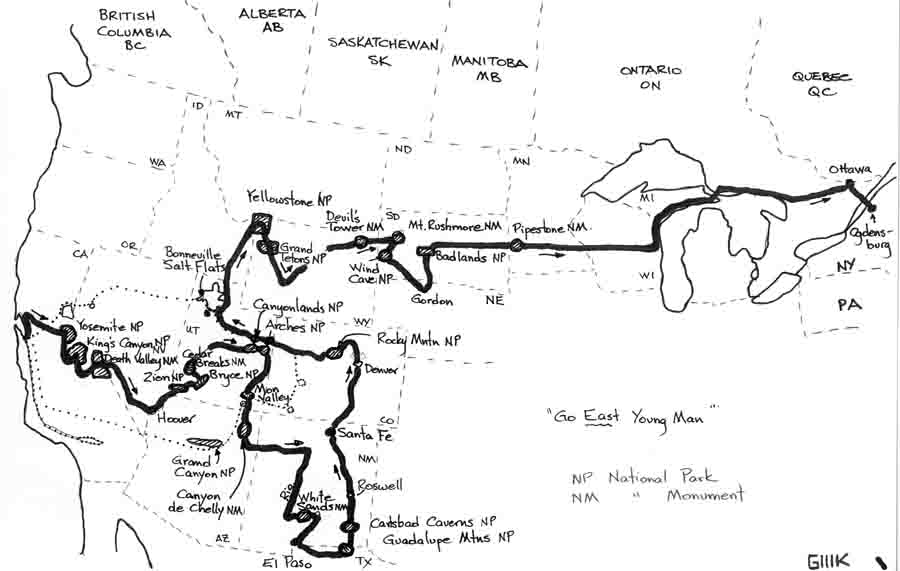 It was a wonderful and most enjoyable trip. I met many kind and interesting people, not just from the local areas, but from all over the world, especially Europe. Without question, I would do the same trip again, and probably will. Right now though, I'm heading out on my bike along the St. Lawrence!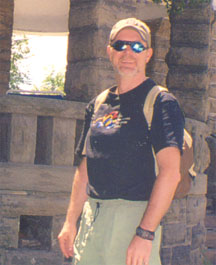 Meanwhile, let me know how you're doing!
Best Regards to you all, my friends.
Until next time...
Gord